You need to revive an old TV that cannot pick up the signal DTT but you don't know which decoder to buy? The CAM slot of the TV in your living room is broken and, given the exorbitant cost that was asked of you for its repair, have you decided to solve the problem by purchasing an external decoder? Don't worry, we will try to find a solution together.
Now all televisions are equipped with digital terrestrial support and the use of external decoders is decreasing more and more, but this does not mean that they have disappeared from the shops. Indeed, the fact that DTT decoders have become an almost niche product has lowered their prices and made the choice for the end user easier, as the market is less fragmented than a few years ago and the models on the market are not there are so many more.
That said, let's get to the gist of the matter and try to answer the most important question of all: nowadays, which digital terrestrial decoder to buy? The answer is not difficult to find, but not as trivial as one might think. In fact, decoders are not all the same and you have to learn to carefully evaluate their characteristics before buying one. If you want a hand in this regard, read on: I will be happy to provide you with all the help you need in choosing your next DTT decoder.
How to Choose a Digital Terrestrial Decoder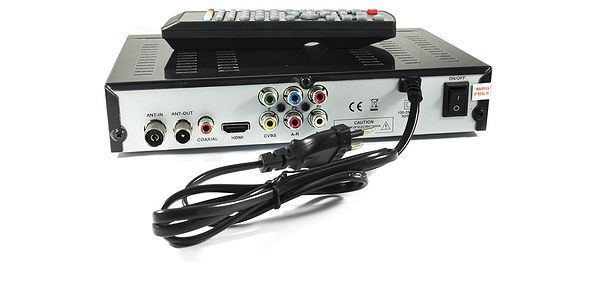 As already mentioned, the decoders for digital terrestrial are not all the same. Before buying one, it is necessary to carefully analyze its technical characteristics. Here, then, is a list of the main features and peculiarities that must be taken into consideration before opening the wallet and making your choice.
Support for High Definition Channels
Almost all major Italian broadcasters now offer HD versions of their channels. To view them, you need to purchase a receiver equipped with an HD tuner. Fortunately, most DTT decoders now have HD type tuners, so you won't struggle to find devices with this feature.
Compatibility with DVB-T2 Standard
The current standard of digital terrestrial broadcasting, which is called DVB-T, will be flanked and gradually replaced by the new generation one, called DVB-T2.
The switch-off, that is the definitive passage from the current standard to the new generation one, is expected for 2020-2022, but Italian law already requires shops to sell televisions equipped with support for the DVB-T2 standard and the codec. HEVC / H.265, which will be used in the future for digital terrestrial broadcasting. An exception to this regulation allows the sale of televisions equipped with DVB-T support only, as long as they are combined with external decoders equipped with DVB-T2 support, but this does not change the gist of the matter: the future is DVB-T2. , so better be ready for the appointment and buy a decoder with support for this standard.
Support for Pay TV Services
If you are interested in the services of pay TV terrestrial digital (eg Mediaset Premium), you must purchase a decoder with a slot for inserting the smart card. Otherwise you will not be able to access the content offered by the pay TV services.

Internet Connection
As well as televisions, decoders for digital terrestrial can also be smart, that is, they can be equipped with Internet connection support.
By purchasing a receiver equipped with Internet support, you will be able to access interactive services and video on-demand platforms offered by Italian broadcasters, such as RaiPlay, Mediaset Rewind etc. Some decoders are also able to access additional services such as Infinity e Premium Play, but compatibility must be checked model by model.
Another very important thing to check is the type of connection that can be used on the receiver, which can only be wired (Ethernet) o Wi-Fi, thanks to the integrated wireless support or by using USB adapters to be purchased separately. Decoders with Wi-Fi support are almost always able to play multimedia files hosted on the local network (eg on NAS or network hard disk).
Among the "smart" decoders there are also some TV Box Android which offer all the typical functions of this type of device (multimedia playback, access to media centers such as Kodi, installation of apps for Android, etc.) plus access to digital terrestrial broadcasts.
Multimedia Recording and Playback Functions
Some decoders for digital terrestrial are equipped with USB ports that allow you to play multimedia files and, in some cases, to record TV programs on USB sticks and hard drives. Unless the receiver includes two tuners (very rare feature), you can only record the programs you are watching at that moment.
Connecting to the TV
Most digital terrestrial decoders have ports HDMI e SCART that allow connection to all types of TVs. Connection via HDMI allows you to enjoy high definition content and is recommended for all recent TVs. Those who own an old TV, perhaps a cathode ray tube, and want to "revive" it thanks to a digital terrestrial decoder, can take advantage of SCART or, if present, composite connectivity.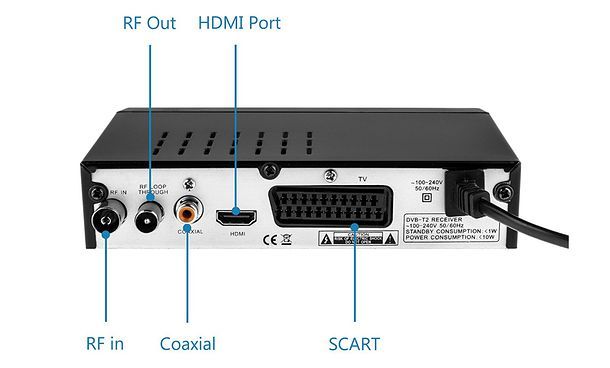 Support for Satellite Channels
There are "combo" decoders that in addition to the digital terrestrial channels also allow you to receive satellite channels (obviously if associated with a parabolic antenna). These are not exactly cheap solutions, but they can be extremely useful.
Format
The decoders for digital terrestrial can have different formats. The most common ones consist of "boxes" that connect to the TV via HDMI or SCART cable, but there are also more compact decoders, consisting of a single block, which connect to the TV's SCART socket and, again, USB receivers designed to be extremely compact for use with smartphones and tablets.
Operating System and Software Functions
The decoders for digital terrestrial can also be distinguished by the operating system and for the software features they offer. The operating system is almost always proprietary and, depending on the case, can be more or less intuitive (and including or not the Italian language). Some decoders, however, in particular the "combo" ones which also include a satellite tuner, are equipped with Linux distributions that are extremely flexible and can be customized - by users who are able - in order to increase the potential of the decoder. .
As for the functions, the most useful are the Electronic Program Guide (EPG) which allows you to have a complete picture of the programs aired during the day, the registration (PVR) su USB o hard disk interno, la playback of video and audio files (from USB or local network), the timeshift which allows you to "freeze" the content you are watching and then resume playback at a later time, the control it genitori to block the viewing of programs not suitable for minors and the evergreen Teletext.
Which Digital Terrestrial Decoder to Choose
Is everything clear so far? Well, then I would say not to get lost in chat further and to see immediately which are the receivers for the digital terrestrial that should be taken into consideration in this period.
Best Cheap Digital Terrestrial Decoder (max 30 Euros)
Decoder HD-999
If you look at the savings first, you can consider this cheap decoder which has DVB-T2 support (but not H.265 format, so watch out!), Support for HD channels and playback function from USB devices. It can be connected to the TV via HDMI cable, composite system or SCART.