Are you looking for a program to download movies, music and other multimedia content from the Internet but you don't know which one to choose? If you want I can give you some advice on this. Below is a list with the best programs to download compatible with Windows and macOS thanks to which you can download videos, audio files, software, documents and many other types of files in a very simple way.
The only small difficulty you may encounter concerns peer-to-peer programs (eg clients for the BitTorrent network), which, in order to function correctly, require the unlocking of the ports they use to receive incoming connections. To unblock the ports in question, just access the configuration panel of your router and start creating a new rule for port forwarding, or creating a new "virtual server" (the procedure varies slightly depending on the device used ). To find out more, keep reading, find all the information you need right below.
ATTENTION: the illegal download of copyrighted multimedia content can be considered a crime. I have no intention of promoting piracy, this post was published for illustrative purposes only and, therefore, I do not take any responsibility for the use that will be made of the information contained therein.
uTorrent (Windows / Mac / Android)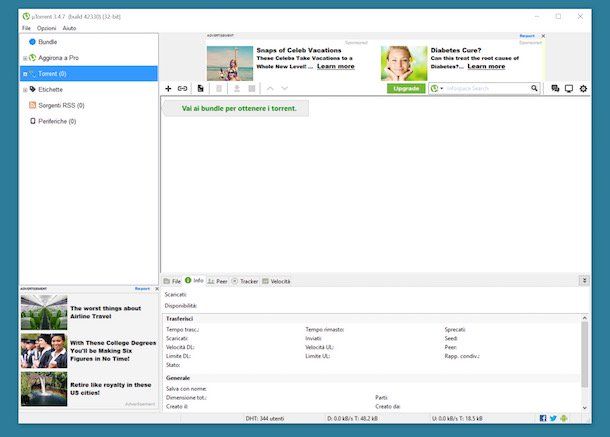 The network BitTorrent is one of the most used P2P networks in the world and uTorrent, which is available for both Windows and macOS, is one of the main clients used to download files from the latter. The program is very light, fast and easy to configure but over time its quality has been decreasing a bit. In its free variant, in fact, it presents rather annoying advertising banners and offers the download of promotional content during installation.
If you are willing to put up with advertising banners and deselect promotional content during installation, uTorrent is confirmed as one of the best clients for the BitTorrent network. It does not require complicated configurations to be used and offers numerous advanced functions, such as those to schedule downloads and automatically adjust their speed. If you want to know more, read my tutorials on how to use uTorrent and how to speed up uTorrent to the maximum.
Another thing that I point out to you is that the use of programs like uTorrent is always recommended to combine a good one VPN, that is, a virtual private network for download and browse online anonymously. Among the VPN services that you can consider, I point out NordVPN (which I told you about in depth here) and Surfshark, which allow you to download and surf online safely, bypass regional censorships and access foreign catalogs of streaming services from PC / Mac, smartphone, tablet and other devices via many servers scattered around the world.
Finally, I remind you that there is a mobile version of uTorrent for Android devices and that to make the most of the program you have to open the port used by the latter in the router. For more information, read my guide on how to open uTorrent ports.
qBitTorrent (Windows/Mac/Linux)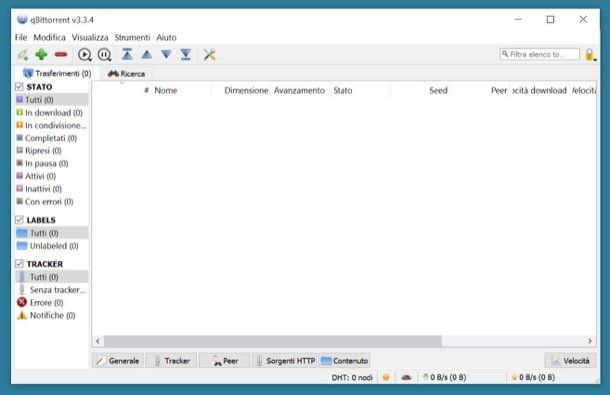 If you don't want to compromise with advertising content, I suggest you try qBitTorrent: it is a client for the network BitTorrent free, open source and free from any kind of promotional content. It is compatible with all major operating systems in the desktop world: Windows, macOS and Linux and includes a convenient search function that allows you to find Torrent files without opening the browser.
Like any self-respecting Torrent client, qBitTorrent supports magnet links and includes advanced functions for managing downloads. It does not require complicated configurations and does not take up a lot of system resources. To activate its integrated search engine you need to select the item Search engine from the menu View above and accept the installation of the free Python software (required on Windows only).
If you want to know more about qBitTorrent and how it works, read my tutorial on how to download Torrent. Do not forget, then, to open the port used by the program to receive incoming connections by following the instructions you find in my guide on how to open the router ports.
JDownloader (Windows / Mac / Linux)
Jdownloader is without a doubt one of the best programs to download files from the Internet. It is known as the download manager for file hosting services, but in reality its features are far greater. In fact, it allows you to "capture" the multimedia files present in all Web pages, download photos, videos and music from all major social networks and much more.
Returning to the functions dedicated to file hosting services (eg. MEGA, Rapidgator, Backin etc.), JDownloader automatically captures the links copied to the clipboard, waits for the countdowns in place of the user, warns the latter when it is time to insert the captcha codes, supports premium accounts and allows you to use debrid services (those that, by paying a single subscription, allow you to download from multiple hosting services). It should also be emphasized the possibility of automatically extracting the files included in the zip and rar archives at the end of the download and, through the installation of special add-ons (often for a fee), to bypass the annoying captchas.
JDownloader is compatible with Windows, macOS and Linux. It does not require special configurations or opening ports on the router. If you want to learn more about how it works, read my tutorial dedicated to the program.
XdccDownloader (Windows / Mac / Linux)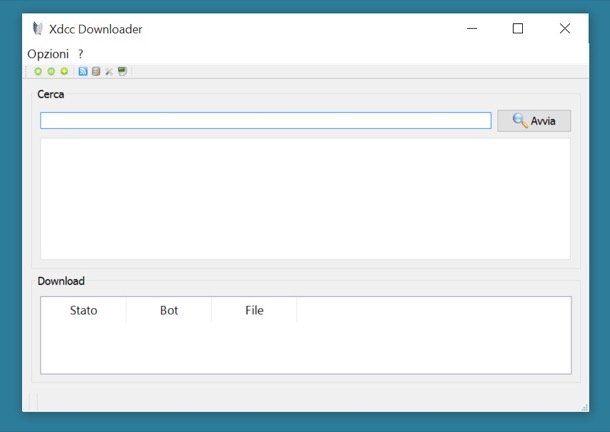 While primarily developed as a chat system, the IRC challenge it has always been used for sharing multimedia files, such as movies, music albums and programs. Here, then, applications like XdccDownloader come into play: a free and portable program (which therefore does not require installation to be used) that allows you to search for any type of file on Italian IRC servers and start the download with a simple double click.
Downloads from the IRC network are always very fast and generally do not require waiting (even if sometimes the slots available for sharing a file are all occupied and therefore you have to queue). What else to say? XdccDownloader is available for Windows, macOS and Linux. It does not require configuration and does not require the opening of ports on the router. Download it, try it and you won't regret it.
Lacey (Windows)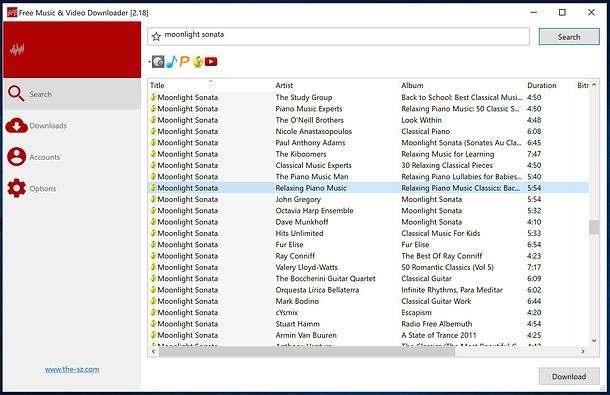 Lacey is the ideal solution for anyone who wants download music from the Internet but he is tired of the usual P2P clients that force endless queues and often lead to download songs "in the dark" receiving unpleasant surprises at the end of the download. With this program, which is completely free, you can download and stream thousands of music tracks from various hosting services.
Lacey does not need any installation or configuration and, moreover, it allows you to download both music and videos from the Web, then offering the possibility to convert them to MP3 directly within it (by right clicking on their titles in the Downloads program and selecting the appropriate item from the context menu). A must try!
eMule (Windows/Mac/Linux)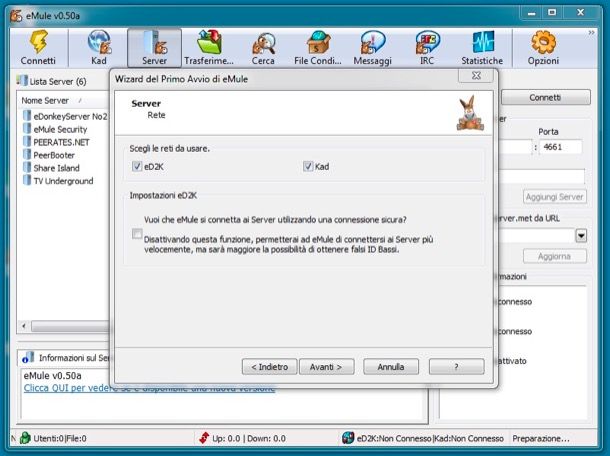 Although not as popular a few years ago, eMule is one of the best programs to download from the Internet by sharing. Provided you have configured the router ports correctly and use good servers, it allows you to download videos, music, books and programs in an extremely simple way. Unfortunately it remains slower in downloads than other download and P2P solutions but compensates for this flaw with the availability of a large amount of rare files that are difficult to find elsewhere.
If you want to know how to best install and configure eMule, read my tutorial entitled "eMule: download and configure eMule" in which I have explained to you in great detail all the steps necessary to take the first steps with this very famous peer-to- peer.
eMule is only available for Windows, but there is a port for macOS and Linux that allows you to take advantage of all its features on these operating systems. If you want to know more, read my tutorial on how to set up eMule on Mac.