Are you fed up with your current web browser and are looking for a viable alternative to replace it? Well, then I guess you've come to just the right place at the right time. With today's post, in fact, I will try to illustrate you all the best browsers currently available on the market listing their main characteristics, their strengths and their shortcomings compared to the competition.
I'll tell you right away: there is no browser clearly better than the others. By now all navigation programs are fast, reasonably safe and customizable through extensions, so the choice of one or the other depends exclusively on your tastes and personal needs, on the devices you use and your online browsing habits. In short, you have to decide which browser is best for YOUR needs.
The concept is valid for the PC sector, but also for the mobile one, where the browser war has been in full swing for quite some time now. In fact, in the article, after having pointed out some of the best navigation programs for PCs, I will also point out some for smartphones and tablets, all free. What do you say, are you ready to start? I assure you that the perfect browser for you is only a few clicks away!
The Best Browsers for PC
Let's start with a quick review of the best browsers for Windows, macOS and Linux, then the best browsers for PCs.
Google Chrome (Windows/Mac/Linux)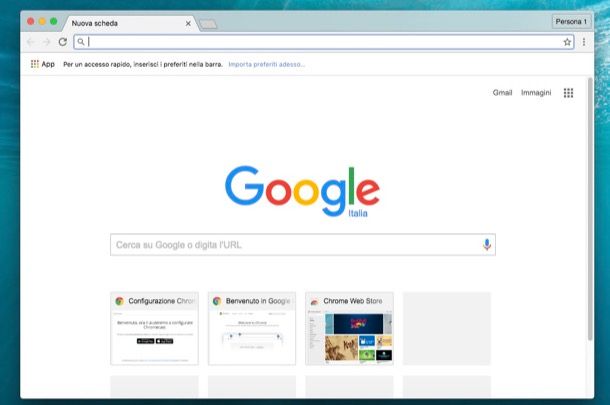 Google Chrome is the most used browser in the world, as well as one of the most complete ever (to the point that it is the basis of Chrome OS, the operating system of some laptops). It is very fast at startup and when loading web pages, has many extensions that allow you to expand its functionality and enjoys support for all the latest web standards. Also worth noting is its convenient automatic update system, thanks to which it is possible to always have the latest version of the browser installed on your PC without lifting a finger, and support for multi-users. With multi-user it is possible to configure multiple accounts on the same PC, each with their own preferences, extensions, etc. and switch from one to the other with a simple click.
Among the main strengths of Chrome we also find its cross-platform compatibility (works on Windows, macOS, Linux and on portable devices) and the possibility of synchronizing all browsing data, including extensions, via the Internet using the your Gmail account. So is it a perfect browser? No, Chrome consumes a lot of RAM and a lot of battery compared to competing browsers (even if in the latest versions of the browser we are starting to notice progress in this regard) and then, being a Google product, it brings with it the age-old problem related to sending data to the Mountain View giant. Here is a quick recap of its strengths and weaknesses.
PRO: very high speed in starting and loading web pages, maximum compatibility with all the latest web standards, extensions, private mode, online data synchronization, cross-platform compatibility, address bar full of features and very easy to use, multi management -user, integrated task manager to monitor the consumption of each component and page, Chromecast support, integrated Flash Player, customizable themes.
AGAINST: excessive consumption of resources (RAM / battery), collection of data by Google.
Mozilla Firefox (Windows/Mac/Linux)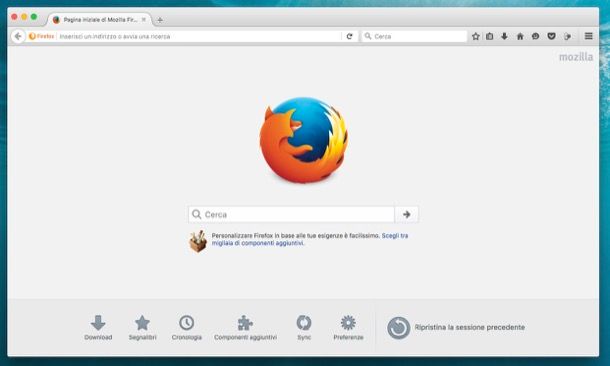 Firefox was the first browser to have scratched Microsoft's monopoly with its Internet Explorer (which a few years ago dominated the browser market undisputed). It is a free, open source and multi-platform navigation program that has always made extensions its main strength. It is compatible with Windows, macOS, Linux and with smartphones and tablets. The debut of Chrome has significantly slowed its rise, but after a period of initial "bewilderment" its development has taken the right path and today we can speak again of a "Mr. browser".
In line with what is offered by competing products, Firefox has also introduced an online data synchronization system and an automatic update system that allows you to always have the latest version of the browser on your PC. Furthermore it must be said that in many cases the extensions are more complete than their Chrome counterparts and that, overall, the browser settings are more flexible (ideal for "geeks" who like to fully customize the behavior of the program. ). As for privacy, not being behind Google or other multinationals that make data collection their core business, we can say that Firefox ensures greater protection of personal information than Chrome.
Performance, both in startup and in loading web pages, is a step below that of Chrome, but on the other hand there is a slightly lower consumption of hardware resources. Below is the complete list of pros and cons of using Firefox.
PRO: extensions (in some cases more advanced than those of Chrome), online data synchronization, private mode, cross-platform compatibility, greater privacy protection than Chrome, web page simplification function, integration with Pocket, greater customization of settings browser compared to Chrome, customizable themes.
AGAINST: not lightning-fast startup, fast but not very fast in loading web pages, in some situations it is less comfortable to use than Chrome, it is less greedy for resources than Chrome but still not "very light", partial multi-user management (you can create multiple user profiles only by acting in the advanced settings of the browser or using external extensions), an integrated task manager is missing.
Opera (Windows/Mac/Linux)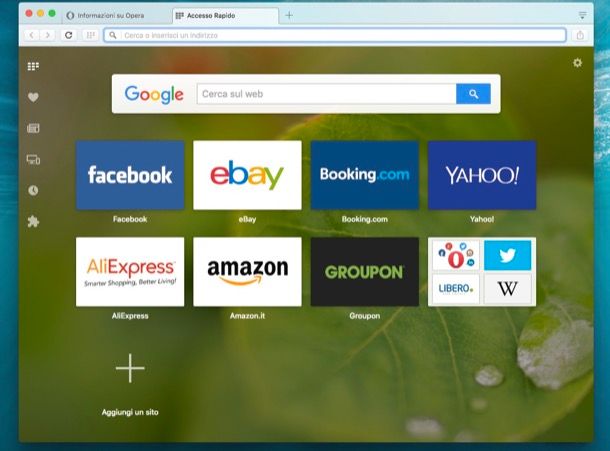 Opera has always represented an "alternative to the alternative" in the browser market. Initially it was considered one of the main rivals of Firefox for the conquest of the throne that was Internet Explorer, now we can consider it as one of the "minor" alternatives to Chrome and Firefox. A few years ago it abandoned its original rendering engine to embrace that of Chrome, a move that aroused criticism from old users but which allowed the Norwegian browser to achieve compatibility with Chrome extensions and to equal (or close to) the performance of the latter.
Today, to simplify the speech as much as possible, Opera is a Chrome with extra features included within it. Among these are the VPN and especially Opera Turbo, a system that allows you to speed up browsing on slow connections by reducing data consumption. The browser is available for Windows, macOS, Linux and for portable devices, here are its main "pros" and "cons".
PRO: very high speed in starting and loading web pages, compatible with extensions for Chrome, private mode, online data synchronization, multi-platform compatibility, Opera Turbo function to speed up browsing on slow connections, integrated ad blocking, integrated VPN, customizable themes, task manager.
AGAINST: some extensions for Chrome are not found in the official store (they must be installed through third-party tools), its degree of diffusion is not very high and development may be affected.
Microsoft Edge (Windows)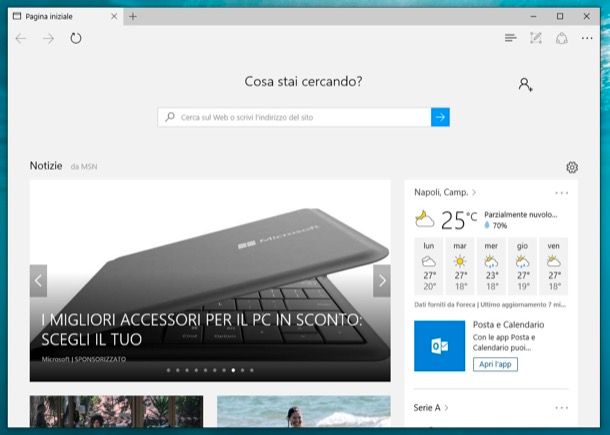 Edge is the new browser from Microsoft, the one that officially took the place of Internet Explorer in Windows 10 (even if in reality IE is still present within the system and is not destined to "die" anytime soon). Unlike its reviled predecessor, Edge is extremely light, fast and respectful of Web standards. It also ensures extremely low energy consumption and manages to "run" well even on less powerful devices (such as low-cost convertibles with Windows 10).
Starting with the Windows 10 Anniversary Update, Microsoft Edge also supports extensions, but at the moment its store is quite out of stock compared to those of Chrome and Firefox. A point in its favor, however, are the integrated functions to insert notes in Web pages and save articles for later reading (reading list). Too bad it is not available for other operating systems!
PRO: maximum speed in starting and loading web pages, extensions, private mode, online data synchronization, low resource consumption, reading list, function to create notes on web pages, integration with Cortana, integrated Flash Player.
AGAINST: is compatible only with Windows (and only with Windows versions equal to or greater than 10), few extensions available, all too essential from some points of view, it does not have multi-user management and does not have an integrated task manager, More cumbersome updates than Chrome and Firefox (updates via Windows Update).
Safari (Mac)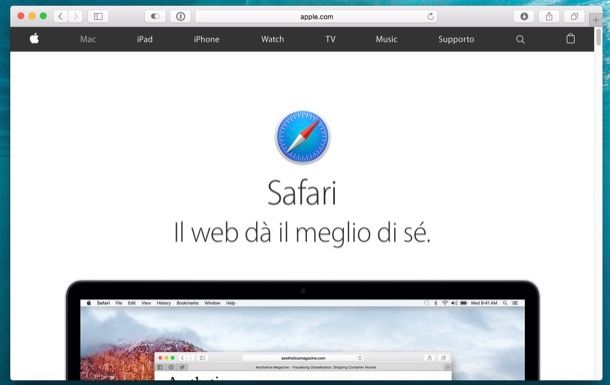 Safari it is the default browser of macOS and most likely the best one that can be used on the Apple operating system. It is extremely fast, has very low energy consumption and includes many interesting features: reading list, simplification of web pages, support for extensions, AirPlay, modification of the user agent, synchronization of navigation data via iCloud and much more. Unfortunately, its extension park is not yet as rich as that of Chrome or Firefox, but not as limiting.
The use of Safari, alas, is limited to Apple's platforms (macOS and iOS), but if necessary, you can share bookmarks with Chrome on Windows using the iCloud client for the Microsoft operating system. In summary: the perfect solution for those who mainly use Apple-branded devices.
PRO: fast start-up and loading of web pages, extensions, private mode, online data synchronization, low resource consumption, integrated reading list, integrated web page simplification function, support for AirPlay.
AGAINST: it is compatible only with macOS, fewer extensions available than Chrome and Firefox, it lacks the display of favicons in the tabs, it does not have multi-user management and it does not have a built-in task manager, support for some more advanced web standards is introduced lags behind Chrome, a more cumbersome update system than Chrome and Firefox (updates via the Mac App Store).
The Best Browsers for Smartphones and Tablets
The browsers available in the mobile environment are more and more numerous. Let's try to find out, together, which are the best.
Chrome (Android/iOS)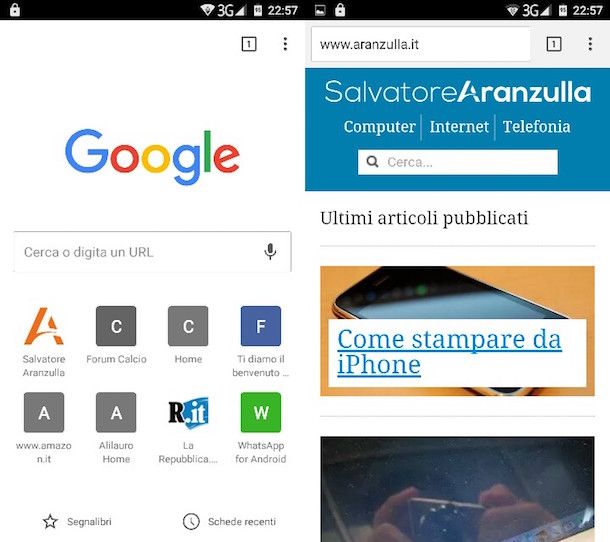 Chrome it is the default browser of Android terminals, although some manufacturers prefer to replace it with alternative browsers. In my humble opinion, this is the best navigation program available for the operating system of the green robot (also because thanks to its synchronization with Chrome for PC it allows you to have your favorites and browsing preferences always at hand), but he's quite greedy for resources. If you have an outdated and / or poorly equipped RAM you would do well to look elsewhere (for example to the default browsers of the manufacturers I mentioned earlier). Unfortunately it does not support extensions or plugins like Flash Player.
There is also a version of Chrome that is compatible with iPhone and iPad, but due to the limitations of iOS it can't be as fast as Safari. I advise you to use it only if you use Chrome as the primary browser on your computer (or other portable devices) and you need to synchronize the browsing data on the "iPhone".
Safari (iOS)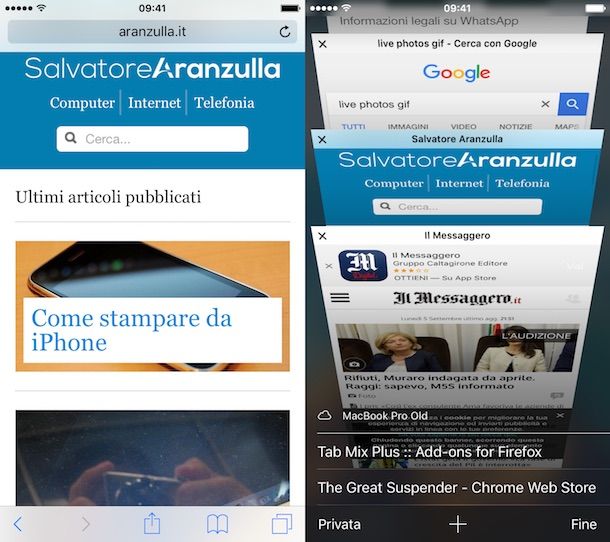 Su Safari there isn't much to say. It is the default browser on all iOS devices, runs great and syncs perfectly with its Mac counterpart (via iCloud). On iPhones and iPads, there is no navigation program that works better and / or faster. If you have no special needs related to synchronization of browsing data (so if you don't use Chrome or Firefox as your primary browser on your computer), use it and you won't have the slightest problem.
Firefox (Android/iOS)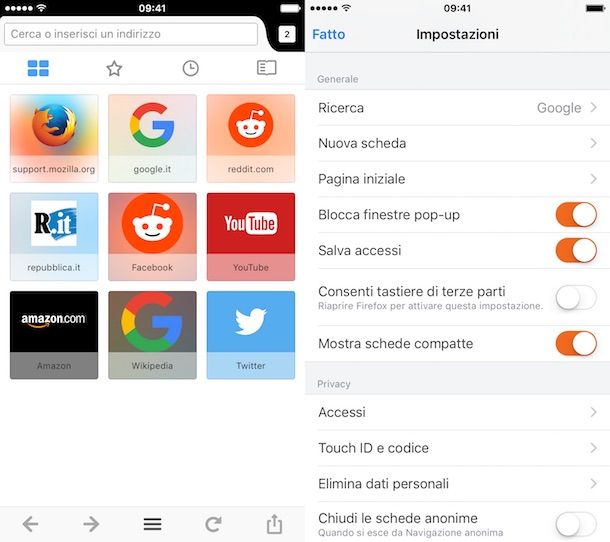 Firefox is a valid alternative to Chrome on Android and Safari on iOS. Synchronizes browsing data with the PC version of the browser and includes many interesting features, including partial support for Flash Player (only on Android, by installing the appropriate plugin) and the ability to install extensions (another function available only on Android ).
The page loading speed is slightly lower than that of Chrome on Android and Safari on iOS, in any case if you use Firefox as your primary browser on your PC I can only recommend it!
Opera Mini (Android/iOS/Windows Phone)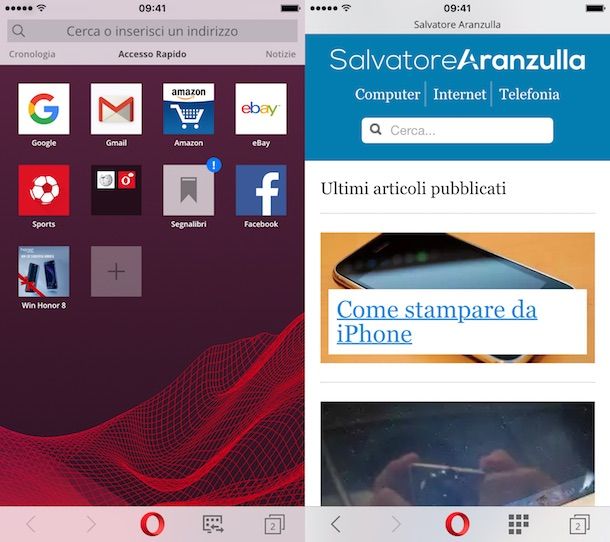 Opera Mini is a very successful version of Opera intended for smartphones and tablets. It has compatibility with all major platforms in the mobile world (Android, iOS and Windows Phone), the synchronization of browsing data with Opera for PC and the Opera Turbo function which reduces data consumption under 3G / 4G network. Try it, especially if your data plan provides a few "mega" of monthly traffic.
Puffin Browser (Android/iOS)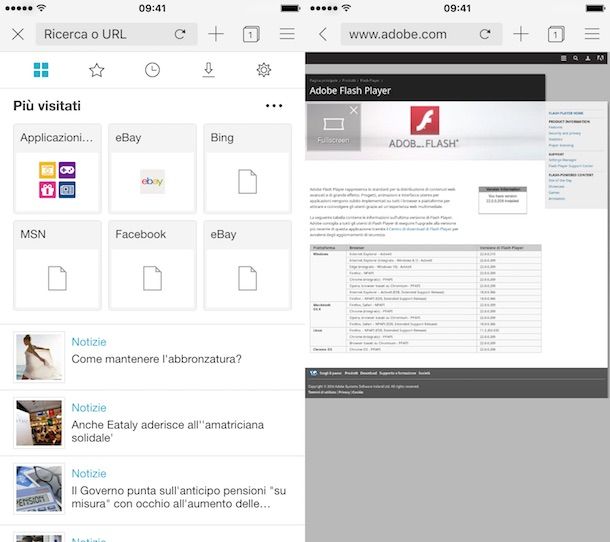 Puffin is the only browser that, in the mobile environment, is able to ensure full compatibility with Flash content. This is because it does not use the old Adobe plugin (which has not been actively developed for years), but a cloud solution that manages to reproduce both videos and interactive contents quite well. It is free in its basic version and is compatible with both Android and iOS.
So Which Browser to Choose?
In conclusion of this long post, here are some evaluations, or rather, some usage scenarios that I hope will direct you to the browser that best suits your needs.
Does the autonomy of your notebook come first? Then use Microsoft Edge or, if you have a Mac, Safari. If you're using a version of Windows that doesn't support Microsoft Edge, try Firefox.
Does browsing speed come first? The answer is almost the same as I gave to the previous question: use Microsoft Edge if you have a Windows PC or Safari if you have a Mac. If you need a cross-platform browser, use Chrome which is just as fast (albeit more expensive in terms consumption).
Do you mainly use Apple devices (Mac, iPhone and iPad)? In this case, Safari is the best choice for you: you find it already pre-installed on your devices, it is very fast and synchronizes all browsing data via the cloud.
Do you have a Windows PC and an Android smartphone? Then I suggest you turn to Chrome or, if you want more control over your browser, Firefox. Both software are multi-platform and synchronize online data on any device.
Do you use multiple devices and / or operating systems? Also in this case the choice can only fall on Chrome and Firefox. The first is on average faster but more greedy for resources. The second is a little less snappy but offers more control over its settings and has some more advanced extensions (e.g. those dedicated to privacy and security).
Is your connection very slow? Do you surf 3G often? Then you can give Opera a chance, which includes data consumption reduction technology and speeds up web page loading on slow connections.
Do you want absolute control over all your browser settings? Then use Firefox, which is customizable down to the smallest detail (just think of all the advanced changes that can be made in the "about: config" panel).
Do you need maximum compatibility with all web standards? In this case, the best choice is Chrome, which is currently the most used browser in the world and is constantly updated by Google to support all the most advanced standards.
Do you use your PC in common with other people? Then Chrome's multi-user management might come in handy, allowing you to switch from one user to another with a simple click.
Do you use a lot of extensions? Then the choice is restricted to Chrome or Firefox. The former is more used and therefore has more attention from developers, but the latter offers more complete extensions that can modify the behavior of the browser more deeply.
Do you browse online with many browser tabs open at the same time? Then I recommend using Chrome or Firefox, both of which have the function to block tabs and show favicons of all websites (unlike Safari). I also recommend that you install extensions such as Tab Mix Plus for Firefox and The Great Suspender for Chrome that allow you to improve the multi-tab experience in Mozilla and Google browsers (in the first case by grouping and managing the tabs in a more orderly manner. , in the second by "falling asleep" the unused cards in order to save RAM and battery).