As Murphy's law dictates, every time you want to watch a film or a TV show, the digital terrestrial system gives reception problems. Not to mention when you plan a nice evening to spend on the sofa, in the company of your favorite series, and find the place occupied.
While waiting for fate to begin to be a little more benevolent towards your longed-for moments of relaxation, perhaps you would be better off relying on the Internet and watching streaming TV. The services of streaming TV for free Fortunately, there is no shortage of them and, thanks to them, it is now possible to watch almost all the main national broadcasters from the comfort of a computer, tablet and smartphone. If you don't know how to do it I'll explain it to you right away.
You don't need to install any special programs to start live broadcasts and watch on-demand content. You can use any browser program with Flash Player support: Chrome, Firefox, Internet Explorer, Microsoft Edge etc. For some particular content, the Microsoft Silverlight plugin may be required, but usually not needed. Now, however, ban the chatter and give space to the contents: sit comfortably in your chair and get ready to enjoy the show!
Free TV Streaming on PC
If you want to stream TV on your computer, here you are! Below you will find links to all the Internet sites of the Italian broadcasters that broadcast their programs in the clear.
RaiPlay - to watch live streaming of all the Rai digital terrestrial broadcasters and the programs transmitted by them on-demand (including films and some international TV series). To access live TV, click on the button ≡ che si trova in alto a sinistra e seleciona la voce direct from the bar that appears on the side. To browse the on-demand content, however, press the button ≡ and select one of the categories listed in the left sidebar (eg. Programs, Fiction, Videos o documentaries). Also noteworthy is the availability of the service TV Guide / Replay which allows you to watch almost all the programs broadcast by Rai broadcasters over the last week (including some that will not be included in the on-demand content archive). To access on-demand content, you may be required to create a free account.

Mediaset.it - ​​allows you to watch Canale 5, Rete 4, Italia 1, Italia 2, La5, Mediaset Extra, Top Crime, IRIS and TGCom 24 in live streaming, but only after creating a free account. To register on the site, first click on the item Login located at the top right and then on the button Register here present on the page that opens. Then fill out the form that is proposed to you and click on the confirmation link that is sent to you by email. Once you have registered, you will be able to see the live coverage of Mediaset channels simply by clicking on the logo of one of the available broadcasters (above). The player works via HTML5 or Microsoft Silverlight, depending on the browser used. On Mediaset.it there is no shortage of all the fiction and television shows produced by Mediaset to watch on-demand (even without registration). To browse all available content, go to the section On-demand and use the drop-down menus located at the top. It's that easy.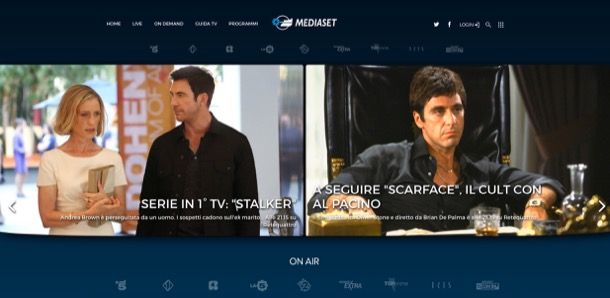 La7.tv - allows you to watch La7 live and the most important programs produced by the broadcaster on-demand. In the section The week there are the programs aired in the last week by La7 and La7d, while in Cult archive it is possible to review some of the historical broadcasts of the Cairo broadcaster.
DPlay (Discovery Italia) - DPlay is the Discovery Italia site that groups the programs of all the broadcasters of the group, that is Realtime, Dmax, Focus, NOVE (ex Deejay TV), Yellow, K2 e Frisbee. To use it, connected to its home page and click on the item Programs to view the list of all available on-demand programs. Alternatively, click on the menu Channels and choose which channel to watch. By going to the section Kids you can also view content intended for children, those relating to K2 and Frisbee broadcasters.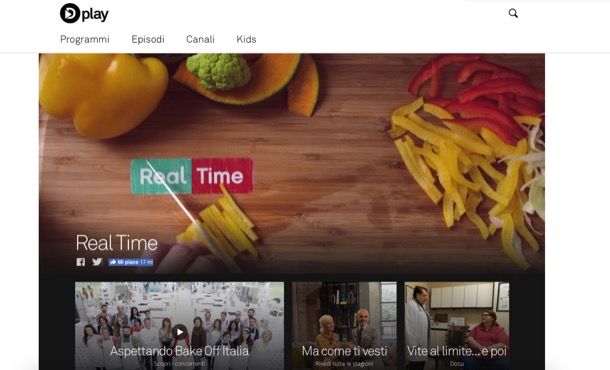 Cielo TV - allows you to watch Cielo TV, the generalist Sky Italia broadcaster on digital terrestrial, in live streaming. In addition, it offers some "pills" of some of the most popular programs of the moment (in the section Video).
TV8 - the official website of another generalist Sky Italia broadcaster. In its schedule there are many American films and TV series, but also original shows such as "Italia's Got Talent" and sporting events such as MotoGP races. To access its live programming, click on the button streaming which is located at the top right.
SKYTG24 - Sky Italia's all-news channel in live streaming. To start streaming just click on the button Watch the live located at the top right.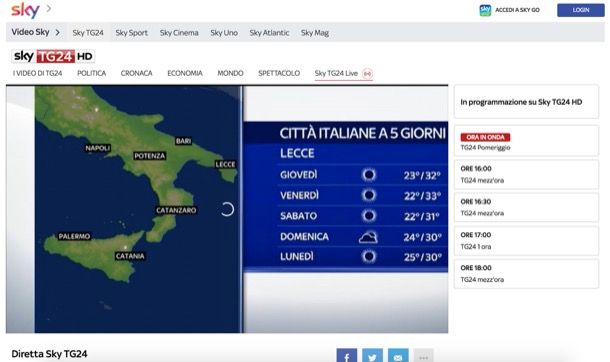 Paramount Channel - a very pleasant surprise in free channels! Paramount Channel is a free-to-air digital terrestrial and satellite broadcaster that broadcasts numerous American films and TV series, including very recent ones. Its official website allows you to watch the entire schedule in live streaming (just click on the button Live which is located above) and - which is quite rare in the Italian TV panorama - to see some films in on-demand mode. To access the list of films available for viewing on demand, click on the button Video che si trova in alto a sinistra e seleciona la voce Film in streaming give the menu check if you press.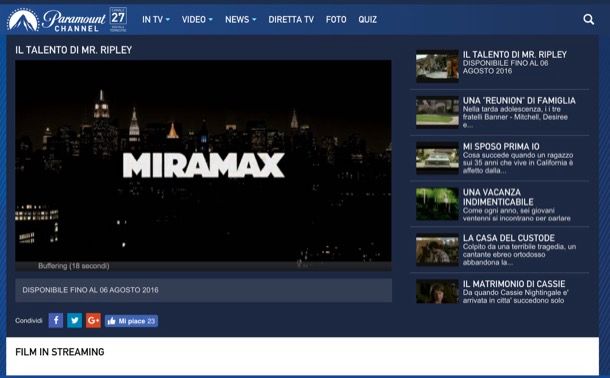 TV2000 - also the broadcaster owned by the Italian Bishops' Conference allows you to watch its broadcasts in live streaming and some of its on-demand programs.
Alice.tv and Alice Lifestyle - two broadcasters of the Al.ma group that talk about cooking and lifestyle. Their official sites allow you to watch live streaming broadcasts and some episodes of on-demand programs.
Marcopolo - another channel of the Al.ma group, deals with travel and culture. Also in this case both live streaming and on-demand content viewing are offered.
International and Regional Broadcasters
If you like to watch international TV channels, I suggest you visit the TVDream website which groups in an orderly way the links to the main European and US broadcasters that broadcast free to air on the Internet (eg BBC, France24, Telecinco).
On the same site you can also find the Italian streaming broadcasters having the possibility to "browse" them both on the basis of category membership is based on the regione of origin (by clicking on the appropriate cards located at the top left).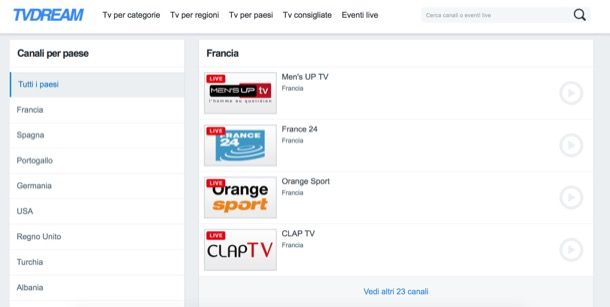 Free TV Streaming Su Smartphone E Tablet
Do you find it more convenient to watch movies, series and TV shows from your tablet? No problem. Many of the previously mentioned broadcasters have made available handy apps through which you can watch streaming television on both tablets and smartphones. Here they are.
RaiPlay - the official Rai app to watch all the broadcasters in streaming and on-demand programs. It is available for Android, iOS and Windows Phone. It also includes a function to save offline programs available for on-demand viewing (which are only available after creating a free account).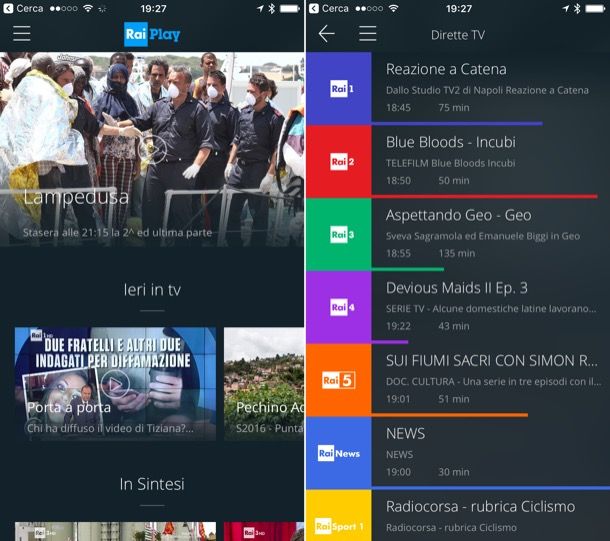 Mediaset - the official Mediaset app. It offers live streaming of all the group's free-to-air broadcasters. To use it you need to authenticate with a free account (just like on the official website of the group). It is available for Android, iOS and Windows Phone.
Mediaset On Demand - this is the app that allows you to access Mediaset's on-demad content, that is, all the fiction, soap operas and TV programs broadcast by the company of the snake. Unfortunately there are no American movies or TV series. The app is available for Android, iOS and Windows Phone.
dplay - the official application of the Discovery Italia group that allows you to watch Realtime, Dmax, Focus, NOVE and Giallo on-demand programs. It is available for Android and iOS.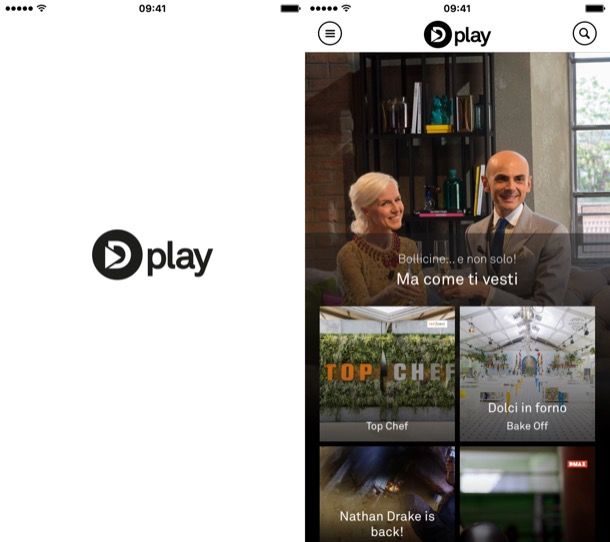 Paramount Channel - the official Paramount Channel app for Android and iOS. It allows you to watch movies and TV series in streaming for free and without registration.
SKYTG24 - the SKYTG24 app is available for iOS and Android. It is free for all Sky subscribers while it costs € 1,99 / month for all others (the first month is free).
TV2000 - the official app to stream TV2000 on Android and iOS.
Italy Smart - the official app of LT Multimedia which offers the possibility to stream the digital terrestrial channels Alice, Marcopolo, Leonardo, Nuvolari, Alice Kochen and Italia Smart Eventi. It is free for the first 7 days, then it costs 5 euros / month or 36 euros / year. It is available for Android and iOS.
Other broadcasters - some broadcasters, such as TV8, do not yet have official apps but can be streamed from smartphones and tablets simply by connecting to their Internet sites via a browser.
International and Regional Broadcasters
If you are interested in international TV channels you can install FilmOn, an application that gives access to dozens of streaming broadcasters from around the world. You can use it for free if you watch the channels in standard definition or by signing up for a pay subscription to also access HD channels. It is available for Android and iOS.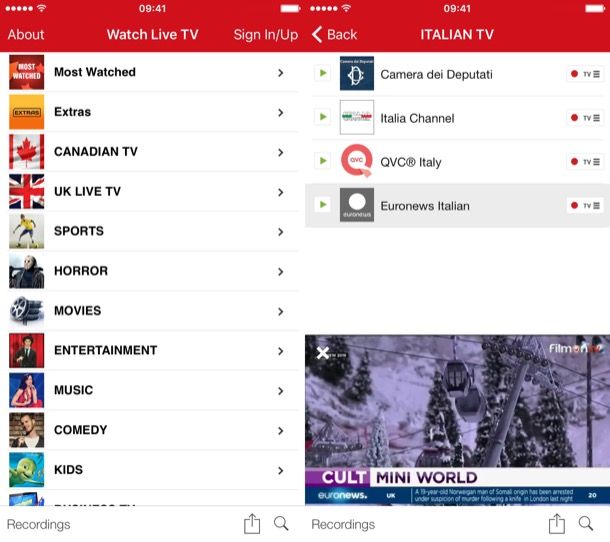 Another "generalist" app from streaming TV for free that I recommend you try and TVDream for Android which, like the site I mentioned earlier, allows you to access live broadcasts from regional, national and international broadcasters very easily and quickly.
Pay TV Streaming
To conclude, let me also point you to some streaming pay TV services available in our country.
NOW TV - a streaming service offered by Sky Italy which allows you to stream all the main channels of the Sky Italia Cinema and TV packages, on-demand films and TV series and some sporting events (to be purchased individually or as a package). Its offer is divided into packages that cost 9,99 euros / month after the first 14 days of free trial. It is accessible from PCs, smartphones, tablets, Smart TVs, video game consoles and from a special TV box that can be purchased online or in electronics stores. For more information on how it works, read my post on how NOW TV works.
Premium Play - is the streaming service reserved for Mediaset Premium subscribers. It is accessible from PCs, smartphones, tablets, game consoles, Smart decoders, Smart TVs and Smart Cams. Stream all channels included in your subscription plus on-demand movies, TV series, cartoons and TV shows.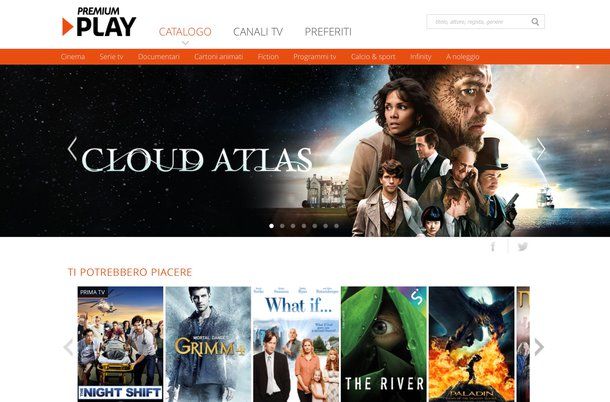 A very valid alternative to streaming pay TV services is represented by the platforms of video on-demand, such as Netflix and Infinity which in exchange for a small monthly fee (which amounts to less than 10 euros) allow you to watch movies and series on on-demand TVs. I told you more about it in my posts on how to watch Netflix and how Infinity works.
Free TV Streaming on Other Devices
Even devices like the Smart TV and TV Box Android offer apps for it streaming TV for free. Just open their stores and look for the applications of the various broadcasters or, alternatively, you can turn to software such as Kodi which includes numerous add-ons for viewing Italian and foreign TV stations in streaming.
Please note: the streaming services of Italian broadcasters very often do not work for those who connect from abroad (they only work from Italy). To bypass these restrictions you have to rely on VPN systems or third-party streaming software, such as the aforementioned Kodi which with its add-ons allows you to watch Italian and international TV without geographical restrictions, even from your PC.