You're looking for gods programs to download music from the Internet that are reliable and easy to use? Well, I'm happy to let you know that you've come to the right place at the right time. Below you will find various software for Windows, macOS, Linux, and even portable devices that should be right for you.
These are extremely fast and effective applications that allow you to download music from the Internet in a very simple way. These include download managers that allow you to download music files from hosting services, P2P programs for exchanging audio files online, and streaming music services that allow you to download thousands and thousands of offline music for a small monthly fee ( in a totally legal way, even on smartphones and tablets). You just have to choose the solution that seems best suited to your needs and use it following the instructions I am about to give you.
Caution: this tutorial was written for illustrative purposes only. Illegally downloading copyrighted songs from the Internet is a crime. It is absolutely not my intention to encourage piracy and, therefore, I take no responsibility for the use you will make of the information below.
Lacey (Windows)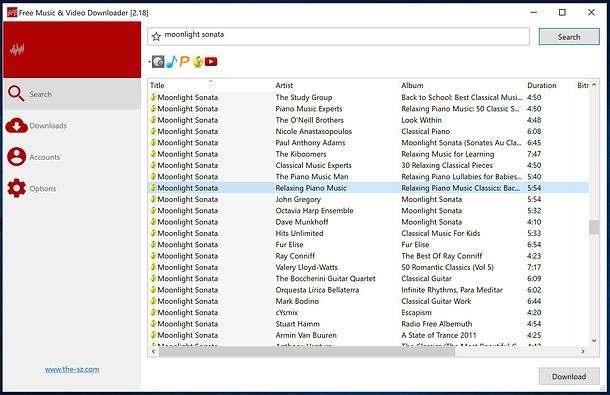 Let's start this excursus between music download software da Lacey, a Windows software that allows you to download free music from various hosting services. It is not a P2P software, this means that the download of the songs takes place directly (without queues or waits) and that you must not share files with other users. Furthermore, it does not require installations in order to function.
To download Lacey on your PC, connect to the official website and click on the item Free Download Lacey.zip located in the middle of the page. Then open the archive Lacey.zip you just downloaded, extract the contents to any folder and run the executable Lacey.exe.
Now you just have to type the title of the song you want to download in the search field located at the top and press the button Submit on your PC keyboard. After a short search, Lacey will show you the available songs and you just need to double click on their titles to download them.
Afterwards, you can follow the progress of the download and open the folder with the songs downloaded by going in the section Downloads, through the appropriate link on the left. From the same screen, in case of video download, you can convert the videos taken with Lacey into MP3 files by right clicking on them and selecting the item Convert to MP3 give the menu check if you press.
qBitTorrent (Windows/Mac/Linux)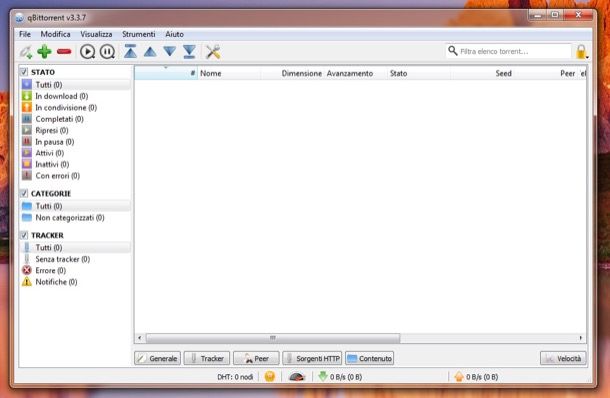 If you want to download entire music albums, perhaps those of independent artists who often use the BitTorrent network to distribute their works, you have to rely on qBitTorrent. Haven't you ever heard of it? Bad.
It is an excellent free client for downloading files from the BitTorrent network. It is much preferable to the much-acclaimed uTorrent as it is open source, multi-platform (it is compatible with Windows, macOS and Linux) and does not include advertising banners or promotional software. It also includes a convenient internal search engine that allows you to find files on the BitTorrent network without resorting to external sites.
To download qBitTorrent on your computer, connect to its official website and click on the item first qBittorrent vxx installer and PGP signature placed next to the Windows flag and then on the link Download qBittorrent Windows. If you are using a Mac, click on the item first qBittorrent vxx (DMG and PGP signature) next to the Apple logo and then on the link Download qBittorrent Mac OS X.
Once the download is complete, open the file qbittorrent_xx_setup.exe you just downloaded and click on Yes and then OK e forward. Then put the check mark next to the item I accept the license conditions and finish the setup by pressing on first forward twice in a row and then on Install e end.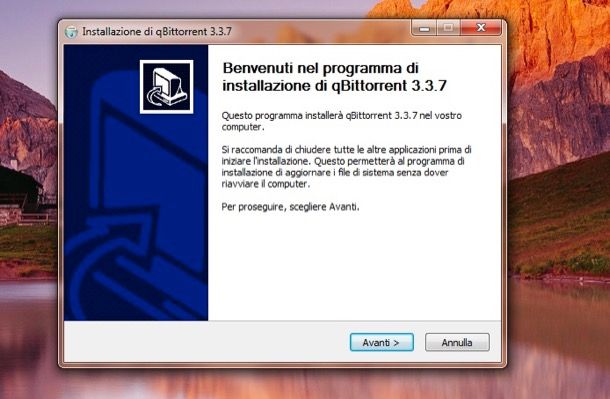 If you are using a Mac, open the package dmg downloaded from the qBitTorrent site and drag the program icon into the folder Applications say macOS.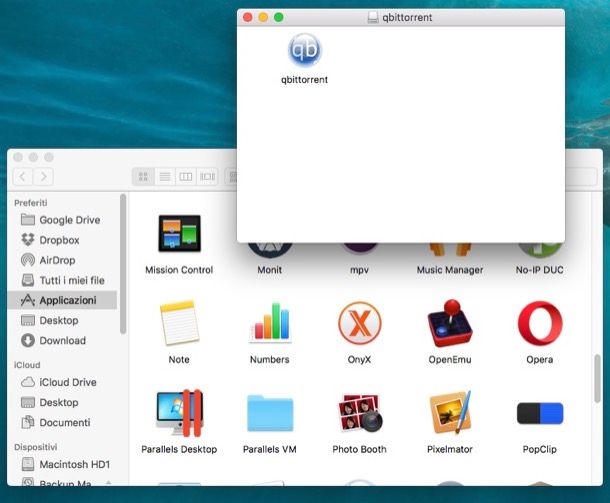 Now you just have to open qBitTorrent and feed it your favorite torrent files or start a search on the BitTorrent network. In the first case, all you have to do is open, by double clicking on it, a torrent file previously downloaded from the Internet (or click on a magnet link, which is even better).
To use the search function, however, you have to go to the menu View> Search Engine (o Search Engine) and accept the Python installation (required on Windows only).
Note: to use qBitTorrent correctly, you need to enter the configuration panel of your router and open the port used by the program to accept incoming connections. You find all the instructions you need in my tutorial on how to open router ports.
eMule/aMule (Windows/Mac/Linux)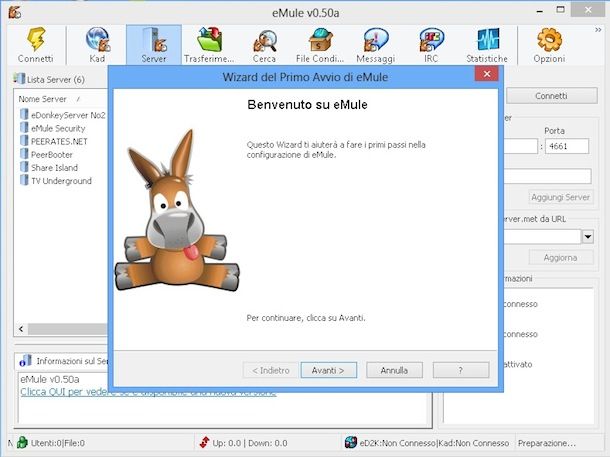 eMule is a P2P software that I would dare to call historical. It experienced its peak of popularity a few years ago, when there was not yet the "boom" of streaming and hosting services, but it can still be useful today. I especially recommend it if you are looking for "rare" songs or albums, which you couldn't find with Lacey or on the BitTorrent network.
To download eMule on your PC, connect to the program's website and click on the item Download found under the heading Installer. Then open the file eMulexxInstaller.exe you just downloaded and click on Yes and then OK, forward, Accept, forward twice in a row, Install, forward e endto conclude the setup.
At this point, follow the initial configuration procedure of the program (find more information about it in my guide to eMule) and start downloading your favorite music. All you have to do is click on the button Log in (top left) to establish a connection to the eMule eD2K and Kad networks and go to the tab Search to start searching for the songs or albums you are interested in.
There is also a version of eMule for macOS and Linux. Is called aMule and you can download it for free by connecting to this page of the SourceForge site and clicking on the link next to the item Looking for the latest version?. Its operation is practically identical to that of eMule for Windows.
Note: even eMule requires opening the ports in the router to work properly. To find out how to do this, read my guide on how to open the doors of eMule. Also remember to update the program servers and to properly configure the Kad network.
Spotify (Windows/Mac/Mobile)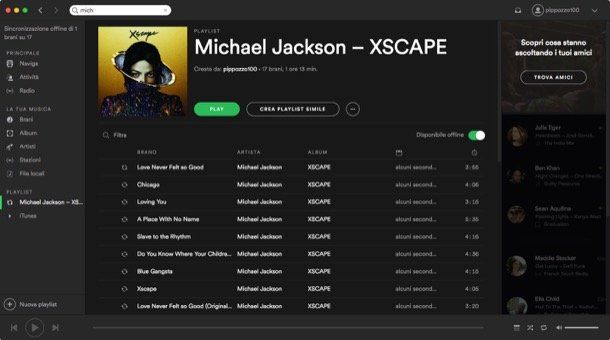 In recent times, the programs to download music based on P2P networks like eMule and online music stores like iTunes have been ousted from streaming services. One of these - the most famous of all - is Spotify which not only allows you to listen to music in streaming (in a totally legal way), but also to download songs, albums and playlists offline.
The offline music download is reserved for users who subscribe to the paid plan of the service (9,99 euros per month or 14,99 euros / month for the Family plan which supports a maximum number of 6 users) and is allowed on all platforms: Windows PC, Mac, Android smartphones and tablets, iPhone, iPad and Windows Phone.
Starting the download of offline content in Spotify is very simple, just click on the icon [...] located next to a song or album title and select the item Save to Your Music from the menu that opens. Alternatively you can select the option Add to playlist and save the content in a custom playlist (only playlists can be saved offline from desktop). When the operation is completed, you need to go to the section Your music Spotify, select the album or playlist to keep locally and activate the switch Download.
It should be noted that the songs downloaded in Spotify can only be heard in Spotify, they cannot be exported to other players. If you want to know more and want to learn more about this excellent service, read my guide to Spotify.
Apple Music (Mac/Windows/Mobile)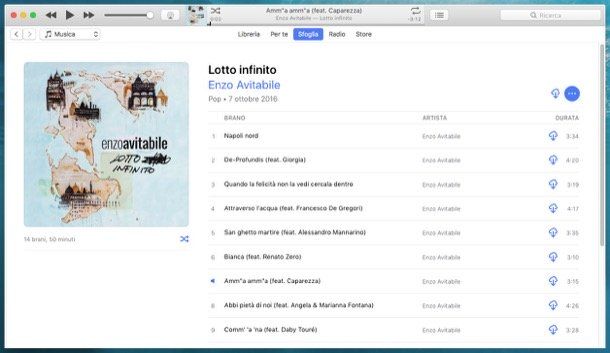 Apple Music is Apple's answer to Spotify. It is therefore a streaming music service accessible from Windows, macOS, iPhone / iPad and Android that allows you to listen to music online and download songs locally.
Unlike Spotify, it doesn't have a free plan, it costs 9,99 euros / month after an initial 90-day trial (or 14,99 euros / month if you choose the Family plan for 6 users), and it doesn't have a dedicated client. On computers it works directly from iTunes, Apple's famous multimedia software, while on iPhone and iPad it is accessible through the app Music included as standard in iOS. Only on Android is available as a separate app, to be downloaded from the Google Play Store.
To download songs and albums from Apple Music you must first add them to your music library (by clicking on the icon (+) located next to their title) and then click on the icon nuvola that appears in place of the add to library button.
If you need more information on how Apple Music works, both from desktop and mobile, check out my tutorial on how to listen to music offline in which I told you about the service in more detail.
Amazon Music (Windows/Mac/Mobile)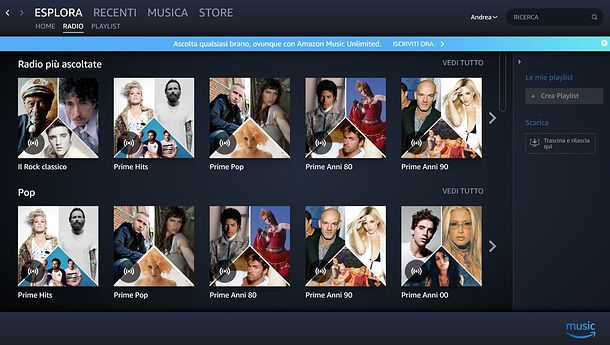 Amazon Music is a music streaming service offered by Amazon. It is compatible with Windows, macOS, Android, iOS and many other devices. However, the music download is only available on smartphones and tablets.
Its prices and features are variable: for subscribers to the Amazon Prime service it is available for free with access to 2 million songs for 40 hours a month; otherwise it costs 9,99 euros / month or 99 euros / year and offers access to 50 million songs.
In both cases, to download the songs in a mobile environment, you need to identify the contents of your interest, press the button with the three vertical dots (next to the titles of the latter) and select the item Download / Download from the menu that opens. For more details on this, check out my tutorial on how Amazon Music Unlimited works.
YouTube Music (Web/Mobile)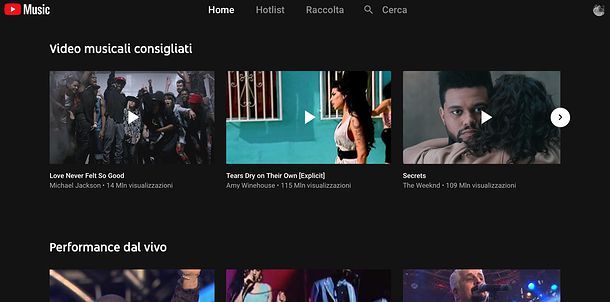 YouTube Music is a special version of YouTube dedicated entirely to music. It is accessible from the web and is available as an app for Android and iOS. You can use it for free, but the offline content download function is only available upon subscription to a subscription of € 9,99 / month (single version) or € 14,99 / month (family version, usable by 6 people) . In any case, there is an initial 3-month free trial.
Offline content download is only available from mobile devices and not from computers. To use it, press the ⋮ button located next to the title of the song, album or playlist of your interest and select the item Download from the menu that opens. For more info, read my tutorial dedicated to the service.
Zedge (Android)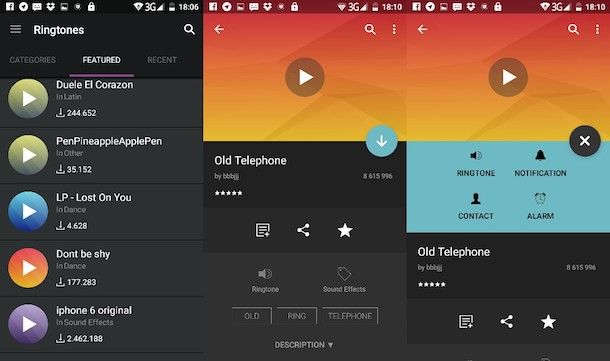 Are you looking for a beautiful ringtone for your Android smartphone? Then don't think twice and turn to Zedge. It is a fantastic free app for Android that allows you to download ringtones, wallpapers and themes for mobile. It is also available for iPhone, where, however, its database is less rich.
How to use? It is almost useless to explain it. After installing it on your smartphone, all you have to do is press the button? located at the top left, select the item Ringtones from the menu that opens and first press on the title of the song to download and then on the button with thearrow icon present on the page that if you press.
At the end of the download you can choose to set the ringtone as the default ringtone, as a ringtone for a contact, as a notification sound or as an alarm by pressing one of the icons that appear in the center of the screen. If you want to know more, read my post on ringtones for Android. As for the iPhone, however, you have to go through the iTunes file sharing.
Audiko (iOS/Android)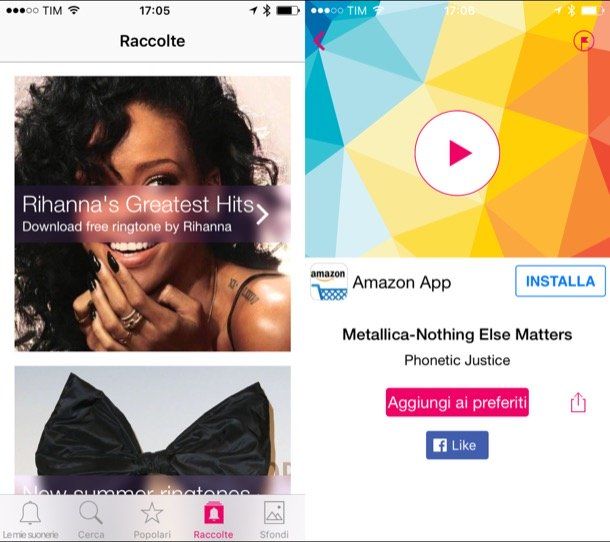 Audiko is another great app to download free ringtones, one of the very few still available for iOS (where it costs € 1,09) and for Android, where it's free (and where I think ZEDGE is better). To use it, download it from the App Store, select the tab Search located at the bottom right and search for the ringtone to download.
Once you have identified the ringtone of your interest, select it and press the button Add to Favorites present in the screen that opens. At the first download you will be asked to log in via Facebook or Google.
Unfortunately, due to iOS restrictions, apps like Audiko cannot change the iPhone's default ringtone. This means that to use the ringtones downloaded from Audiko on your "iPhone by" you have to connect the device to your computer, then you have to export the ringtones to your PC via iTunes and you have to re-synchronize them with the iPhone using the option dedicated to ringtones. To find out in detail all the steps to take, read my tutorial on how to put a song as a ringtone on iPhone.
Sites to Download Music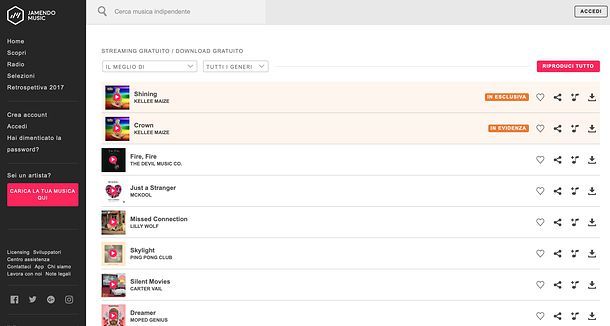 Are you looking for interesting music produced by independent and / or emerging artists? Need a soundtrack for your video montages but don't want to spend money to get it? Then you absolutely have to turn to services like Jamendo, Free Stock Music and Whatfunk.
These are Internet sites that allow you to download free music without subscribing to any type of subscription. Some of the works they host are distributed under a Creative Commons license, this means that they can be downloaded for free and used freely in both personal and commercial projects. If you want to know more read my guide on the best services to download MP3.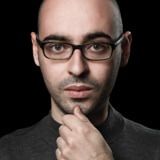 Author
Salvatore Aranzulla
Salvatore Aranzulla is the most widely read blogger and IT popularizer in Italy. Known for discovering vulnerabilities on Google and Microsoft sites. He collaborates with computer magazines and edited the technological column of the newspaper Il Messaggero. He is the founder of Aranzulla.it, one of the thirty most visited sites in Italy, in which he easily answers thousands of computer-related doubts. He has published for Mondadori and Mondadori Informatica.