Finding some interesting movies on TV is getting harder and harder. Even the pay TV offer is not always up to the price - very high - that you pay monthly. So why not turn to one of the many streaming services available on the Internet?
With a medium-speed ADSL connection, it is possible to access vast catalogs of films of any genre, era and nationality to watch on-demand on computers, smartphones, tablets, Smart TVs, Chromecast and other devices: all in a completely legal way, in high quality and without spending crazy amounts, indeed even free in some cases!
Would you like to know more? Well, then take five minutes of free time and take a look at the list of sites to watch movies in streaming that you find below: there are services, both free and paid, that are just waiting to be tried. You will be amazed by the quantity, and above all the quality, of the titles available. After discovering them you will turn on your TV even more infrequently, probably just to enjoy some great streaming movies!
PopCorn TV (free)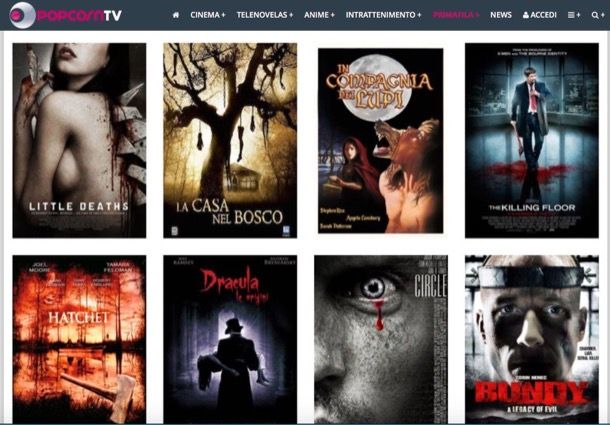 If you are looking sites to watch movies in streaming totally free, I can only recommend PopCorn TV. Founded by Delta Pictures, it is an online service that gives access to over 500 Italian and international films (mainly American, to be precise), accessible directly from the browser. It does not require registration and works on all operating systems without the need for Flash Player. Its contents can also be enjoyed on smartphones and tablets.
To start playing a movie on PopCorn TV, connect to the main page of the site and select a film genre from Action, Comedy, Horror, Dramatic etc. using the appropriate menu at the top or by using the boxes on the home page.
Once you have identified the film to watch, click on its poster, click on the button Look now and enjoy the show. Before and during the viewing, commercials will be displayed: this is the main source of income for the service.
VVVVID (free)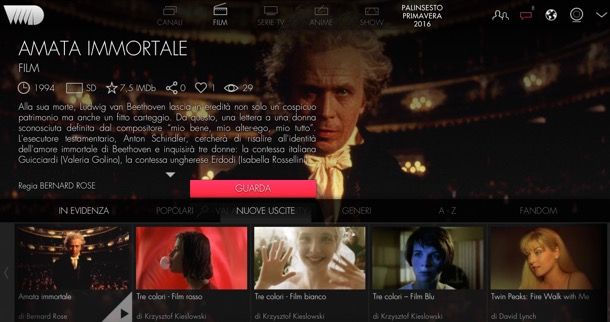 VVVVID is one of the best video on-demand services available in free scope. Its flagship is Japanese anime, which are offered both in the original language and dubbed in Italian, but it also offers a bunch of interesting movies and TV series.
To access VVVVID, you need to connect to its home page and create a free account on the site by filling out the registration form or authenticating through Facebook. When the operation is completed, you can access the section FILM of the service (top left) and enjoy all the works of your interest. The films in the VVVVID catalog are among the most diverse: they range from the great classics of Italian comedy (e.g. the films with Bud Spencer and Terence Hill), to American and Japanese horror films, without forgetting the great classics of the past, cult films such as "Twin Peaks: fire walks with me" and documentaries of various kinds. To browse the movies available in streaming you can use the tab for selecting the film genres, the one with the new releases or the one with movies more popular.
VVVVID is accessible from any modern web browser (it does not require Flash Player to work) and also from smartphones and tablets thanks to the apps for iPhone / iPad and Android devices.
Chili (payable)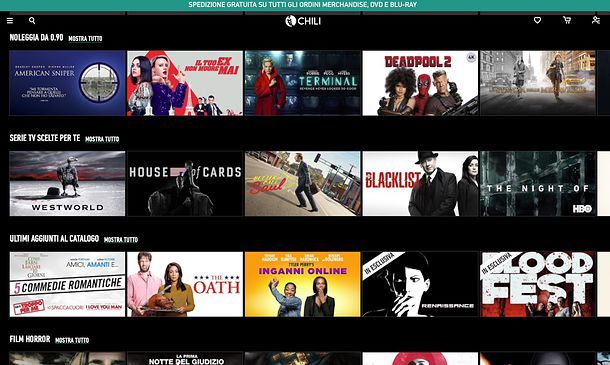 Chili is the ideal solution for those looking for first-run movies to watch online but don't want to take out a subscription to pay monthly. It allows to rent or purchase individual films in digital format (and not only) to then watch them on a wide range of devices: PC (via one of the supported web browsers), Android smartphones and tablets, iPhone / iPad, Smart TVs Samsung, LG, Philips, Sony, Panasonic, Hisense and Haier and Chromecast. Local content downloads are also allowed on smartphones and tablets.
The prices for the rental of the films start from 0,90 euros, those for the purchase from 4,99 euros. The accepted payment methods are: card, PayPal, Satispay and Chili balance. The resolution of the contents can be SD, HD, Full HD or 4K (an Internet connection of at least 1Mb / s is required for correct viewing). As far as reproduction times are concerned, rented films can be seen within 28 days but must be "consumed" within 48 hours after the first reproduction; those purchased, on the other hand, can be viewed at any time, as often as desired (always via the Chili website or app).
In the Chili catalog there are films (and TV series) of every genre, era and nationality, including titles that have just come out of cinemas. There is even the possibility to pre-order the films still present in the room, often taking advantage of special promotions. To access all content, just create a free account.
To register for Chili, then connected to the home page of the service, click on thelittle man located at the top right and choose the item Log in or register from the menu that opens. Then press the button Register for free and fill out the form that is proposed to you or, alternatively, press the button Facebook to sign up via your social account. The same procedure can also be implemented through the Chili app for Android (but not from the one for iOS, which only allows you to view the contents).
Once the registration is complete, you can browse all the content available on Chili by consulting the main page of the site, by going to the section Videos (accessible by pressing the button?) or by carrying out a direct search, using the icon of magnifying glass. For more information, take a look at my tutorial dedicated to the service.
YouTube (free / Paid)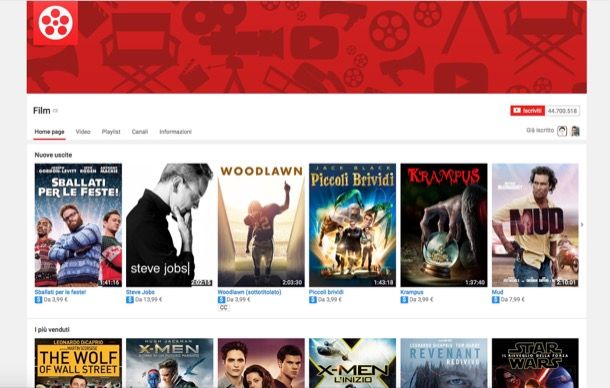 YouTube needs no introduction, it is the most popular video site in the world. Not everyone, however, knows that inside it is possible to find films to watch for free in a completely legal way.
The credit goes to some networks, such as those I am going to talk to you, who regularly purchase the film rights and distribute them for free on "Portalone" Google.
Among the networks, and therefore the channels, the most interesting of the moment I point out: Movie ON by YAM112003 which includes fairly recent international films (also in original languages) belonging to various genres and Film & Clips by Minerva Pictures which instead offers several interesting comedies and horror films . Finally, remember that by connecting to the Cinema Italia YouTube channel you can rent all the films that have just arrived on the home video market at fairly affordable prices.
YouTube contents can be enjoyed on all devices compatible with the service: PC, smartphone, tablet, video game console, Smart TV, Chromecast etc.
RaiPlay (free)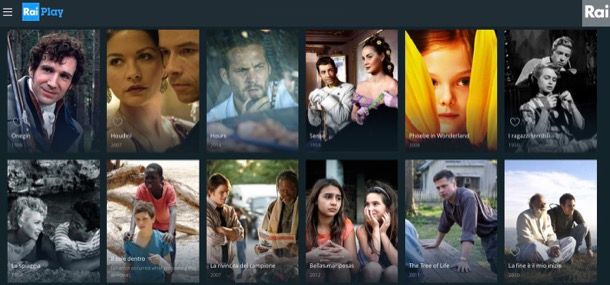 The RaiPlay portal allows you to watch all Rai digital terrestrial channels in live streaming and, more importantly, it allows you to watch the best films broadcast over the last few days for free on-demand. To browse the list of works available on demand, connected to the main RaiPlay page and first click on the button ? which is located at the top left and then on the item Videos present in the bar that appears on the side,
The films can be played in any web browser (no Flash Player required) and on any portable device thanks to the RaiPlay app for Android, iOS and Windows Phone. On portable devices, you need to create a free account before you can watch movies and other on-demand content.
I also point out that on the Rai Cinema Channel website you can find a series of Web Movies made specifically for the large network. You can watch them all at no cost without signing up or social authentication.
Paramount Channel (free)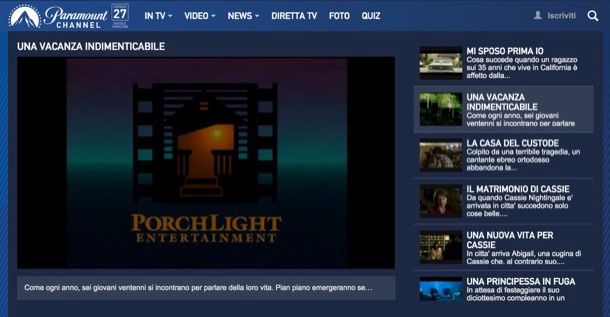 Another "television" site that I advise you to keep among your bookmarks is that of Paramount Channel, a free digital terrestrial and satellite broadcaster that broadcasts a lot of interesting films (all made in the USA).
In addition to finding the live of the channel, accessible by clicking on the appropriate button located at the top right, on the Paramount Channel site you will also find a rich on-demand section that allows you to watch for free some films recently broadcast by the broadcaster.
To play the movies you can use any browser with Flash Player support or even smartphones and tablets through the appropriate apps for Android and iOS. No registrations are required.
MyMovies Live (free of Charge)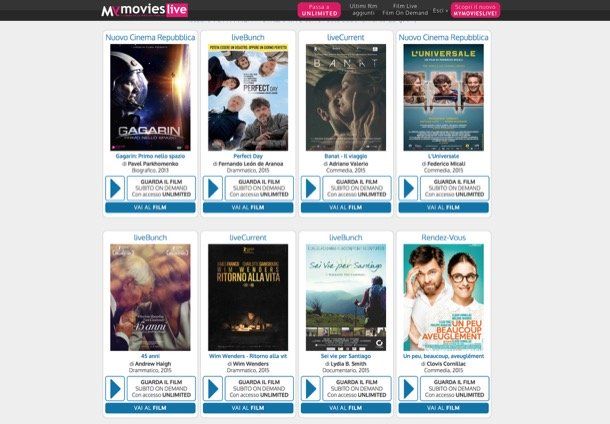 MyMovies Live is a service that allows you to stream selected films from the best international film festivals.
It has a peculiarity compared to the services analyzed previously: to watch a film, you need to register (by clicking on the button Activate a free profile at the top) and reserve your seat in a virtual room that has limited seats. Once the available places have been exceeded, it is no longer possible to book a movie. Furthermore, to watch the streaming you must connect to the site on the date and time indicated (just as if it were a cinema screening).
To remove these limitations, and access to a vast catalog of films, you can sign the plan at IMDb Live fee which costs 1,99 € / week.
Netflix (paid)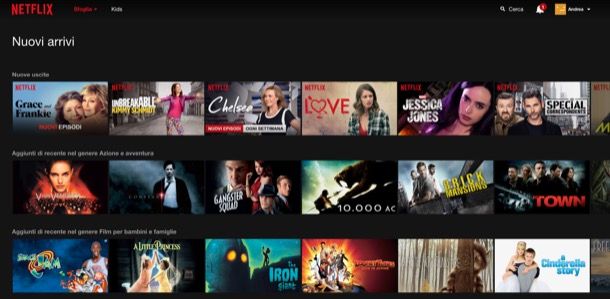 Would you be willing to pay a monthly subscription to see some good movies in streaming? Then I highly recommend you try Netflix.
Netflix is ​​the world's most popular video on-demand service. In its catalog there are films of all genres, nationalities and eras to watch at any time with the highest audio / video quality. There are also many TV series (some of which are absolutely exclusive, such as "Daredevil"), documentaries and cartoons that can really satisfy all tastes.
The service is accessible from PC (any browser), smartphone, tablet, Smart TV, video game console, Chromecast, Apple TV and other devices. It offers various subscription plans: the basic one costs € 7,99 / month and allows you to view only the content in standard definition on a single device; the intermediate one costs 11,99 euros / month and allows you to play the contents in Full HD on two devices at the same time, while the "premium" one costs 15,99 euros / month and allows you to view UltraHD content on four devices simultaneously.
On smartphones, tablets and computers with Windows 10, offline playback of content is also allowed. Depending on the promos in progress, an initial trial of varying duration, from 14 to 30 days, may be granted. For more info see my guide on how to watch Netflix.
Infinity (payable)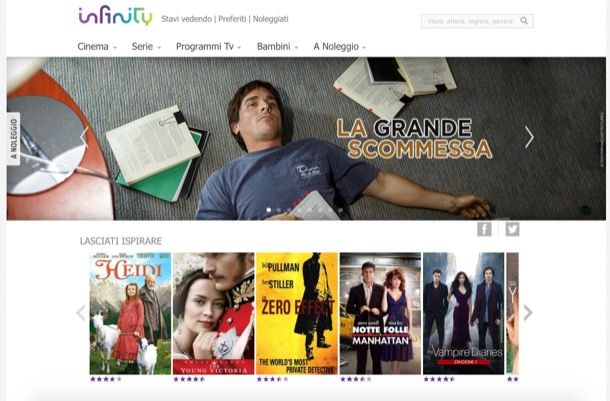 Infinity by Mediaset is one of the best alternatives to Netflix available on the Italian market. Indeed, from a cinematographic point of view it offers a wider catalog than the competitor to the stars and stripes. In addition, every week it allows you to watch for free one of the films that have just arrived on the home video market (titles that can normally be rented for an extra sum compared to the monthly fee of the service). Another interesting feature of Infinity is the ability to download movies (or even TV series and cartoon episodes) offline and watch them within a week without having an active Internet connection.
The service is accessible from PC (other than the Chrome browser requires the Microsoft Silverlight plugin), smartphones, tablets, Smart TVs, and game consoles Chromecasts. You can try it for free for 30 days, after which it costs € 5,99 / month for 6 months and € 7,99 / month for the rest of the time. The contents are in HD, Full HD or even UltraHD quality. If you want to know more read my tutorial on how Infinity works.
Amazon Prime Video (a Pagamento)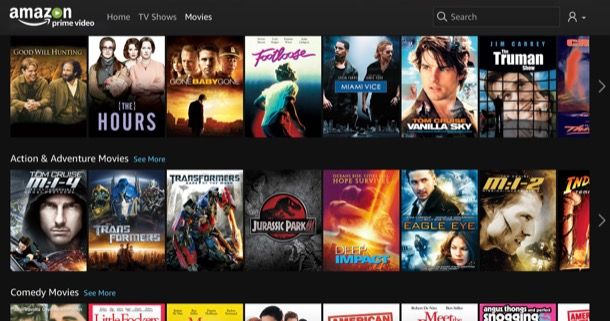 Amazon Prime Video is Amazon's video streaming service. Arrived in Italy in December 2016, it has a catalog consisting of hundreds of films and TV series, some of which are absolutely exclusive. It does not have a monthly cost as it is included in the Amazon Prime subscription, which currently costs 36 euros per year or 4,99 euros per month, and is compatible with a wide range of devices: computers, smartphones, tablets and Smart TVs . To underline the fact that on smartphones and tablets it also allows you to download content offline.
Video resolution can go up to UltraHD and HDR option is also available on supported Smart TVs (on some selected content). The service interface is in English, but many contents are dubbed and / or subtitled in Italian. To find the contents in Italian just click on their cover image and consult the technical information available in the screen that opens. For more information on how Amazon Prime Video works, read my tutorial dedicated to the service.
NOW TV (paid)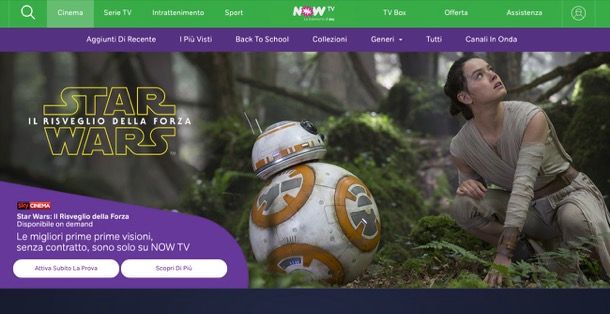 NOW TV is a service that allows you to access Sky Italia's offer via the Internet. It is accessible from PC (where it requires Microsoft Silverlight), smartphone, tablet, Smart TV, video game console, a proprietary set-top box based on the Roku 2 and a Smart Stick also manufactured by Roku. Its monthly cost is dictated by the "tickets" that you choose to activate: the Cinema ticket, which allows you to access hundreds of on-demand movies and watch Sky Cinema channels in live streaming, costs 9,99 euros / month with a free 14-day trial (along with tickets with TV series and TV shows).
The contents are in both SD and HD, although at the moment the playback of the movies in Full HD is reserved for NOW TV Box, NOW TV Smart Stick, video game console, Chromecast and Smart TV. Unfortunately, Apple TV support and local download are missing. If you want to know more, read my tutorial on how NOW TV works.
Disney + (paid)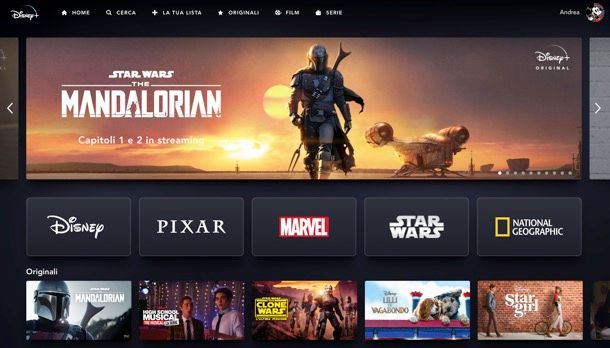 As his name suggests quite easily, Disney + is a video streaming service made by Disney that gives access not only to Disney and Pixar classics, but also to all films and series The Marvel movies e FOX to all content in the world Star Wars and the documentaries of National Geographic.
You can try free for 7 days, without obligation, after which it costs 6,99 euro / month or 69,99 euro / year. It is accessible from PC, smartphone, tablet, Smart TV, Chromecast, Fire TV Stick, Apple TV HD / 4K, and video game console. More info here.
Other Useful Resources
After this "overview" on the best sites to watch movies in streamingyou should be able to satisfy your desire for cinema without too many problems. Anyway, before leaving you I would like to point out some of my posts in which I talked about other sites that allow you to watch movies online.
How to watch TV in streaming - a list of the best Italian TV channels that stream on the Internet. Among them there are many who broadcast films.
How to record from TV - a guide to Vcast, a very useful free online service that allows you to record TV programs on OneDrive, Google Drive or other cloud storage services.
How to rent a movie online - a list of the best services to rent movies online. Ideal for those looking for films that have just arrived on the home video market.
Article created in collaboration with Chili.