Doesn't the image viewer included with Windows satisfy you? Every time you double-click on a PNG file or a JPG file, does it take your computer a lifetime to open it? You probably need new photo viewing software. Believe it or not, there are tons of them, many of which are free and incredibly quick at opening images (as well as packed with cool features that aren't available in the Windows image viewer).
So, what do you think? Would you like to invest a few minutes of your free time and discover, thanks to my suggestions, some of the best programs to view photos currently available on the square? As I already mentioned, there are really something for all tastes and needs. You just have to choose the one that seems to you best suited to your needs and install it following the instructions below.
How do you say? Are you using a Mac and not a Windows PC? No problem. Among the software that I have chosen to offer you today there are also some for macOS. I would say, therefore, not to lose ourselves further in small talk and to immediately take action. Take a look at all the applications listed below and install the one that "inspires" you the most!
IrfanView (Windows)
IrfanView is one of the programs to view photos lightest and most flexible available for Windows. It is a free application - for non-professional use - that supports all major graphic file formats allowing not only to view them very quickly, but also to organize and modify them in various ways.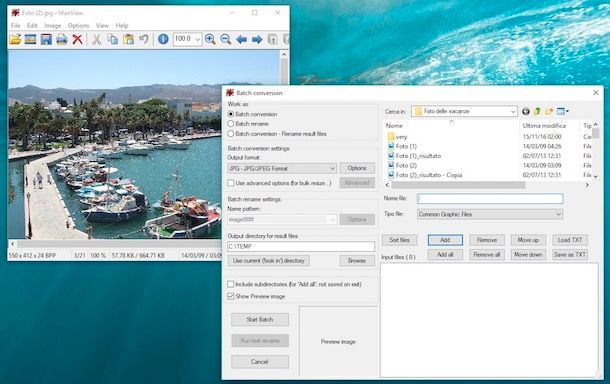 Going into more detail, IrfanView allows you to add text and special effects to images, change colors, convert photos from one format to another, crop / resize images and much more. It can be translated into Italian and its vast functionalities can be further expanded with the help of plugins available on the Net. Download from here.
If you want to learn more about how IrfanView works, take a look at my tutorials on how to convert PNG to JPG and how to compress JPG in which I explained how to make the most of the potential of this software.
XnView MP (Windows/Mac/Linux)
XnView MP it's a program for viewing and managing digital photos very advanced that supports approximately 500 read file formats (including RAW files from digital cameras) and over 70 output file formats. Allows you to make all common image edits and edit their EXIF ​​data. It also supports functions to rename photos in batch mode and convert them to various formats.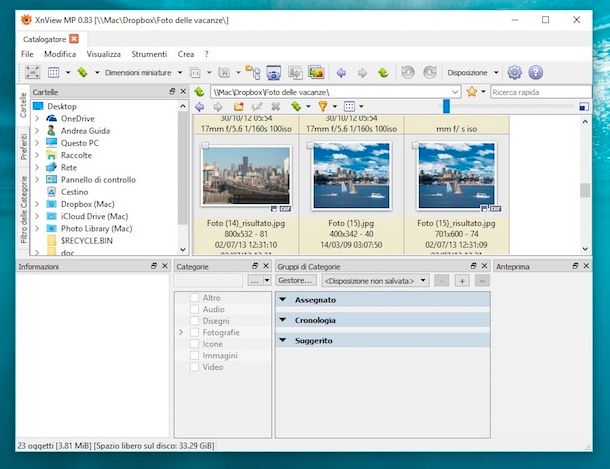 Another very important thing to underline is that XnView MP is compatible with all major computer operating systems: Windows, macOS and Linux and is also available in portable version, so it can be used without carrying out installation processes and can be easily transported to any USB stick. Download from here.
Please note: the software can be used free of charge only for personal purposes or for the educational / non-profit environment. To use it in a professional environment, you need to purchase a license with prices starting from 26 euros.
FastStone Image Viewer (Windows)
FastStone Image Viewer is a very popular photo viewing program compatible with all versions of Windows. It has an extremely curated user interface that can be customized via skins and its support for almost all existing graphic file formats: BMP, JPEG, JPEG 2000, animated GIF, PNG, PCX, PSD, EPS, TIFF, WMF, ICO, TGA . It also supports digital camera RAW files, allowing you to view and edit them with a myriad of different effects.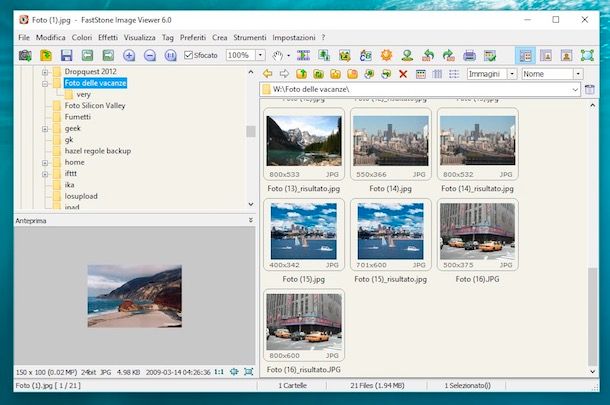 Among the many functions of this software there are also those to modify EXIF ​​data, convert images from one format to another in a few clicks and compare two images to highlight the differences. FastStone Image Viewer is available in two versions: a standard and a portable one that can be used without tedious installation procedures. Download from here.
Please note: the program is free to use only for personal, educational or non-profit organization purposes. To use it in a professional environment, you need to purchase a license at a cost of $ 34,95.
ACDSee (Windows)
Although not as popular as a few years ago, ACDSee remains one of the reference points in the panorama of programs to view photos on Windows. It supports all major digital photo formats (including RAW images from digital cameras) allowing you to organize your albums in an extremely easy and fast way.
The photos in the ACDSee library can be cataloged with custom tags and can be searched based on EXIF ​​data, the geographic location where they were taken and other parameters. The full support for the touch screen which allows you to "browse" the images in a very natural way on all touch computers equipped with Windows 8.x and Windows 10.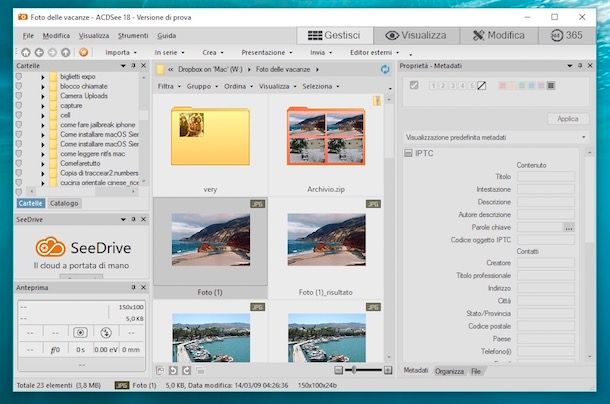 ACDSee is paid, but it is available in a free trial version that allows you to test all its functions for a period of 16 days. It also includes advanced tools for editing photos, special filters and many other functions intended for photographers (and more generally for photo enthusiasts) to obtain professional-looking shots. Its interface is extremely intuitive and is divided into tabs: that Manage in which to organize your photo collection, that View where you can quickly browse the images contained in a specific folder or album and that Modification with all the filters and effects to apply to photos. Then there is the card 365 which allows you to access all cloud services related to ACDSee. Download from here.
Please note: To use the free trial version of ACDSee you must create a free account on the ACDSee network using your email address. In this way, you receive a code necessary to activate the trial.
JPEGView (Windows)
JPEGView is the ideal solution for anyone looking for a minimalist, extremely fast and efficient image viewer. It is completely free, open source and can be used freely even for commercial purposes. It supports JPEG, BMP, PNG, WEBP, TGA, GIF and TIFF files allowing not only to view them "on the fly", but also to modify them by acting on colors, exposure and other parameters.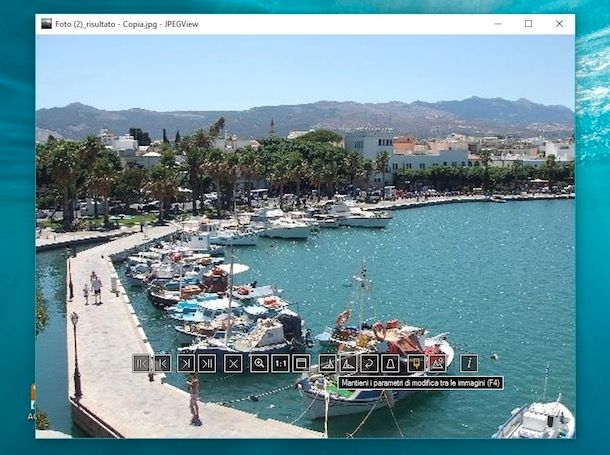 Another important thing to know is that JPEGView is portable software, which means that it can be used without tedious installation procedures and can be carried on any USB drive. It is compatible with all versions of Windows 32 and 64 bit (just make sure you run the correct executable of the two available in the software folder). Download from here.
Zoner Photo Studio (Windows)
Another "photographic" software that must absolutely be taken into consideration is Zoner Photo Studio, which allows you to view and organize all major graphic file formats very efficiently. Supports photo cataloging by tags, geographic information, ratings and keywords; allows you to convert all major graphic file formats; resize and crop photos and share them on social networks.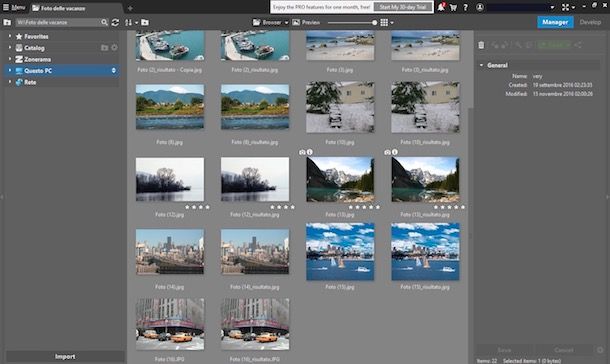 There are two versions of this software available: a basic free and a paid one (with a 30-day free trial) which includes advanced tools for creating slideshows and screen captures, allows you to process images in batch, compare photos, supports HDR and includes tons of advanced photo editing features. Download from here.
If you want to learn more about how Zoner Photo Studio works and want additional information on it, take a look at my tutorial on how to archive photos.
Please note: To use the free version of Zoner Photo Studio, you must activate your copy of the software by providing your email address and clicking on the confirmation link that you receive by email. In this way you can generate the password to be used to access the program.