Whenever you try to open a PDF file, does your computer freeze for a few seconds? Would you like to add annotations or other small changes to PDF files but the software you currently use to open PDFs doesn't allow you to do that? Don't worry, today I will help you find a solution that best suits your needs.
Fortunately, there are many programs to open PDFs, even free, and many of them include editing functions thanks to which it is possible to modify documents by adding signatures, annotations, texts, arrows and other elements of various kinds to them. What do you say? Would you like to find out which are the most interesting and what features they offer? I bet you will find more than one that suits you!
Come on, take five minutes of free time, find the software to open PDF that seems more in line with your needs and run to install it! Whether you have a Windows PC, a Mac or even a portable device equipped with Android or iOS you will surely find what is right for you. I wish you a good reading and a lot of fun!
Adobe Reader (Windows/Mac/Android/iOS)
When you are talking about programs to open PDFs, the first name that comes to mind can only be that of Adobe Reader, the most famous and used software to manage and view documents in this format which has become very popular. The program is available in two versions: a free version with some basic functions for editing documents (e.g. the ability to insert signatures, add annotations and export texts in plain text format) and a paid version (Adobe Acrobat which costs € 24,74 / year) which instead includes advanced features such as editing text, creating PDFs starting from Office files and images and much more.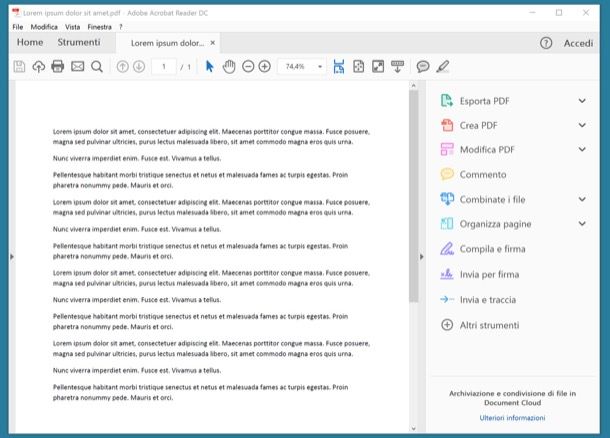 Adobe Reader is compatible with both Windows and macOS and its performance has definitely improved compared to a few years ago: it is not as fast in opening files as alternative software that we will talk about shortly, but it is not pachydermic like some versions ago. . If you want to learn more about its operation, read my guide dedicated to the program. Furthermore, I would like to point out the availability of a mobile version of Adobe Reader compatible with Android and iOS.
Before starting the Adobe Reader download, be sure to remove the check mark from all items related to promotional software, otherwise they will also be installed on your PC. Download from here.
Sumatra PDF (Windows)
Sumatra PDF is the ideal solution for those looking for software for opening PDF files that is essential, fast and extremely easy to use. It does not include functionality related to editing: it only allows you to view documents, search for terms within them and print them. It supports not only PDF files, but also e-books in ePub and Mobi format, XPS, DjVu and CHM documents and electronic comics in CBZ and CBR format.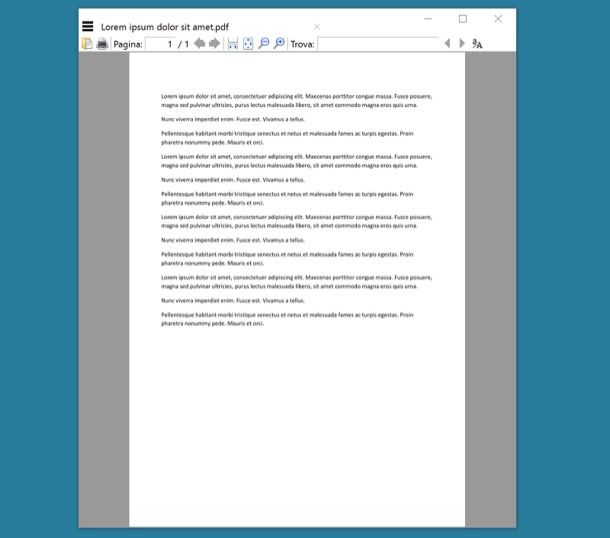 Another important thing to underline is that Sumatra PDF is available in a portable version that can be used without following tedious installation procedures: you download it, copy it to a folder on your PC (or even on a USB key) and performs. If you need a PDF reader that is always just a click away and / or a software for reading PDFs to use on older PCs, you've found the one that's right for you! Download from here.
Foxit Reader (Windows/Mac/Android/iOS)
It is a very flexible and light program that became very popular when, a few years ago, it represented one of the first real Adobe Reader ad free alternative. Over time it has become more "commercial", it has weighed down a bit ', but in its free version is still a great software capable of view multiple PDFs at the same time (tabbed interface) and editing documents with annotations, filling out forms and other interesting features.
The Pro version of Foxit (Foxit PhantomPDF, also available as a trial in the Foxit Reader installation package) allows you to edit PDF text, perform OCR recognition, develop PDF forms and include other advanced features. Download from here.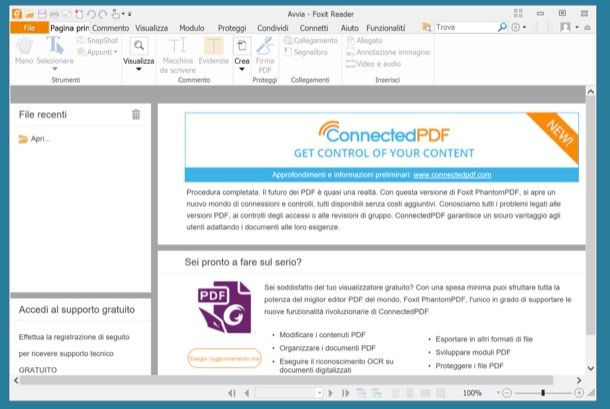 Also worth noting is the availability of a mobile variant of Foxit PDF: a free app for Android and iPhone / iPad that allows you to view PDF documents and edit them by adding writings, highlights, etc. to them. It also includes 99 cent in-app purchases to unlock support for cloud storage services (Dropbox, Google Drive, etc.). I also told you about it in my tutorial on how to write to a PDF file.
Nitro Reader (Windows)
Probably one of the best programs to open PDFs available at the moment. It has an Office-style user interface and tabbed browsing that allows you to view multiple PDFs at the same time. It allows to create PDF starting from many different types of files and to modify existing documents by adding notes, personalized writings, copying text, extracting images and much more. It is very light and extremely easy to use, even if its interface has not yet been translated into Italian.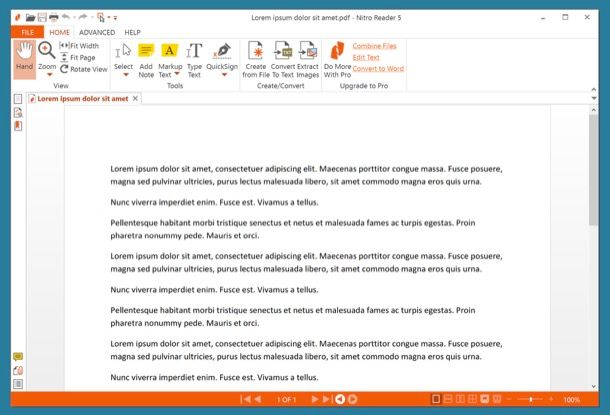 If you want to learn more about some of the features of Nitro PDF and want to know more about its editing functions, check out my tutorial on how to edit a PDF file. I also remind you that a paid version of the software is available (183.99 euros) that offers the functions to sign PDFs, scan documents and much more. Download from here.
Please note: to download Nitro Reader you need to provide your name and e-mail address (if you want, you can also use a temporary mailbox). Remember to remove the check mark from the item relating to offers and newsletters to not receive promotional emails from Nitro.
PDF-Xchange Viewer (Windows)
Another program that can easily be ascribed to the list of the best programs to open PDFs free. It does not have an interface as refined as that of Nitro Reader but has a series of advanced features that make it preferable to many paid solutions. Allows you to view multiple PDFs at the same time thanks to tabbed browsing, add annotations, highlight and copy parts of text and much more.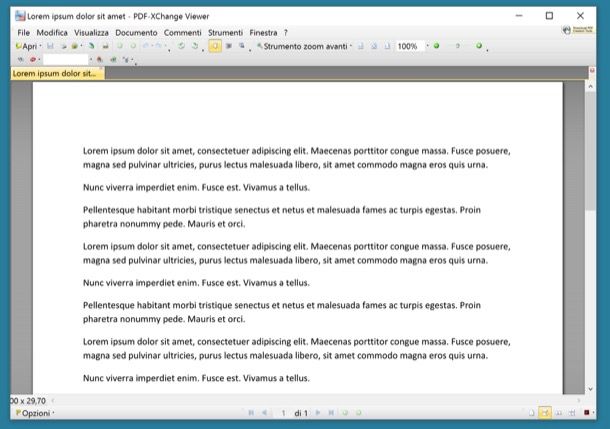 The Pro version of PDF-Xchange Viewer ($ 93,50 per year) includes some advanced features, such as the ability to merge multiple PDFs into one, insert pages into existing PDFs, and much more. Some of these "features" can also be exploited in the free version of the application, but a logo is added to the document. PDF-Xchange Viewer is completely in Italian, is very fast and is also available in a no-install version that does not require installation to work. Download from here.
Xodo PDF (Android/iOS/Windows Phone)
Are you looking for an application to view and edit PDF documents on your smartphone or tablet? Then I advise you to try Exodus PDF: a free app for Android, iOS and Windows Phone that allows you to view PDFs and edit them by adding writings, highlights, notes and more to them.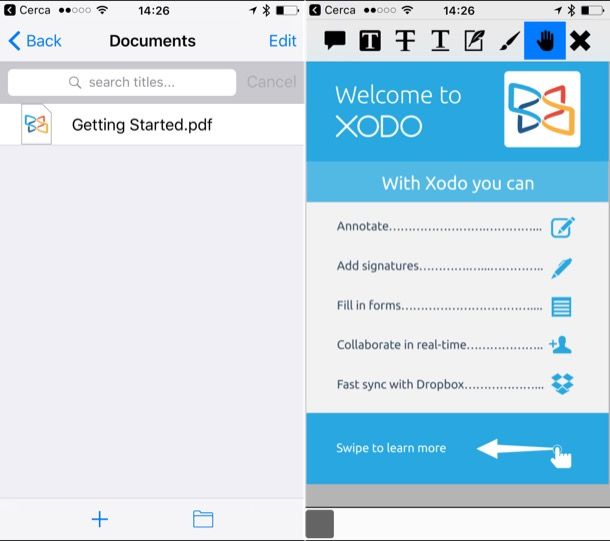 The app interface is extremely intuitive. Just open the document of your interest (cloud storage services such as Dropbox are also supported), press the icon of pencil located at the top right and edit the file using the tools that appear at the top.
If you need more advanced editing features, check out my post on PDF editing programs where I showed you some of the best solutions for editing PDFs on computers, smartphones and tablets - there really are some for everyone. tastes and all needs!