You have been sent a file in DWG format, would you really like to view it but on the PC you are currently using there is no copy of AutoCAD installed? Don't despair! There are several software that can solve your problem and, think about it, many of them are completely free.
Yes, you read that right! If you don't have AutoCAD installed on your computer and you don't intend to purchase a new copy of the software, you can open DWG files using free DWG programs easily available online. There really is something for all tastes and, more importantly, for all operating systems. Of course they do not include the editing and creation functions of the files included in AutoCAD, but for the sole visualization of the projects (in 2D or 3D that are) they are perfect.
What are you waiting for? Whether you have a Windows PC, a Mac or even a portable device equipped with Android or iOS you will surely find the solution that best suits your needs. Courage! Take five minutes of free time, try to find the software that best suits you and download it using the link in the article.
DWG TrueView (Windows)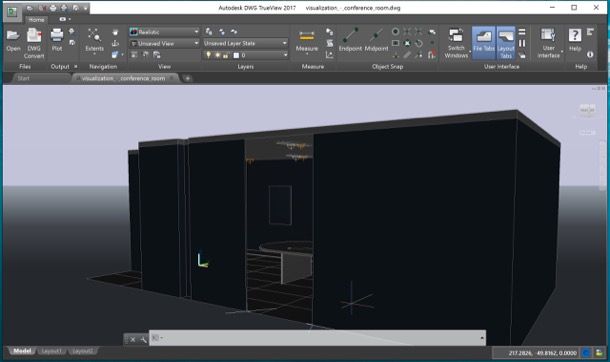 DWG TrueView is the best program by DWG for free. It is manufactured by Autodesk, the manufacturer of the hugely popular AutoCAD and therefore is based on the same engine as the latter. It allows you to view DWG and DXF files for free, having the ability to print them and track changes to 2D and 3D files. It also allows you to convert DWG files to PDF in an extremely easy and fast way. The program is only available for Windows and its interface has not yet been translated into Italian yet, however it is very simple to use.
To learn more you can refer to the tutorial how to view DWG files previously published on this blog. Download from here.
FreeCAD (Windows/Mac/Linux)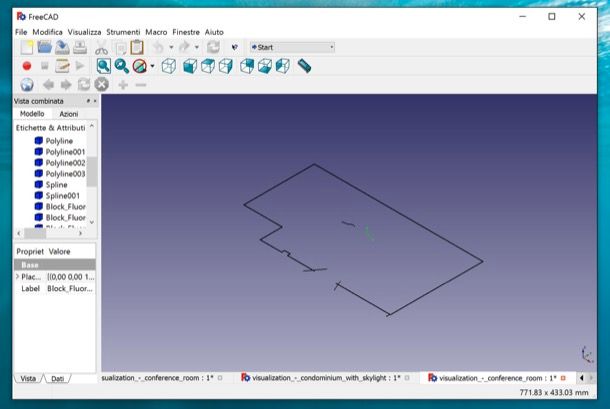 FreeCAD it's a very good one free alternative to AutoCAD which allows you to open and edit files in .DWG format. It has a very well structured user interface that is familiar to those who have used programs like AutoCAD, and is fully translated into Italian. More specifically, it is a free and open source 3D parametric modeling software designed to draw real world objects of any size. It is compatible with Windows, macOS and Linux and supports many different file formats: STEP, IGES, STL, SVG, DXF, OBJ, IFC, DAE and many more.
To activate DWG support you need to install the Teigha File Converter external software and copy the Dxf Importer plugin into the Macros folder. Download from here.
OpenText Brava! DWG Viewer (Windows)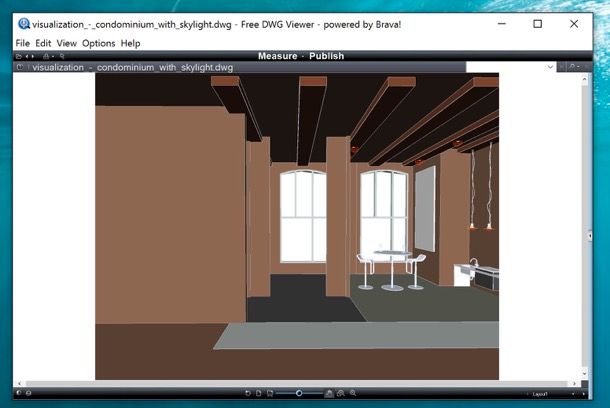 As its name suggests quite easily, OpenText Brava! DWG Viewer is a free program that allows you to view files in DWG, DXF and DWF format. It is very fast, easy to use and in addition to viewing them, it also allows you to measure and print AutoCAD files. It supports Xref, layer display and file attribute locking. It also includes a Web browser. Its interface has not yet been translated into Italian but it is still very easy to use even for non-experts.
It is compatible with all major versions of Windows, including 64-bit ones. Download from here.
SketchUp (Windows / Mac)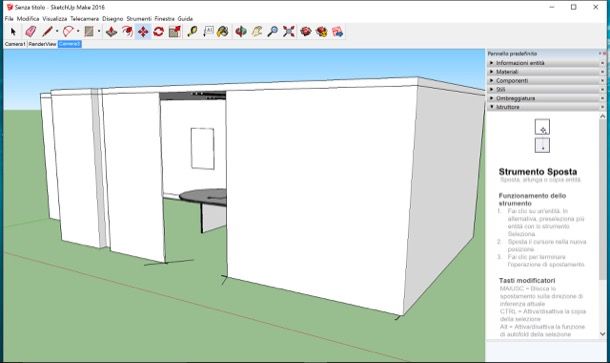 SketchUp is a well-known free software formerly known as Google SketchUp that allows you to model houses and other elements in 3D. It is very easy to use, thanks to the tutorials and internal example files that allow you to easily learn the main commands of the program, and supports all major design file formats, including AutoCAD DWG ones. It is completely in Italian and is available for Windows and macOS. It is also available in a paid version with additional features (which you can still try for free for 30 days).
To download SketchUp you must enter your email address and you must indicate the purposes for which you will use the software (eg educational or professional). Download from here.
DraftSight (Windows/Mac/Linux)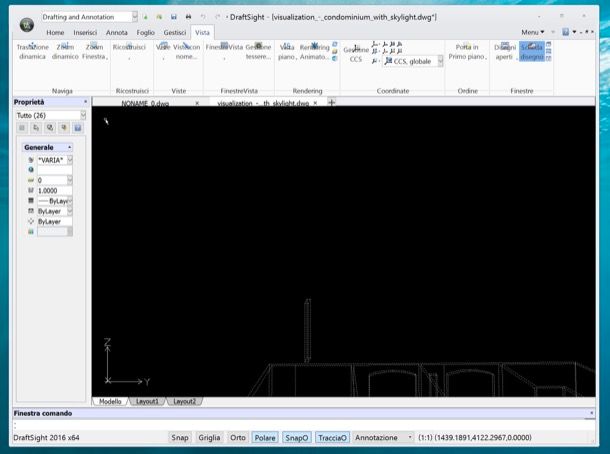 DraftSight offers a very efficient and easy to use tool to create, edit and view DWG files on all major operating systems. It has a very easy to use user interface, particularly friendly to those who have already used programs such as AutoCAD in the past and is fully translated into Italian. The software can be tried for free for 30 days, after which it has prices starting from 99 euros / year.
It is compatible with all major versions of Windows, with macOS and with many Linux distros. Download from here.
eDrawings Viewer (Windows/Mac)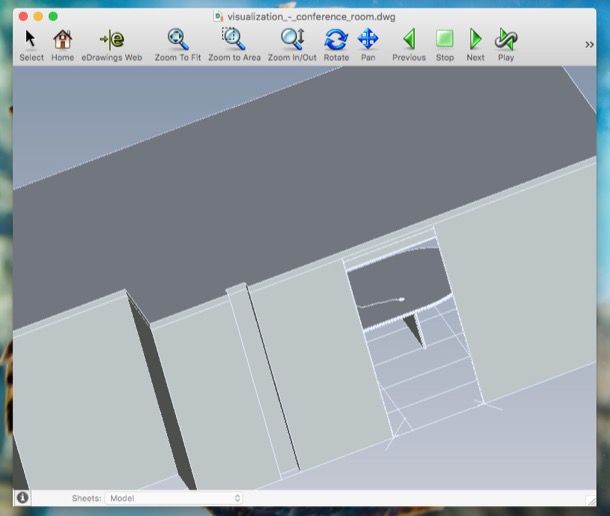 eDrawings Viewer is a free software for Windows and macOS that allows you to view files in DWG and DXF format extremely quickly. It is very intuitive and includes all the features you might want from an "essential" application of its kind: opening projects, zooming, rotating, animating, navigating, etc.
It does not allow you to modify or create new projects, but there are other more advanced solutions for this. Download from here.
AutoCAD 360 (Android/iOS)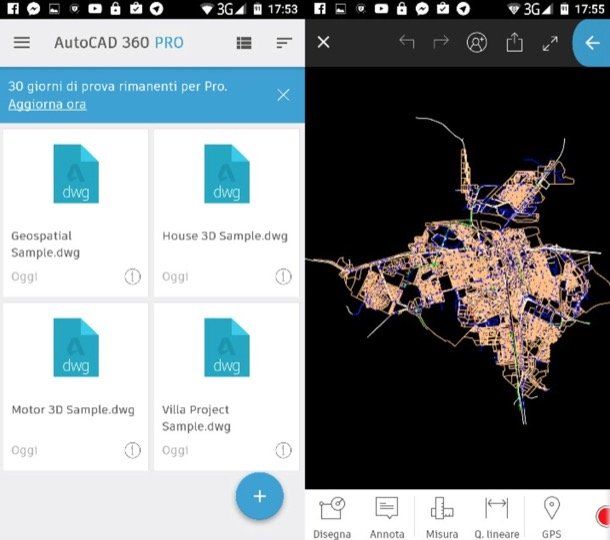 As mentioned at the beginning of the post, there are also programs for free DWG compatible with smartphones and tablets. One of them is AutoCAD 360 which is available for both Android and iPhone and iPad.
The application is free, but some features such as the creation of new projects and support for large files are only available in the paid Pro version. To download AutoCAD 360 just open Google Play or App Store and search for the application.