After reading my guide on how to connect smartphone to PC, you have decided to transfer the video made with your phone on your computer. After this operation, you tried to open one of the videos in question but, unfortunately, not only did you not succeed in your intent, but you found that the problem also occurs on all the other videos transferred. If things are exactly as I described them, then almost certainly no program for playing videos is installed on your computer or, if not, the software used to open the videos does not support the format of the file you tried to. to open.
In that case, if you give me a few minutes of your free time, I can point you to a series of programs for reading videos that you can use to succeed in your intent and, for each of them, I will show you the detailed procedure to download, install and use it on your computer, regardless of the operating system installed on it. In addition, I will also offer you a list of applications for reading videos from smartphones and tablets. How do you say? Is that exactly what you wanted to know? So don't waste any more time and get deeper into the topic immediately.
Courage: make yourself comfortable, take five minutes of free time and dedicate yourself to reading the next paragraphs. Identify the program that you think best suits your needs, carefully follow the instructions I am about to give you and I assure you that installing it on your computer and playing your videos will really be a breeze. All that remains for me is to wish you good reading and have fun!
Pre-defined Programs for Reading Videos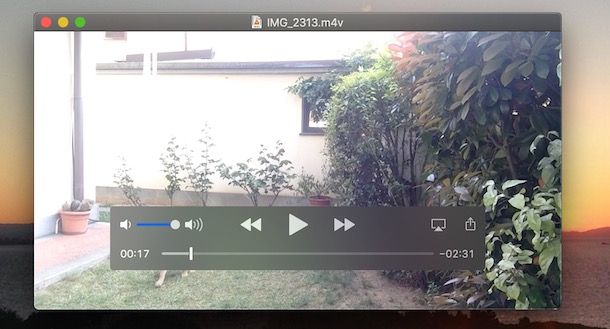 The quickest way to play a movie is to use i programs to read predefined videos, already installed "as standard" on your computer.
If on your PC it is installed Windows 10, you need to know that you can open your personal videos using the app Movies and TV which, unlike what its name suggests, not only allows you to rent and buy movies and TV series and get the latest television programs, but also allows you to play the films in your video collection.
Alternatively, you can use Windows Media Player, the famous software for playing video and audio files. If you can't find the program in question on your computer, log into Control Panel, select the option Programs, click on the item Turn Windows features on or off and expand the option Multimedia features. Then place the check mark next to the item Windows Media Player e pulsing sul pulsating OK to reinstall Windows Media Player on your computer.
If by accessing the section Turn Windows features on or off you do not see the entry for Windows Media Player, most likely an "N" edition of Windows is installed on your computer that does not include the Microsoft media player. In that case, you need to download the Media Feature Pack which allows you to install Windows Media Player. To learn more, I leave you to my guide on how to download Windows Media Player.