When you are out and about in the streets of your city, you always have headphones and smartphones at your fingertips with the complete playlist of all your favorite songs so that you can listen to the songs you like most at any time. However, if you are here now and are reading this guide, it seems clear to me that, apart from the mobile sphere, you would like to receive some useful advice regarding any programs that you can install on your computer to listen to your favorite songs even from a PC. I'm wrong? No, indeed. Well, given the situation I can not help but suggest you take a few minutes of time all for yourself and concentrate on reading this guide dedicated, precisely, to the best programs to listen to music.
Below you will find a string of software for Windows e Poppy fit for purpose that you can use not only to reproduce offline the songs stored in the folders of your computer but also to listen to music in streaming, taking advantage of your Internet connection and possibly subscribing to a paid plan with the supported services (once the free trial period offered by the service has elapsed or to circumvent any limitations imposed by the fare plans).
Then? Do you want to try them? Yes? Fantastic! So put your trusty computer in front of you, take a few minutes of free time for yourself and concentrate on reading this article. I am sure that in the end you will be able to find even more than one software capable of satisfying your needs and that you will be ready to dispense advice to all your friends who, like you, want to learn more about the subject. Let it bet?
VLC Media Player (Windows/Mac/Linux)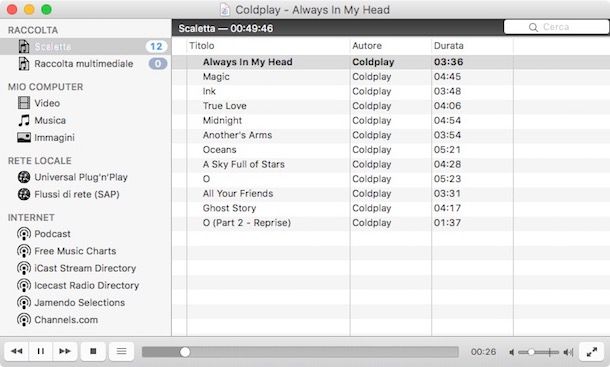 Although not exclusively designed for listening to music, VLC Media Player (also called VideoLAN) can be fully included among the programs for listening to the most successful music. It is in fact an exceptional media player that allows you to play all major formats of multimedia files, both audio and video, without any kind of problem and does not require the installation of external codecs. Furthermore, it is extremely easy to use and is fully functional on all major desktop operating systems: Windows, macOS, Linux.
The program allows you to play both local files and streaming content, allows you to read, create and manage playlists flawlessly and to customize each setting down to the smallest detail in order to satisfy even the most demanding users. It is true, the user interface is not exactly the best in life but it certainly contributes to making the software easy to understand as well as widely appreciated by those who do not particularly love useless "trappings".
VLC Media Player is also an open source program and can count on a large user base that allows you to easily resolve any doubts related to its functions. Its specific video management features are also extremely interesting… but that's another story! For further information, I invite you to read my tutorial on the subject.
To immediately connect to the VLC Media Player website and download the program to your computer click here.
Spotify (Windows / Mac)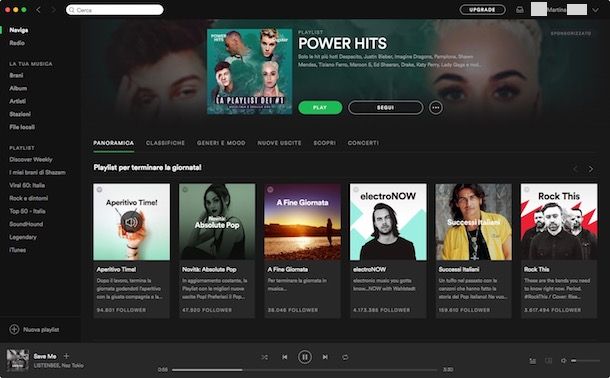 Let's move on now Spotify, the software for Windows and Mac connected to the most famous streaming music service in the world that allows you to access thousands of music tracks (Italian and international and from any era) from computers, smartphones and tablets (and not only!) without having to buy songs or albums individually. All in an extremely simple and completely legal way (it should be emphasized!).
The software is free to download but can only be used after activating an account which can be of three different types: that and which allows you to listen to music exclusively in streaming (and only in shuffle mode, ie random, on smartphones); that Premium from 9,99 euros / month with 1 month free trial that enables music downloads, eliminates the obligation of shuffle mode on smartphones and allows you to listen to music in higher quality (320kbps); and that Family which for 14,99 euros / month offers all the advantages of the Premium plan and can be used by up to 5 users.
The main strengths of this program (and its streaming service) are the ability to find playlists created by other users (not only through direct link sharing, but also through the global search of the service) and its algorithms, thanks to which Spotify offers playlists of songs compatible with our musical tastes on a daily and weekly basis. Note that in addition to being usable on a computer, Spotify is also compatible with smartphones, tablets, Smart TVs, video game consoles (PlayStation), Chromecast, Bluetooth speakers and can also be used directly via the Web using the browser. For more info and insights, I suggest you read my article on how Spotify works.
To connect immediately to the Spotify website and download the program to your computer click here.
iTunes (Mac / Windows)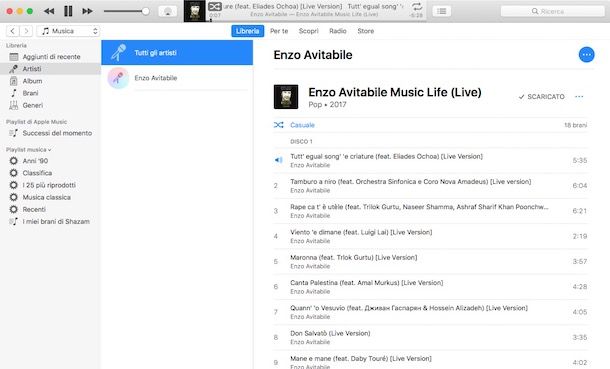 Given its fame and longevity it would not even need any introduction. iTunes It is in fact the famous home media software Apple available for free for both Mac and Windows and essential for managing iOS devices from your computer, for synchronizing data between iPhone, iPad and PC, for creating backups, restoring devices if necessary and much more. In addition to this, we are also in the presence of an excellent multimedia player that allows you to listen to all major audio file formats and to catalog your library of songs in an easy and fast way. Also noteworthy is the function to rip audio CDs.
Thanks to 'iTunes Store it is also possible to buy albums and songs online at very affordable prices. Also, after the launch of Apple Music, iTunes has become the official client through which you can access Apple's music streaming service from your computer. In this regard, it is good to underline the fact that its catalog is practically comparable to that of Spotify (indeed perhaps it is even a little wider). Cote 9,99 € / month single account and 14,99 euros / month with Family account after an initial trial of 90 days. Membership has also recently been introduced for students which allows you to use the service at a price of 4,99 euros / month.
Using iTunes always coupled with Apple Music, it is also possible to use the ICloud Music Library which allows you to upload songs online from your computer (songs that are not available in the service catalog) and to synchronize them on all devices connected to your Apple ID. For further information on how the software works, I invite you to read my tutorial on how to use iTunes.
If you have a Mac, iTunes is available as standard and can be found in Dock bar. On Windows, on the other hand, it must be downloaded through the appropriate download page attached to the Apple website which you can access by clicking here.
Foobar2000 (Windows)
At first glance it doesn't seem like the easiest to use music program in this world, but Foobar2000 is without a doubt one of the most versatile and powerful audio players available for Windows. The program supports all major audio file formats (MP3, MP4, AAC, Audio CD, WMA, etc.) and has a minimalist but totally customizable interface that can be revolutionized to your liking by inserting, removing or removing it. moving panels. It also includes advanced tagging features and allows you to rip audio CDs.
Also noteworthy is the possibility of "indulging" by installing and testing plugins to support other audio formats, to change the tone of the music in real time, to encode songs from one format to another and much more. The flagship of the software is also its extreme lightness and its low impact on system performance which makes it a practically perfect resource to be run on all those slightly older computers that cannot bear the weight of moderns. programs full of "frills".
Foobar2000 also allows you to set custom keyboard shortcuts, very useful to take advantage of the program even when it is minimized and especially if you do not have a keyboard with dedicated multifunction keys. Then there is the support for "Reply Gain", a function that can only be appreciated with the ripping of audio CDs in lossless formats such as FLAC files which consists of a playback of the tracks without the classic "jump" between the tracks audible instead with MP3s in order to to make the digital reproduction completely faithful to that of the original physical medium.
To connect immediately to the Foobar2000 website and download the program to your computer click here.
Windows Media Player (Windows)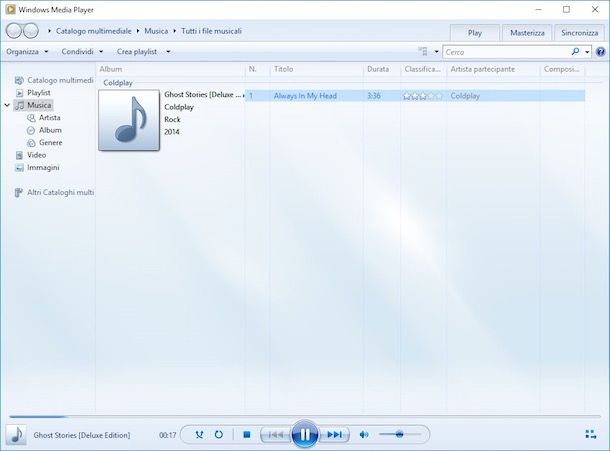 Does it really need any introduction? Windows Media Player is the multimedia player made by Microsoft itself and integrated into Windows and in its latest versions, it has proved to be an excellent solution for listening to music, as well as organizing the music library effectively (downloads covers and information from the Internet automatically), rip audio CDs to your PC and listen to online radio. It supports all major audio file formats and many portable devices. It also includes several special filters to equalize and enhance the audio during playback.
In addition to all this, it is certainly the case to report the automatic download of the information and that of the song covers, the possibility to modify the tags of the audio files in depth and the elegant and pleasant user interface.
As anticipated, Windows Media Player is pre-installed on all Windows computers and you can find it in the list of programs accessible from the Start menu. The player is not available in the versions of the operating system that show the initials "N" in the name and for which Microsoft has released exclusively on the European market and which, for reasons related to the anti-trust policies of the European Commission, does not include Windows Media Player inside.
In this specific case and if, regardless of the reasons, Windows Media Player is no longer available among the programs installed on the system, you can solve the problem by following the instructions I gave you in my article on how to download Windows Media Player.