Have you just bought a Kindle and don't know how to copy new ebooks to it? Have you downloaded a book in ePub format on your PC and don't know how to turn it into a format compatible with the Kindle? Don't worry, you've come to the right place at the right time.
With today's post, I want to point out a few Kindle programs thanks to which you can read the books contained in your Kindle library on PC, smartphone and tablet, you can convert all major digital book formats - including ePub - into formats compatible with the Kindle and you can transfer your books to Kindle in a incredibly quick and easy.
In short: whatever your specific needs are, if you've bought a Kindle and want to make the most of its capabilities, take five minutes of free time and try the applications I'm about to recommend. I'm sure that at least some of them will come in handy and help you manage your new ebook reader. Happy reading and have fun!
Kindle (Windows/Mac/Mobile)
A selection of Kindle programs could only start with the official Kindle client for PC / Mac and for portable devices equipped with Android, iOS and Windows Phone.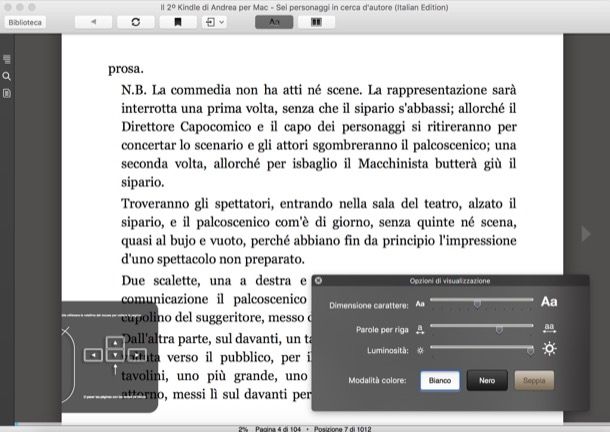 This is a free application through which you can buy, download and read Amazon ebooks on all your devices. This means that you can start reading a book on your Kindle and resume reading on another device, or vice versa. To download a book already purchased and read it on the device currently in use, just log in with your Amazon account and select the cover of the work of your interest.
Other interesting things to point out is that you can search for phrases and words within books, add annotations to them, and much more. The data is then automatically synchronized on all devices connected to your Amazon account.
Send to Kindle (Windows/Mac/Mobile)
As its name suggests, Send to Kindle is an application for Windows, macOS and portable devices that allows you to send any type of document to your Kindle (including DOCs and PDFs) in a couple of clicks. It is based on Amazon cloud services and integrates into the system by acting on different levels: on PC and Mac it includes a virtual printer that can be used to convert any printable file into a document for Kindle, it integrates into the right-click menu and supports the transfer ebooks to Kindle with a simple drag-and-drop (ie with a simple drag) in its main window.

In the mobile environment, the application is only available for Android, where you can use it via the sharing menu to send Word files, PDFs, images and ebooks in Kindle format (.MOBI, .AZW) to your Kindle.
Those who do not want to install applications on their PC or portable device, can send files to their Kindle via the cloud using extensions for Chrome and Firefox or - better yet - by emailing the document to your Kindle address. The email address of your Kindle can be found by connecting to this web page and selecting the tab Settings. More details on the whole procedure can be found in my tutorial on how Kindle works.
Caliber (Windows / Mac / Linux)
While this isn't software designed specifically for Kindle devices, anyone with a Kindle should install Caliber on their PC. In case you've never heard of it, Caliber is one of the best free and open source programs for eBook management on Windows, macOS and Linux. It allows you to catalog, read and convert all the main formats of digital books, also offering the possibility of synchronizing them with various eBook readers (among which obviously there is the Amazon Kindle).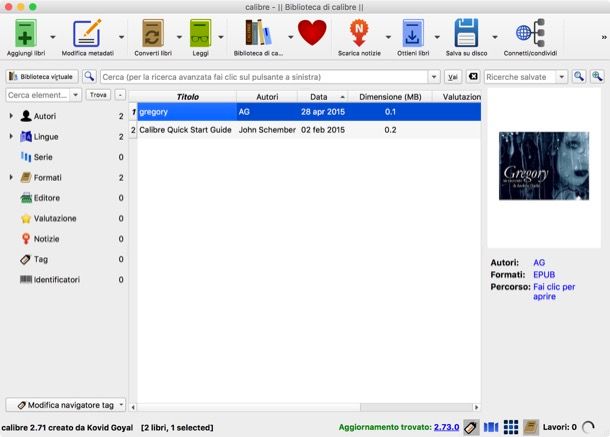 Other very important things to underline: Caliber automatically downloads the covers and information related to the books in its catalog, supports the viewing and conversion of all major e-book formats (AZW, AZW3, AZW4, CBZ, CBR, CBC, CHM, DJVU, DOCX, EPUB, FB2, HTML, HTMLZ, LIT, LRF, MOBI, ODT, PDF, PRC, PDB, PML, RB, RTF, SNB, TCR, TXT, TXTZ) and supports external plugins, through which you can further extend its functionality.
For more details on Caliber and how it works, try taking a look at my tutorials on how to archive e-books, how to open ePub files, and how to convert AZW to ePub.
K2pdfopt (Windows/Mac/Linux)
PDF files are perfectly compatible with Kindles. However, their formatting is not always "friendly" to Amazon's ebook readers: the texts are often small, while the page margins are excessively wide when viewed on the 6 "of Kindles. K2pdfopt comes into play to solve this problem.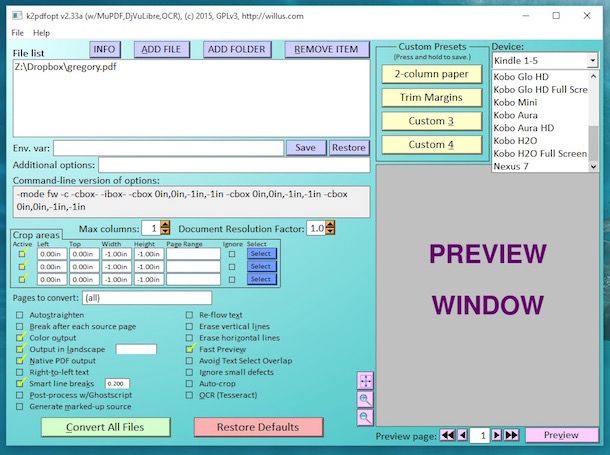 K2pdfopt is a free application for Windows, Linux and macOS (even if the latest versions of the Apple operating system are not officially supported) that allows you to process PDF files and optimize their content in order to be viewed comfortably on ebook readers. At first glance it is not very intuitive, but it is tremendously effective and after a couple of uses it becomes much easier to use. To find out more, read my tutorial on how to cut PDF where I explained to you in detail how it works.
Koll3ctions (Windows/Mac/Linux)
Koll3ctions is a Kindle program free that allows you to organize folders inside the Amazon eBook reader in an intelligent way, creating real collections of digital books. It is available for Windows, macOS and Linux.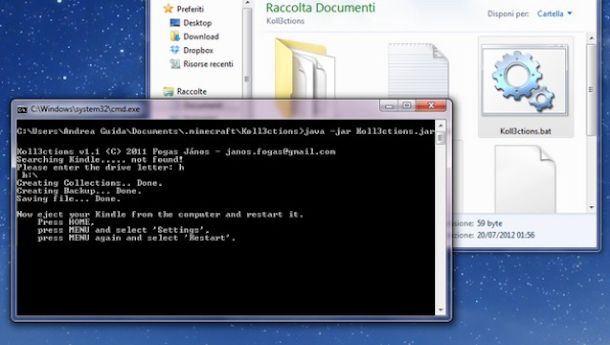 To use Koll3ctions you need to connect your Kindle to your computer and start the application and then follow the instructions on the screen. Much simpler than it looks. But be careful, before using it it is advisable to make a backup of the contents of the ebook reader memory (in order to restore it in case of problems).
Audible(Web/mobile)
Although it is not an application specifically dedicated to Kindles, Audible is an Amazon product that is absolutely worth considering. This is a service for download and listen to audiobooks on all supported devices: computer (via browser), Android, iPhone / iPad and Windows 10.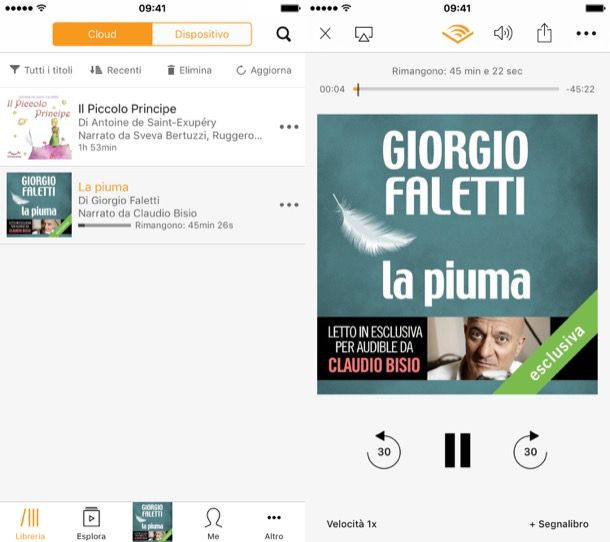 Audible is based on the payment of a monthly subscription (€ 9,99) through which it is possible to download offline and listen to thousands of audio books both in Italian and in other languages ​​read by professional storytellers and very famous actors. The library is automatically synchronized on all devices and the first 30 days are free trial (with no obligation to renew).
If you want to learn more, read my post on audiobooks in Italian in which I explained how to subscribe to Audible and how to make the most of the service.