Do you need to convert an audio file downloaded from the Internet but don't have the faintest idea how to do it? Would you like to cut a song to create a new ringtone for your smartphone but you don't know which software to turn to? If the answer to these questions is yes, I am happy to inform you that you have landed on the right guide, at the right time. In the following lines I will go, in fact, to show you all those who in my humble opinion represent the best audio editing programs currently present on the square and thanks to which you can therefore succeed in your intent without problems.
There are so many audio editing programs, some are free, while others are paid; some are intended for a more advanced user group, while others can be used without problems even by less experts in the field. We must not forget the fact that most of these programs are usable on all major computer operating systems: Windows, MacOS e Linux. Well… as you can see for yourself, the choice is not lacking at all!
So try to envy which of the audio editing programs proposed below can do the most for you and download it immediately to your computer. You will see, in the end you will be able to tell yourself more than satisfied as well as happy to finally be able to do what you wanted. Let it bet?
Audacity (Windows/macOS/Linux)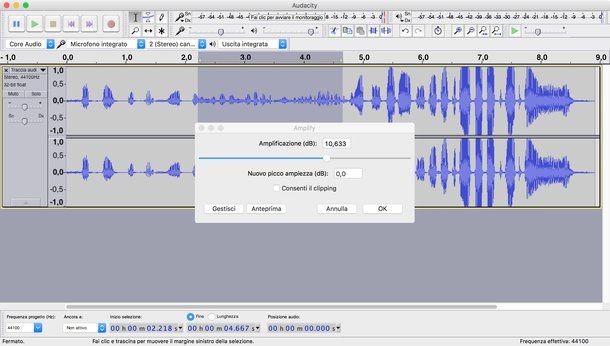 Audacity it is probably the best no-cost tool in its class. It is, in fact, a fantastic open source audio editing program compatible with all major operating systems (Windows, macOS and Linux) through which you can edit, copy, cut, paste, mix and apply special effects to the tracks. WAV and MP3 in an extremely easy and fast way.
Not only is its interface completely translated into Italian but on the Internet there are many guides on how to use it to achieve the most disparate purposes. To download Audacity to your computer now, click here.
Fre: Ac (Windows / MacOS / Linux)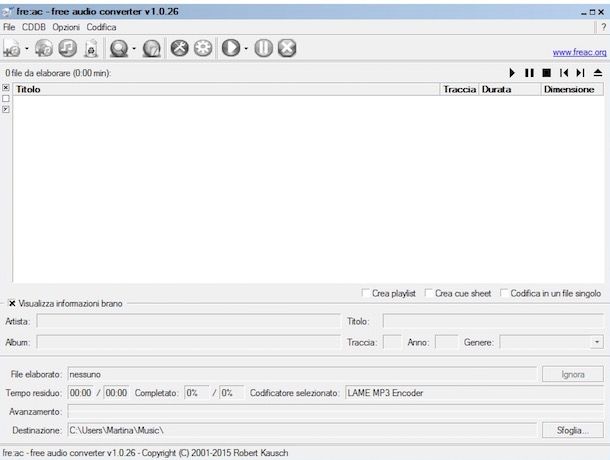 Are you looking for a software that allows you to modify audio files by intervening on the format so that you can play it without problems on your other devices or maybe to be able to share it more easily with your acquaintances? Yes? Well then I invite you to take it seriously Fre: ac. It is in fact a free program that allows you to convert audio files supporting a large variety of different formats (MP3, OGG, FLAC, AAC, WMA and many more).
The software can be used on Windows, macOS and Linux, has a user interface localized in Italian (and not only!) And also integrates a special function to burn CDs with the converted music tracks.
To download Fre: ac to your computer now, click here.
Adobe Audition (Windows/macOS)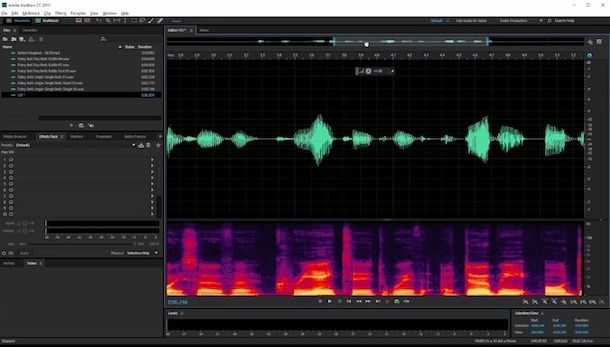 It really needs very few introductions. Adobe Audition is one of the most famous and used professional level audio editing programs. It is available on both Windows and Mac and offers a huge range of functions that allow you to edit digital audio tracks by making the most of the power of your sound card and computer processor.
The software also integrates a large amount of different audio effects, the ability to process files in batch mode and much more. Adobe Audition is paid (part of the Creative Cloud) but is available in a free 30-day trial version.
To download (and possibly also purchase) Adobe Audition on your computer click here.
Free Audio Editor (Windows/macOS)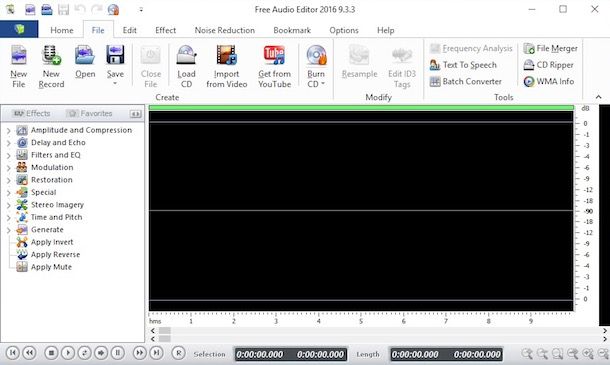 As can be seen easily enough from its name, Free Audio Editor is a free program for editing audio files characterized by a simplified and decidedly inviting user interface. The software is compatible with both Windows and macOS but unfortunately it is only in English.
Free Audio Editor allows you to record audio from various sources, reduce noise and disturbances in audio tracks, burn audio CDs, apply special effects with real-time previews and much more. It supports WAV, MP3, WMA and OGG files.
To immediately download Free Audio Editor to your computer click here.
VirtualDJ Free (Windows/macOS)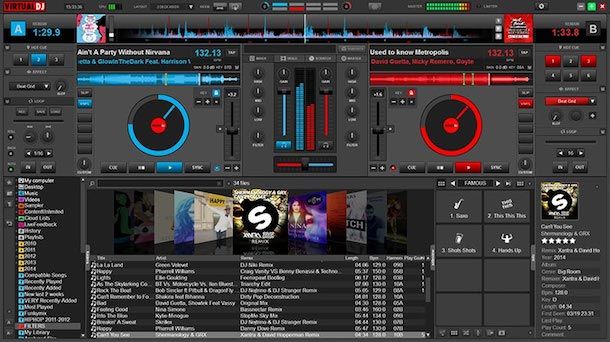 VirtualDJ Free it is not a real program for audio editing, but the best free software (possibly you can make a paid subscription to enjoy extra content) to mix and create music like a professional DJ. The software is usable on both Windows and Mac and has a very simple to use interface in which there are two virtual vinyls on which to transfer the tracks to be mixed
The program supports all major audio file formats. Furthermore, the musical works created can be saved as an audio file or burned to an audio CD (after transformation into ISO image files).
To immediately download VirtualDJ Free to your computer click here.
LMMS (Windows/Linux)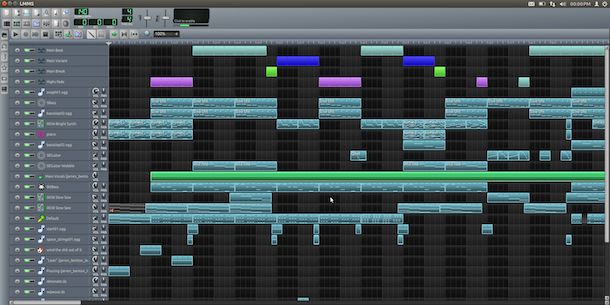 LMMS is a free and open source audio editing program that has little to envy to similar paid solutions. It includes advanced editors for melody and beat tracks, a wide range of effects, preset sounds and rhythm backing tracks, advanced recording tools and much more.
It is available for both Windows and Linux and has been completely translated into Italian. Furthermore, its interface is not very immediate but thanks to the numerous tutorials on the net it is possible to learn how to use it quite easily.
To immediately download LMMS to your computer click here.
GoldWave (Windows)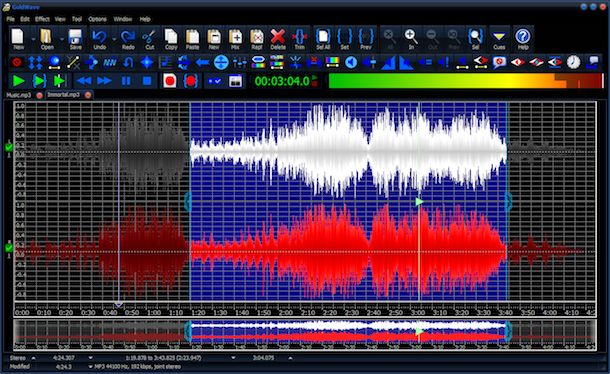 In a guide dedicated to what are the best programs for audio editing certainly cannot be missing GoldWave. It is in fact a real institution in this area. It allows you to cut, copy, paste and apply many different effects to audio tracks, digitize old vinyls and cassettes, record audio from various sources, analyze the advanced properties of audio files (frequency, amplification, etc.) and much more.
It supports all major audio file formats (MP3, iTunes Plus, M4A, WAV, WMA, OGG, AIFF, AU, VOX and many more) and its functions can be expanded thanks to plugins. It is only available for Windows PCs and is paid but can possibly be downloaded in a free trial version lasting 30 days.
To download (and possibly also purchase) GoldWave on your computer click here.
mp3DirectCut (Windows)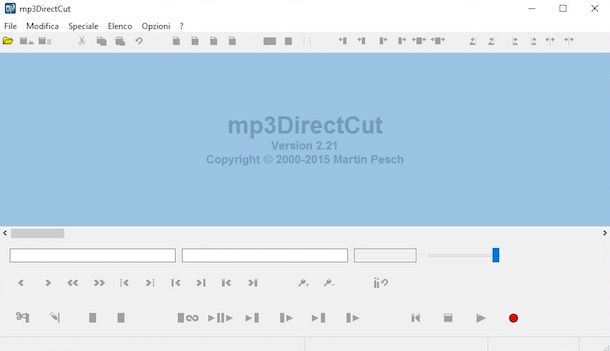 For those who need to edit audio files in MP3 format but have no big claims or time to waste, mp3DirectCut it is certainly the ideal solution. It is, in fact, a small free software through which you can cut, copy, paste and edit audio tracks in mp3 format "on the fly", without the need for recompressions.
The program is compatible only with Windows, has a basic but easy to use interface and also allows you to change the volume of MP3 files, apply fade-in, fade-out and more.
To download mp3DirectCut to your computer now, click here.
Wavosaur (Windows)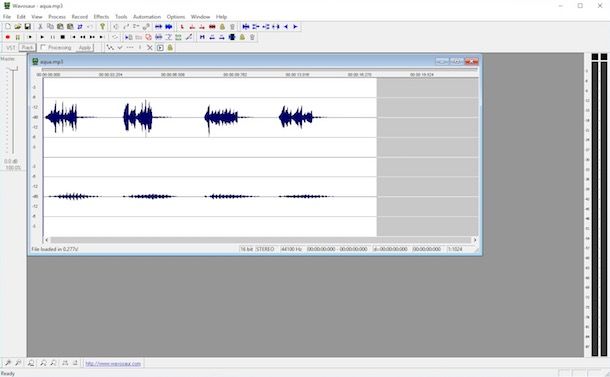 Wavosaur is a compact and light but very powerful audio editing program thanks to which you can edit MP3 and WAV files in a fairly easy and fast way. The program has a very basic user interface in English but is easy to understand.
The software includes many advanced features, including the ability to cut / copy / paste audio tracks, produce music loops, analyze audio tracks, make recordings and convert music files in batch mode. It is compatible with all major versions of Windows and also supports VST plugins and ASIO drivers.
To immediately download Wavosaur to your computer click here.
GarageBand (macOS)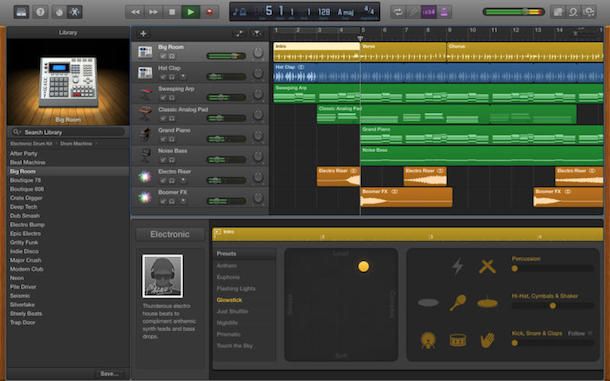 In an article devoted to audio editing programs it is impossible not to mention GarageBand, the hugely popular audio production program produced by Apple for Mac systems. The software features an extremely user-friendly interface that allows even simple enthusiasts to create musical works with various instruments, effects and tracks.
The program presents is intended for professional use but can be exploited without particular problems even by those who for the first time find themselves having to deal with a solution of this type. It comes pre-installed on many Macs, but can also be downloaded for free from the Mac App Store. There is also a beautiful mobile version for iOS.
To download GarageBand to your computer click here.