Although you have an account on Gmail, Outlook or other Web Mail services, would you prefer to use a traditional mail client? Not satisfied with the default mail application on your smartphone? No problem. If you want, I can help you find a good email client for your computer, smartphone or tablet. There are a few for all tastes, both free and paid.
Whether you need a Personal Information Manager complete with calendar, address book, etc. or a "light" email client to manage your email accounts, you will surely find something that's right for you: below are some e-mail programs suitable for all tastes and needs. Try to find the one that best suits you and download it using the links I'm about to give you.
I recommend, in addition to the price, try to take into consideration all the features of the e-mail clients I am about to offer you. Only in this way will you be able to identify the one that best suits your needs. Look above all at the multi-platform availability (i.e. the availability of the software on multiple devices and operating systems), the type of accounts supported and the advanced features for managing mail. I am convinced that it won't take you long to find the email client of your dreams!
Microsoft Outlook (Windows/Mac/Android/iOS/Windows Phone)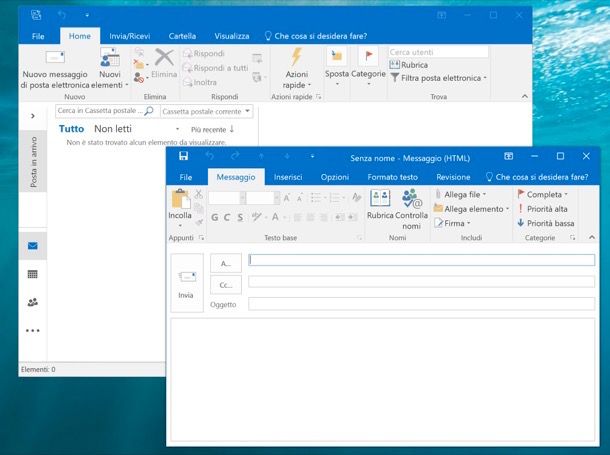 If you are looking for a Personal Information Manager, i.e. a program that, in addition to e-mail, also allows you to manage work commitments and contacts, I can only suggest Outlook. The famous Microsoft software is certainly one of the best in its sector. It is not particularly "agile", but for those who need to manage emails, commitments and business contacts in one place it is really ideal.
Outlook is an integral part of Office Home & Business, the famous Microsoft productivity suite, and can be purchased in two ways: by signing up for a subscription to the Office 365 service (starting from € 7,99 / month) or by purchasing a license " traditional "for the suite (with a much more substantial one-off payment). Either way, the software is available for both Windows and macOS.
As for the mobile world, Outlook is included "as standard" in all Windows Phone terminals and is available as a free download for Android and iOS. On all three platforms, the app can be used at no cost without subscribing to Office 365. It supports all major e-mail services and on iPhone / iPad it can also send Gmail push notifications (which in Mail, for example, are not available). For further information read my tutorial on how to download Outlook.
Mozilla Thunderbird (Windows/Mac/Linux)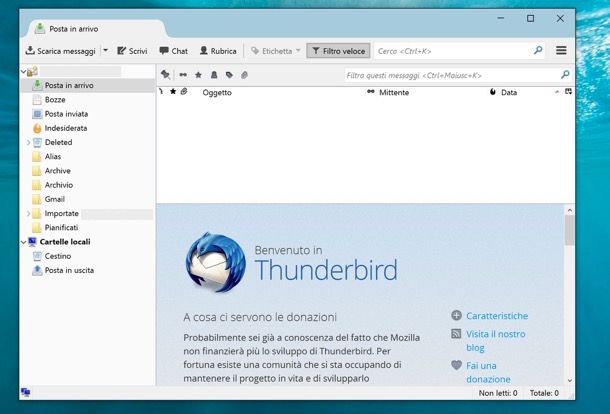 Mozilla Thunderbird is one of the best e-mail programs available free of charge. Its main strengths are cross-platform compatibility (it is available for Windows, macOS and Linux), the very high degree of customization and support for all major email services. Its biggest flaw - if we want to consider it so - is the lack of a mobile variant for smartphones and tablets.
Thunderbird is open source software and - we just said it - supports the expansion of its functionality through extensions, just as it happens in all the most "popular" web browsers of the moment (including the "cousin" Mozilla Firefox). With extensions, to give some practical examples, it is possible to add a complete calendar to the program, import emails from other email software, use email services that would normally only be used via the web interface and much more. In my guide to Thunderbird you can find more information that will help you download, install and configure the software: read it and you will not regret it.
Opera Mail (Windows / Mac / Linux)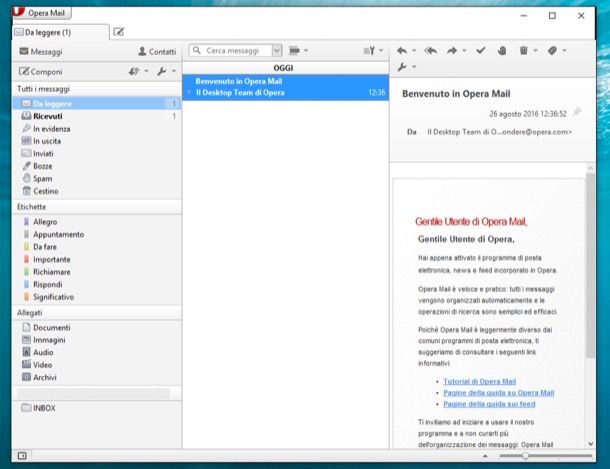 As its name implies, Opera Mail is an e-mail client born from a "rib" of the Opera browser, which up to a few years ago integrated an e-mail management program within it. It is completely free and works on all popular operating systems: Windows, macOS and Linux.
Among the main advantages of Opera Mail we find its extreme "lightness" and a comfortable card interface, through which you can manage your email accounts (all major email services are supported) and write messages without crowding the desktop with dozens of windows.
The presence of a RSS feed reader integrated, thanks to which you can receive news from your favorite Internet sites, while unfortunately there is no calendar for managing appointments and a mobile version of the application for smartphones and tablets.
Postbox (Windows/Mac)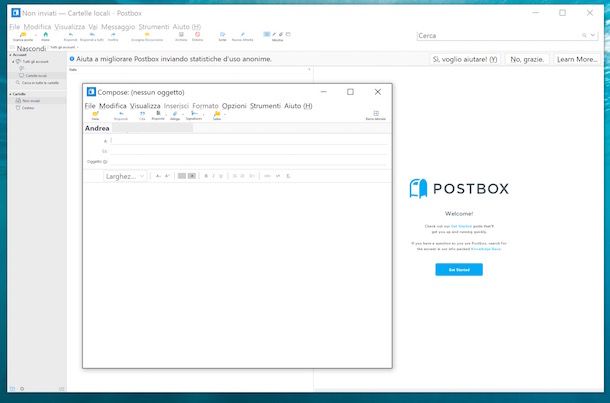 Postbox is a commercial program for managing e-mail. It is based on the Mozilla Thunderbird engine, so it offers all the features of the latter. To which, however, it adds a series of interesting extras, such as integration with i social networks and support for the services of Cloud Storage (eg Dropbox and OneDrive) for quick file sharing.
Unlike Thunderbird, Postbox is compatible only with Windows and macOS (not with Linux) and is paid: it costs 28 euros, but it is available in a free trial version that allows you to test its features for 30 days.
MailBird (Windows)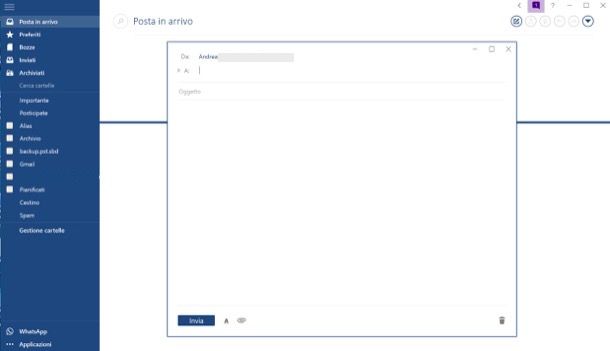 MailBird is among the e-mail programs more complete available in the Windows environment. It is very fast, supports all major email services and - which differentiates it from many similar products - offers the possibility to install "App" that allow you to use Facebook, WhatsApp, Google Calendar, Slack and other very useful online services directly within the program.
It can be used for free without time limits, but some functions "expire" after 30 days. These include the ability to configure more than one email account within the software, preview attachments and the ability to postpone emails. To unlock all the features you need to purchase the full version of MailBird by paying 1 dollar / month (to be paid annually in a single installment) or $ 22,50 one-off.
Airmail (Mac / IOS)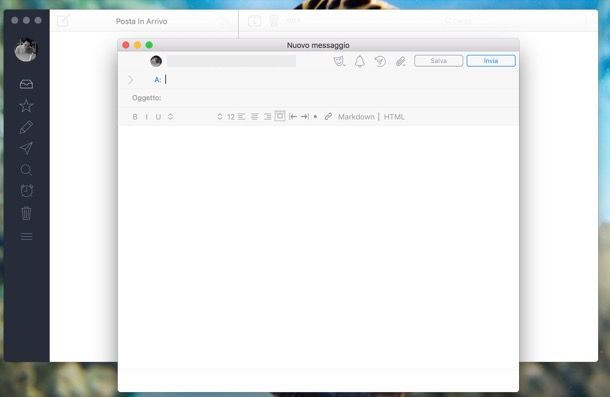 Airmail is one of the most complete email clients for Apple devices. It is compatible with Mac, iPhone and iPad and on all three devices it is able to offer a wide range of functions. It supports Gmail, iCloud, Outlook.com, Exchange, Yahoo! Mail and all POP3 and IMAP accounts, also integrates with the services of Cloud Storage (eg Dropbox), with applications GTD (eg OmniFocus and Things) and with macOS and iOS calendars / reminders.
Another point in favor of Airmail is the ability to customize the user interface of the application down to the smallest detail, without forgetting the almost obvious support for the use of multiple accounts at the same time and the synchronization of preferences and settings via iCloud.
All this, of course, has a price: Airmail costs 9,99 euros in its macOS version and 4,99 euros in the one for iPhone and iPad.