You have been working on very particular research for a while and, in a few days, you will have to show the results of your hard work to your teacher and classmates. For this reason, you were thinking about making one power Point presentation to be projected during your exhibition but, having never done anything like this in first person, you have not the faintest idea of ​​the programs to use for the purpose.
How do you say? Have I definitely hit your problem? In that case, I am happy to let you know that you are in the right place, at the right time! In fact, below I will list the ones that are the best PowerPoint programs available at the moment, through which you can work independently. For completeness of information, I will also show you a series of sites and apps through which to create various types of presentations, respectively, via the browser and via smartphone and tablet.
So, without waiting an extra second, make yourself comfortable and carefully read everything I have to explain to you on the subject: I'm sure that, after reading this guide, you will have acquired the necessary skills to brilliantly achieve the goal that you were. prefixed. That said, there is nothing left for me to do but wish you good reading and good work!
Free PowerPoint Programs
Let's start this guide by examining what, in my opinion, are the best computer programs dedicated to making PowerPoint presentations, which can be installed and used without paying a single euro.
Microsoft PowerPoint (Windows/macOS)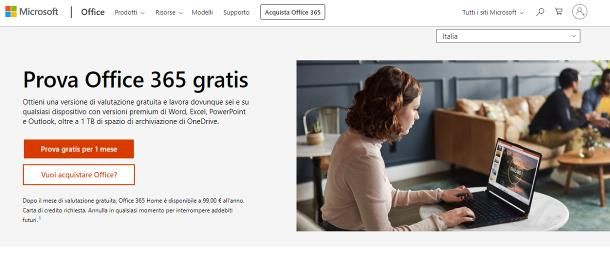 The first among the free PowerPoint programs I want to tell you about is ... Microsoft PowerPoint! As you certainly know, this software is included in Microsoft Office, the very popular commercial suite available for Windows e MacOS and produced by the big of Redmond.
Although the Office programs are still paid, you will be pleased to know that, as things currently stand, you can use them for free for a limited time by activating a trial license. Office 365: if you had never heard of it, the latter is a subscription service (costs € 7 or € 10 per month, depending on the plan chosen) which includes, in addition to all the applications of the suite, also 1 TB of space on OneDrive and 60 minutes of monthly Skype conversations.
Currently, the Office 365 trial has a duration of 30 days, after which you can decide whether to keep the subscription active or cancel it: for more information on how to download PowerPoint for free, I refer you to reading the specific guide I made on the subject.
Finally, if you need a hand while creating your presentation, feel free to take a cue from my guide on how to make a nice PowerPoint on the PC, in which I have had the opportunity to deal with this topic in depth.
LibreOffice (Windows/macOS/Linux)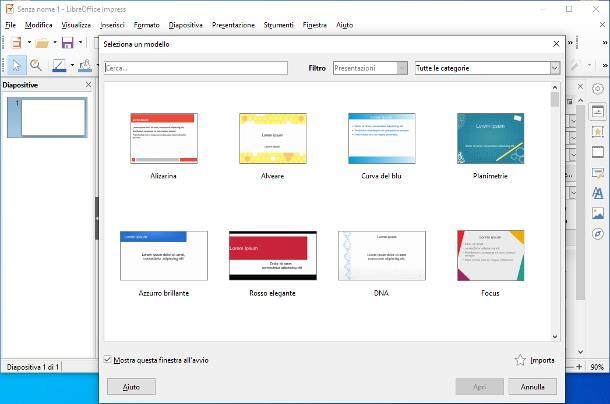 A good alternative to Microsoft's Office suite is LibreOffice: This is a complete, open source, free productivity package developed and maintained by the non-profit organization The Document Foundation. LibreOffice is available for platforms Windows, MacOS e Linux and contains several tools for processing various types of documents, including an excellent presentation editor, called Impress, fully compatible with PowerPoint files.
Getting LibreOffice is super simple: for starters, if you use Windows, connected to the relevant website and click on the button Scaricate la versione xxx, to start downloading the program installation package.
When the download is complete, launch the file . MSI obtained previously and proceed with the installation: then click on the button forward, put the check mark next to the item Typical and click, in sequence, on the buttons forward, Install, Yes e end, to complete it all. Once the download is complete, you can start LibreOffice Impress using the appropriate icon created in the Windows Start menu.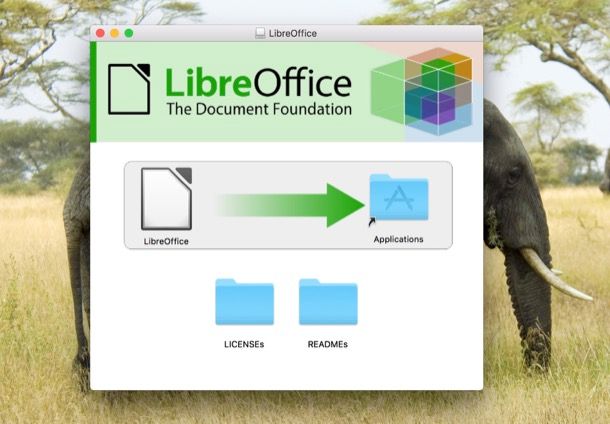 Su MacOS, the LibreOffice installation procedure is slightly longer, but just as simple: after connecting to the software web page, first click on the button Scaricate la versione xxx and then on the button Translated user interface, so as to download both the installation file of the program and the package through which to carry out the translation into Italian (which on Windows is instead included "as standard").
After downloading both files, launch the first one (LibreOffice_xx_macOS_x86-64.dmg) and drag the program icon to the folder Applications Mac. Next, go to the above folder, right click on the LibreOffice icon and click on apri twice in a row, in order to bypass the security restrictions imposed by macOS (you only have to do it at the first start). Now, call up the LibreOffice screen and close the program completely, going to the menu LibreOffice> Quit LibreOffice or, if you prefer, by pressing the key combination cmd + q.
After this step too, you are ready to start the installation of the language file: open the package LibreOffice_xx_macOS_x86-64_langpack_it.dmg downloaded just now, right click on the file LibreOffice Language Pack, select the voice apri from the context menu displayed and click on the buttons apri e Install to start the add-on setup.
Finally, select the item /Applications/LibreOffice.app, click the button again Install and, if required, enter the Mac password to validate the installation procedure and that's it: if everything went smoothly, the LibreOffice interface should have been completely translated into Italian. If, on the other hand, a warning about permissions appears, click on the button Yes, identify me, type the administration password of the Mac and click on OK per due turn consecutive.
Now, to start the presentation editor Impress, you just have to start the main LibreOffice interface, calling it from the macOS Launchpad (the rocket attached to the Dock) and then click on the Impress icon located inside it.
If you need an extra hand to complete the installation of LibreOffice, please consult the specific guide I have dedicated to the topic.
Apple Keynote (macOS)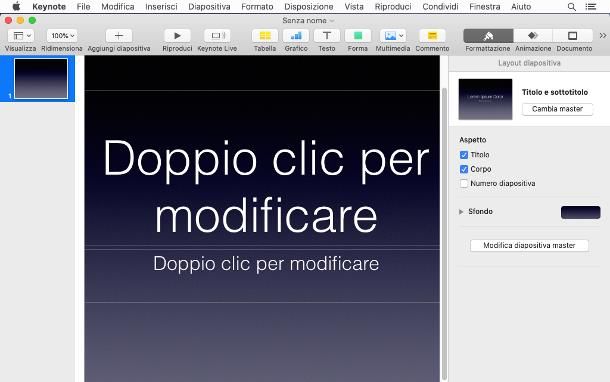 If you own a Poppy, before even considering any other solution, I advise you to give a chance to Keynote, the software dedicated to making presentations developed by Apple and available for free on the Mac App Store. This program is characterized by an extremely simple user interface, beginner-proof, and by the availability of spectacular animations, similar to those seen in the official Apple presentations.
Keynote also supports integration with iCloud allowing access to presentations created from any device on which the Apple ID paired with the Mac is configured (as you will soon discover, in fact, Keynote is also available as an application for iOS and iPadOS).
In any case, installing Keynote on macOS is very simple: to begin with, connected to the link I pointed out earlier, click on the button View in the Mac App Store in order to start the integrated market of macOS and, when this happens, click on the buttons Get e Install and log into your account by entering the password, when required, or using touch ID, if available.
Once the download is complete, start Keynote by recalling it from the Launchpad (l'icona a forma di rocket located on the bar Dock), click on your button Continue and, to start creating a new document, press the button Create a new presentation.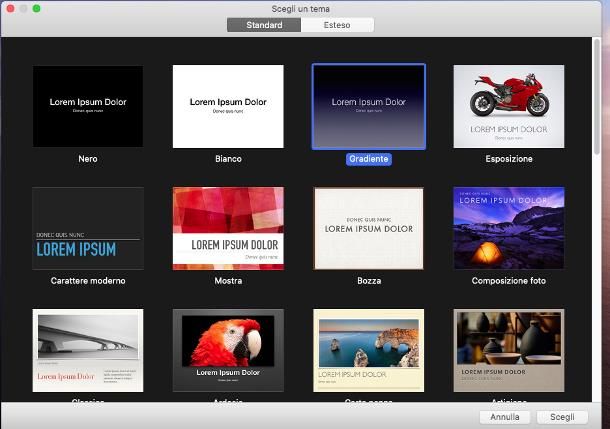 Next, locate the theme more suitable for your work, choosing it from the window proposed later; click on its preview and, when you are ready, click on the button Choose, to launch the Keynote editing window, where you can start working on your presentation right away.
If you want to open an existing presentation (in .ppt, .pptx or .odt format), go to the menu File> Open (top left) and select the file of your interest using the Finder panel.
Once you have finished your work, if you wish, you can save the presentation to the Mac disk or to iCloud Drive using the menu File> Save, or export the presentation in PowerPoint format, using the menu File> Export As> PowerPoint ....
Other Free PowerPoint Programs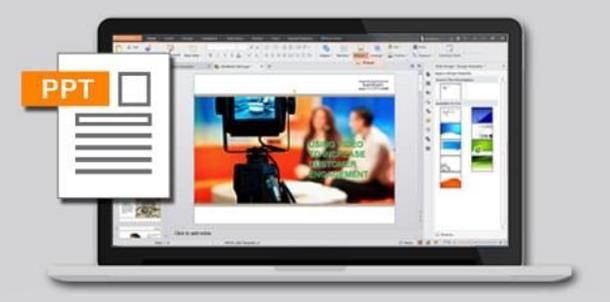 Those that I have just pointed out to you are just some of the PowerPoint programs free available on the net, but they are not the only ones! Here are some valid alternatives that you should definitely consider.
OpenOffice.org (Windows / macOS / Linux) - This is an office suite currently managed by Apache, which has, among other things, a program (named Presentation) dedicated to creating PowerPoint presentations. Small curiosity: LibreOffice was born just as a "rib" of OpenOffice, so much so that it inherits practically all the features.
WPS Office Free (Windows / macOS) - this is an office suite alternative to Microsoft Office, which has numerous programs aimed at productivity, including an editor (such Presentation) dedicated to making presentations, fully compatible with PowerPoint files.
SoftMaker FreeOffice (Windows / macOS / Linux) - another office suite available for free for most desktop platforms, whose presentation editor (Presentations) offers full compatibility with PowerPoint slides. Its graphical interface closely resembles that of Office.
Online PowerPoint Programs
Do you need to create a presentation on the fly to show to your group, but you don't have the possibility to install anything on your PC? Don't despair: there are some online tools, like PowerPoint Online e Google Slides, which can be used through the most common computer browsers, without the need to install additional software.
PowerPoint Online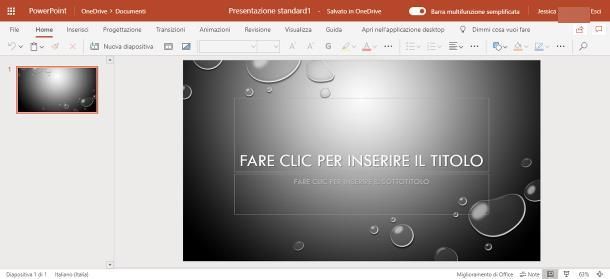 As you have surely understood, PowerPoint Online is the official web version of PowerPoint. This tool, which can be used completely free of charge, incorporates most of the functions belonging to the "desktop" version of the program, although not all.
In order to use the service it is essential to have a Microsoft account with which to access it: if you don't already have it, you can create it for free by following the steps I have shown you in this guide.
Anyway, using PowerPoint Online is really simple: to begin with, linked to its main page, enter thee-mail matched to your Microsoft in the field provided, click on the button forward and repeat the same operation with the password.
Once logged in, you should see the screen dedicated to creating a new document: if you need to modify an existing PowerPoint file, click on the item Load and open ..., located at the top right, and choose the file PPT of your interest using the panel that is proposed to you.
If, on the other hand, it is your intention to create a new presentation, click on the button New blank presentation or select one of the predefined templates from the list that is proposed to you; finally, click on the button apri, to finalize everything and access the slideshow editing screen.
The changes made to the presentation using the tools offered by the editor (very similar to those present in PowerPoint for computer) are immediately saved on OneDrive (Microsoft's cloud storage service), therefore it is not necessary to proceed with manually saving the file . However, if you think it appropriate to save a copy of the file on the disk, go to the section File> Download As> Download a Copy (top left) and, when prompted, choose the save format and percorso in which to save the edited presentation.
If you want, you can change the name of the presentation by using the appropriate text field, located on the top bar of PowerPoint Online, in its central part. For more information about using PowerPoint Online, you can refer to the specific tutorial I dedicated to the service.
Google Slides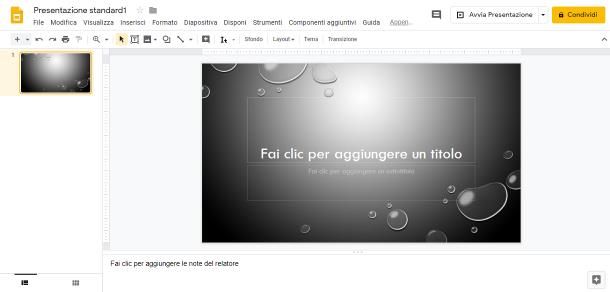 Another good site to create PowerPoint-style presentations without installing anything is Google Slides: if you had never heard of it, this is the tool integrated in Google Drive (Google's cloud storage service), used for the management and manipulation of presentations.
Google Slides is free to use, however it requires a Google account to access it: if you do not have an account of this type yet, you can quickly create one by following the instructions I indicated in this tutorial.
In any case, in order to use the service, connected first to its home page, click on the button Go to Google Presentations and, if necessary, log in with the Gmail account you have.
Successively click on your button Empty, to start creating a new blank presentation, or select a starting model, selecting it from the gallery located at the top.
If you intend to open an existing PowerPoint file instead, proceed with the creation of a blank document, as I indicated earlier, then click on the menu Fillet and select the item apri placed inside. Next, click on the tab Charge placed in the panel that opens to the screen, presses the button Select a file from the device and, using the proposed box, choose the presentation to open.
If everything went smoothly, you should find yourself in front of the Google Slides editor: as you have certainly noticed, the interface is extremely simple and contains everything you need to add elements to your presentation.
Also in this case, there is no need to manually save the changes, as the file is automatically saved and updated in Google Drive; if you need to download a copy of the file to your computer memory, you can use the menu instead File> Download, top left, choosing from the formats.PPTX e .odp. Più facile di così ?!
Genial.ly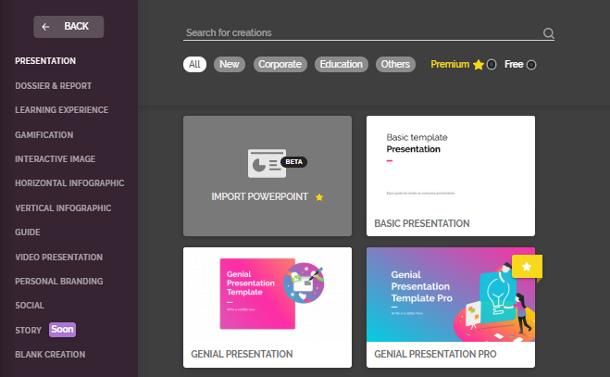 Another great website by which to create PowerPoint-style presentations is Genial.ly, portal that, among other things, integrates many tools to create works that, in addition to the effects and animations of the case, contain interactive functions aimed at customizing navigation.
Genial.ly is a free basic service but, to take advantage of some templates and features (e.g. offline viewing of the material, downloading and importing PowerPoint files) you need to subscribe to a subscription plan, with starting prices equal to € 7,49 / month.
Having made this due clarification, it's time to get to work: to start, connected to the main page of Genial.ly, click on the button Create an account, then on the button Select plan placed under the box Free and fill out the form that is proposed to you, in order to register using email address e password.
Alternatively, you can speed up the registration phase by logging in via your account Google, Facebook, Twitter, LinkedIn or Office 365, using the buttons located on the page.
Once logged in, it indicates the reason for which you want to use the service, click on the button Next, refine your choice by indicating a more specific activity and click on the buttons again Next e No, thanks to access the first use tutorial of the service (which you can close by clicking on X located at the top right).
Now, to start creating a new presentation, press the button Presentation, indicates a model from which to start, selecting it from the free ones (paid models are marked with a star) and, after identifying the model you are interested in, click on its preview and then on the button Use this template.
Finally, put the check mark next to the page layouts to be used and click on the button Add, to access the actual editor: now you just have to give vent to your imagination and fill your presentation with content, using the buttons and interactive menus on the screen.
Once you have finished your presentation, click on the button All set located at the top right and, using the buttons displayed, choose whether open the presentation created in browser (present), share it (share) or carry out the download for free (function reserved for Premium users).
Note: if you have subscribed to a paid plan, you can also import existing PowerPoint files into Genial.ly, using the new document creation screen. However, please note that at the time of writing this guide, this is a beta feature, which may have some imperfections.
Other Sites for PowerPoint Online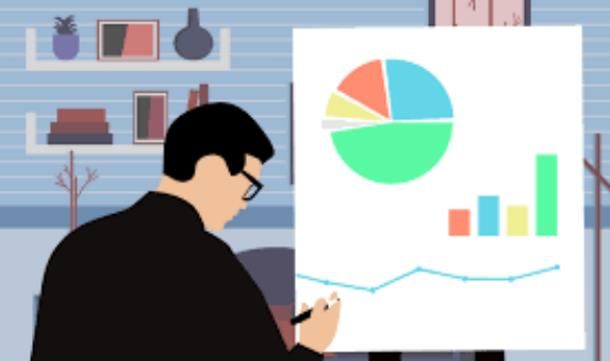 How do you say? You find interesting the solutions I have just proposed, but you would like to know others online PowerPoint sites that allow you to make presentations of various kinds, with very little effort and a large margin of success? Then you might want to consider one of the solutions proposed below.
VyonD - it is a portal that, thanks to a large archive of pre-packaged templates and interactive functions, allows you to create video presentations rich in text, films, animations, images and music, in just a couple of clicks. The service can be used free of charge for 14 days or in the form of an annual subscription.
Prezi - is a website dedicated to graphics which, among other things, allows you to create very particular presentations, which consist of a single, large page that must be filled with content and "illustrated" through a virtual direction. Prezi can be used free of charge for 14 days, after which a subscription is required.
Shortand - it is a free portal that works a bit like Prezi (a single blank page to be filled with content at will), but mainly oriented towards the creation of advertising content. The completed works can be viewed and shared directly from the site, with a maximum of 100 members; to bypass this limit, you need to subscribe to one of the subscription plans.
canva - this is a website dedicated to the design of customized graphics and images, which allows you to create PowerPoint-like presentations to be reproduced using a specific method. It is a free portal that can be used upon registration via Google, Facebook or email address.
Anyway, if you are interested in learning more, I suggest you take a look at my guide to sites for making presentations.
App Per PowerPoint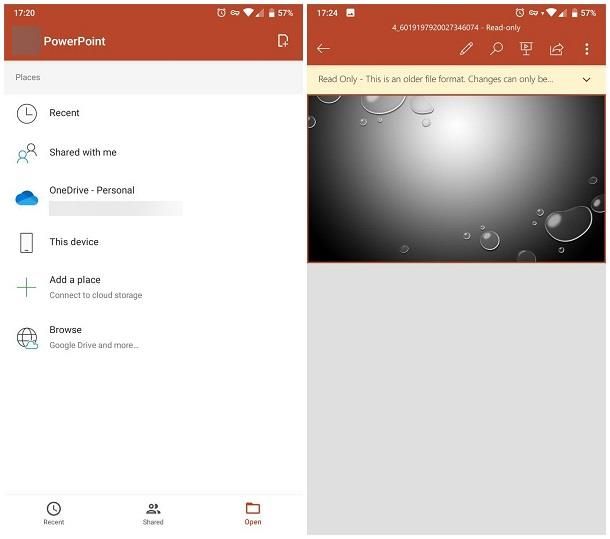 Are you fully satisfied with the solutions I have suggested to you in the course of this guide but, in light of your actual needs, you would need some app that allows you to view, create and edit Power Point presentations too on the move?
If things are exactly like this, know that I can still help you: below, in fact, you will find listed a series of specific apps for managing PowerPoint presentations using smartphone e tablet, which you can use, in most cases, totally free.
Power point (Android / iOS / iPadOS) - this is the official PowerPoint app, capable of managing all files compatible with its desktop counterpart, free for non-professional purposes on devices with screen diagonal equal to or less than 10.1 "(otherwise you have to take out a subscription to Office 365, with prices starting from 7 € / month). The PowerPoint app lets you create new presentations (by automatically archiving them to OneDrive) and manipulate existing ones. In order to use the app, you must be signed in with a Microsoft account.
Google Slides (Android / iOS / iPadOS) - as the name suggests, this is the app dedicated to the creation and management of presentations, associated with Google Drive. It allows you to open and manipulate PPT and PPTX files, saving modified (or created) files directly in the cloud. Requires a Google account to work.
OfficeSuite (Android / iOS / iPadOS) - this is an app designed for managing documents of various types, including files from PowerPoint. The app is free for viewing files only, while in order to edit them you need to purchase a series of additional packages.
Keynote (iOS / iPadOS) - is the mobile counterpart of Apple's Keynote, a software for Mac that I told you about in the previous bars of this guide. It takes over most of the functions of its desktop counterpart, including the ability to edit files from iCloud.
Readdle documents (iOS / iPadOS) - this is an app designed for iOS and iPadOS, specific for viewing files with various extensions, including presentations made using PowerPoint.