You're planning an evening at home with some friends and you wonder how to watch free streaming movies in a legal way? In this case, you will be happy to know that it is absolutely possible to do so, since now, even in Italy, there are several websites that allow you to watch films of all kinds and ages at no cost. In some cases, to access the viewing of the films, you need to make a short free registration via email or using your own online account (eg Facebook or Google). In others, however, you can access the contents of the sites without having to register.
Therefore, in the next chapters of this guide, I will tell you in detail about how to use some of the most famous Internet sites, online services and apps for smartphones / tablets that allow you to watch streaming movies completely free of charge. The types of films available are among the most disparate: they range from fairly recent films to the great classics in the history of cinema, from American films to Italian ones, from horror films to comedies… in short, there is total freedom of choice. Obviously you will not be able to see for free films that have just come out of cinemas or absolute blockbusters, but I assure you that you will still find a lot of interesting content.
Having said that, if you can't wait to learn more about it now, sit down comfortably and just take a few minutes of free time, so that you can carefully read the procedures I am about to give you. You will see that, by following my instructions step by step, you will succeed easily and quickly in the intent you have proposed. At this point, I just have to wish you a good reading and, above all, a good vision!
How to Watch Free Streaming Movies in High Definition
As anticipated, since you wonder about how to watch free streaming movies in a legal way, let me explain in detail how to do this using some popular solutions suitable for the purpose.
VVVVID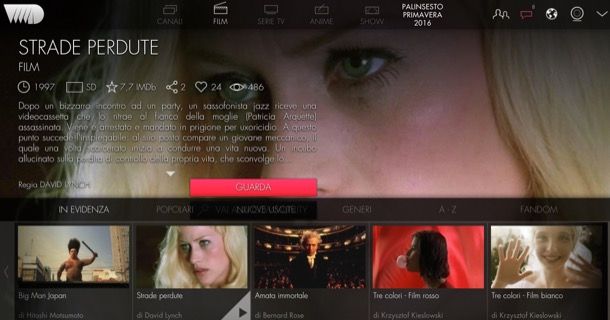 VVVVID is among the best free streaming services. Its catalog includes numerous films belonging to various genres, eras and nationalities: from Japanese horror to French comedies.
Also worth noting is the availability of numerous Japanese TV series and anime among the most popular of the moment. The contents are almost all in Italian - dubbed or at least subtitled - and can be enjoyed from any web browser, but also via app for devices Android (downloadable from the Play Store or from alternative stores) e iPhone / iPad (downloadable from the App Store.
To use VVVVID and see the films in its catalog, connected to the home page of the service (or start its official application on smartphone / tablet) and create a free account, by filling out the form proposed to you, or by pressing the button Registrati with Facebook.
Next, select the tab Videos through the menu located at the top left, locate and press on the film of your interest and press the button Guarda, to start playback. If you want, you can eventually sort the list of films by cinematic genre, popularity (Popular), to the title, based on the alphabetical order (AZ) or by release date (New releases), using the tabs at the bottom.
RaiPlay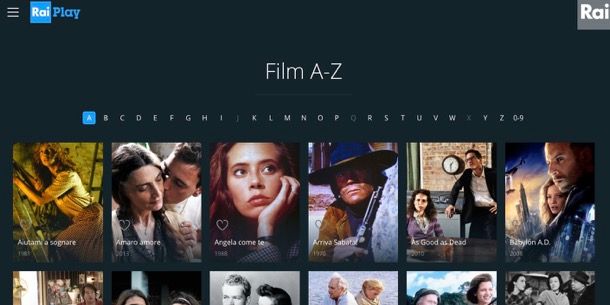 RaiPlay is the free platform of State TV, which offers a vast collection of films visible for free in streaming, including Italian and international films, including those recently released.
The service in question, in addition to being accessible from the Web, through the appropriate Internet site, is also available in the form of an application for Android (downloadable from the Play Store or from alternative stores) e iOS / iPadOS (from the App Store), thus allowing access to all on-demand content of the portal, as well as the ability to watch TV channels in live streaming. There is also the app for Smart TV, Fire TV Stick, Apple TV and Chromecast.
To access the platform and start playing the contents offered by the latter, it is necessary to create a free account: a procedure that can be carried out from the web or through the app, using your email address or an online account, such as Facebook, Google o Twitter.
Once this is done, you will be able to view the entire catalog of titles available on RaiPlay, by pressing the ≡ button located at the top left and selecting the item first On demand and then Videos via the sidebar that will be shown to you. To start playing a movie, select its playbill and press pulsating Play.
For more information on the service in question, refer to my guide where I will explain in more detail how to see RaiPlay.
MediasetPlay

Mediaset Play is the platform of Mediaset, thanks to which it is possible to watch the group's channels live and access a wide range of on-demand content, including movies, at no cost. The service is accessible from a computer, via browser, and smartphone and tablet, where the application is available Mediaset Play to Android (downloadable from the Play Store or from alternative stores), and for iPhone / iPad (downloadable from the iOS App Store). It is also included in some Smart TVs and is Chromecast compatible.
Start, therefore, by connecting to its official website or by launching its app, in order to register through a email address or via a social profile, such as Facebook o Google. Once logged in, press on the item on-demand located at the top and then on the item Videos, in order to see the complete list of films present. Then locate the film to play, press on its playbill and wait for the playback to start automatically.
For more information on the service in question, refer to my guide where I talk about it in more detail.
How to Watch Free Streaming Movies Without Registration
Would you like to watch movies for free in streaming, but without having to go through tedious registration procedures? Here are some tips that are sure to suit you.
PopCorn TV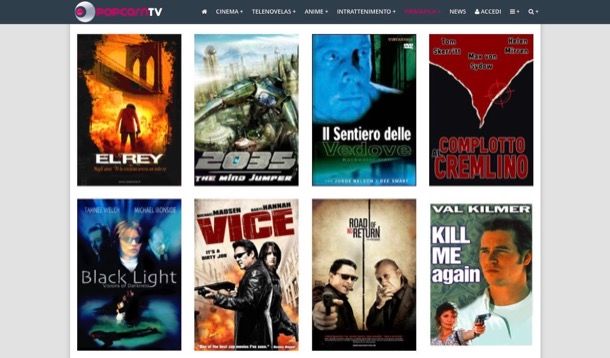 PopCorn TV is one of the historical websites that offer the possibility to see free streaming movies without registration. The service in question offers a catalog composed mostly of films of various genres, although some of these are a bit dated. In addition, it also hosts some telenovelas.
PopCorn TV is not available as an application for smartphones or tablets, but by accessing the site via the browser, it is possible to view its contents also on mobile devices.
To browse the catalog of all the films available at no cost on the site, connect to its main page and select the kind of film you want to watch (eg. action, comedy, horror o dramatic) through the appropriate drop-down menu you see above.
After that, select the playbill of the movie you want to watch, click the button play (if it doesn't play automatically) and enjoy the show!
Archive.org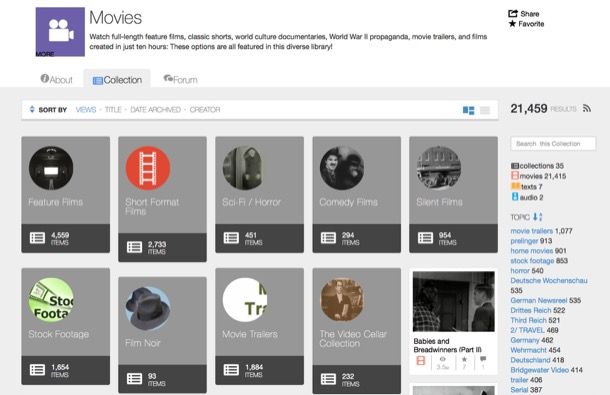 If you are a fan of original language auteur films, visit the site Archive.org you can find a huge selection of period films no longer covered by copyright or for which free online distribution has been authorized. A name above all? Night of the Living Dead from 1968.
To start watching a film, connected to the website in question, first click on one of the available collections (eg. Feature Films, for all movies, Sci-Fi/Horror, per i film horror o Silent Films, for silent films) and then on the title of the film you want to watch.
Once this is done, then use the player contained in the page that opens by pressing the button play, to enjoy the show.
Paramount Network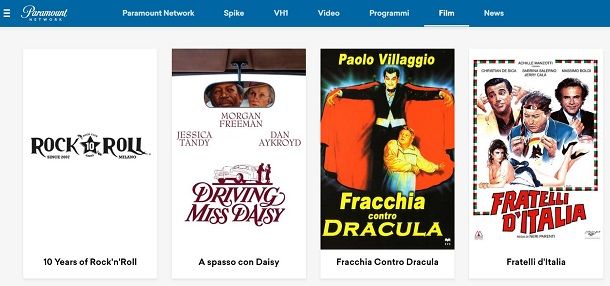 La Rai it is not the only broadcaster that allows you to watch movies for free in streaming in on-demand mode. Also Paramount Network, a free digital terrestrial channel dedicated to the world of cinema, offers a wide selection of films to watch for free at any time.
The Paramount Network site does not require any registration to be used and is also accessible from smartphones and tablets, although unfortunately a special app for Android or iOS is not available from mobile devices.
To access Paramount Network's on-demand content list, connect to its official website and click on the item Videos in the menu at the top. Then click on movie poster to see and press the button play, in the event that the reproduction does not take place automatically.
If, on the other hand, you want to see the films on air in live streaming, first press on the item Paramount Network located at the top and then on the item Paramount Network Direct In the menu that comes mostrato.
YouTube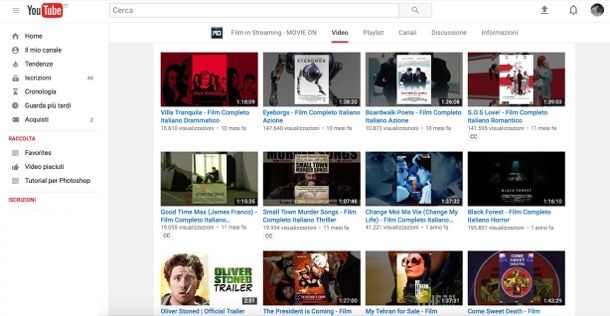 YouTube it hosts many films that can be watched for free in an absolutely legal way. The credit for this goes to some companies that use the famous Google portal to convey films to which they have regularly acquired the rights.
Among the most interesting channels I point out Movie ON, where you can find even more recent films, belonging to various film genres (Italian, American and other nationalities) and Film & Clips by Minerva Pictures which hosts, among other titles, also comedies and horror films .
All the aforementioned channels are freely accessible, since their contents can be enjoyed on a computer, but also from smartphones and tablets through the app YouTube for Android and iOS / iPadOS and all other devices on which YouTube is available without having to authenticate with your Google account.
TV in Streaming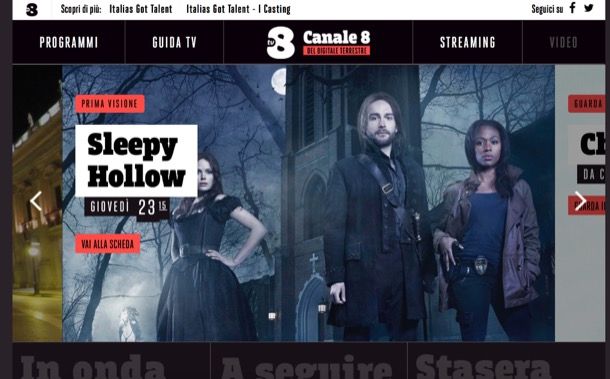 Rai, Mediaset e Paramount Network they are among the few Italian broadcasters that allow you to watch movies for free in on-demand mode, but there are many television channels that broadcast films and allow you to watch them in live streaming, when they go on TV.
Among these I point out Cielo TV, TV8 and La7, but if you read my guide on how to watch TV in streaming you will find an even more complete list of channels.
Paid Streaming Services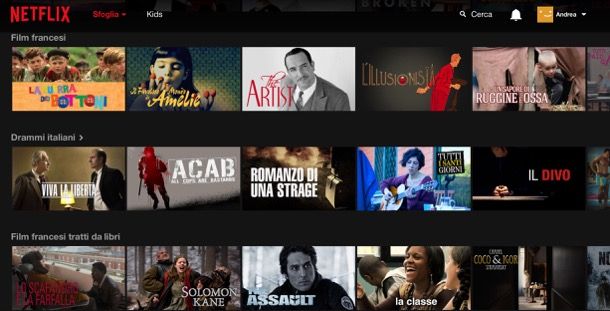 If the offer of free services seems a bit too limited to you, you can subscribe to a paid video on-demand platform, especially since some of them have a trial period. There are several to choose from, all full of interesting content. Read on to find out more.
Netflix: It is the most famous streaming service in the world and its flagship are TV series, but its film catalog is also noteworthy. Depending on the periods, a free trial period or a selection of content accessible for free may be available. In order to take full advantage of Netflix, however, it is necessary to subscribe to one of the available subscription plans, whose prices start at 7,99 euros / month (11,99 euros / month if you want high definition). As for its use, I remind you that, in addition to being able to use it from PCs and smartphones and tablets, it is accessible on many other devices: to learn more, read my guide on how to watch Netflix.
Infinity: is Mediaset's answer to Netflix (although, technically, it made its debut on the Italian market). Its film catalog is currently superior to that of Netflix, as it offers the possibility to watch a first-watch title for free every week. Infinity is free for the first 30 days, after which it costs 7,99 euros / month, except for promotional periods. More info can be found in my tutorial on how Infinity works.
Amazon Prime Video: is the Amazon video on-demand service. It is accessible from computers, smartphones, tablets, but also Samsung Smart TVs and LG Smart TVs, as well as on various other devices. Amazon Prime video offers a huge catalog of films, Japanese anime and TV series (some of which are absolutely exclusive) with a resolution that can reach up to 4K. Currently the service is included in the Amazon Prime subscription which costs 36 euros per year or 3,99 euros per month. On smartphones and tablets, offline content downloads are also allowed. If you want to know more, check out my guide on how Amazon Prime Video works.
NOW TV: is the online version of Sky accessible from PC, Smart TV, smartphone / tablet, video game console and on a proprietary "key". Its offer is divided into packages, the one that includes the films, TV series and entertainment programs of Sky (called Cinema and Entertainment) costs 14,99 euros / month and you can try it for free for one month. For more info, read my guide on how NOW TV works.
Disney +: is Disney's video streaming service. Includes all Disney and Pixar classics, Marvel movies and series, Star Wars, FOX content, National Geographic documentaries, and more, including original content made exclusively for the platform. It is accessible from all devices (PC, smartphone, tablet, Smart TV, Chromecast, Fire TV Stick, Apple TV and video game console) and costs 6,99 euros / month or 69,99 euros / year. More info here.
Apple TV + - is Apple's streaming service, available via browser, macOS, iOS and iPadOS TV apps, latest-generation video game consoles and Fire TV Stick. It provides a free trial of 7 days (or 1 year, buying a new Apple product), after which it costs 4,99 euros / month. It is also included in the Apple One plan which also includes Apple Music, iCloud Drive and Apple Arcade with prices starting from 14,95 euros / month (with the first month free).