There is nothing to do: although you have suggested to them to "live in the present" and switch to WhatsApp or other more modern (and above all free) messaging platforms, there are relatives who, not yet having a smartphone and doing earn old promotions that they had activated on their line, they keep sending you photos and other content away MMS. So far - apart from resignation - everything is fine, but now you have moved on to TIM and since you made this change of operator you are no longer able to view the MMS.
That's the way it is, right? Then don't worry: if you want, I can help you and explain to you how to view MMS TIM on your mobile, be it an Android terminal or an iPhone. I assure you that it will take you very little time: all you have to do is access the settings of your device and, if necessary, correct some parameters relating to the data network.
Come on then: take five minutes of free time, roll up your sleeves and try to carefully follow the instructions below. I assure you that by doing so, you will be able to normalize the situation and - although this does not always make you enthusiastic - go back to receiving MMS from your relatives!
How to View MMS TIM on Your Phone
As just mentioned, regardless of the type of smartphone used, adjust the settings for view the TIM MMS it's child's play: below you will find explained how to "move" is up Android that of iPhone.
How to View MMS TIM on Android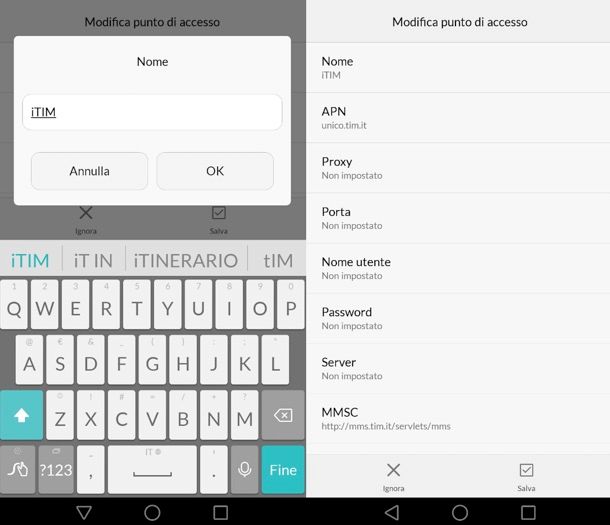 If you use a smartphone Android (or even a tablet equipped with a SIM), you can configure the display of MMS in a very simple way.
First, log in to Settings Android by pressing theicona dell'ingranaggio located on the home screen or in the drawer (the screen with the list of all the apps installed on the device); then bring yourself up Connections> Mobile networks (o More> Mobile network, the words can change from device to device) and tap on the item profiles (or on the voice Access point name).
At this point, press the button Add (or on that Menu) and, if necessary, select the item that allows you to create a new APN, ie a new Access Point Name, inside which the "coordinates" that the device uses to connect to the data network and manage the MMS must be entered. In the screen that opens, fill in the various fields available as listed below.
Name - iTIM
APN - unico.tim.it
MMSC - http://mms.tim.it/servlets/mms
MMS proxy - 213.230.130.89
MMS port - 80
Type APN – mms
Finally, click on the button that allows you to save the information and that's it. You DO NOT have to set the APN you just set as default - you just have to leave it configured on your phone and by doing so, you should be able to view MMS via the messaging app on your device.
How to View MMS TIM on IPhone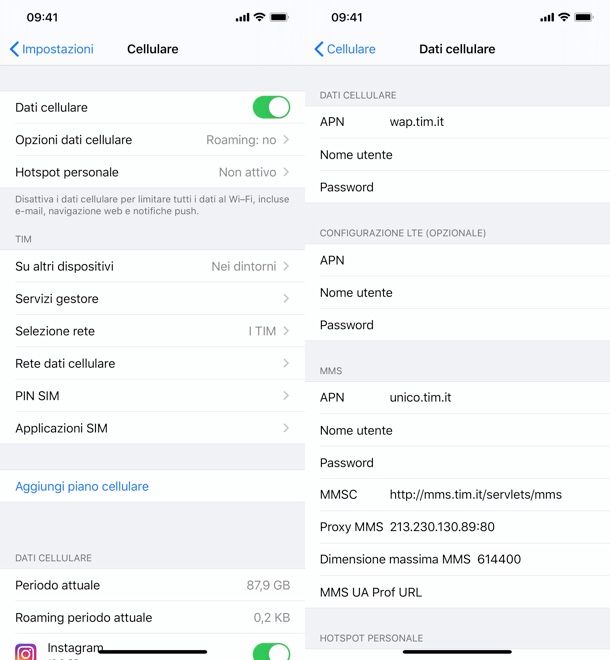 If you have one iPhone (or even a iPad with Cellular support), you can activate MMS support very quickly.
To start, press theicona dell'ingranaggio present on the home screen, so as to access the Settings of the device; then move to Cellular> Cellular Data Network and fill in the form fields MMS displayed on the screen as follows.
APN - unico.tim.it
MMSC - http://mms.tim.it/servlets/mms
MMS proxy - 213.230.130.89: 80
Maximum MMS size - 614400
Once the configuration is complete, press the arrow < (located at the top left), in order to save the settings, and that's it.
From now on, you should be able to view MMS through the app Messages of your "iPhone by".
In Case of Problems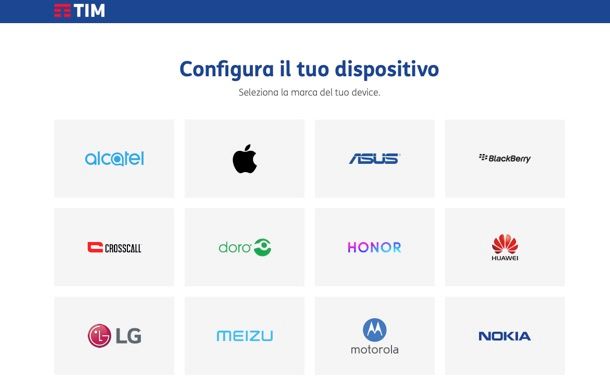 In the unfortunate event that the settings suggested above do not give the desired effect, try to get detailed squeezes about the smartphone model in your possession, by contacting the TIM website.
By connecting to this web page and selecting one first brand and then a model smartphone, you will access a panel containing the instructions relating to the configuration of various TIM services: to read the instructions relating to MMS, first click on messaging and then MMS configuration.
Also remember that to receive MMS you must have enough free memory and, in the case of rechargeable lines, you must also have remaining credit: in the absence of credit, the user is also disabled when MMS is received, not only when they are sent.
Clearly, the data network in the settings of the device in use: if you do not know how to do it, you can consult my specific guide on how to activate mobile data.
How to View MMS TIM on PC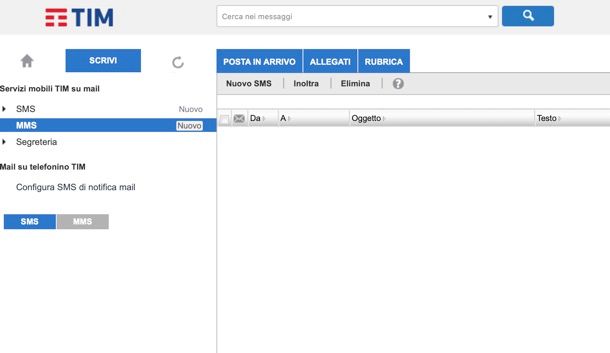 You would like it view the TIM MMS on the PC? If so, you can turn to TIM Mail, the Webmail of the well-known telephone operator, which, following the association of the mobile number, also allows you to view the MMS received on your line. This feature, however, it is good to tell you, it did not always seem timely in the tests I conducted. Well, now I'll explain how to proceed, but keep in mind the fact that you may still not be able to view your MMS from PC.
According to what is written on the information page of the TIM website (specifically, section MMS), "The MMS inbox [of TIM Mail] automatically stores the MMS received on your TIM mobile phone but not read within 60 minutes of arrival. Unread MMS are deleted after 15 days. Once opened, they remain available for another 15 days ".
To take advantage of this possibility, you must naturally have a TIM Mail mailbox and you must associate your mobile number to it. To proceed, therefore, connect to the TIM Mail website and log in to your account. If you don't have one yet, press the button REGISTER, choose whether to register online ADSL / Fiber, TIM mobile phone or without neither (option Don't have TIM yet?) and fill out the form that is proposed to you with the requested data. More info here.
Once logged in, to associate your mobile number to the TIM Mail mail account, select the item SMS from the side menu, press the button ACTIVE, then up PROCEDI, provide yours TIM telephone number in the appropriate field, click on the button VERIFICATION and enter the code you receive via SMS.
Once this is done, accept the condizioni d'uso of the service and regulates the preferences related to the data processing (by ticking the appropriate boxes); then press on Subscribe And that's it. From this moment on, you should be able to view the MMS from TIM Mail.
If you have difficulty viewing the MMS on the TIM website, you can simply use a PC program capable of "reflecting" the messages received on the phone on the computer: some examples may be AirDroid for Android (available on Windows and macOS) and Messages for iPhone / iPad (only available on macOS). For more information, I invite you to read my tutorials on how to transfer Android files (where I told you about AirDroid) and how to save SMS on your PC (where I told you about Messages for iPhone instead).
Please note: if you had a box Ibox, know that since November 2015 this platform has been discontinued and incorporated into TIM Mail, therefore all communications addressed to the latter will be redirected to TIM Mail. More info here.