Does your PC suddenly freeze, seemingly for no reason, and stop working until you shut it down and restart it manually? There is probably some problem with the RAM, but I don't want to make hasty judgments.
In a case like this, the wisest thing you can do is use Memtest86, a free program that burns to a CD or DVD and starts instead of Windows that is able to analyze and detect if there are problems in the computer's RAM memory. Let's see immediately how to test RAM using it.
Be vuoi scoprire how to test RAM, you must first connect to the Memtest86 website and click on the item Download – Pre-Compiled Bootable ISO (.zip) to download the program's ISO image to your PC. When the download is complete, double click on it to open the archive you just downloaded (memtest86 + -4.20.iso.zip) and extract the ISO image it contains into any folder.
At this point, you need to insert a blank CD or DVD into your computer's burner and run any program that can burn image files to transfer Memtest86 on the disk that you will then need to use to boot. For example, if you use the excellent (and free) ImgBurn, you have to start the program and click on the button Burn an image.
Then click on the yellow folder icon located under the Source item (top left), select the image mt420.iso Memtest86 and start burning the disk by clicking on the large icon of White sheet which is located at the bottom.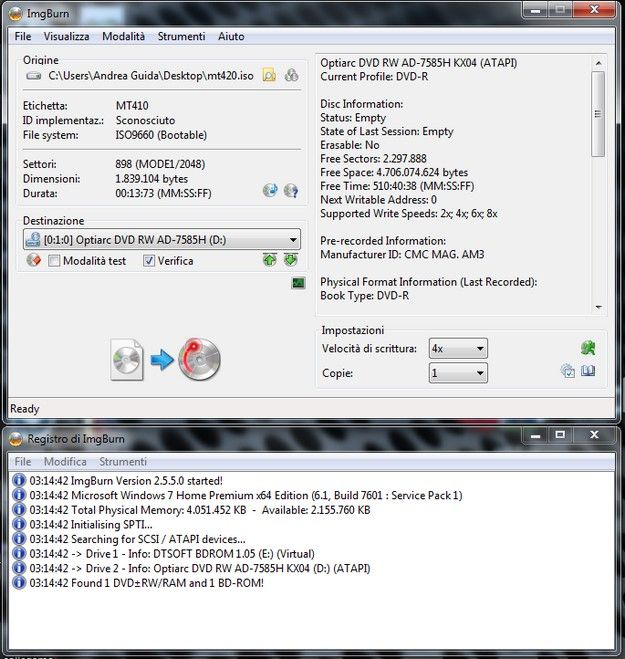 When burning is complete, reinsert the newly created disk into your computer and reboot the system. If your BIOS is set to boot from CD / DVD (see this guide if you don't know what I'm talking about), Windows will boot instead of Memtest86 which will start test the RAM automatically.
The test appears, in fact, as a blue screen with the details on the RAM present in the computer at the bottom and two items at the top right: passport e Test. The first refers to the overall test process carried out by Memtest86 while the second shows the progress of each single test done on the RAM (there are so many that the program performs completely automatically). Both items show their progress by means of percentages and asterisks that act as a completion bar.
Se Memtest86 find errors in the RAM, you will see messages appear in the lower part of the screen (and in this case I suggest you call a technician or replace the RAM, if you know how to do it yourself). If no message appears, it means that there is no error and that the blocks are due to other causes. After arriving at 100% of the item passport, Memtest86 starts the RAM tests all over again, you have to manually exit the program by pressing the key Esc of the PC keyboard. Good luck!