Watching a film sprawled out in front of the living room TV is a priceless experience, the quintessence of relaxation. Sometimes, however, you can also be satisfied with the small screen of a tablet. Do you agree? Well then let me recommend some Android apps that allow you to stream movies.
Fortunately, the Play Store offers us many different solutions, both free and paid. The free ones often don't even need registration to be used! In short, if you want to watch a movie on your Android device you just have to identify the video on-demand platform that offers the content that best suits your tastes (not only in terms of movies, but also in terms of TV series, documentaries and cartoons. ) and download the relevant app on your smartphone / tablet.
Most of the services are multi-platform. This means that you can resume watching your films even on computers, smartphones, tablets and other devices. The quality of the videos is almost always in HD, while as regards the language you can choose whether to watch your films in the original language (with subtitles) or dubbed in Italian. So, what are you waiting for? Find out how to stream movies on android thanks to the information I'm about to give you, start having fun right away!
Google Play Film (paid)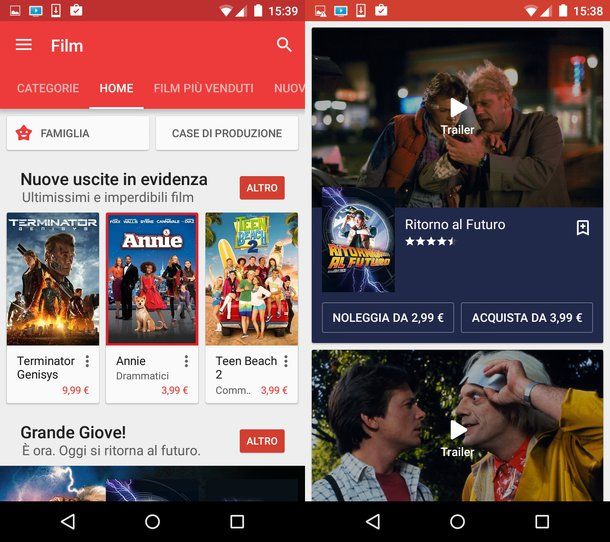 Almost impossible not to start with Google Play Film, the service included "standard" in almost all Android terminals that allows you to rent and buy films of all kinds (including those just arrived on the home video market).
Movies can be streamed, saved offline and cast to your TV via Chromecast. Prices vary depending on the titles, on average the rental costs € 3,99 and the purchase € 9,99. The HD versions increase the price by 1 euro.
VVVVID (free)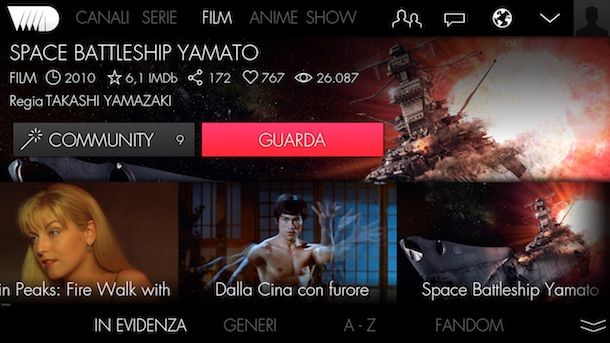 VVVVID is an on-demand video service that offers dozens of Japanese movies, TV series and anime at no cost. If you remember correctly, I have already told you about it on several occasions.
By installing the official VVVVID app on your tablet (or smartphone) you will always have at your disposal a library made up of many Italian and international films (dubbed in Italian) which includes titles such as "If I leave you I cancel", "The Cube "," Space Battleship Yamato "and many more.
To access the contents of the app (and the site) just log in with your Facebook account or sign up for VVVVID using your e-mail address.
PopCorn TV (free)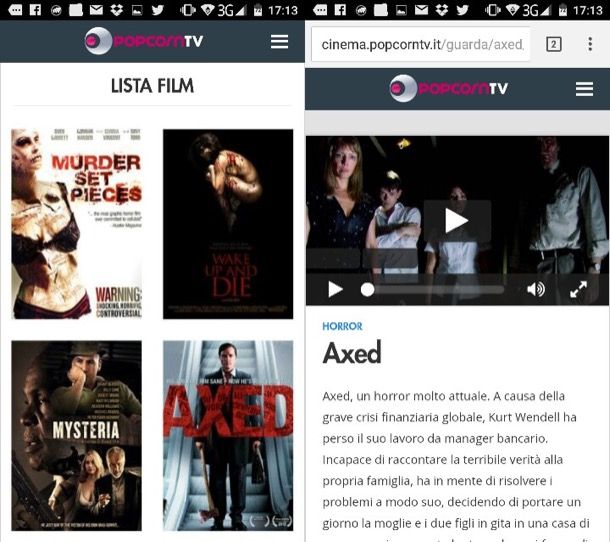 PopCorn TV it is not an app to stream movies on Android. Rather, it is a site that allows you to legally stream movies at no cost. Its catalog is made up of international films that once would have been defined as "taped" (therefore not very famous, but still interesting) belonging to various cinematographic genres.
To start playing a movie on PopCorn TV, open your browser (ex. Chrome), connected to the address cinema.popcorntv.it, presses the button ≡ located at the top right, tap on the button Cinema + and select a film genre from the menu that appears. Then select the film of your interest, press the button Look now and enjoy the show! No registration is required.
RaiPlay (free)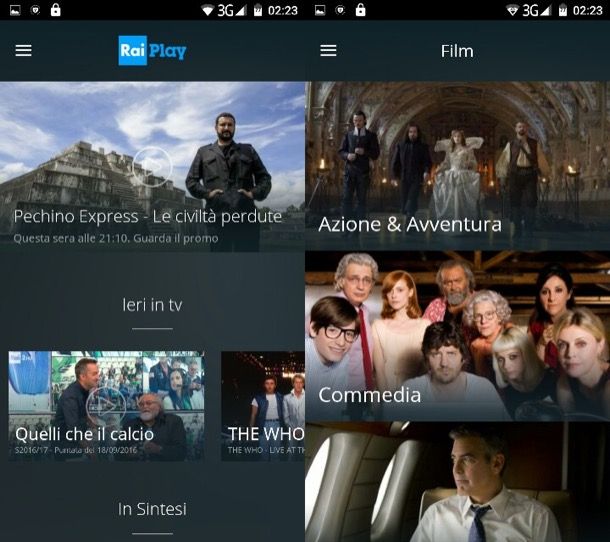 The RaiPlay application gives access to all the TV programs broadcast on the Rai digital terrestrial channels, among these there are also films that can be used on-demand. To view the list of films available in the Rai app (which are changed on a weekly basis), you must press the button ≡ located at the top right and select the item Videos from the menu that compares di lato.
The films can be browsed according to their genre (eg. Comedyo Action & Adventure) or by title (by selecting the item All pants). To view them, you need to create a free account using your email address, your Facebook account or your Twitter account.
Mediaset (free)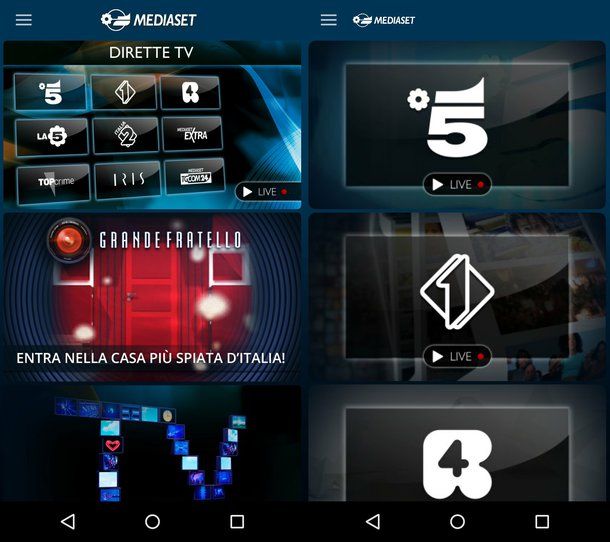 Although the Mediaset On-Demand application does not allow you to watch movies or TV series in streaming - it only gives access to programs and fictions produced directly by the group of the biscione - the existence of the Mediaset app which allows you to watch in direct all the programs of Canale 5, Italia 1, Rete 4, La5, Top Crime, IRIS, Italia 2, Mediaset Extra and TGCOM24, including many films.
The service is totally free, to access the live streaming just press the button Live TV and select a broadcaster logo, however it requires a free registration via email address. If you want to know more, take a look at my post on how to watch Mediaset TV programs.
Paramount Channel (free)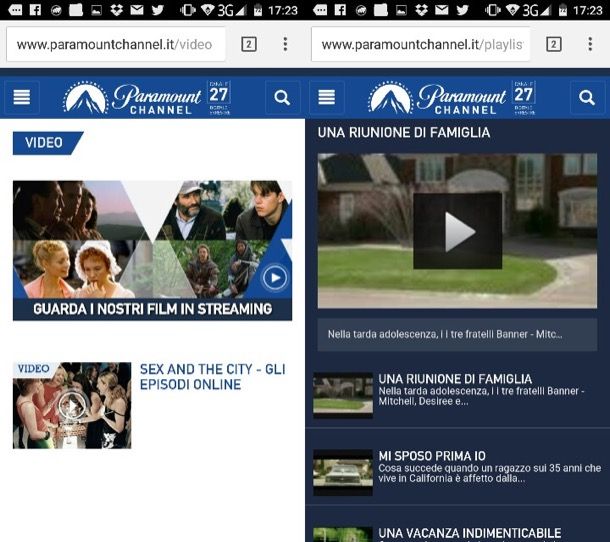 Paramount Channel is a free digital terrestrial and satellite channel that broadcasts American films and TV series. On its website and on its official app it is possible to find the live streaming of all its programming and, even more interesting, some films to watch in on-demand mode.
To watch a movie in the Paramount Channel app, all you have to do is start the latter, choose whether to log in via the social network or continue without registering and press the button ≡ located at the top left. So choose the voice Video from the menu that opens, locate the film of your interest and select it to start viewing.
If you prefer to act via browser (eg. Chrome), connected to the paramountchannel.it site, presses the button ≡ located at the top left and select the item Video from the menu that appears. Then tap on the item Guarda i nostri film in streaming, select the movie to watch and enjoy the show. No registration is required.
YouTube (free)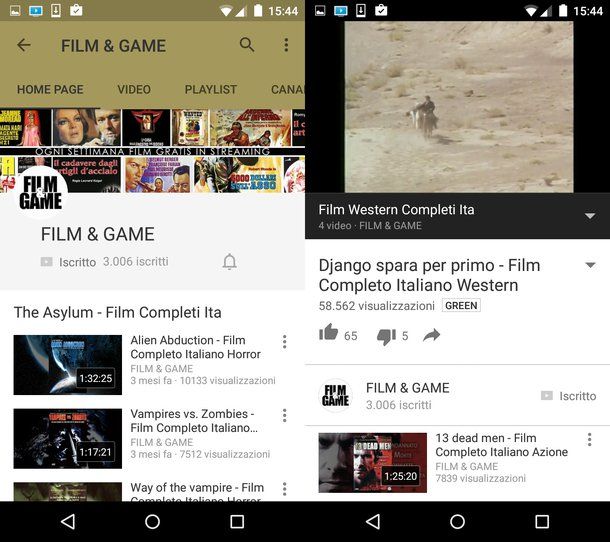 Another app that I recommend you use for streaming movies is… YouTube. No, I'm not crazy! YouTube, you have to know, for some time now hosts legitimately recognized networks that exploit the vast audience of the Google portal to offer movies, TV series and cartoons to users. This is completely free and legal content that can be used on any device.
There is one of the most active networks in Italy YAM112003 that through the Movie ON channel offers a series of more recent films belonging to various film genres and nationalities.
Another channel to keep an eye on is Minerva Pictures' Film & Clips, in which you can find several horror films and comedies, both Italian and international, plus some sequences and trailers of very famous films.
Netflix (paid)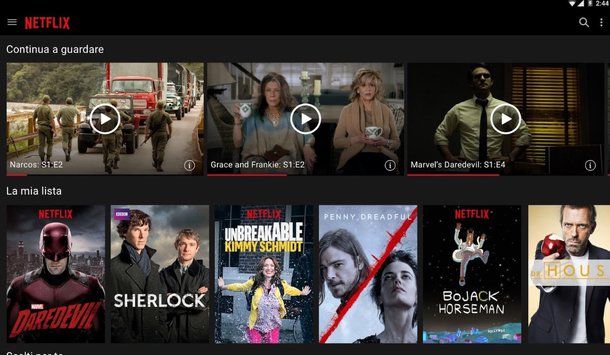 Outside the Google ecosystem I highly recommend you try Netflix, one of the most famous VOD platforms in the world, which gives you access to hundreds of movies, TV series and documentaries to watch directly in streaming or locally thanks to its download function ( available only for devices equipped with Android 4.4.2 and later). It also supports Chromecast.
The service offers various subscription plans: the basic one which costs 7,99 euros / month and allows you to watch content in SD resolution from only one device at a time; the intermediate one which costs 11,99 euros / month and allows you to watch HD content on a maximum number of 2 screens at the same time or the "top" one which offers UltraHD content for 15,99 euros / month and allows 4 simultaneous accesses to the service. Depending on the promo periods, an initial free trial period may be available, for example 14 or 30 days.
If you have a device that has been rooted and / or with the boot loader unlocked, you will not find Netflix in the Play Store (due to DRM issues). To install the app you will need to activate support at unknown origins on the menu Settings> Security of Android and download the Netflix APK package from sites like APKMirror. To learn more, check out my tutorial on how to watch Netflix and, if you need it, my guide on how to open APK files.
Infinity (payable)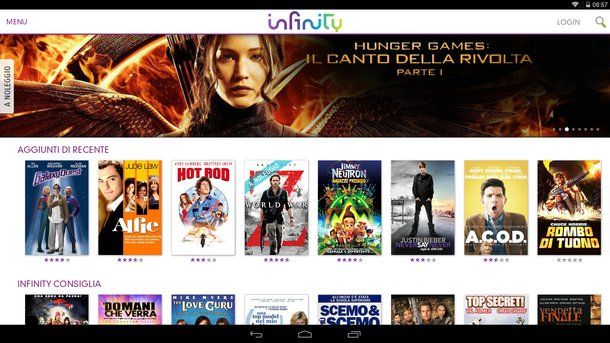 Infinity is one of the best streaming video services available on the Italian market, together with Netflix and NOW TV. It has a library consisting of over 5.000 Italian and international films from all eras, TV series and cartoons. All usable directly in streaming or downloadable locally.
It is not free: you pay 7,99 euros / month or 5/99 euros / month (depending on the current promotions) but the first 30 days of subscription are offered free of charge with no obligation to renew. The Infinity app is also compatible with Chromecast but - beware - it cannot be used on terminals unlocked via the root procedure. To find out more check out my post on how Infinity works.
NOW TV (paid)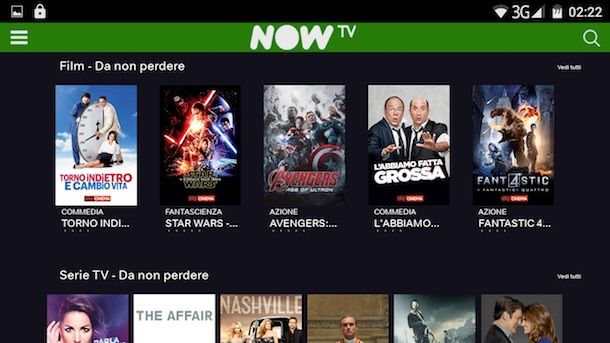 NOW TV is a video on-demand service offered by Sky Italia. It is disconnected from satellite pay TV and can be canceled at any time at no additional cost. Its offer consists of various packages: the Cinema one (9,99 euros / month) which includes many on-demand movies and Sky Cinema channels to watch in streaming, the one with the TV series (9,99 euros / month), the Entertainment (9,99 euros / month) with Sky TV shows and Football (19,99 euros / month) which gives access to league and Europa League matches.
New customers can try the packages with movies, TV series and TV shows free for 14 days. Viewing is blocked on rooted devices. If you want to know more, check out my article on how the NOW TV app works.
Amazon Prime Video (for a Fee)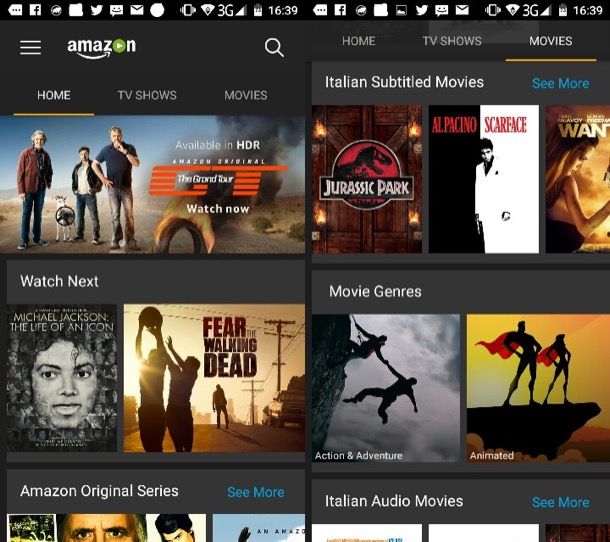 If you are an Amazon customer and are enrolled in the program Amazon Prime, you can stream movies and TV series thanks to the Amazon Prime Video app.
In the Amazon Prime Video catalog, you can find hundreds of international films, TV series (some of which are also absolutely exclusive) and Japanese anime. Unfortunately, the catalog of the service is not yet as vast and varied as that of Netflix or Infinity, especially as regards the contents in Italian, but the situation could change soon.
In addition to Android, Amazon Prime is compatible with iOS and with some models of Samsung, Sony and LG Smart TVs. Another noteworthy detail is that, on smartphones and tablets, offline downloads of movies and TV series are allowed. For more details read my guide on how Amazon Prime Video works.
Chili (payable)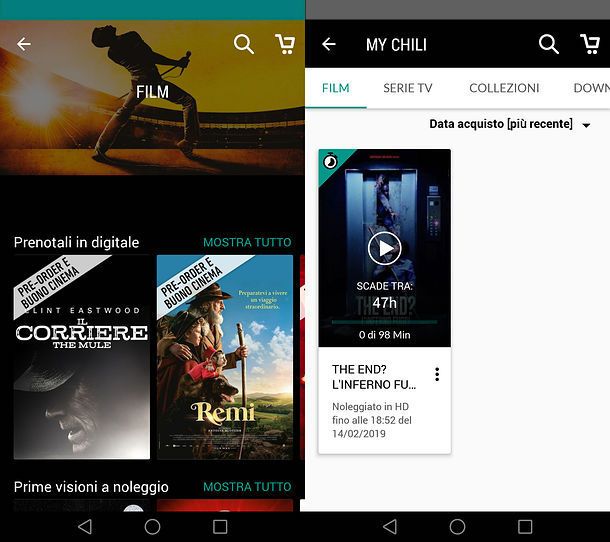 If you prefer the rental or purchase of individual movies to streaming apps that require monthly subscriptions, I recommend that you download the Chili app that allows you to stream movies on Android and download them locally after their rental. or purchase.
The catalog of the service is vast and includes all the latest releases in home video and even offers the possibility to pre-order the titles still present in cinemas. Prices start at € 0,99 for rental and € 4,99 for the purchase of individual films. The supported payment methods are many: card, PayPal, Satispay and Chili credit (obtainable via gift card or promo codes).
To watch the films in the Chili catalog, you need to create a free account on the service. Start, therefore, the official app of the service on your smartphone or tablet, press the ☰ button located at the top left and first tap on the item Log in or register present in the menu that opens and then on the button Subscribe. Then choose whether to register by filling out the form proposed to you or to authenticate yourself via Facebookby pressing the appropriate button.
Once registered, you can browse the films available on Chili by accessing the section Home (in which there are featured titles, including TV series) or that Videos of the app, both accessible by pressing the ☰ button located at the top left. Once you have found a content that interests you, click on its playbill and then on the button with the icon cart, to choose whether rent it or l 'buy it and, subsequently, if watch it now o add it to cart.
Once you have rented or purchased a film, you will find it in the section My chili, always accessible by pressing the button ☰ located at the top left. The rented films have a deadline of 28 days but must be "consumed" within 48 hours of their first reproduction. Those purchased, however, can be seen and reviewed without limits.
To download a movie locally and watch it in offline mode, press the icon ⋮ located under its poster and choose the item Download from the menu that opens. For more info, read my guide dedicated to Chili.
Veezie.st (free)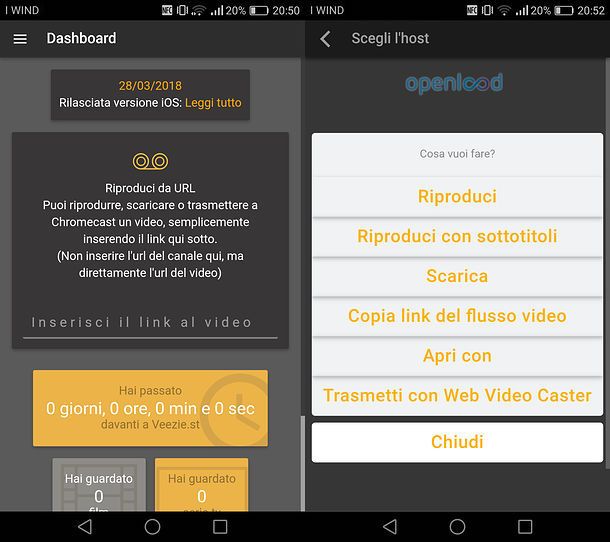 Veezie.st is an excellent free application that allows you to stream - or download - videos hosted on streaming services such as Openload and Streamango.
Using it is really a breeze: after pasting the address of the movie to watch on its main screen, just press the button vai and select the operation to perform: Play to play it in the app, Downloadto download it, Trasmetti with Web Video Caster to send it to a Chromecast via the Video Caster web app, and so on.
Caution: unauthorized downloading of copyrighted films is a crime. This post was written for illustrative purposes only, so I take no responsibility for any use that may be made of the information contained therein.
Streaming TV App (Free)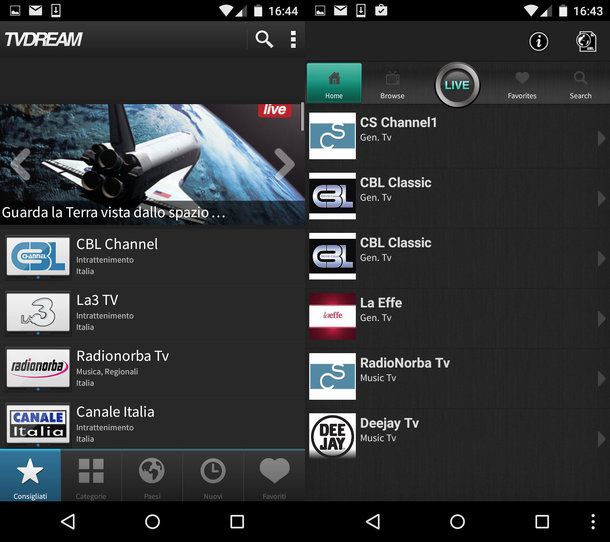 By now most of the Italian TV channels are visible in live streaming, even on Android: why not take the opportunity to watch some good movies? By installing applications such as TVDream and CoolStreaming you can have all the main Italian TV channels at your fingertips and watch them live for free.
In addition, there are applications such as Free TV GUIDE that allow you to record TV broadcasts on Google Drive and OneDrive (via the Vcast service). For more information on the subject read my guides on how to watch TV on Android and how to record from TV.
Article created in collaboration with Chili.