You have a passion for writing and therefore you searched the Internet for information on how to start a blog. Wait, wait, brake for a moment. Are you telling me you don't have a blog yet and would like to know how to create it? But come on, don't joke: now everyone has a blog! How do you say? Don't have your own personal space on the web yet because you're not very familiar with the world of technology? In this case, you are sorry; don't worry, it's not a problem at all, we can fix it together.
Opening a blog is also possible for those who have no technical knowledge. Just think that even my grandmother has a blog on the Internet. Seriously, there are no excuses they hold; creating a blog is now the simplest thing in this world. Come on, take a few minutes of free time, it won't take long: don't come and tell me you don't have ten minutes to read this tutorial ?! I wrote this guide to explain you in detail how to start a blog and I'm sure that after you follow my instructions and show it to all your friends, you will blow your mind.
Are you still here reading and can't wait for me to tell you more? I knew it! Fine, then you must also know that, in addition to being quick and easy, opening a blog can also be free. Yes, you understood very well: you do not have to pay for your online space. Here, I knew I'd get your full attention with that little magic word. Well, then let's not get lost in chat further and let's get started right away. Have a good reading!
Index:
How to start a blog with WordPress
How to start a blog with other services

Blogger
Tumblr
Medium
Virgilio My Blog
How to Start a Blog with WordPress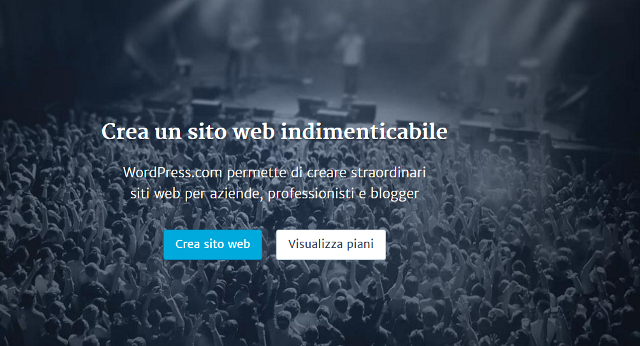 From the moment you understand that your passion is writing and you have decided that you want to open a blog, one of the best solutions I choose to recommend is the one related to the use of WordPress.
If you don't know what it is, you need to know that I'm talking about a CMS (Content Management System, in Italian called content management system) and also one of the most used for the creation of blogs and websites.
WordPress is in fact a CMS free which is frequently used for the creation of blogs and websites. Its strong point? Certainly its ample customization possibilities and its ease of use.
The choice of CMS is not to be taken lightly: what you are going to create will be the basic structure of your blog and, by choosing WordPress you can apply customizations in various aspects thanks to the installation of plugins and themes developed by third parties.
WordPress is not the only CMS, but if you want to open a blog it is what I recommend with your eyes closed. Furthermore, to open a blog with WordPress, you can choose to continue completely free and payment. In the first case, a blog will be created thanks to the website www.wordpress.com, which offers a hosting space and a domain both completely free.
Creating a blog with WordPress for free through the website www.wordpress.com, however, it is necessary to take into account that there are limitations: for example the impossibility of inserting advertising banners; you will not be able to get any remuneration from your blog. Furthermore, the domain you will get during the creation phase will be of the third level and will therefore have the wording [your blog name] .wordpress.com.
In case you then want to take a level leap, keep in mind that it will be possible for you at any time: upgrading your hosting space is possible: just request the purchase of a top-level domain and purchase a package hosting a among those proposed.
Don't worry: WordPress hosting spaces have very variable prices depending on different needs. However buying a hosting through WordPresss is only one of the many choices you can opt for when creating a paid blog.
In addition to wordpress.com, in fact, there are many other sites that offer the purchase of hosting. I told you about it in my guide dedicated to what I think are the best hosting.
In any case, if you are new to the world of the web and of creating websites, the free hosting space offered by WordPress is more than enough and I therefore recommend that you continue with this choice.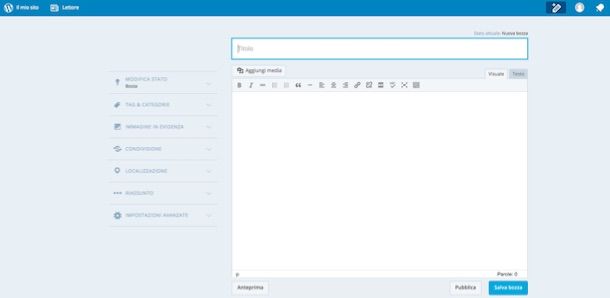 To open a blog with WordPress you will first need to connect to its official website at www.wordpress.com and create your account by pressing the button It starts now.
So, if you are willing to create your first blog with WordPress, I suggest you deepen to see in detail how to create your blog with WordPress and how to manage the blog itself.
How to Start a Blog with Other Services
To open a blog in a free, the www.wordpress.com website is not the only solution available. In fact, you should know that, if your needs are really basic and you have difficulty using the WordPress CMS, you can use a proprietary service created by companies like Google, Twitter or Yahoo.
In the paragraphs below I will list what I believe are the easiest and most immediate proprietary services that will allow you to open a blog in a very short time, as well as completely free.
Blogger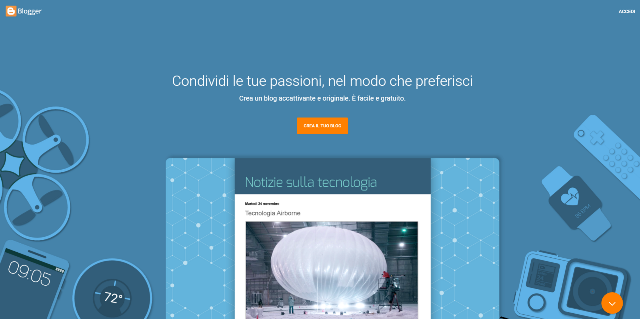 To create a blog with a proprietary service, I recommend that you start from the basics and create a blog with Blogger, the service free of Google.
Unlike the system for creating a blog through CMS, Blogger integrates a tool for creating a blog suitable for everyone: the hosting space is completely free and in which it is also possible to insert advertising banners through the Google Adsense circuit.
The most interesting feature of Blogger is in fact its extreme simplicity of use, as well as its integration with all the main services of the Mountain View company. Creating a blog with blogger is really basic simple, you don't need any technical skills and you don't need to know a programming language.
Clearly not everything is perfect: a blog created with Blogger cannot be used with a custom domain and there are also limitations regarding the personalization of the blog itself. Since this is a proprietary service, and not a CMS like WordPress, there are no plugins to install to customize your web space in an advanced way.
If despite this, you want to create blogs with Blogger, the first thing you need to do is connect to its official website and create your account by pressing the button Create your blog.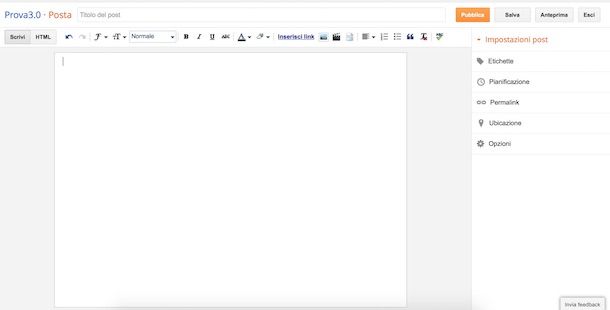 Don't forget that, to create a blog with blogger, you will be required to have a Google account. If you already have it you will need to log in with the login data of the same, if you don't have a Google account you will have to create it on the spot. In this regard, if you don't know how to create a Google account, I suggest you read my guide dedicated to the subject, in which I explain how to carry out this procedure step by step.
Furthermore, in case you had actually decided to create a blog with Blogger I suggest you deepen this topic by reading my guide in which I explain, in detail, the procedures to be carried out for the creation of the same.
Tumblr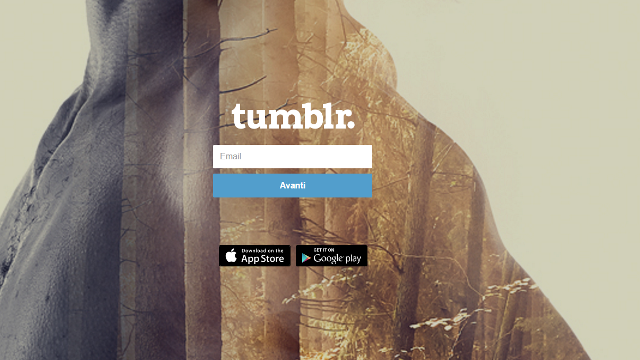 If you love social networks and instant messaging applications and you want to create a completely different blog, based on multimedia content such as photos and videos, then I recommend you create a blog with Tumblr. This service, owned by Yahoo, allows the creation of an alternative blog that is characterized by being an online container based mainly on multimedia elements such as photos, videos and above all GIFs.
Tumblr, in fact, is a historical platform that, born as a platform for opening and creating a Web space in a simple and immediate way, has then evolved considerably over time. Tumblr is now a website very similar to the modern idea of ​​social networking. Also available via smartphone app, Tumblr is a blogging platform where people share images and where GIFs are popular.
You can also create a traditional blog with Tumblr but it will still be different from usual, since the content you write can be read by all the people who frequent this social network. Furthermore, creating a blog on Tumblr is an extremely simple procedure and it is possible to apply different types of aesthetic customizations that are a little more advanced.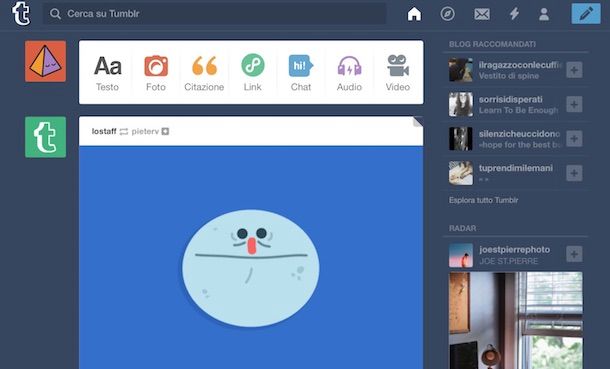 As for the limitations, given that it is a platform for creating a blog entirely free, you will have to keep in mind that you will not be able to insert advertising banners to monetize the content you publish. Furthermore, the blog that you create on Tumblr cannot be installed on an external hosting space.
That said, if you want to start a blog with Tumblr, the first thing you need to do is connect to the homepage of this platform and then click on the button Start.
Then proceed by creating your account by filling out the form that you can see in the center of the screen and, once you have indicated your email address, username and password to use for registration, press the button Subscribe.
To continue, and see in detail the procedure for creating your blog on Tumblr, I suggest you read my guide entitled how Tumblr works: it will certainly allow you to clarify the functioning of this platform.
You can also read my guide where I explain how to customize Tumblr to see the steps to take to aesthetically customize your Web space. You will see that you will be absolutely satisfied.
Medium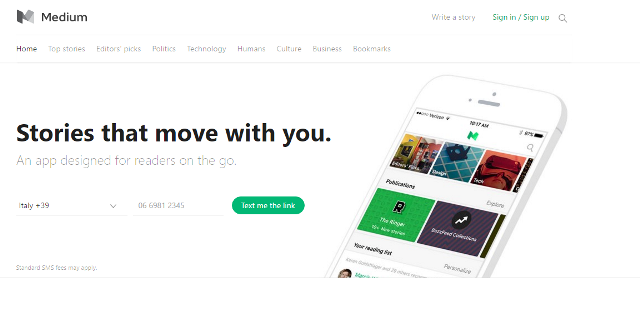 This platform for creating a blog free was created by the same authors of Twitter and is a reference point for those who love the 280-character social network.
It is possible to start a blog on Medium completely free and have an elegant and professional web space available. The blog you are going to create will in fact be very similar to one created through the WordPress CMS, even if you will have few possibilities for customization.
At the present time, however, it is still not very widespread in Italy and does not allow the monetization of content through advertising banners. If you want to open a blog with Medium you have to go to its official website and press the button Sign in.
Virgilio My Blog

In this case it is Virgil's platform for creating a blog that allows you to open a blog at no cost. I have chosen to mention it in this guide of mine even if I think it is to be considered a bit old-fashioned: its user interface is not very modern and, although there is the possibility to insert advertising banners through Google Adsense, the platform is rather limited.
The blog created with Virgilio My Blog will be based on the WordPress CMS; you can then consider creating your own blog with this service to practice the basic functionality of the well-known content management system.
If you want to create a blog with this Virgil service, go to his official website and press the button Log in to carry out the registration procedure or access to your Virgilio account.