Do you need to split the desktop of your computer on a secondary monitor or on the TV, in order to reproduce on the latter the things that happen on the main display of the PC, but you don't know how to do it? Do you want to duplicate the screen of your smartphone or tablet on a larger display, to better appreciate your photos or videos? Don't worry: today you will find the answers to your doubts.
In the guide that I am about to offer you, we will find out in fact how to split the screen computer, smartphone or tablet in an easy and fast way by taking advantage of the functions that the relative operating systems make available. Do not worry, all the operations you will have to carry out are extremely simple even for those who, a bit like you, do not consider themselves exactly a great expert in IT and new technologies.
Whether you have a Windows PC, a Mac, an Android device or an Apple device, take a few minutes of free time and follow the instructions below. I guarantee you that by doing this you will be able to duplicate the screen of all your devices in no time at all!
How to Split the PC Screen
If it is your interest split the PC screen and reproduce the content on a second monitor, you must first decide whether to use a cable connection or a wireless connection, knowing that the latter is enormously more convenient but can potentially lead to some lag problems (i.e. delay) or loss of signal . Below I will explain how to act, both ways.
How to Split the PC Screen with Cable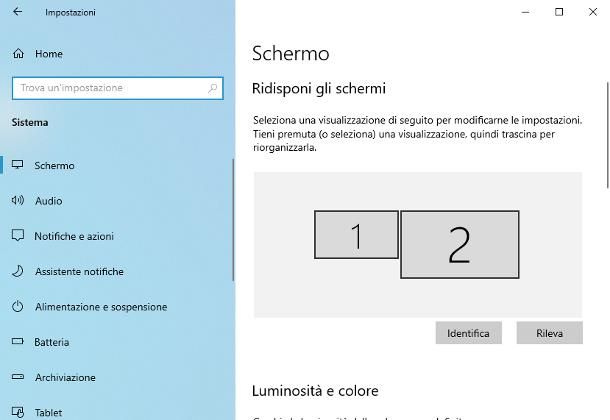 To connect a Windows PC to a secondary display via cable, you must first check which inputs are supported by your computer.
Well, in order for everything to be successful it is necessary that on the computer there are at least two video outputs: one to be dedicated to any main monitor and the other to be used for the secondary screen. Clearly, this does not apply to notebooks, which always have an output dedicated to a second monitor.
In any case, there are various cables that can be used to put two screens and a single computer in communication: the most common are listed below.
HDMI - it is undoubtedly the most used type of output to date, present on most screens, televisions and, in general, modern audiovisual equipment. Supports FullHD, 4K or higher resolution content (up to 8K with 60Hz refresh rate); To transmit content at 4K resolution or higher, HDMI 1.4 type cables must be used. Manages the audio stream up to 32 channels.
USB Type-C - this is the same technology used on some recent smartphones and tablets. Some computers, including Apple's MacBooks and high-end convertibles, also allow you to use it to connect your computer to external monitors / televisions. Content can be streamed at high resolutions, up to 8K with 60Hz refresh rate.
DVI - another format widely used to connect PCs and various types of screens. There are also special cables to "transform" a DVI output into an HDMI input, and vice versa: they are particularly useful when, for example, one of the two devices has only one DVI input available, while the other has HDMI. DVI supports transmission at maximum quality QHD (2560 x 1600 pixels) and handles the audio stream.
DisplayPort / Mini DisplayPort - this type of connection can be found on numerous PCs, including new generation ones, as well as on some older MacBooks; the maximum supported resolution is 4K (4096 x 2160 pixels).
VGA - is the standard that, until a few years ago, was mainly used to connect computers and screens of various types. This cable is present on most TVs and monitors, however its output may be missing on most modern PCs, especially notebooks. The maximum supported resolution is FullHD (but the yield is not optimal), with refresh rate up to 70 Hz. It does not manage the audio stream.
Composite RCA - these are the unforgotten white, yellow and red jacks. RCA inputs / outputs are present on a large number of televisions, but are less and less common on PCs and notebooks. The white and red plugs handle the audio stream.
S-Video - has the shape of a round plug and is present on many computers and monitors, including older ones; it can be used to establish connection between PC and TV via SCART. It does not handle the audio stream.
Once you have checked the outputs (or the output, if it is a notebook) and, consequently, the type of cable to be used to duplicate the screen, you can easily get the necessary by going to an electronic shop, or directly online . Generally, the average cost is around € 10-15, for medium-long cables.