Every time you try to open a file on your computer, you can prepare and drink a liter of coffee: it takes forever to start up and more generally to perform any type of operation. Have you tried the most bizarre solutions to attempt to speed up your PC, but you haven't gotten any results yet.
Well, I'm sure you haven't tried the right and effective solutions yet. I bet that, for example, you haven't tried to defrag your PC or even clean it of the heaviest files that start automatically. Rest assured, carrying out these operations is really easy and I am sure that your computer, even if a few years old, can benefit from them. You will see that if you follow all the steps that I will show you in this tutorial, your files will open faster and your PC can only thank you.
How do you say? Would you like me to give you some tips to speed up slow PC? Are you not experienced with computer use and are you afraid of making some disaster? But no, don't worry, I'm here and I can help you. Take a few minutes of free time, sit in front of the computer and read the instructions I am about to give you. You will see that you will be satisfied. I wish you a good read.
Index:
How to speed up slow PC (Windows tools)

Windows visual effects removal
Clean up hard disk space
Hard disk defragmentation
Remove autorun programs
Windows recovery and hardware replacements

How to speed up slow PC (macOS tools)
How to speed up slow PC through software
How to Speed Up Slow PC (Windows Tools)
Removal of Visual Effects and Windows Indexing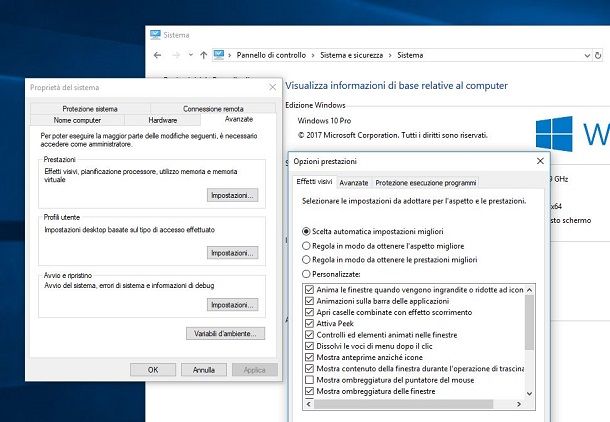 The visual effects of your Windows OS theme can slow down the performance of your PC, if this is a little dated. Also, consider removing third-party toolbars or tools to customize the Windows interface, as these may slow down your PC.
If this is not the case, then you will have to think about simply turning off the visual effects that are active by default on your operating system. To do this, hit the Control Panel Windows by clicking the icon with the symbol of a magnifying glass (Search) and typing the term control panel. Then click on the corresponding result and click System and security. Then click System and, from the left panel, click on the item again Advanced system settings.
From the small window that will open to you, click on the tab Advanced and then on the button Settings, in the box Performances.
Then select the items to remove by removing the check mark. You can try to do some tests, removing some effects from time to time and checking if you notice any improvements. However, I recommend that you disable the entries Show previews instead of icons, Show window shades, Save thumbnails of the taskbar, Smooth the corners of the screen fonts.
Then confirm your choice by clicking on Apply and then on the button Ok.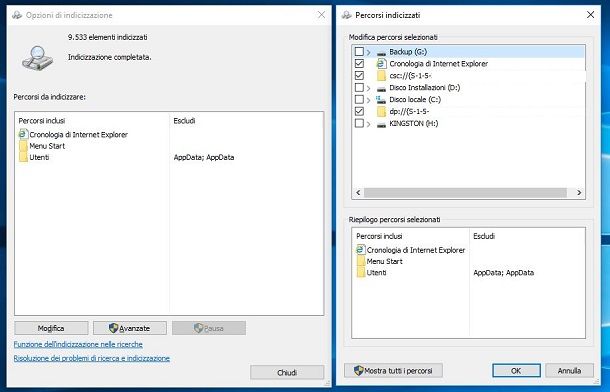 Your Windows operating system tries to index all the files that are on your computer, so as to guarantee you a targeted search for them. However, this feature can slow down your PC; you will then have to check which elements are indexed and make the appropriate changes.
To do this you need to find the panel of theIndexing Windows: Click the icon with the symbol of a magnifying glass (Search) and type the term indexing options. Then click on the corresponding search result and, from the window, click on Modification.
At this point, remove all the elements you do not want to index and then click on the button Ok and then Close.
Clean Up Hard Disk Space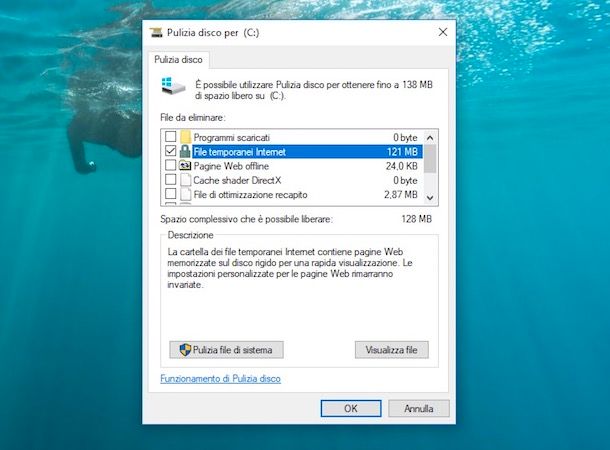 A hard drive full of data, especially temporary files, could slow down your PC. Just to give you an example, I am referring to the temporary files generated by the operating system, by the software used or by the browser, while browsing. Much of this data that remains on your PC may not be of use to you, and its removal is helpful in speeding up your PC.
The procedure for removing temporary files does not take a very long time. What you need to do is open the tool Cleaning disk of Windows.
To find it click the button Search (icon with symbol of a magnifying glass), located at the bottom left of the Windows taskbar, and type the term cleaning disk. F.click on the corresponding result and, from the newly opened window, select the disk drive to clean. Click the button Ok and wait for the next interface to open.
Click on the button System file cleaning e.g.elect the disk drive to be cleaned again, confirming with the button Ok. Select the items to clean and click Ok. Then confirm the cleaning procedure by clicking on File deletion.
Another procedure that you could carry out to lighten the space occupied on your hard disk is that relating to the uninstallation of all the software you do not use; alternatively you can also think of replacing them with others similar but faster and lighter.
To do this, go to the panel Application installation, by clicking on the button Search (icon with symbol of a magnifying glass), located at the bottom left of the Windows taskbar, and type installation of applications. Then click on the corresponding search term and uninstall any software that takes up too much space, that you don't use or that slows down your computer's performance.
Hard Disk Defragmentation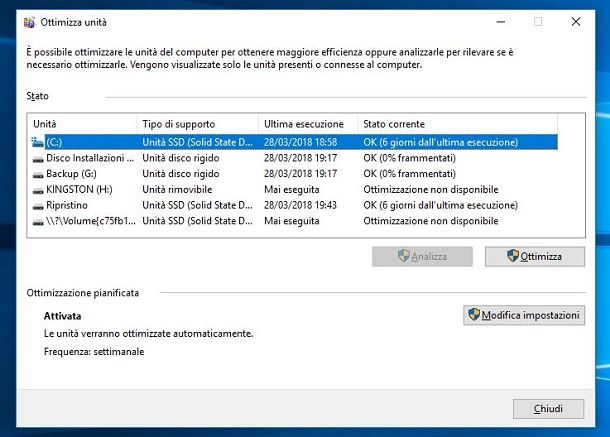 The defragmentation of a hard disk partition is a procedure that allows you to distribute data so that it can be accessed by the system and software more quickly.
This is a practice that is usually done manually or automatically on classic hard drives with magnetic discs, which I do not recommend, however, if you have an SSD.
To start a defragmentation, you will need to type the term defrag and optimize drives within the search bar in Search (icon with symbol of a magnifying glass). Select the corresponding result and, in the newly opened window, select the partition to defragment and click the button Optimize. You can also decide to analyze (Analyze) the partition first and check if it actually needs a defragmentation.
Also check that the periodic defragmentation procedure of the partitions on your hard disk is active, so as to streamline this procedure and make it automatic. Then click the button Change settings and put a check mark in the box Run on a schedule. Select how often this procedure should be performed using the drop-down menu below and, to confirm, click Ok.
Remove Autorun Programs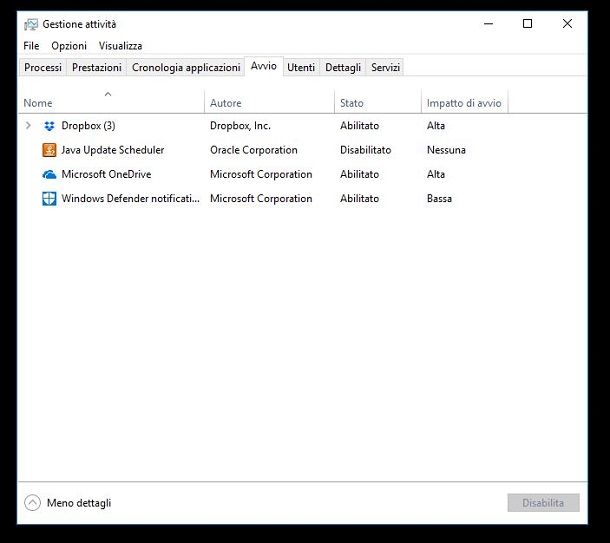 If your PC takes a long time to start, maybe the fault could be due to the presence of numerous software that are activated automatically when Windows starts. I therefore advise you to disable them, using the procedure that I will indicate below.
On Windows 10, launch the Task Manager: You can start it by key combination CTRL + Shift + Esc o CTRL+Shift+Esc or by right-clicking on the Application bar below and selecting Activity management.
In the tab Start you will have to disable all the services that you think are useless: then right-click on one of them and select the item Disable.
Windows Recovery and Hardware Replacements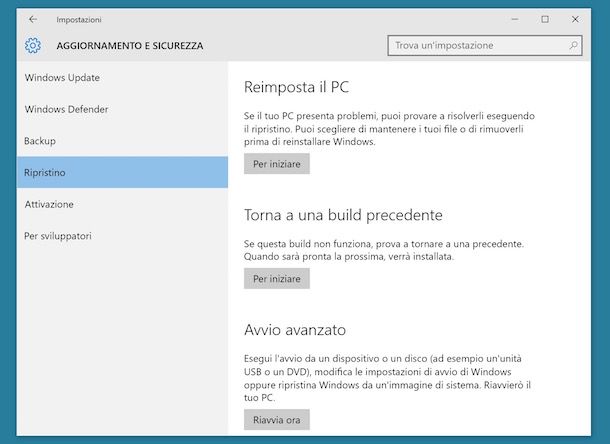 If all of the above has been of little use, then your Windows operating system probably requires a fresh installation. This practice often solves many problems, but there is a risk that you may lose some important data stored on your hard drive.
I therefore recommend that you read these guides of mine in which I explain how to format your PC and how to format Windows 10, which may be useful if you want to know how to restore your operating system.
Didn't Windows restore bring about any changes? Then take seriously into consideration that some hardware component inside your PC may not work properly or no longer be sufficient to withstand new updates of your operating system or new software versions.
A common problem is for example the amount of RAM, which may not be enough to handle one or more software open at the same time. Even an SSD, if replaced with a Hard Disk, can guarantee you excellent results in terms of execution and startup of both the operating system and the software installed on it.
I therefore recommend that you take some time to read these guides of mine on the best SSDs and RAMs suitable for your PC.
How to Speed Up Slow PC (macOS Tools)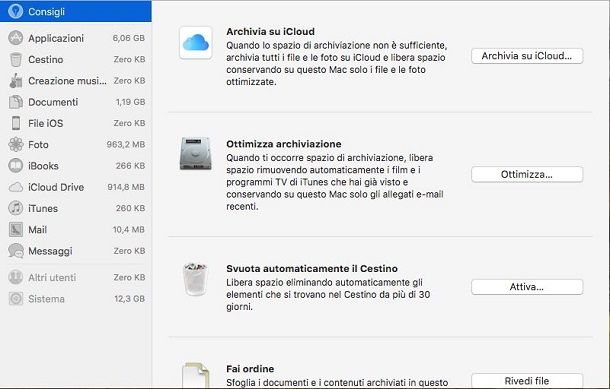 On macOS, the story changes a lot. Unfortunately (or fortunately) the Apple operating system is more optimized and stable than the Windows one and requires less interventions for its optimization. Therefore I recommend below some procedures for optimizing the space on the hard disk of your computer with macOS.
Log in to Spotlight, by clicking on the top right button with the symbol of a magnifying glass; then type space management and select the corresponding result.
In the window that opens, you will have to wait until all the elements on the left have finished analyzing. When done, click on the tab Advice. You will be presented with some very useful items for optimizing your macOS, including the ability to automatically delete files in the recycle bin older than 30 days (Automatically empties the Trash) or to view the files on your computer through the function Order.
You can also decide to automatically remove all movies and shows already seen on iTunes or download only recent attachments from emails viewed through the app Mail These settings can be found by clicking on Optimize, corresponding to the item Optimize storage.
If you click on the left section instead, you will be able to view the different categories and find out, in each of them, how you can act to speed up and optimize your Mac computer.
How to Speed Up Slow PC Through Software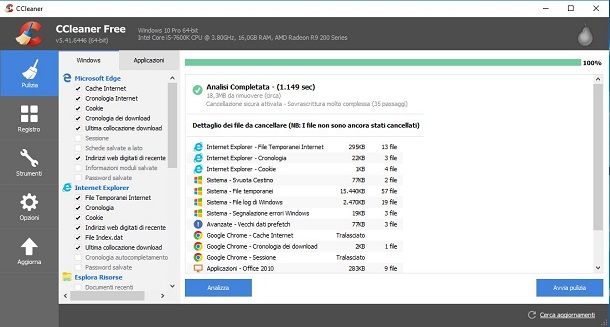 Many of the procedures that I have indicated in the previous paragraphs can also be carried out with third-party software. But before talking about the programs that can help you optimize your computer, I want to open a parenthesis on the virus and malware problem.
If your computer suddenly becomes slow, in addition to what has been said so far, it could be that it is infected with malware that is using your PC's resources.
One case, for example, is that of cryptocurrency miners, which use your PC's processor or video card to process cryptocurrencies; this involves a considerable consumption of electricity and a faster wear of the components of your PC. I therefore recommend that you always carry out a deep scan of your PC and make sure you have installed a lightweight but functional antivirus. You can find some tips in my guide on the best antivirus.
Returning to the subject, below you will find some software that could help you in optimizing your PC, be it Windows or macOS.
CCleaner(Windows / macOS) - This software free it is very famous and aims to provide for the removal of all unnecessary files. It also allows you to manage, through some of its tools, general computer optimization. You will be able to remove temporary files generated by the system and by the software you use (if supported), clean the Windows registry, uninstall programs, delete the entries that automatically start when Windows starts, format partitions, check which files are take up more space on your PC and those that are duplicated.
Glary Utilities (Windows)- It is software free similar to CCleaner, with a well-organized interface and some additional features.
Defraggler(Windows) - It's software free for defragmenting the partitions on your computer. It is very simple to use and allows you to reduce the execution time of this procedure, deciding to defragment only the data that need it.