In Windows 8 quite a few things have changed from previous versions of the operating system. The Start Screen has replaced the Start menu, the classic Desktop applications have been joined by the so-called Modern Apps that also work on tablets, and the Resource Explorer (now renamed File Explorer) has also been modernized.
Now it comes with an Office-style tabbed interface that makes many functions much more accessible, including that relating to viewing hidden files. Did you know that? For view hidden files Windows 8 it is no longer necessary to go into the system menus, just tick a simple option in the File Explorer and that's it. If you don't believe it, try it yourself by following the directions I'm about to give you.
Be vuoi scoprire how to show hidden files Windows 8, go to the environment desktop operating system (by clicking on the appropriate box on the Start Screen) and open File Explorer by clicking on the folder icon in the taskbar.
At this point, go to the folder where there are the hidden files you want to view and select the tab View File Explorer (top right). Put the check mark next to the item Hidden elements and you should be able to see both hidden files and folders immediately. You can recognize them immediately, they are the ones with semi-transparent icons.
If you can't see the entry in the File Explorer toolbar Hidden elements, try to maximize the window or click on the button Show / Hide: you will find the option within the menu that opens. After completing the work on the hidden files and folders, you can restore the Windows default settings and hide both items again by unchecking the item Hidden elements. Very easy, right?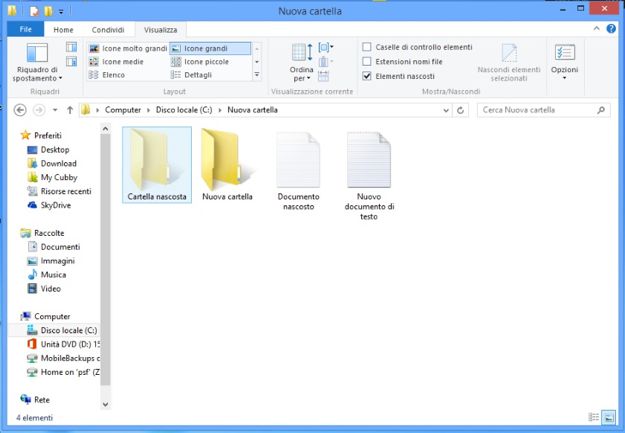 Another way to view hidden files Windows 8 (also usable on previous versions of Windows) is to open theFile Explorer, go to the tab View of the latter, click on the button options I will select the voice Change folder and search options give the menu to compare.
In the window that opens, click on the tab viewing, put the check mark next to the item View hidden folders, files and drives and click on the button OK to save the settings.
From the same window, you can also activate the display of system files (by removing the check mark from the option Hide protected system files) but it is an operation that I do not recommend to do, unless you know very well what you are doing and which files you can modify without undermining the stability of the system.