You would like to share documents with a dozen friends but you have noticed that this is not possible: all these files put together can weigh several gigabytes; far too much for e-mailing.
Sending them one by one is a real madness, it would take hours; the best thing to do is to upload them in one place, perhaps an Internet site, where your friends can download them. In this way, you can upload them in complete peace of mind when you are most comfortable and you will not have to worry about waiting for your friends (who also have a slow Internet connection) to be online to be able to send them in person.
If you had this idea, I must absolutely congratulate you: you had the right intuition! Share files on the network it is the best solution for sending files, especially if they are numerous or if they are large. How do you say? Would you like my help to do it? Very well, then read this tutorial carefully: I will tell you about the best services to share files, videos and documents with your friends using the Internet connection. I wish you a good read.
Index:
How to share files on a local network
How to share files on the network using software

TeamViewer
Other software to share files on the network

How to share files on the network via web services

OneDrive (Online)
Other web services for sharing files on the network
How to Share Files on a Local Network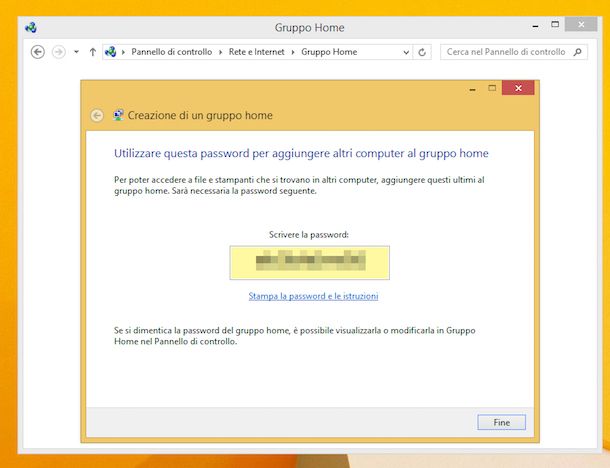 If you need to share your files within a home network between your Windows computers, you can think about using the built-in Windows feature, called Home Group. This feature allows you to create shared folders between all PCs that are connected to the same network (LAN or Wi-Fi). You will then have the possibility to share images, documents, videos or even your printer.
The basic requirement to be able to share files with Windows Homegroup is that the devices are turned on and that they are connected to each other. You can consult this guide of mine in case you need help physically connecting your PCs to the same home network.
After connecting the PCs to the same network, it's time to activate the feature Home Group from Windows Control Panel. On newer Windows operating systems, you can reach this panel by clicking on the icon with the symbol of a magnifying glass (Search) and typing the term control panel.
You will then have to click on the search result obtained, so as to open the dedicated window, and then reach the section Rete and Internet > Home Group to start setting up a sharing network.
Now you will need to follow the on-screen procedure after clicking on the button Create a homegroup. You will then have to check the items you want to share between the PCs on your home network and then click on the button forward.
A password will appear on the screen that you will have to write down, as it is necessary to allow all the other PCs on your network to access the sharing group.
Perform the same procedure on all the other PCs you want to access the group by opening the Windows Control Panel and reaching the section Home Group in Rete and Internet. Then click the button Participate now, so as to start the wizard to access the previously created sharing group. At this stage, you will need to type in the password you wrote down earlier.
Once the procedure is finished, your PCs will now be connected to each other and can share their files within your home network. To share a file, simply move it into the shared folders of the Home Group, which you find in the left sidebar in any window of Windows Explorer.
If you want to share a file instead, you will have to right click on it and then you will have to choose the entry Share with, then choosing if the sharing is in view only, Homegroup (view), or you also want to allow editing of the file, Homegroup (view and edit).
How to Share Files on the Network Using Software
TeamViewer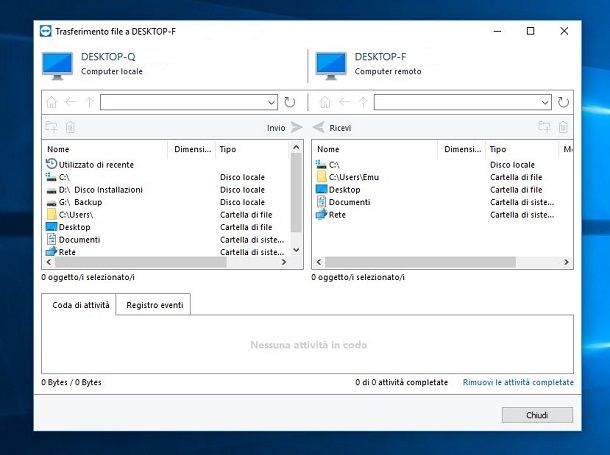 TeamViewer is software free for non-commercial use that allows you to share your desktop remotely or to transfer files between two devices.
This program is available on various desktop platforms, such as Windows, macOS, Linux, or on mobile devices with Android, iOS, Windows 10 Mobile and BlackBerry.
You can download the version that best suits your needs via the official website. In this guide I will tackle the installation of the Windows version as it is the most complicated one.
After downloading the TeamViewer installation file for Windows, double-click on it to start the program. You will be asked whether to install the software or just run it, without any installation.
This choice depends entirely on you and the use you will make of it. If you want to be able to access a computer remotely at any time to transmit or receive files, then the most correct option is to install; if use is sporadic, then you can just run the program.
I remind you that this software takes advantage of the Internet connection, so it is necessary that the two PCs are turned on and connected to the Internet in order to start the file exchange functionality.
After selecting the mode that best suits your needs, select the item For private / non-commercial purposes. Then click the button Accept and then Yup, in the window of User Account Control. This procedure must be performed on both PCs.
From the computer you want to transfer the files to, launch the software and locate theID and Password that you will find under the heading Allow remote control. Then write down these two data that you will have to enter in the other PC.
If you had chosen the installation option, rather than the simple start, then I also recommend that you set a static password on TeamViewer, to prevent it from being reset every time the program is started.
Then click the right key on 'arrow icon next to the password and then click Set personal password. Then follow the on-screen procedure to set a custom password.
From the computer from which you will have to access to transfer the files, go to the section Control remote computer and type in the ID you pinned to yourself. Select the item File transfer and click Connect. Enter the password, for the ID you typed, and click Log in.
A panel will open that you can use to exchange and share files between the two PCs, whether they are in the same home network, or whether they are physically located in two different geographical locations.
Other Software to Share Files on the Network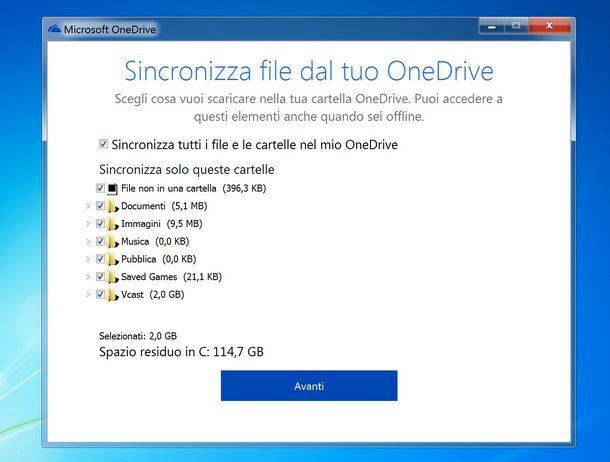 In case you are looking for other software similar to the one indicated in the previous paragraph, then I suggest you consult the list below: I show you some services that you can use for your purpose.
GigaTribe (Windows) - is software free which gives you the ability to share files between two PCs online easily, via a private peer to peer network accessible only by the people you have invited.
OneDrive (Windows / macOS) - it's the software free created by Microsoft to upload your files to the cloud, directly from your PC, without having to access the service's Web interface. The files in the cloud can then be shared externally with your friends.
Backup and synchronization (Windows / macOS) - is a tool free made by Google to synchronize your PC files and folders online with the Google Drive cloud service. As with OneDrive, files can then be shared externally.
How to Share Files on the Network Via Web Services
.
OneDrive (Online)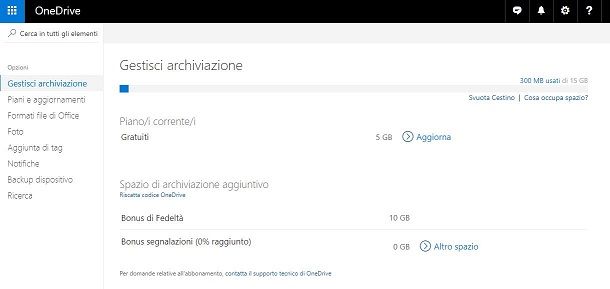 OneDrive is the cloud storage service created by Microsoft. The basic plan, which is obtained by registering a Microsoft account, includes 5GB of space, which can however be expanded by subscribing to a plan in subscription. The plans allow you to get up to a maximum of 5TB of storage space, for a figure of 99 euros / year.
All files in the cloud are only visible to the owner, but you can, however, share them externally with your friends.
If you are interested in this service, then I recommend that you register a Microsoft account and access the dedicated website. After logging in, you will have access to your cloud, where you can upload and share your files and folders.
To upload any file, click the button Charge, which you find in the horizontal bar at the top, and choose the item Fillet. After the upload is complete, right-click on its preview and select the item from the context menu Share.
You will then see a window that will allow you to choose between the different sharing options: you can then choose whether to send the file directly via e-mail (Email) or get a shareable link (Get a link).
If you also activate the option Allow modification, anyone can make changes to the shared file. By clicking the button Otherinstead, you will be shown other sharing options to post your file on social networks, such as Facebook, Twitter and more.
If you own a plan in subscription, the sharing options will be more customizable, for example you can activate the possibility of setting an expiration for your links, for limited sharing over time.
Other Web Services for Sharing Files on the Network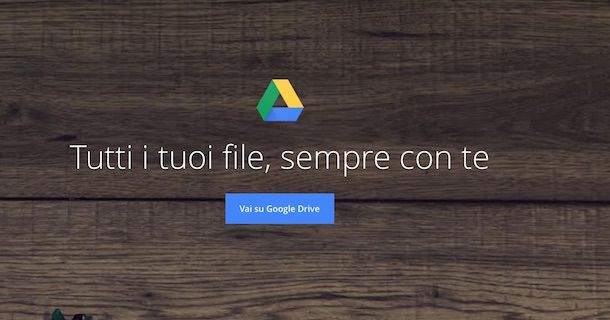 dropbox (Online): it is a very popular cloud storage service that allows you to store and share your files and folders both from the cloud and via application on desktop and mobile devices. In its basic version free, you can get 2GB of space, while in the subscription you can get 1TB of storage.
WeTransfer (Online): It is a large file transfer and sharing system. You can use this service for free to send files up to 2GB, via link. The files transferred with this service, however, have a limited duration, after which the files will no longer be available, as they have been deleted. However, by subscribing to a subscription, you can transfer files up to 20GB, with the possibility of extending the duration of the shared file.
Google Drive (Online): Among the many cloud storage services, Google Drive is the one associated with Google accounts. Each account has a basic storage space available free equal to 15GB, which can be expanded up to 10TB with the subscription of a subscription. All files uploaded to Google Drive can be shared with your friends via email or sharing link.