You must send your boss a document that he requested by email. However, an important problem has arisen, for which you cannot find a prompt solution: the document in question is too large in size and therefore you are unable to attach it to the e-mail. How can you do? You can't make your boss wait, because he'll need the documents as soon as possible. You can't even send them to them via a USB stick, because you'll never have time to deliver them to them in person. You are therefore in a panic, because you would like to find a solution to this pressing problem so that you can send large attachments via email without any kind of hitch.
You have come to the right place. If you have clicked in this guide of mine, it is precisely because you are counting on my help to solve your problem in a few simple steps. Don't worry, I'll be happy to lend a hand to help you send large attachments via email. In fact, there are some solutions that I will propose to you in the next paragraphs that will help you in your purpose.
In this guide of mine I will explain to you precisely how to send a large file via email through the most popular mail services, such as Outlook or Gmail. In fact, these services allow the use of integrated tools for sending files with dimensions that exceed the standard threshold of megabytes. If you are not using this kind of service, but are using different mail services, I can suggest some online services that offer temporary storage space to be able to share large files with other users via email.
I therefore recommend that you get comfortable and take a few minutes to read this guide with complete peace of mind. So pay attention to the steps that I will suggest, so as not to have any problems whatsoever in being able to carry out this procedure through your email. I therefore wish you a good read.
Index:
How to send large attachments via some popular mail services
How to send large attachments via WeTransfer
Other external services for sending large attachments
How to Send Large Attachments Via Some Popular Mail Services
Some popular email services, such as Outlook or Gmail, have tools that help their users to send large attachments without using external services. This does not mean that you cannot use external services anyway (which I will talk about in the next paragraphs), but acting in this way will certainly facilitate the task. So let's see together some of the major e-mail services.
Outlook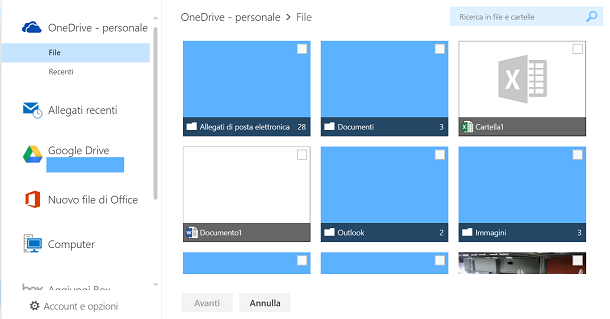 Through Outlook, the e-mail service offered by Microsoft, you can decide to attach a large file, importing it from some services offered by Microsoft, such as One Drive, or import them with a few clicks directly from Google Drive, Box, dropbox or even from Facebook.
To take advantage of this Outlook feature, after logging in, click the button New, to be able to start composing a new e-mail message. Now click the button with the symbol of a paper clip and, from the sidebar that appears on the left, you can start attaching the file from your computer (computer) or by one of the cloud storage services indicated.
The document will then be sent as a copy or as a link to the Cloud service. If the large file is on your computer, it will be uploaded directly to One Drive, automatically attaching the link for its display directly in the body of the email you are composing.
gmail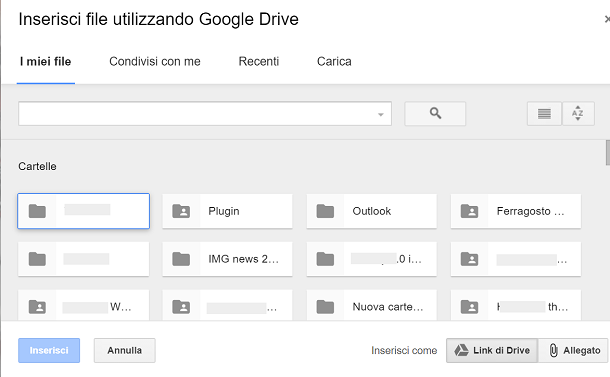 Gmail, Google's e-mail service, also allows you to send large attachments through an integrated tool, in a similar way to what I indicated in the previous paragraph on Outlook.
Specifically, log into your Gmail email and click the button Write, located at the top left, so you can start composing an e-mail message. Now click the button below with the symbol of a paper clip and select the file to attach from your computer. If the file is large, it will be uploaded directly to Google Drive, Google's cloud storage service. If your file already exists in this cloud storage, you can press the button with the Google Drive symbol, which is next to the paper clip.
Gmail only offers its cloud storage service, unlike Outlook, but it's still a great feature that you can use to send large attachments, without using external services.
How to Send Large Attachments Via WeTransfer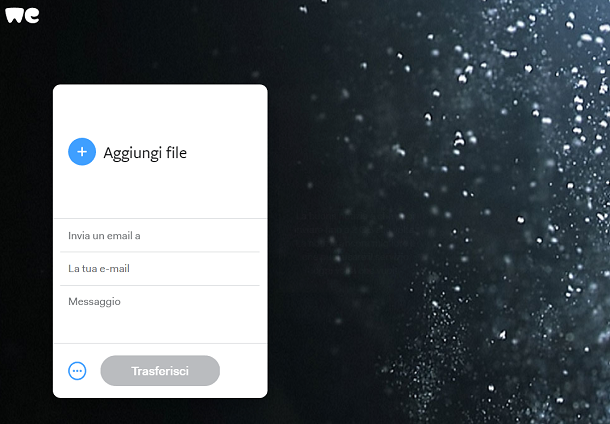 When using, perhaps proprietary email services such as Roundcube, you often face the problem of sending large attachments, as this email service does not support the sending of gigantic megabyte files. Also note that when you send an email with a heavy attachment, it takes up space; this can be a problem if you have email accounts with limited space.
There are therefore some external services that allow you to be able to store files externally, so as not to find yourself faced with any of the problems I mentioned to you. So keep reading, I'll show you some important external services that can help you achieve your goal.
If you are looking for a safe and reliable large file sending service, then I can recommend the famous service offered by WeTransfer. Don't you know what it is? There is no problem, I am there to explain everything in detail. This service allows you to send email messages to your recipients with file attachments of a maximum size of 2 GB. Yes, you read that right! 2 gigabytes of files can be a lot, but often you need to share large files; this is a solution that I recommend as an alternative to transferring files via USB stick.
If I told you this service is as well free and doesn't even require registration? Sure, you might think: Salvatore, let's be serious, I don't have time to waste! Instead I am very serious and I can confirm that, although there is a plan with an optional subscription, anyone can use WeTransfer for free, albeit with some small limitations.
Just to give you an example, a user who uses the WeTransfer service for free can send a large file, generating a link to share via email. However, this link will only be active for 7 days, after which it will no longer be accessible and the attachments will be deleted. If you want to remove this limitation, then you will need to take out a subscription Plus to WeTransfer, at a cost of 120 € / year or 12 € / month.
As I have already told you, you are not required to subscribe to any subscription; such limitations will not prevent you from achieving your goal.
Now that you understand how the service works, let's move on to using it. Open your favorite browser and connect to the WeTransfer official website address.
As soon as you log in, a message may appear showing you the differences between a plan free and a floor in subscription, differences I told you about earlier. If you don't want to make a subscription, then click on the item Take me to the free version, so you can start using the service completely free of charge. You will also need to accept the terms of service, an important and necessary step to start using WeTransfer.
Then click the button Add files and select from your computer the file you want to send to your recipient. The file will be displayed on the screen, with the possibility to remove it or add others.
Now you will have to fill in the remaining data. You can decide whether to simply generate a link to copy and paste in the body of the message to be composed in your email service or to send the email directly via WeTransfer. Then click the button with the three dots symbol located next to the button Transfer. Then select Email o Link in the entry Send as.
If you had to choose the mode Link, you can optionally add a message that your recipient will see when they open the link. The message is to be entered in the text field Message.
If you want to send an e-mail message directly via WeTransfer, check the box Email and fill in all the required data. You will then have to enter your e-mail address and that of the recipient in the relevant text fields, as well as the message to be displayed in the body of the email.
After filling out everything you need, click the button Transfer, so as to begin the procedure for uploading the file to the cloud storage. When the upload is complete, the message will then be sent to the recipient. In case you had chosen the mode instead Link, then you will be able to see the link to copy and paste into your email message.
Who will receive the email from WeTransfer, will have to click on the button Download the files. A Web page relating to WeTransfer will then open which will allow, via the button Download, to download all attachments that have been received.
Other External Services for Sending Large Attachments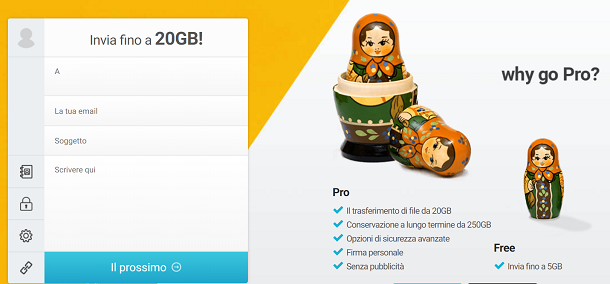 In addition to WeTransfer, there are many other cloud storage services that will allow you to send large attachments. Below I will show you the ones that I believe are most important and that can help you fulfill your purpose.
JumboMail - is a great cloud storage service for sending really large files. In fact, the service allows you to upload files up to 20 GB completely free. It is also possible to subscribe to a subscription plan that will allow you to store uploaded files with a space of 250 GB. The service can also be used without any registration, although this is recommended in order to make the most of all its tools.
Files2U - the main feature of this service is to send files to a maximum of three email addresses at the same time. Files should not exceed 3GB in total size. The service has a user interface in English language, but it can still be used completely free of charge, without making any registration.
Filemail - if you are looking for a web service that allows you to send large attachments, then I recommend that you contact Filemail. The strength of this cloud storage service is its clear and intuitive user interface. The service offers the possibility to send files via email for a maximum of 30 GB in its version free. As with WeTransfer, the share links remain active for only 7 days. To eliminate this and other limitations, it is recommended that you subscribe to an optional subscription plan.