At work they sent you several emails entrusting you with a very important task: you must save an email conversation on a USB stick and deliver it in time to your managers, so that they can have a copy of the information provided by email. You have to do this job in the day and, from the moment you are afraid of failing, you have searched the Internet for information about it: you need a practical and quick solution that can help you complete the assigned task.
If this is indeed the case and you have clicked on this guide of mine, trusting in my help, you will be pleased to know that I will not disappoint your expectations at all. Since technology is my daily bread and I deal with the resolution of the main and most common problems related to the world of the Web and computers, know that I can help you: you are therefore on the right guide.
In the following lines I will provide you with several practical solutions that will allow you to carry out the task that has been assigned to you. By reading this tutorial carefully you will in fact find a step by step explanation on how to save e-mail on a stick, first of all using the main Webmail services such as Gmail or Outlook. Below, for greater completeness of information, I will also explain how you can save emails on a USB device even using some software for managing and downloading emails, with easy-to-implement procedures. Does this introduction intrigue you and are you looking forward to learning more? Okay then let's not get lost in chat further and let's start immediately. I wish you a good read.
How to Save E-mail Messages on a Stick Via Webmail
If you need to save a copy of a specific email you received or sent on a USB stick, and you want to proceed directly from the email web service you use, without downloading any software, I'll show you how.
In the following lines, I will explain how to download an email in EML format from the browser (keeping formatting and attachments) and then view it on any computer. To open EML files you can in fact use one of the methods that I indicated in my guide on how to open eml files. Alternatively, continue reading the next paragraphs, I'll tell you about software that manages email and that will allow you to view EML files directly.
Also I remind you that you can simply click on the button Print (located next to the message you want to save) to print an email in PDF format; in this specific case, however, you will lose the ability to download attachments.
Outlook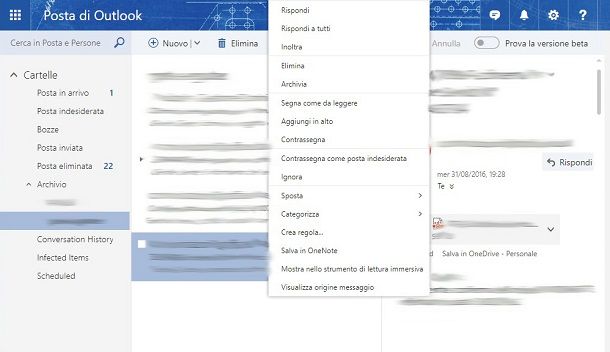 If you have an Outlook, Live or Hotmail account, you will be pleased to know that you can download individual e-mail messages on a stick directly from the Web service, Outlook.com. Did not you know? Then I'll explain immediately how to download any email you have received (or invited) from your email address.
First, go to the outlook.live.com website and log in with your credentials. I already warn you that the procedure I am indicating requires that you have not activated the beta version of the new Outlook graphical interface. To check if it is disabled, check that the entry in the upper right Try the beta version is in gray; if it is blue, then click on the toggle next to it to go back to the previous version.
Now select, from the left section of the interface, the email you want to save a copy of; then right-click on it to bring up a context menu.
Select by voice View message source. A window will then appear containing a very long code representing the content of your email. Through this window you will have to copy its contents; to do this, press the key combination on your keyboard CTRL + A to highlight all the text inside it and then press the key combination CTRL + C to copy all of its content.
What you will need to do now is open the Block notes or any other similar program (like Notepad ++ for example) to paste the text into a document, using the key combination CTRL + V.
Now click File> Save with nome and select the path corresponding to your key to save the document containing your email. Then type the name of your file and add the wording at the end .eml in place of . Txt and finally press on Save. In this way you will have correctly saved your e-mail message in EML format on your USB stick.
gmail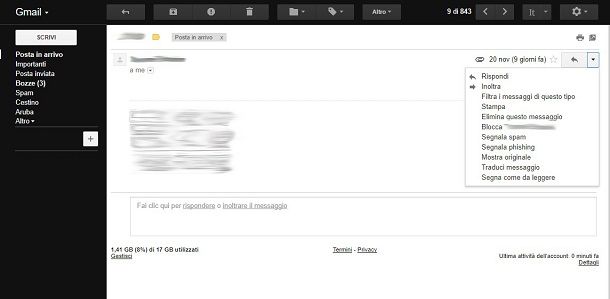 You can also download an e-mail message directly to a USB stick on the Gmail e-mail web service. To do this, just go to the website google.com/gmail and log in.
Inside your inbox, locate the message you want to download and click on it to open it. On the left you will see a key with an arrow pointing to the left (equivalent to the function Reply); next to it is the icon (...). Did you notice it? Well, click and select the last item Download the message from the context menu that will appear to you.
By doing so, you will download the message in .eml. If you don't know how to open this kind of file, read my guide on how to open .eml files.
Yahoo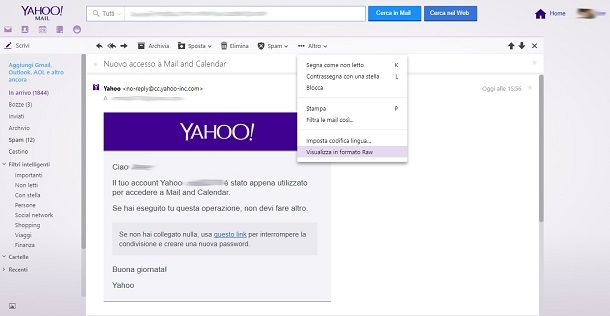 If you have a Yahoo e-mail account, you will be happy to know that you can save a copy of your message sent or received, directly using its Web service. Then connect to mail.yahoo.com and log in with your credentials.
Now click on the message you want to save to open it. From the horizontal menu bar, located above the content of your message, you will notice the button Other. Click on it and select the entry View in Raw format. A new page will open containing a code that you will need to save on your computer. To do this, press the right mouse button on the page and, from the context menu that will appear, click on the item Save with name.
Now select the path of your key and enter a new name for the file you are about to save, adding the extension at the end .eml. Then press on Save, to save your message on your USB stick.
I remind you that this procedure that I have indicated refers to the use of the Google Chrome browser. However, you can perform these steps in the same way with a different browser; it will only change the wording to save the web page on your computer.
Roundcube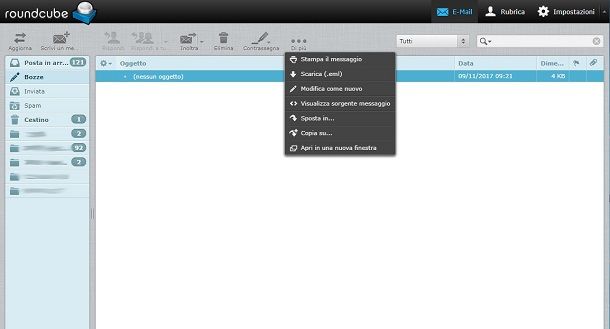 Many professional emails, usually linked to purchased domains, use pre-installed software on servers that manage email accounts. Among these there is Roundcube, well-known e-mail client. Now I'll explain how to download emails using this client.
First, log into your professional email (usually the address is webmail.domainname.extension) And sign in with your credentials. Now select the message you want to download, so as to highlight it.
From the horizontal bar at the top, then click the button with three dots symbol named More (Or More). Select the item Download eml / Download eml to download the file containing the e-mail message and any attachments directly to your computer.
If an explorer window appears asking you where to save this file, indicate the path to your USB key. If it does not appear, it means that you have downloaded the file to your computer, in the folder Download (default path). You will then need to navigate to that folder and move the file to the USB stick manually.
Programs to Save E-mail on a Stick
Do you need to download multiple e-mail messages and do not want to proceed manually with the methods I have just explained to you? Does your email service not support message downloads? If you find yourself in one of these cases, then proceed with the reading of this second part of my guide; I'll show you some programs that you can use for archiving and opening messages on a USB stick.
Mail (Windows)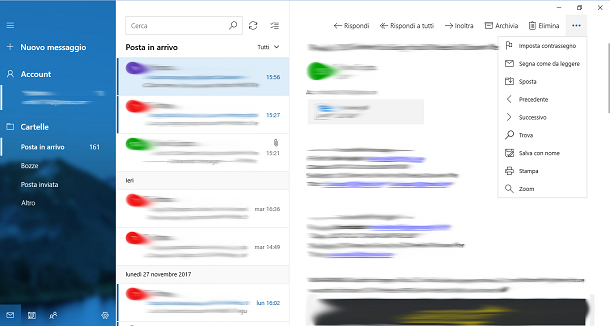 With Windows 10, you can view your email using the app Mail. This application supports many e-mail services, including professional ones, through support for IMAP and POP3 protocols.
To be able to download a message, simply open this email client, by clicking on its icon, and set up an account from which you want to export your messages.
Now, from the left section, click on Folders> Inbox (or any other folder where your message is) and click the email. On the right screen of the application you can then preview the message. From the horizontal bar at the top click the button with the three dots and select the item Save with name. Then select the path of your USB stick and enter the file name. Finally press the button Save to export your message and any attachments to your USB stick.
The Mail application also allows you to open and view the files with the EML extension present on your key. You simply need to double-click on them to automatically open them with the Mail app. If, on the other hand, Windows asks you which program you want to open files with the EML extension, probably the Mail app is not installed on your computer, or you have lost the association between the EML files and this application.
To download the Mail app, go to this link and click Download the app and then Open Microsoft Store, so you can download from the Microsoft Store. If you want to apply EML file association, right click on an EML file and select the entry Property from the context menu. Then click Change and select the application Mail and then click Ok and then again Ok.
Mail (Mac OS)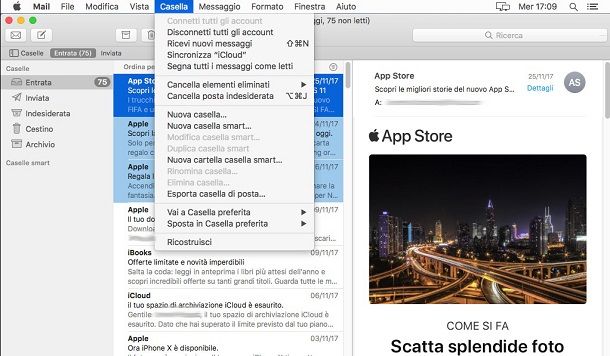 On computers with macOS there is a system app for managing mail, called Mail. This app allows you to configure your iCloud account or any other email account, thus being able to receive and send emails through it. MacOS Mail also allows you to transfer all the contents of a mailbox of your email account in a single container file in MBOX.
To proceed with this operation, you will need to open the Mail app and select the box you want to export from the list on the left (in this example I will export the box Entry). From the horizontal menu at the top, then click on the entry Mailbox> Export Mailbox. You will be asked where you want the export to take place: then choose your USB stick and then click on the button Choose. All the emails in that box will be exported directly to your USB stick.
To be able to view the content of the export, you can always proceed with Mail, by clicking on File> Import mailboxes. Alternatively, you can simply select the single message and convert it to PDF by clicking File> Export as PDF.
Other Programs to Save E-mail on a Stick
If you need other programs to be able to save emails to a USB stick, I'd be glad to know that the solutions don't end there. I will point out other programs to download that will be useful for your purpose.
Thunderbird (Windows / macOS / Linux) - is one of the most famous programs for managing e-mail; it's completely free and without any limitation. Thunderbird requires installation on your operating system to manage e-mail accounts and to export the boxes I suggest you use the addon ImportExportTools NG. Through this addon you can save individual messages (or entire boxes) in PDF, HTML or EML format on your USB stick.
MailStore Home (Windows) - is a program free available for Windows that allows its execution also via USB key, without requiring any installation. This way you will be able to configure your email account, download, view and even compose your emails directly from the USB stick. This software allows the creation of archives to store your messages on your key and also allows you to import or export emails in EML or MBOX format.
MailSteward (macOS) - is an e-mail client for macOS that allows you to configure any e-mail account. Its features include the ability to export or import mailboxes in MBOX format. MailSteward is free but with a limit of up to 15 XNUMX messages.