Have you downloaded a program for managing compressed archives called jZip on your computer and after its installation you found yourself with an annoying toolbar in your browser?
I'm sorry to tell you but you have come across a well-known scam software, which infests your PC with promotional toolbars and alters your browser settings (home page and search engine) to force the user to visit sites full of advertisements. Don't worry though, because there is a solution to this too.
Follow the instructions below and in no time you will find out how to remove jZip Toolbar from your computer without spending a dime and without calling your usual PC savvy friend.
The first step you need to take for eliminare jZip Toolbar from your computer is to uninstall the program that brought all this harassing content to your computer. Then go to the Control Panel Windows and click on the icon Uninstall a program (if you do not see the icon, search for the term "uninstall" in the search bar located at the top right).
At this point, locate jZip in the list of software installed on the PC, select it and click on the button Uninstall / Change. In the window that opens, first click on Yes and then end to delete the program from the system.
In place of jZip, to manage compressed archives on your PC you can use 7-Zip, an excellent free and open source program that does not present any threats and does not alter your browser settings in any way. I told you about it on several occasions, such as when I told you how to open RAR files for free.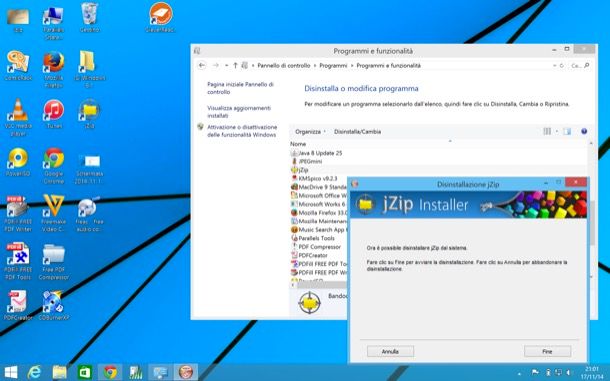 Now jZip is no longer on the computer but its "souvenirs", including the toolbar in the browser, yes. To get rid of it you have to resort to anti-malware software that download, start (without performing complicated installations) and after having quickly analyzed the system, they eliminate all the threats detected. You can use them without deactivating or uninstalling the antivirus, they do not "step on their toes".
The first is called Adwcleaner and you can download it by connecting to its official website and clicking on the item first Click here to download AdwCleaner and then on the button Download Now. Once the download is complete, start the executable adwcleaner_4.xx.exe and click on the buttons Yes e J'Accepte/I Agree to access the main application screen.
At this point, click on the button Scan and wait for the program to examine the PC. It won't take more than a few minutes. When the operation is completed, remove all threats found by the software by clicking on first Clear and then OK three consecutive times. In order for the cleaning work to be completed correctly, the system will be restarted.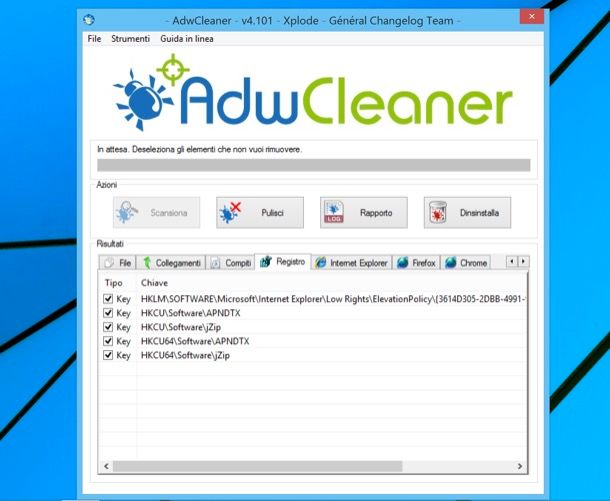 The second (and last) anti-malware you need to use for eliminare jZip Toolbar is Junkware Removal Tool which looks like a simple Command Prompt window but also manages to remove some threats that sometimes escape Adwcleaner.
To download it to your PC, connect to its website and click on the item Download Link: HERE located below the black button with the arrow. Once the download is complete, start the executable JRT.exe and when Command Prompt opens press any key on your PC keyboard.
Wait a few minutes for the software to track down any remaining threats on your computer and let it work. At the end of the cleaning it will close itself.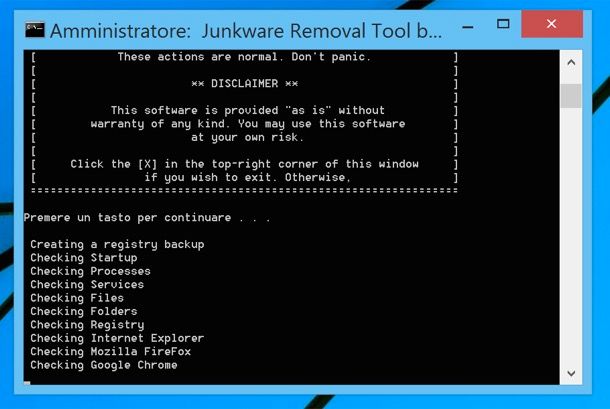 By now, everything should be back to normal. In the unfortunate event that this is not the case and any of the browsers still present unwanted toolbars, home pages or search engines, try to follow the instructions in these guides.
Read my tutorial on how to change your browser home page to reset the home page of Internet Explorer, Chrome and Firefox "manually".
Read my guide on how to set Google as your search engine to restore the default search engine in all browsers.
Find out how to reset Internet Explorer and how to delete extensions from Firefox and Google Chrome to eradicate the jZip toolbar or other malicious addons.
Check out this list of programs to remove toolbars and choose one to remove toolbars from all your browsers.