It will be that the commitments follow one after the other at a frenetic pace, it will be that your desire for holidays occasionally makes you "travel" with the brain but today you have combined another: you have removed files from your computer that do not you should have canceled. And now, how do we put it? Well, simple: let's put it that once again you can count on my help! In fact, with today's guide I will go to show you everything that is possible to do to try recover deleted files. How do you say? Don't you think it's possible? Well, spend five minutes or so of your free time reading this tutorial and you'll see that eventually you'll be ready to change your mind.
In fact, resorting to the use of some special programs to recover deleted files is a possible operation, and how! These are free software and do not require particular knowledge in the IT field to be used. The resources to be used to recover deleted files that I am about to show you can in fact be exploited without any kind of problem both by the most experts in new technologies and by those who, a bit like you, are not exactly practical in terms of computers, really.
To ensure that "the enterprise" is completed correctly you just have to have a bit of luck, just enough so that the portion of the disk that hosted the deleted files has not already been rewritten with other data (which would prevent you from correctly restoring the old information). So, ready for this new IT mission?
Disk Drill (Windows / MacOS)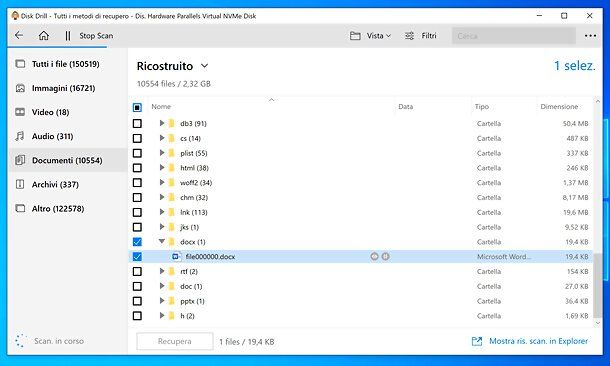 The cousin program che voglio consigliarti di provare è Disk Drill: it is an excellent data recovery software that uses sophisticated scanning algorithms capable of identifying and reconstructing hundreds of different types of files: from business documents to photos and videos, passing through compressed archives, music and much more. It also supports recovery of lost partitions, unformatted drives and RAW data.
It also includes very useful functions for the disk status monitoring using SMART technology and to prevent accidental deletion of data (Recovery Vault, which keeps the most important data in a reserved area of ​​the disk, even in case of deletion and emptying of the Recycle Bin).
The program is compatible with all popular editions of Windows and you can download and use it for free to recover up to 500MB of data. Beyond this threshold, to continue to take advantage of data recovery, you must purchase the full version of Disk Drill (starting from 93,53 euros). The other functions continue to be available at no cost.
If you have one Poppy, you can also take advantage of Disk Drill's data recovery technology and download the program at no cost; however, you will not be able to restore your files without first purchasing a license, with prices starting from 93,53 euros (without it you will only be able to preview the recoverable files).
Having made all the necessary clarifications above, let's take action. If you have a PC Windows and you want to download Disk Drill for free, connected to the official website of the program and click on the button Scarica free. Once the download is complete, make sure you have an active Internet connection (you may need to download some essential components for Disk Drill to work), open the file .exe obtained and click on the buttons Install it., Yes e Restart, to finish the setup and accept the system restart.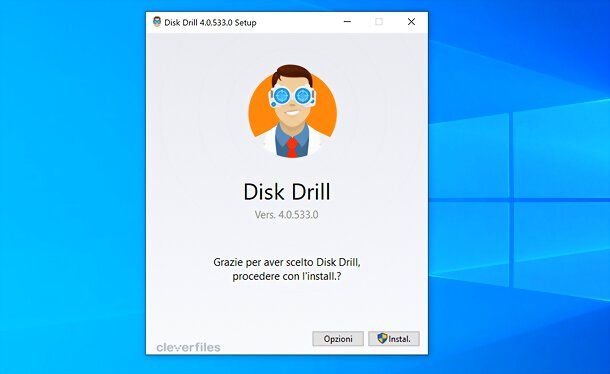 Now, to start recovering deleted data from your PC (or even from devices connected to it, such as smartphones, tablets, USB sticks and memory cards), start Disk Drill e premi sui pulsnti Yes e Continue. Choose, therefore, whether to activate the Recovery Vault data protection feature e / o if share anonymous usage data with the developers of the program and click the button let's begin to move forward.
Now, select theunit and partition to analyze, expand the drop-down menu that appears on the right and choose a recovery method among those available (All methods of recovery, Fast analysis, In-depth analysis, Search for lost partitions, Allocate existing file system data o Protected data not deleted). I advise you to choose All methods of recovery.
Premium, though, your pulse Search for lost data, wait for the scan to finish and select the type of file you want to recover from Images, Video, Audio, Documents, Archives o other files (by clicking on the appropriate icon).
Afterward, expand the menu Vista (above) to choose how to view recoverable files, click on the button filters (also located at the top) to filter the scan results (based on dimensions o date of cancellation) and browse through the available folders, until you find the files of your interest.
Finally, check the boxes for the files you want to recover, click on the button Recover (bottom left), select the destination path you prefer (by clicking on the folder) and the first button OK to export the recovered files.
Do you want to monitor the status of the disk? No problem. Go back to the main Disk Drill screen, select the item I retrieve data from the left sidebar, select the drive you want to monitor and choose the tab S.M.A.R.T., on the right. You will then see a summary of the disk status with uptime, drive status, temperatures and other useful information.
As for the protection of files and folders, you can add the data of your interest to the Recovery Vault and preserve them even in case of deletion and emptying of the Recycle Bin: to do this, select the item Data protection from the Disk Drill sidebar, click on the button OK, let's do itsposta su ON the lever relative to Recovery Vault (if necessary) and click on the button Add, in order to select files and folders to protect.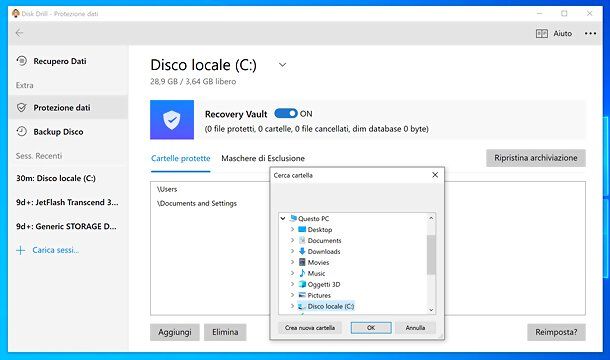 If you use a Poppy, you can download Disk Drill by connecting to the official website of the program and waiting for the automatic download of the same. Afterward, open the file .dmg ottenuto e trascina l'icona di Disk Drill in the folder Applications Of computer.
Once this is done, start the software, click on the button Start, type the Mac admin password and select il disco from which to retrieve the data, by clicking the button Recover relating to the latter.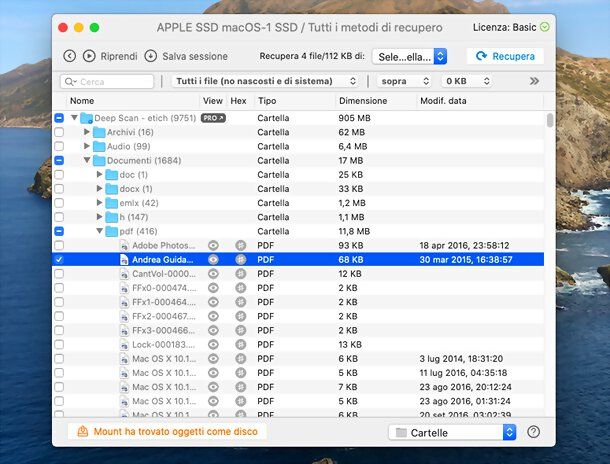 At this point, locate the files to be recovered (if you want, you can use the drop-down menus located at the top to filter them by type, dimensions or other parameters), display a preview (by pressing the icon of theeye) and the first button Recover (top right) to save them.
The free version of Disk Drill for Mac only allows you to view previews of recoverable files: to unlock the data export function, you need to purchase the full version of the program with prices starting from 93,53 euros.
EaseUS Data Recovery Wizard (Windows / MacOS)
EaseUS Data Recovery Wizard is a great solution, available for both Windows that for MacOS, which will recover the type of file that has been canceled by the hard disk ed SSD (sia interni che esterni), memory card, USB device, photocamera, smartphone, tablet and other device from memory.
It works anche in situzioni apparently disperate, come quelle in cui si ha a che fare con dischi formattati o danneggiati, partizioni eliminate, partizioni RAW, crash di sistema e sistemi attaccati da malware. Inoltre, è extremely intuitive: the interface è tradotta completely in Italian and guida l'utente to the recovery of the dati in soli tre passaggi (avvio, analisi e ripristino).
EaseUS It proposes a different version of the software: a free base, which will recover the 500MB of data fine (which will be 2GB, if it co-operates the online software) and someone to pay, limitation, with prezzi a partire da 66,69, XNUMX euro.
To download EaseUS Data Recovery Wizard Professional su Windows (gives attivare with l'acquisto di a licenza, altrimenti shows only i file recoverabili, senza permetterne l'esportazione), collegati al eitoUS website and click on the button Free trial; se, invece, prefisci scaricare la Free version of EaseUS Data Recovery Wizard (with data recovery up to 2GB), connected to this other page of the EaseUS site and click on the button Scarica free.
A download complete, apri il file .exe you got and answer Yes all'avviso che compare sullo schermo. Dopodiché assicurati che la casella relative alle EaseUS license (in basso a sinistra) sia spuntata e premi sul pulsating Install now, per avviare il download e l'installazione di tutti i componenti di EaseUS Data Recovery Wizard.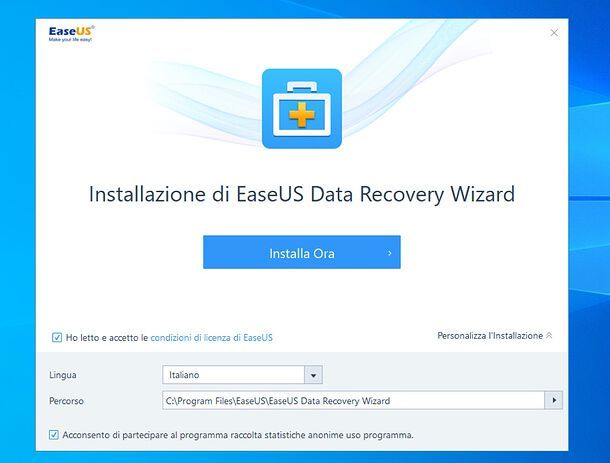 If you don't want to send anonymous statistiche d'use to EaseUS, spread the sezione Personalizza l'installazione (in basso a destra) and deseleases the relative casella. At the end of the setup, you Sign up now, to complete the procedure and access the schermata principale di EaseUS Data Recovery Wizard.
At this point, if you do not select iticona dell'unità da cui intendi recuperare i dati (oppure l'icona Trash can, you will recover the file cancellati proceeding il Cestino di Windows) and click on the button Scanat the bottom right to start searching for deleted files.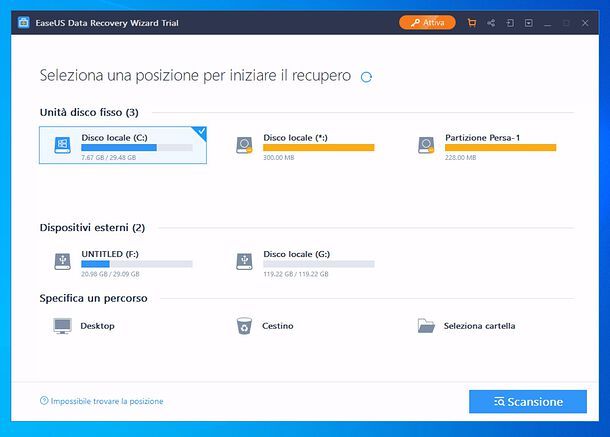 Once the scan is complete, use the side navigation bar to "browse" the paths analyzed by the software or the various types of files found, check the boxes relating to file gives recover and press pulsating Recover (in basso a destra), per avviarne l'estrazione in una folder say your interest.
You are here, you can always visualize the file ricuperabili before you, selecting it and clicking on it.icona dell'occhio collocata in alto a destra. Clicking, invece, sulla voce Filter (in high) puoi filter and risultati della ricerca in base to determine typology of the file: Graphs, Documents, Video, Audio, Email and more.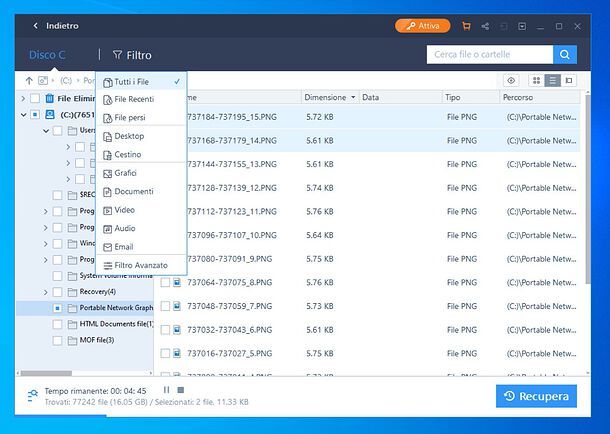 I use a Poppy? Then know that you can download EaseUS Data Recovery Wizard using i link che ti ho fornito prima e cliccando sulla voce relative alla Mac version of the software. A scaricamento completo, per installare il programma, apri il package .dmg ottenuto e trascina l'icona di EaseUS Data Recovery Wizard in the folder Applications from the Mac. Tutto qui!
Recuva (Windows)
If you want to learn how to recover deleted files from your PC or external storage devices such as portable hard drives, USB sticks and SD cards, you can also rely on Recuva, an Italian language software that allows you to do everything through very simple guided procedures. The program is compatible with all Windows operating systems and is available at no cost.
In order to recover deleted files with Recuva, the first step you need to take is to download the program to your computer. To do this, click here, then scroll down the web page that is shown to you and first click on the green button free Download, by your complaint Download e attendi qualche istante affinché il programma come scaricato sulla tua postazione multimediale.
Once the download is complete, start the program installation package, click on Yes And, a visualization volta the finestra della procedida guidata di setup del software, selects l 'Italian from the menu for choosing the language located at the top right and first click on the button Install e poi quello Launch Recuva, to finish the setup and start Recuva.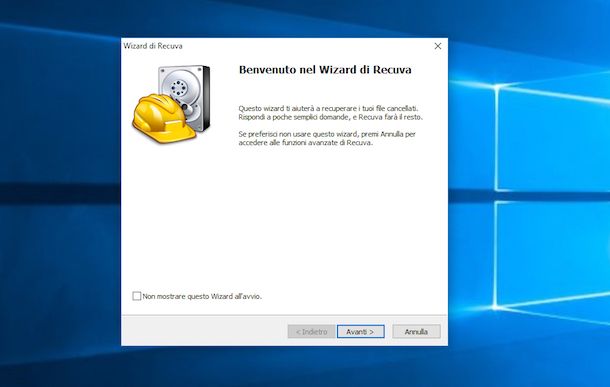 Wait a few moments for the Recuva window to be visible on the screen (if the program does not start automatically, double-click on the same icon that has been added to the desktop), then click on the button forward, select the type of file you want to recover by choosing between Images, Music, Documents, Video, Compressed, Email o All files and click again on forward.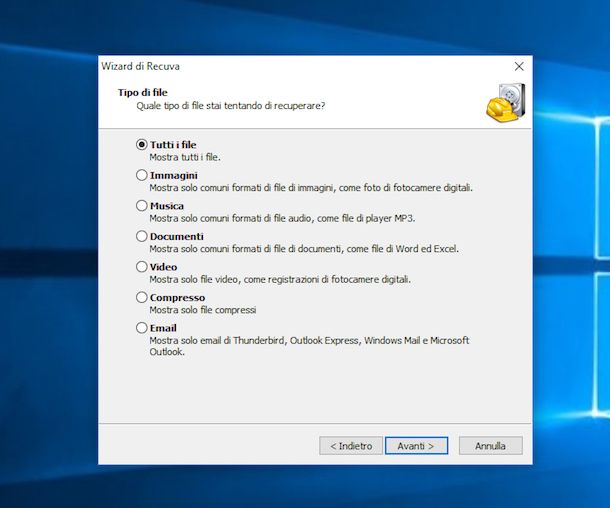 Then put the check mark on the box located next to the position where you want to search for deleted files by choosing between I'm not sure, for all positions, Your multimedia card or iPod, In the Documents, in Trash can or on In a specific position (it will indicate attraverso l'apposito campo di testo), clicca anchors its forward and then press starts, to start the search for deleted files.
I followed the procedure of the market to come last, and I compare it with it, according to the spunta accanto to the name of the file that I intend to recover. Clicca, dunque, sul pulsating Recover ..., select the cartella in cui vuoi salvare il file e clicca su OK, per due volte consecutive per confermare l'operazione.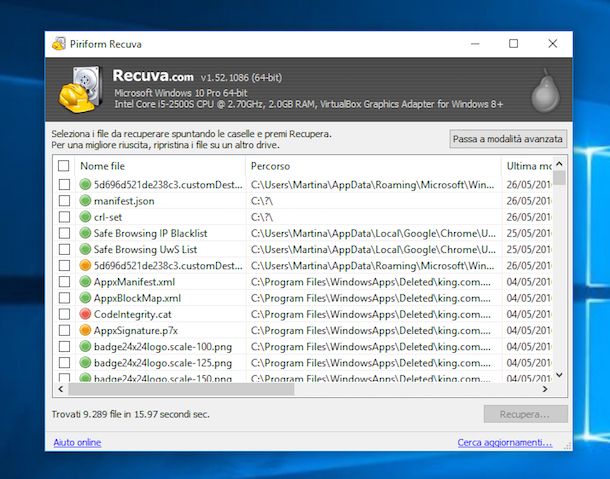 Ricorda will always consult the icone che trovi to the fianco dei nomi dei file prima di procere con l'operazione di ripristino. Infatti, only i file with the postsono essere green icon recovered 100%, mentre quelli with the icon arancione potrebbero essere danneggiati. Quelli with l'icona rossa sono, invece, quasi del tutto irrecuperabili.
Se non riesci a trovare i file di cui avevi bisogno, prova ad avviare nuovamente Recuva ea effettuare tutti i passaggi già visti per cercare di recuperare i file cancellati avendo però cura di apporre un segno di spunta sulla casella collocata accanto ala voce Enable deep scan which is visible immediately after indicating the type of documents to search for. This is a special feature that, as the name suggests, performs a more in-depth scan of the path or drive of your interest and which, this is good to keep in mind, for these reasons it could take over an hour. to be completed in the case of very large drives.
Lazesoft Mac Data Recovery (macOS)
If you are using a Mac, you can try to recover deleted files removed from the hard drive using a free application such as Lazesoft Mac Data Recovery. It is very easy to use and extremely effective… although, this must be emphasized, it cannot work miracles. In a nutshell, if a file has been overwritten after its deletion, it will still be impossible to restore it, keep this in mind.
To use Lazesoft Mac Data Recovery to recover deleted files on Mac the first thing you need to do is to click here in order to connect to the web page of your interest of the software and immediately download the application to your computer. Next, click the button Free Download Now!.
A download completo apri, facendo doppio clic su di esso, il file appena scaricato e, through the finestra che at this point è andata a aprirsi sulla scrivania, trascina l'icona di Lazesoft Mac Data Recovery nella cartella Applicazions Say OS X to install the software on your Mac.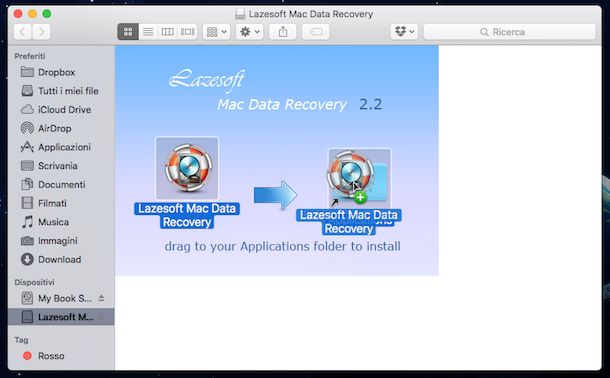 Once this is done, launch Lazesoft Mac Data Recovery by clicking on its icon which has been added to Launchpad, type the password of your user account on OS X and click on OK, then wait for the program window to be visible on the screen and press the button Undelete. Then select the item relating to the disk from which you intend to recover deleted files (eg. Macintosh HD, for the internal hard drive of the Mac), click Finish ed attendi che come effettuata la scansione del disco. The duration of the operation will depend on the size of the drive and the performance of the computer in use.
Once the scan is complete, expand the folder to recover deleted files Lost File Results located in the left sidebar and select the type of file you want to restore. If a file you intend to recover is not in the folder Lost File ResultsTry to fence it in. Lost o nella your cartella originate selecting and rispettivi percorsi dalla sidebar di Lazesoft Mac Data Recovery. In the next step, the method was followed by the name of the person who will be recovered, by clicking on the button Save Files collocato in alto to destra e scegli the cartella in cui copiare i file. Recandoti nella scheda File type you can browse files directly based on their extension, using, instead, the search bar located at the top you can quickly search for objects to be recovered based on their name.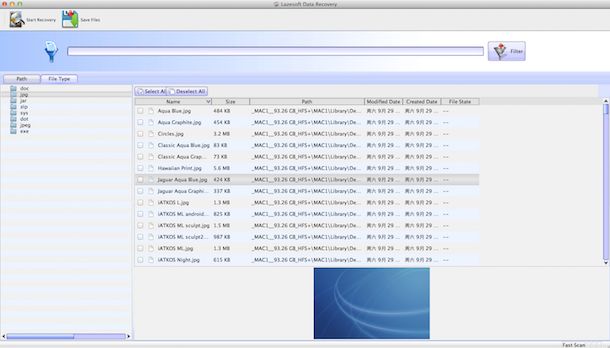 Keep in mind that not all recoverable files are intact, so not all of them can be opened properly after the restore operation. To make your work easier and immediately identify which files are healthy, I suggest you take a look at the preview included in Lazesoft Mac Data Recovery which appears automatically when you select an item within the program. Also, I suggest that you do not try to recover deleted files that are less than what they should be.
TestDisk (Windows / MacOS / Linux)
If you have not deleted precious files from your Windows PC or Mac but from the SD card in your smartphone or digital camera, you can try to fix it by downloading TestDisk. Yes, it is a free and multi-platform application (it is available for Windows, OS X and even Linux) that allows you to recover deleted files effectively by working on memory cards and other storage units. It works from the command line, it is in English but I assure you that it is absolutely not difficult to use.
To recover files deleted using TestDisk, the first operation you need to do is to download the software. To do this, click here so that you can immediately connect to the official web page of the program, then click on the wording indicating the operating system in use on your computer and wait for the download of the program to be completed.
Next, open the archive you just downloaded and extract the contents to any folder. Then insert the SD card from which you want to recover the files into the PC reader and run the executable testdisk_win.exe. In the window that opens, click on the button Yes and press the button Submit sulla tastiera from the PC.
At this point, select the unit related to the memory card of the tuo computer (es. Multiple Card Reader) using the arrow keys on the keyboard and press Submit. Then go up Intel I awarded Submit, select the voice Advanced and indicates the memory card partition to be scanned to find the deleted files to recover (there should only be one).
You will be shown a list with all the files on the device: the deleted ones are written in red. Then use the directional arrows on the keyboard to select them and reset them by pressing the key C, twice in a row.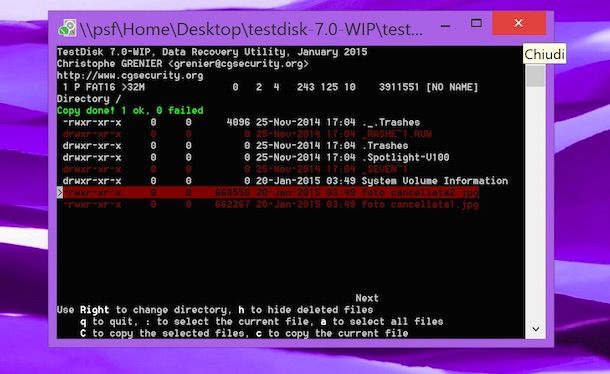 All data recovered from TestDisk are automatically saved in the folder where you previously extracted the program.
Other Solutions to Recover Deleted Files
Were the programs to recover deleted files that I proposed in the previous lines not to your liking? If the answer is yes, before finally throwing in the towel I suggest you take a look at my tutorial on hard disk data recovery, and the one on how to recover deleted files from the Recycle Bin. You can also consult my guide dedicated to how to recover deleted files from external hard drive if you have the specific need to try to recover deleted files by intervening on a hard drive connected externally to your computer.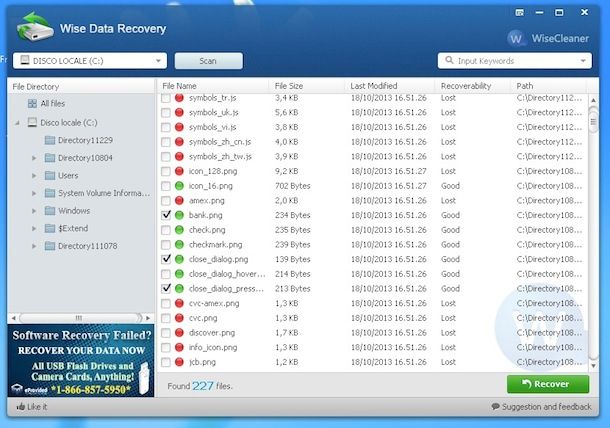 If, on the other hand, you are looking for a system that allows you to intervene effectively on the memory of your smartphone or tablet, try to take a look at my guide on how to recover deleted files from your mobile phone in which, in fact, I have indicated you some useful solutions to do this.
Article created in collaboration with Cleverfiles and EaseUS.