ISO files are containers designed to easily store and distribute the contents of CDs, DVDs, Blu-Ray or other media. They can be burned, in order to obtain perfect copies of the disks from which they were taken, or read without the use of physical media.
In today's guide we will focus on this last aspect by seeing together how to read ISO files. There are two different ways to do this: the first is to create virtual CD / DVD drives into which to load the ISO images, to view their contents as if they were burned to a floppy disk and then inserted into your computer. The second instead involves opening ISO files with software for managing compressed archives and extracting the files they contain in folders on the PC.
Both operations are extremely simple to perform, both on Windows and Mac, and can be performed with free software. So, what are you waiting for to try it yourself? Below you will find all the instructions you need, from A to Z.
Mount ISO Files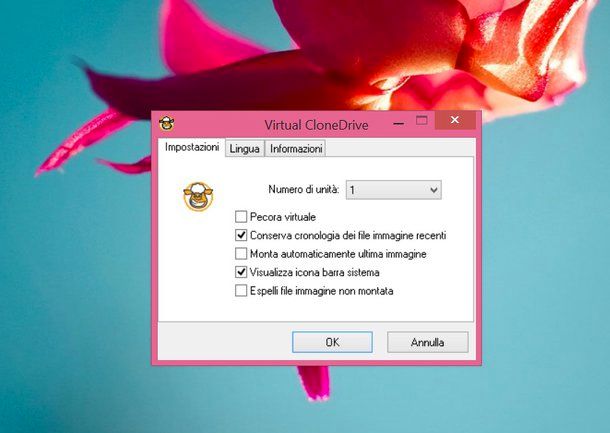 The best way to read ISO files is to mount them on a virtual CD / DVD drive, that is to access all the files they contain by simulating the insertion of a disk into the computer. For this purpose I suggest you to use Virtual CloneDrive, an excellent free program created by the same authors of CloneDVD and AnyDVD.
To find out how it works, connect to its official website and click on green Arrow placed next to the item Virtual CloneDrive. Then wait for the program installation file (SetupVirtualCloneDrivexx.exe) is downloaded to your PC and open it.
At this point, click in sequence on the buttons Yes, Accept, forward (twice in a row), Install (twice in a row) e Close and the setup will be completed quickly.
When the operation is complete, to mount an ISO image on a virtual CD / DVD drive, right click on it and select the item Monta (Virtual CloneDrive) from the menu that appears. If you want, you can also activate the use of multiple virtual drives at the same time. Just start Virtual CloneDrive and set the number of drives you want in the drop-down menu Number of units present in the main program screen.
When you're done working with an ISO file, to "unmount" it from the virtual CD / DVD drive, look for it in Computer resources, right click on its icon and select the item Eject give the menu to compare.
Purposes Windows 8 or a newer version of the Microsoft operating system? So I have great news for you: you can mount ISO files on your computer without resorting to any external application. All you have to do is take advantage of the ISO file support included as standard in Windows by right-clicking on the image to be read and selecting the item Monta give the menu to compare.
Even if you use a Poppy you can do without installing programs. You can mount ISO files in virtual CD / DVD drives by simply double clicking on their icon.
Extract ISO Files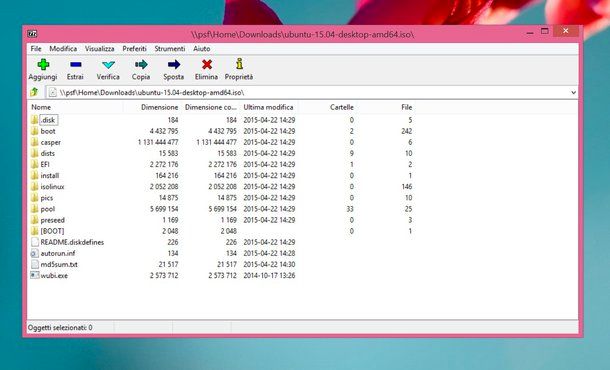 Another way - actually a little inconvenient - to access the contents of ISO files is to extract it to a folder on your computer. To do this you can use any software for the management of compressed archives, such as 7-Zip which is totally free.
To download 7-Zip on your computer, connect to its official website and click on the item Download placed next to the wording 32-bit x86 if you are using a 32-bit version of Windows or next to the entry 64-bit x64 if you are using a 64-bit version of Windows. Then open the program installation package (eg. 7z920-x64.msi) and complete the setup by first clicking on Yes and then install e Finish.
When installation is complete, to view the contents of an ISO image with 7-Zip, right-click on it and select the item 7-Zip> Open from the menu that appears (alternatively you can associate the ISO files to the program by accessing its menu Tools> Options). To extract the files to a folder on your computer just drag them with the mouse, as if it were a ZIP or RAR archive.
If you use a Poppy you can achieve the same result with The Unarchiver, a software for extracting compressed archives available for free on the Mac App Store. After downloading it on your computer, to use it all you have to do is click with the right mouse button on the ISO image icon to extract and select the item Open with> The Unarchiver from the menu that appears. The data contained in the image will be automatically extracted to a folder created in the same path as the ISO file.
Burn ISO Files
If you are looking for free software to burn the contents of ISO files to a CD or DVD, take a look at my tutorial on how to burn ISO in which I explained in great detail how to burn ISO images with ImgBurn (a free application for Windows) and with the Mac Disk Utility.