THEiPad is a perfect tool for reading documents in PDF: whether you want to do this using the apps included "standard" on the device, or using others, produced by third parties. In both cases, reading PDF on iPad is really simple: you just have to choose the solution that is best suited to your needs.
If you are reading this guide, however, it seems clear to me that you have not yet understood correctly how to open a PDF with iPad, right? If this is indeed the case, you have no reason to worry, because I will be happy to clear up any doubts you have about it. In the next paragraphs, in fact, I will show you how to proceed in opening PDFs on your tablet using both some tools included by default in iOS and some third-party applications.
So, are you ready to get started? Yup? Very well! Courage: make yourself comfortable, take all the time you need to concentrate on reading the next paragraphs and, more importantly, implement the "tips" that I will give you. If you do, you won't have the slightest problem reading PDF files on your beloved iPad. There is nothing left for me to do but wish you good reading and, above all, have fun!
Default Applications to Open PDF with IPad
As I told you in the opening bars of this tutorial, there are various tools included "standard" in iOS that allow you to open PDF with iPad with disarming simplicity, without downloading additional solutions from the App Store: let me tell you about it in detail.
Safari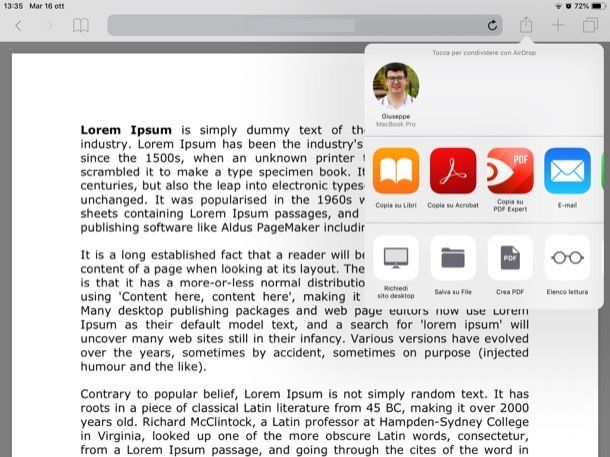 The easiest way to open PDF files on iPad is to resort to Safari, the browser developed by Apple, with which it is possible not only to view PDFs, but also to save them locally to open them with other applications (as I will show you shortly).
The operation of Safari in relation to opening PDF files is extremely simple. Once you have identified a PDF file on a site, all you have to do is press one of the available buttons (eg. Download, Download, apri or simply PDF, based on the wording you find on the site that contains it) and this will automatically open in the browser.
Once you have viewed the PDF file on Safari, you can then also open it with other applications - both "standard" and third-party solutions - by simply pressing the button Share (l'icona del square with the arrow pointing up) and then tapping on one of the items you see in the context menu: Copy to Books, Save your File, etc. Simple, right?
An interesting feature of Safari concerns the ability to transform web pages into PDF files that can be consulted offline (and, if necessary, printable). To use the function in question, available exclusively on devices updated to iOS 11 and later versions, you have to press the button Share and then tap on the item Create PDF give the menu check if you press.
Fillet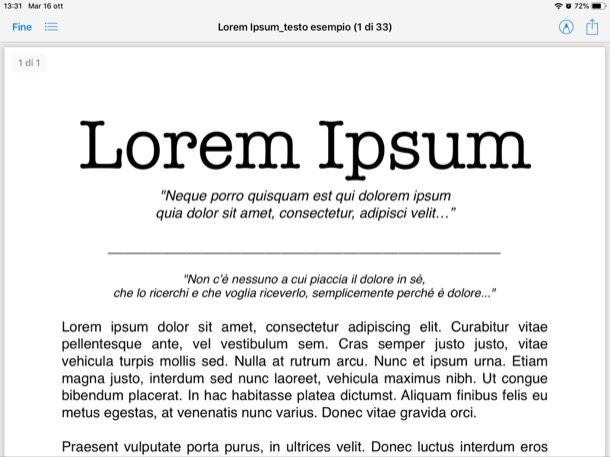 If your iPad is updated to iOS 11 or later, you can open PDF files using Fillet, the application developed by Apple for managing and organizing the files on your device (and on supported cloud storage services), a real file manager for iOS. If for some reason you have uninstalled the app in question from your device, you can install it from the App Store.
The operation of File is quite simple: just open the folder that contains the PDF and then select the icon of the document to view. If, on the other hand, you open a PDF in Safari, to export it to File, you have to press the button Share present on the browser and then on the item Save your File (as I have already indicated to you in the previous paragraph). Or, again, if a PDF file is sent to you via AirDrop, you can agree to open it with Fillet by pressing on the appropriate item that appears in the menu AirDrop Open with ... and then choosing the exact location to save it (eg. iCloud Drive).
A similar operation can also be performed if a user shares a PDF with you via email or through any other app (e.g. a cloud storage service like Google Drive, a messaging app like Telegram, etc.). Once the PDF is open and viewed, you need to locate the button Share, tap on it and then press on the item Save your File. I remind you that, thanks to the integration with iCloud, PDFs saved to File are accessible from all devices connected to the same Apple ID used on the iPad.
Once you have opened a PDF in File, you can also edit it by adding annotations, highlights and so on, simply by pressing the icon of the pencil located at the top and then choosing the tool you need from the menu that appears below. Then you can save the changes made by pressing on the item end, located at the top left.
Books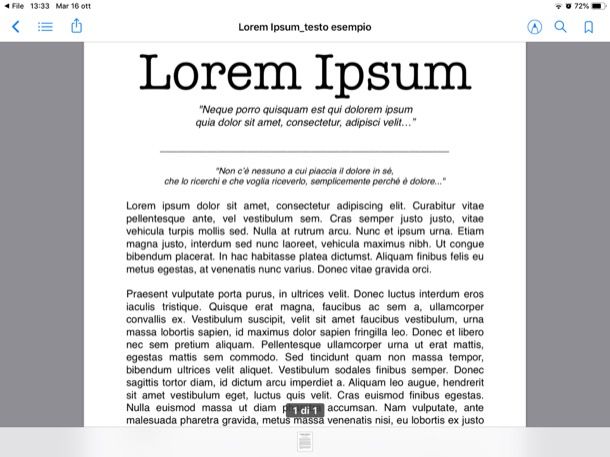 Another default iOS app that is perfect for reading PDFs is Books (known as iBooks up to iOS 11 and macOS High Sierra), the default e-reader of all "made in Cupertino" devices. As I showed you in the paragraphs dedicated to Safari and File, open a PDF in Books it's pretty simple: after opening a file in question on Safari (or after importing it from any other app), just press the button Share and choose Copy to Books (or, in some cases, Open in Books).
After opening the PDF document in Books, you can read the file freely and use all the functions included in the app to edit it: then press the icon of the freccia rivolta verse l'alto (top left) to send the file via e-mail and / or to print it, tap on the icon magnifying glass to search for words in the document, press the icon bookmark to bookmark the document or tap the pencil symbol. Easier than that?
Since Books also integrates perfectly with iCloud (it couldn't be otherwise!), Opening a PDF file with this app, you will find it automatically synchronized on all devices associated with your Apple ID, without you lifting a finger!
App to Open PDF with IPad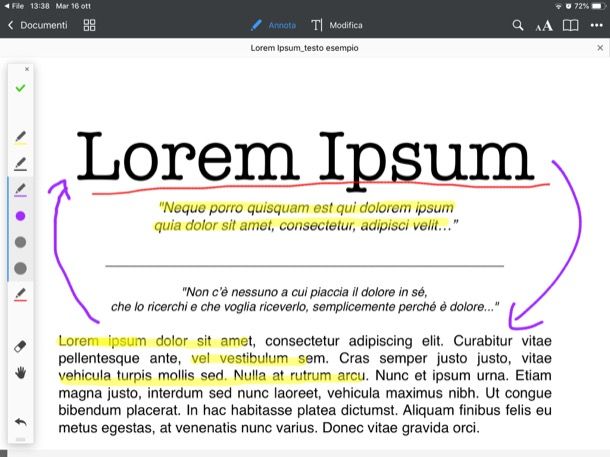 If you are not satisfied with the tools included "standard" in the iPad, know that you can open and read PDF documents using excellent third-party app. Before explaining how some of them work, I would like to tell you that the steps to be taken to open documents with them are not so different from those I have indicated in the previous lines.
In this case, after downloading the apps that I will list you (or other PDF file readers of your choice), you can open the PDFs saved on iPad by simply pressing the button Share that you find in Safari or in the app where you are reading the file in question and then tapping the button Copy to [app name]. Having clarified this aspect, let me list some of the best PDF file readers on the App Store.
Adobe Acrobat Reader - is one of the most famous and appreciated PDF file readers for iPad (and not only). It allows you to easily open PDF documents and edit them by adding annotations, highlights, handwritten notes and much more. It also offers some extra functions, such as those that allow you to create, convert and combine PDFs, but they are only accessible by subscribing to its Premium version, which starts at 9,99 euros / month. For more information on how it works, read the guide dedicated to apps to read PDF.
PDF Expert by Readdle - Those who own an Apple-branded device cannot fail to take into consideration this PDF file reader, which is one of the most complete among those available at the moment (available on both iOS and macOS). Not only does it allow you to read files in PDF format (as well as ZIP, DOC, etc.), but also to synchronize them on the main cloud storage services. PDF Expert also offers some extra functions, such as the one that allows you to edit the text of PDFs, but to use them you need to make an in-app purchase from 10,99 euros. It costs 10,99 euros. For more information on how it works, read the guide dedicated to apps to read PDF.
Documents by Readdle - this app, also developed by Readdle, is an excellent third-party file manager for iOS that allows you to open and manage files of any kind, including PDFs, in an easy, fast and, above all, free way.
Exodus PDF - it is a free PDF file reader that allows you to insert annotations, underlines, freehand drawings and so on and that supports the synchronization of documents with the main cloud storage services on the square.
Foxit PDF - is another great PDF file reader that offers the basic features of reading and editing documents, as well as some advanced features, such as those that allow you to digitally sign PDFs, create blank PDFs, merge multiple PDFs into a new file and much more. The advanced functions, of course, are available for a fee by making in-app purchases starting at € 0,89. For more information on how it works, read the guide dedicated to apps to read PDF.