Have you decided to transfer some important files to a memory card, so that you always have them available on various computers, smartphones and tablets? Good idea! The SD cards, in fact, they can be used like any USB stick with security (if we are talking about microSD) to be able to insert them at any time in devices such as smartphones or tablets, where it is not always possible to use a key.
Speaking of which, if you are looking for a method for move files to SD card, know that you are in the right place at the right time. In fact, below I will show you the most effective methods to transfer your files to a memory card starting from both a portable device and a computer. Don't worry, it is a very simple operation and does not require special computer skills: I am sure that, by following my tips, you will be able to do it at best.
Before continuing, it is good to make a couple of points clear: in order to guarantee the security and integrity of your data, I suggest you consult my SD card buying guide to know the best models, or my advice dedicated to microSD if you intend to use this type of memory even in a smartphone or tablet. Also remember that before it can be used, an SD / microSD card must be formatted: my advice is to use the FAT32 filesystem, which I told you about in detail in my previous tutorial. Having said that, it's time to take your memory card and cut out a few minutes of free time to transfer all the files you deem necessary to the SD card. I just have to wish you good reading and, why not, good work!
How to Move Files to SD Card from Android
To move files from your internal memory smartphone / tablet Android to the SD card (microSD) present in your device, the simplest method is to use one of the many file managers that you find in the store of your device. The first one I would like to recommend is File Manager +, an excellent app available for free on Google Play, which allows you to transfer everything you need in just a few taps, thanks to its convenient, clean and ad-free interface.
If you have not already done so, download and install the app from Google Play, start it by pressing on its icon in the list of installed apps and touch the button Allow to grant you permission to access the device memory. Once inside the app, tap the button Main Storage to access the internal memory of your device, move to the folder that contains the file or files to be transferred and long press on the file you are interested in: once the selection mode is activated, also presses on the other files (if you intend to transfer them) and touches the button Copy (to copy) or Move (to move) that you find below.
Fatto ciò, pigia sul pulsating ? that you find at the top left, then on the icon SD Card and grant write permissions by tapping the button first OK, then again the icon SD card and finally the button Select (You must do this once). Once you have obtained the permissions, go to the microSD folder where you intend to copy or move your files and tap the button paste che trovi in ​​basso.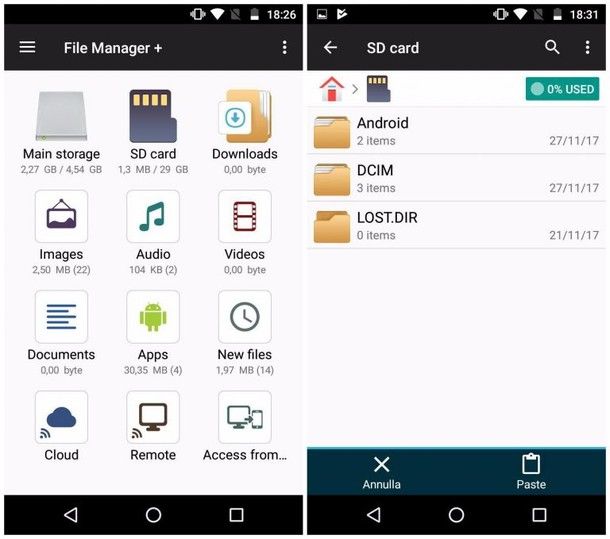 If you wish, you can create a new folder by touching the menu ⋮ found at the top right and selecting the items New e Folder: then enter the name you want to give to the folder in the appropriate text box and tap the button OK per salvare i Cambiomenti.
If File Manager + hasn't convinced you, you can always turn to X-Plore File Manager, an app that is not really well known but that performs its duty very well, without too many frills, available for free in Italian on Google Play. Once the app has been downloaded and installed, start it by selecting its icon in the Android app list and grant it permissions to your memory card by tapping the button Allow (you only have to do it once). Now, to access the files to move, tap the item Internal Memory, then go to the folder that contains the files to be transferred, put the check mark next to each of them, then press the button Copy to clipboard to copy the file. If you want to move it instead, check the box as well Move mode (delete source files).
To finalize the operation, scroll down the app until you find the icon SD card, select it, then move to the folder where you want to copy or move the file (if you need it, you can create a new folder by pressing the Create Folder that you find on the right) and touches the button Paste.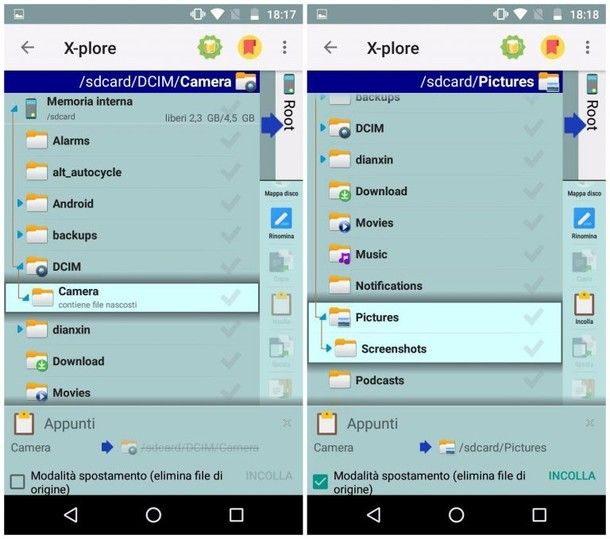 If you've never moved a file with this app, give it write permissions on the memory card by selecting the button Continue, the voice SD card and the button Select (this step is only required the first time). Far from being complex, right?
How do you say? In addition to your personal files, would you also like to transfer Android apps or directly save photos to your memory card? I urge you to consult my guide to apps to move from internal memory to SD: I'm sure you will find the solution you are looking for.
How to Move Files to SD Card from IOS
As you have surely noticed, the iPhone he iPad they are not natively compatible with SD cards: none of these devices have a slot that can contain them. However, you can contact the appropriate ones adapters purchasable online for a few euros: these are small "pieces" that can be connected to the iPhone / iPad through the door lightning and which, thanks to the companion apps they are equipped with (which can be installed on iOS via the App Store), allow you to expand its memory and move photos, videos and other types of documents to the SD card. Below is a list of some of the best currently available on the market.