Have you ever wondered how to make money with youtube through the videos that are published online? I bet yes and if you are here now and are reading this guide it is evidently because you have not yet been able to find a satisfactory answer to your question. If this is indeed the case, know that this time too you can count on me. In fact, I can provide you with all the explanations of the case and show you how to make money from your online videos.
To answer your question immediately, know that to make money with YouTube the only valid system is the YouTube's ADS, but click on them,, the one that is shown before the videos or directly on them. But how do you get it? Simple, you have to become partner on YouTube.
Having clarified this point, if you are therefore really interested in learning more and discovering everything that is possible to do to be able to make money with YouTube, I suggest you take a few minutes of free time and concentrate carefully on reading this tutorial. I do not promise you that at the end of this guide you will have become a "maharajah" thanks to your videos published on the net but you will certainly have much clearer ideas on how to earn some money thanks to the videos published on the net on the well-known Google platform . So, are you ready? Yes? Very well, so let's ban the chatter and get started.
As I told you, to be able to earn on YouTube it is essential to become a partner of the site. To be accepted in the program, you need to have a fair number of views, many videos uploaded to the channel and you must not make any infringements relating to copyright or YouTube's internal regulations. If you think you have all the credentials, go for it. It costs nothing.
Before giving you all the explanations of the case on how to become a partner of the well-known video portal and, consequently, on how to make money with YouTube, however, I want you to keep in mind one fundamental thing. To generate sizeable revenue, you also need to have a sizable audience. Put simply, there are few, indeed very few, who manage to "get by" on YouTube alone (intended as advertising revenue). Many more people are able to earn thanks to the personal promotion that YouTube, with its huge reach of public, allows to carry out. But this is another matter.
Choose a Third Party Network
Another important factor to consider is that of partnerships with third-party companies. The standard YouTube affiliation, the one I'm about to tell you about, is only for those who don't have the ambitions of a "tube" star and don't allow them to get very high revenues.
The so-called YouTube-stars, those who grind tens of thousands of views on each video and count hundreds of thousands of subscribers, rely on external networks that act as intermediaries with the Google portal, which, in exchange for a small percentage on advertising revenue, they allow them to receive technical support, promotions to increase views and extra content (such as copyrighted soundtracks) for use in videos.
To find the most suitable network for your channel, you can search for the services used by the most famous YouTubers using the platform SocialBlade which you can access by clicking here. Once the main SocialBlade web page is displayed, just type the username of a YouTuber in the bar located at the top right and click on the button Search, that's all. Alternatively, you can consult the ranking of the Top 100 networks by clicking here. For more information on this topic you can check out my post on how YouTube pays for videos.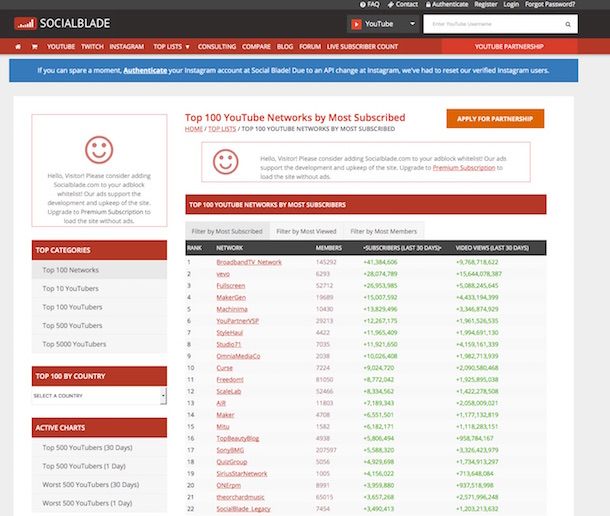 Regardless of which type of affiliation you choose, YouTube pays for videos based on a named criterion CPM (cost per thousand impressions). The amount of money that is due to those who exploit advertising on YouTube is therefore linked to how much the sponsors pay and the amount can vary every month. In general, it is however possible to state that for every 1000 views on a video with advertising it is possible to obtain only a few euros, approximately from 5,00 euros to 7,00 euros gross.
Become a YouTube Partner
Now let's get down to business. If it is your intention to try to make money with YouTube the first thing you need to do is to click here in order to be connected to your account management panel.
Now make sure that the channel you own has a good reputation, both in terms of copyright and in terms of community standards. Then check that next to the entries Community guidelines e Copyright there is a green dot. If this is not the case, I'm sorry to tell you but… you won't be able to request monetization of the videos and therefore make money with YouTube.
In addition to the aforementioned requirements, also verify that your channel has reached at least 1.000 members e 4.000 hours of viewing in the last 12 months. Otherwise, you will not be able to participate in the YouTube Partner Program (YPP).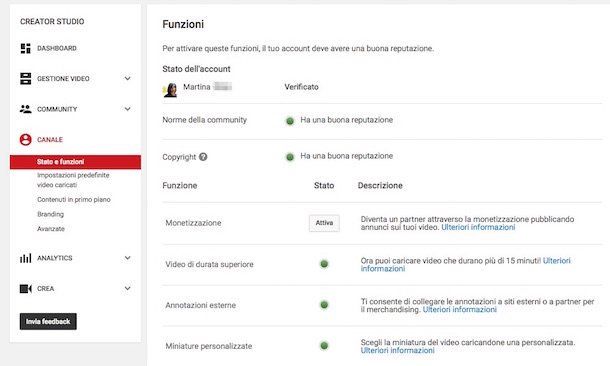 Then click the button Attiva at the item Monetization in order to send your request to become a partner through monetization by placing ads on your videos.
In case you are unable to access the section Monetization of YouTube to request the insertion of advertising in your videos you can click here and fill in the appropriate form proposed in its entirety.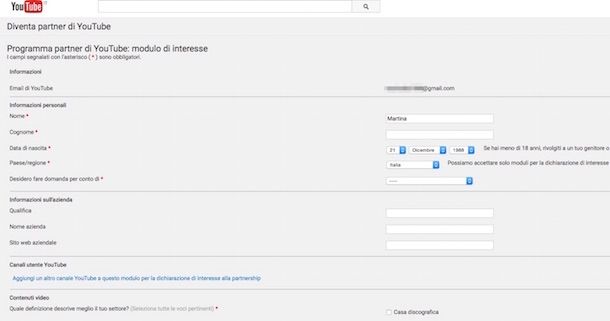 On the page that will be shown to you at this point, press the button Enable my account then add the check to the three boxes in the final part of the box displayed in the center of the web page and finally click on the button I accept >>.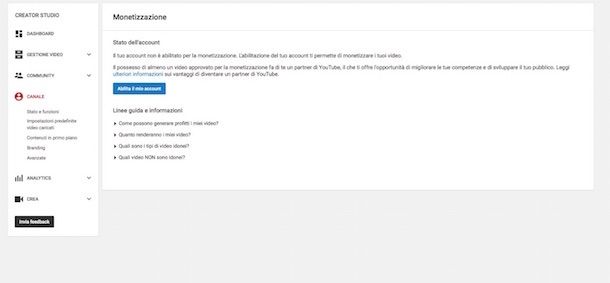 Now choose the available ad formats and then press the button Monetize. Personally I suggest you leave the ticks on the items In-video overlay ads e Skippable video ads or in any case to press on the voice Preview to get a clear view of what it is before deactivating.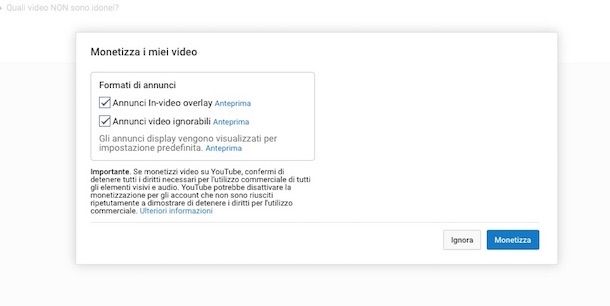 If everything goes well and you are accepted into the partner program, YouTube will automatically add ads to all your videos. If this is not possible for one or more videos you will be shown a specific notification.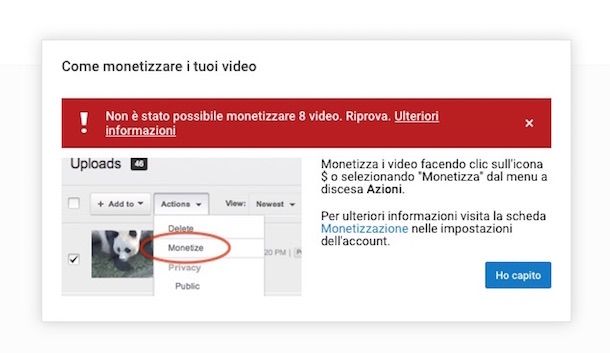 Later you can still activate the advertising banners in your videos by accessing your channel, selecting the item Video management which is located at the top left, by placing the check mark next to the movies on which you want to activate monetization, by selecting the item Monetize from the menu Actions and indicating the types of advertising to be displayed in the movies you have chosen.

Keep in mind that to ensure that advertising is inserted in your videos and therefore to be able to earn with YouTube, the videos must be 100% original and must not violate any rules of copyright or behavior, otherwise they are not published.
Also know that before activating advertising, YouTube will verify the content of the videos through a procedure that could last up to 24-48 hours and, in particular cases, it could request the sending of information proving that you have all the rights to use certain content on a commercial level.
Receive Payments
Payments from YouTube's standard affiliation are only made through Adsense (unlike those of third-party networks that can also take place through other systems), so before activating advertisements on your movies make sure to link your YouTube account with Adsense.
For more information about it you can consult the appropriate Google guide which you can access by clicking here and you can take a look at my guide on how to earn with AdSense.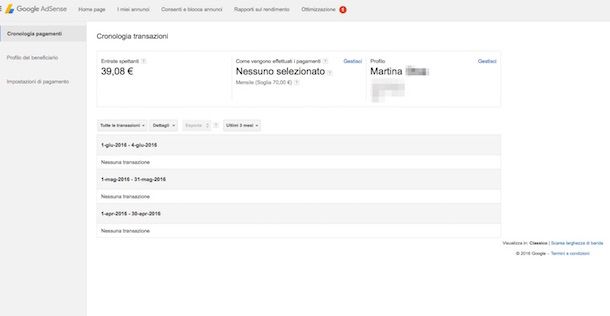 Other Useful Tips
Now that you finally understand what you need to do to be able to make money with YouTube, before leaving you free to try to monetize as much as possible with your videos, there are some simple but very useful tips that I think you should give and that you would do well to take seriously.
To make money with YouTube it is essential to work hard, giving space to talent and creativity, trying to produce something that has real value for the viewer. Precisely for this reason, to better understand how to proceed I suggest you follow the most famous YouTube channels and keep an eye on how often by publishing new videos and how they interact with fans.
I also advise you to choose a category of belonging for your videos on which you have a good knowledge or for which you have greater interest and then try to produce videos that you think can have real value not only for you but also and above all for others and that are able to attract the attention of others because of good quality.
Finally, I invite you to try to promote your channel and your videos as much as possible by putting into practice specific but simple strategies such as those I indicated in my guide on how to promote a video on YouTube and in my tutorial on how to increase views on YouTube. Please, at least give it a look.