Did your prepaid credit card just expire and are you going to replace it with a PayPal? No problem. The top-up in question, which is a MasterCard, is like all other cards belonging to the same circuit: it can be used to make online purchases without revealing the details of your bank account and can be used in physical stores like a common credit card.
It integrates perfectly with the PayPal online account, through which it can be recharged, but it is not mandatory to connect it to the latter (in fact, you do not need to have an online PayPal account to request one). Furthermore, the card can be recharged by debit card, bank transfer and in Lottomatica points of sale. But now enough chat and let's see in detail how to make the PayPal card. The way to get it is very simple, don't worry. Enjoy the reading!
ATTENTION: starting from May 9, 2019, PayPal prepaid cards are no longer available for purchase. It is only possible to activate those previously purchased (within 6 months of purchase) and use those activated until they expire.
Costs and Limitations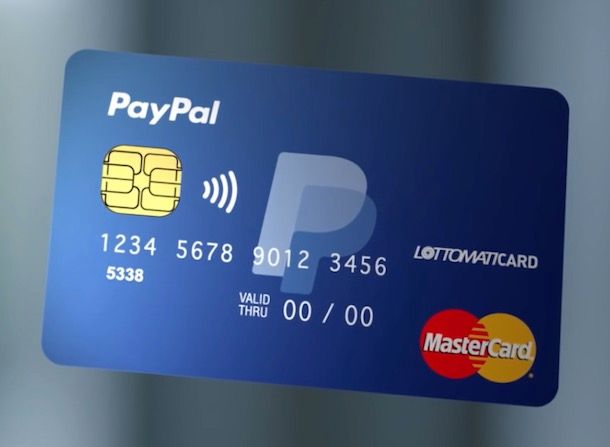 Before explaining to you, in detail, how to proceed for make the PayPal card, I want to let you know who are the Costi that you will have to support to carry out the various operations. In fact, like all rechargeable cards, even the PayPal one has management costs, so to speak. Find everything explained below.
Card release - 9,90 euro.
Card activation fee – 0,10 cent.
Top up by bank transfer - 2 euros (regardless of the top-up amount).
Top up at LottomatiCard points - 2 euro.
Top up by ATM - 2,50 euro.
Top up from PayPal account - free.
withdrawal - free at ATMs of the Banca Sella group; € 1,90 at LottomatiCard points and ATMs of other institutions in EU countries; € 3,90 at ATMs in non-EU countries.
Transfer of funds from card to card - 2,00 euro.
Transfer of funds from card to current account - 1,00 euro.
Redemption fee following termination - free from the expiry of the card up to one year after the latter; 1 euro by bank transfer to a current account and postal domiciled bank transfer; 1,50 euros at LottomatiCard points.
Payment fees - free.
Sending communications, bank statement and card blocking - free.
Card blocking fees - free.
Stamp duty (if due) - 2,00 euro.
Below you will find, instead, indicated, in detail, the limitations of the PayPal card.
Maximum number of cards per customer - 3 (one per product).
Number of top-ups in 1 day - 2.
Minimum top-up amount - 10,00 euro.
Maximum top-up amount - 990,00 euros in cash; 500,00 euros with PagoBancomat; 2.500,00 euros by bank transfer.
Maximum transferable amount - 2.500,00 euros per day.
Maximum amount that can be credited for online gaming winnings - 4.999,00 euro.
Maximum monthly top-up - 10.000,00 euro.
Maximum annual top-up - € 50.000,00 (€ 20.000,00 for top-ups made in cash at Lottomatica centers).
Daily withdrawal limit - € 250,00 at Lottomaticard points and € 500,00 at ATMs.
However, please note that activation and operation costs may be subject to change. So, to stay up to date and to avoid running into unpleasant surprises, I invite you to consult the section dedicated to transparency present on the Lottomatica website, in order to consult the documentation and information sheets related to your card.
Make the PayPal Card
Now that you have a clearer idea about PayPal card costs and limitations, I would say we can finally take action. So let's find out how to get the card in question.
Request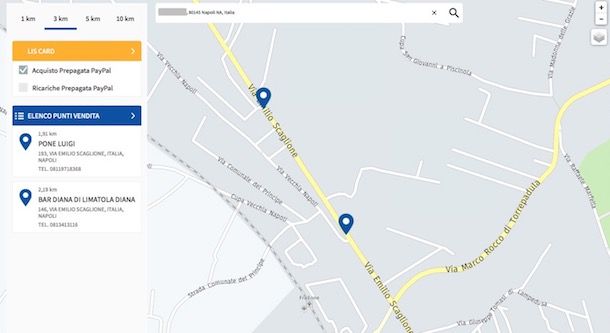 Currently, the only way to require the PayPal card is to go in person at one of the stores LIS Card by Lottomatica. To find out which store is closest to your area, connect immediately to the web page dedicated to the card on the PayPal website and click on the button Find a store located in the center.
In the new web page that is shown to you at this point, type the Your address in the search field at the top and select the relevant suggestion from those you see appear automatically. Next, check the box next to the item PayPal prepaid purchase present on the left. In map Below you will, therefore, indicate the stores in the area, which you can also view in the form of a list (always on the left). If you want, you can extend or decrease the search radius by selecting i Exact km (always on the left) within which to search for LIS Card points of sale.
After taking note of the address of the point of sale where you intend to go, show up on the spot and tell the sales person what your needs are. Once this is done, you will be offered a special one module which you will have to fill in with all your data (name, surname, social security number, mobile number and e-mail address) and which you will have to sign. You will also be asked to show your own identification document valid (e.g. identity card).
Later, you will need to do the payment of the card (the fee required for the release + the fee for the activation) and you will be given the rechargeable PayPal, which you can start using once the online activation procedure has been put into practice.
Activation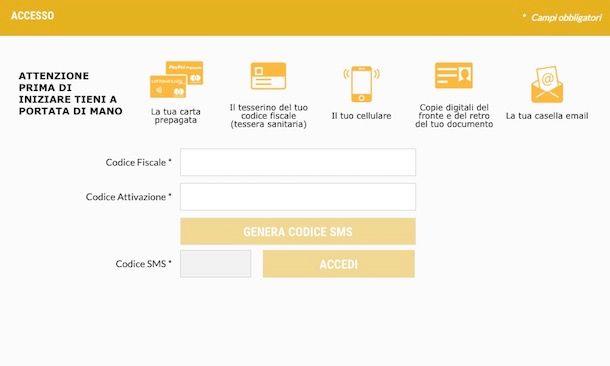 Now that you have finally obtained your PayPal card, in order to start using it you must, as anticipated in the previous lines, carry out theactivation. Everything is done via the Web: now I'll tell you how. But first, I suggest you keep yours on hand PayPal letter, your fiscal Code, your cellular and double-sided scan of your identity document (they must be two separate files) that you used to request the card, you will need everything to apply for activation of the prepaid card. Also make sure you perform the activation procedure from a computer equipped with webcam, to perform the recognition of your person.
After making sure you have everything "you need", connect to the web page dedicated to card activation and click on the button Request activation placed in the center. In the new page that opens, fill in the fields on the screen by typing yours fiscal Code and activation code (it is a 12-digit code placed on the back of the card, under the barcode). Then press the button Generate SMS code and enter, in the dedicated field a little further down, the 6-digit code that was sent to you by SMS to the telephone number you always indicated when requesting the card. Next, click the button Log in.
At this point, read the documentation that is shown to you, click on declaration of acknowledgment and then on the button Proceed. Verify, therefore, that the data relating to your person that are proposed to you are all correct (if not update them) and confirm them, then provide the additional information requested by filling in the appropriate fields (anti-money laundering data, consent to the processing of personal data, etc. .).
Now upload the two files related to the duplex scan of yours identity document clicking the selection buttons. The size for each uploaded file must not exceed 4MB and that the only formats accepted are JPG, JPEG and TIFF. Then run the recognition and check of your documents by connecting via webcam with an operator, who will identify your person and offer you the digital signature of the contract to use the PayPal card. Please note that operators are available every day, from 08.00 to 21.00. Furthermore, at this stage you will receive an email containing a link which will be valid for 30 days and which will be useful if you want to perform the video identification at a later time.
Once the identification procedure is complete, wait for the message to appear on the screen Acknowledgment completedclick on your button Proceed appeared at the bottom right, take a look at the contractual information that will be proposed to you and express your consent in this regard.
To conclude, type the OTP code that in the meantime you have received on your mobile number to digitally sign the contract, connected to your e-mail box, open the email relating to the PayPal card activation that has just been sent to you and download the contract perfected relating to the latter. From now on, you can finally start using your card.
For further details regarding all the steps described above, you can refer to the guide for the card activation request provided directly by Lottomatica.
Charging and Management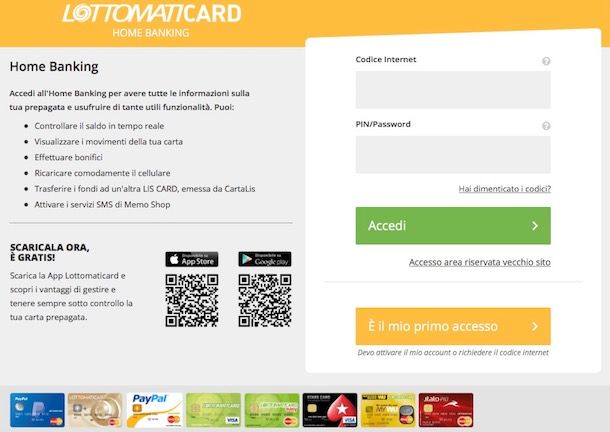 At this point, I would say that you can finally start using your PayPal card to make purchases and to make payments. To succeed, of course, it is essential that there is money on the latter, so you must provide for reload. To find out how to do this, read my tutorial dedicated specifically to how to top up your PayPal card. This can be done through the PayPal account, by going to a LIS Card affiliated sales point, by bank transfer and / or via ATM. You can also transfer funds from card to card. In short, the choice is yours!
As this is a reloadable card, you can of course keeping track of all the movements made by connecting to the appropriate web page of the service home banking offered by Lottomatica and from which you can also check your balance in real time, make transfers, top up your mobile number, transfer your funds to another card and activate (or deactivate) the Memo Shop SMS services.
In case of first access, click on the button It is the first access and follow the procedure that is proposed to you. Subsequently, you can log in to your online area simply by filling in the fields with the required data Internet code e PIN/Password and then clicking on the button Log in.
In addition to the browser, the online area dedicated to home banking offered by Lottomatica can also be used through the appropriate one app for Android and iOS devices. The operation is good or bad similar to that of the website.
In Case of Dubbi or Problem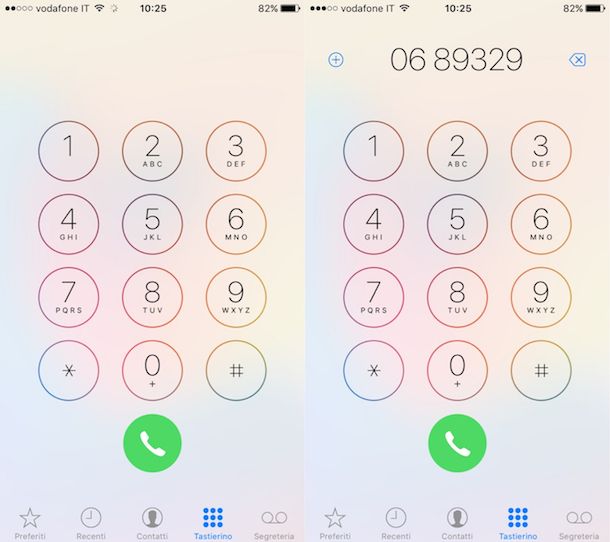 Have you followed all my instructions carefully but are you having difficulties in being able to make a PayPal card? If so, you can try to deal with it by looking at the appropriate page right away FAQ available on the Lottomatica website and try to see if the problems you encounter are mentioned among the various questions with a prompt answer and, consequently, if a solution is available. Further useful information can then be found on the page dedicated toCustomer.
You can also contact the customer care dedicated specifically to the PayPal card, which you can contact at the number 06.89329, reachable both from Italy and abroad. The cost of the customer service call depends on your carrier. Customer service is active from Monday to Friday, from 08:00 to 21:30 and Saturdays, Sundays and holidays from 10:00 to 19:30. Only for the blocking the card, it is possible to contact customer assistance, always through the same number, 24 hours a day, 24 days a week.