Convinced by your trusted "tech" friends, you have finally managed to purchase a SSD to be installed on your computer, so as to speed it up a bit, thanks to the better read and write performance that disks of this type are able to offer compared to classic mechanical disks. The problem, however, is that now you don't have the faintest idea how to proceed to make your new purchase operational: how to mount it on your computer? How to make it work? But most of all, how to install windows 10 on SSD?
If you are looking for a guide that can answer all these questions, then I am happy to inform you that you have found it! In fact, below I will explain to you in detail how to put the SSD you purchased to work: first, I will show you how to connect the new disk to the computer, and then proceed with the explanations relating to the installation of the Microsoft operating system. Furthermore, I will take care to explain to you how to do the complete cloning of the old disk to SSD and, finally, I will show you how to install Windows 10 on an external SSD.
How do you say? Can't wait to get started? Perfect, then don't wait a moment longer and read very carefully everything I have to tell you on the subject: I'm sure that, once you have completed reading this guide, you will be perfectly able to make your new disc work. I can guarantee that the computer will thank you!
How to Install Windows 10 on New SSD
Have you decided to replace your "old" mechanical drive with a new generation SSD, with the firm intention of using it as your primary drive? Then carefully follow the instructions that I am about to give you below: first, I will explain how to install the new storage medium on your computer, then how to proceed with the "new" installation of the operating system or with the cloning of the contents of the old hard drive. Happy reading and good luck for everything!
Mount SSD in the PC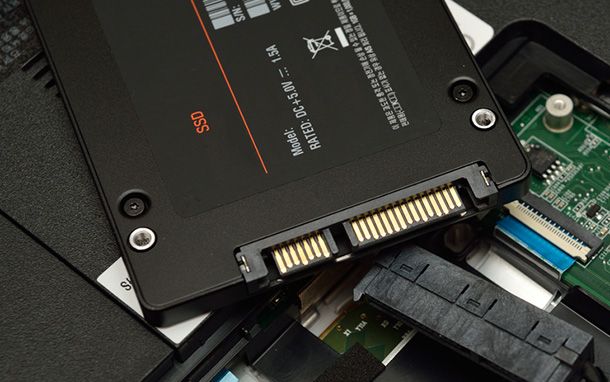 To install a new SSD in your computer, without touching the existing mechanical disk, you must first get a new one SATA cable, a additional power cable and, in some cases, even a 3,5 "frame to be applied to the case (so as to be able to correctly insert the SSD in the slots designed to contain the mechanical disks, much larger in terms of physical size). If you don't have one, you can buy a "pre-packaged" kit for connecting a new SSD to your desktop PC, like the one I propose below.