Do you need to export the contacts in your iPhone address book to your computer but don't want to waste time with complicated configurations or procedures to do? So let me tell you, you've come to just the right place at the right time.
With today's guide, we'll see how to export contacts from iPhone to PC to use them in programs like Microsoft Outlook and Mozilla Thunderbird on Windows and Mail on macOS. You can follow two different ways to achieve your goal: the first is to "manually" export contacts from the iPhone and transfer them to your computer, the second allows you to automatically synchronize contacts between smartphone and computer using iCloud.
What is the best path to follow? In reality there is no one better than the other, it is up to you to choose the solution that best suits your needs and put it into practice by following the instructions below. So, are you ready to take action? I assure you that in both cases it will not take long and you will not have to "go crazy" between complicated configurations. Give it a try and then let me know what you think!
Exporting Contacts from IPhone (VCF)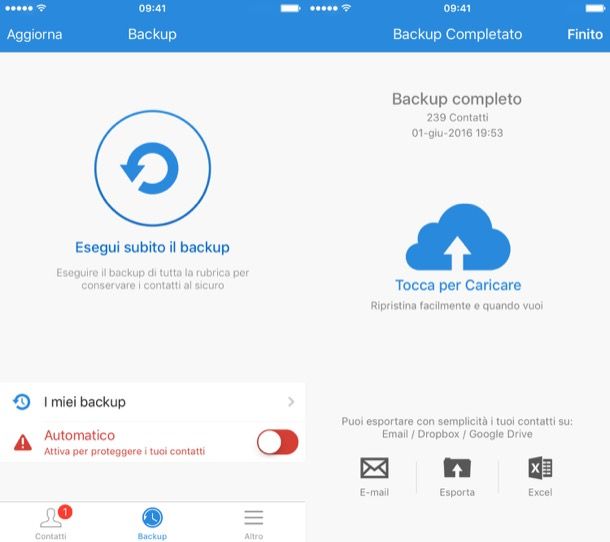 If you want to know how to export contacts from iPhone to PC without too many frills or waste of time, I advise you to open theApp Store and search for Easy Backup. It is an application that saves all the contacts in the iPhone address book and collects them in a file in vcard format (VCF) to be auto-sent and imported into all the desired applications and devices. It is available in two versions: a free one that only allows you to self-send the VCF file with your contacts and a paid one (2,99 euros) that supports exporting contacts to Dropbox, Google Drive or other applications on the iPhone .
Do you want to find out how to use it? Look, it's so simple you don't even need to explain it. All you have to do is start Easy Backup, press the button Start to access the main screen of the app and deny access to notifications by the latter (in my opinion there is no reason why such an application should "bother you" with notifications, then evaluate yourself based on your preferences).
Next, press on arrow placed in the center of the screen, authorizes Easy Backup to access the iOS address book and wait for the contact backup to be completed (it should take a few seconds), In the screen that opens, choose whether to send the backup via e-mail to your e-mail address (by pressing the envelope icon), if you want to export the file to another application on the phone (eg. Dropbox or Google Drive) by pressing the icon Export or whether to save the file as a sheet Excel (xlsx) by "tapping" on the appropriate icon at the bottom right.
Regardless of the option chosen, you will be asked to authenticate using your Facebook account, your Google account or your email address: you choose the option you prefer and go on to complete the export of your contacts. In the case of sending via email, all you have to do is type your email address in the field of recipient (A 🙂 and send you the message containing the address book.
I remind you again that direct export to Dropbox, Google Drive and other applications is only available in the full version of Easy Backup, which costs 2,99 euros and among other things also allows you to merge duplicate contacts, move names from one heading to another and much more.
Please note: if you are logged in to Easy Backup with Google or Facebook, after exporting the contacts from your iPhone you can remove the association between your account and the application by connecting to this Facebook page or this Google page. It is not a mandatory operation, but from a privacy perspective it is always better to reduce to the bone the number of apps that can access our online profiles (this is a general rule, there are no particular risks associated with the use of Easy Backup).
Exporting Contacts from IPhone (CSV)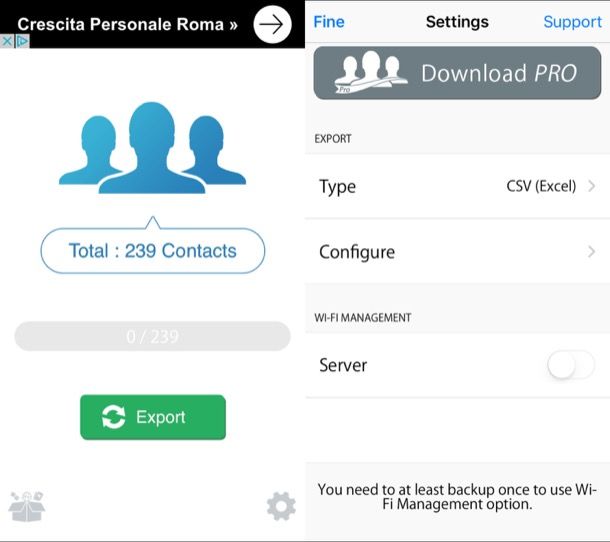 For some applications, such as Microsoft Outlook, it may be more convenient to export contacts in comma separated value (CSV) format. For this purpose, I recommend you to install My Contacts Backup, a free application that allows you to export iPhone contacts in CSV and VCF formats and to self-send them via e-mail. It is available in two versions: a free one that limits the number of contacts that can be exported to 500 and a paid one (€ 1,99) that does not have this limit and does not include advertising banners.
To export contacts in CSV format with My Contacts Backup, open the application, allow it to access the iOS contacts and press the icon of thegear which is located at the bottom right. In the screen that opens, presses on the item Type, scegli l'opzione CSV (Excel) and save the changes by "tapping" the button end (top left) for two consecutive times.
Now you can export your iPhone address book by simply pressing the button Backupanswering OK the warning that appears on the screen and pressing the blue button Email. A Mail screen will open through which you can auto-send the CSV file with the iPhone contacts: type your e-mail address in the field A:, presses the button Submit top right and that's it!
Importing Contacts from IPhone to PC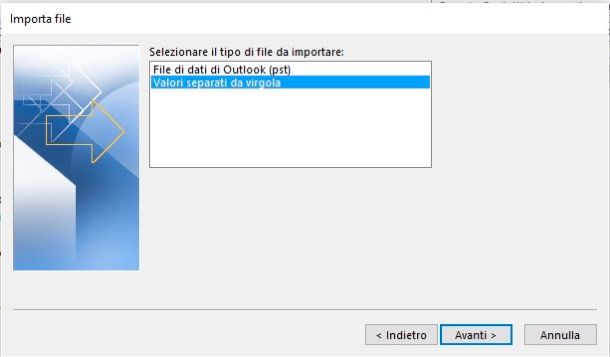 After exporting the iPhone address book, all you have to do is turn on the PC, open the email you sent yourself a moment ago and download the file VCF o CSV with all the contacts of the "iPhone by". If you didn't use email to export contacts, but Dropbox or Google Drive, log into the service of your choice and download the contact file from there.
When the download is complete, open your favorite e-mail client and import the VCF / CSV file previously exported from the iPhone following the instructions below.
Microsoft Outlook - if you use Microsoft Outlook as your email program you need to use a CSV file to import contacts from iPhone. Then click on the button Fillet located at the top left, go to the menu Open and export and click the button Import / Export. Now follow the instructions below.

Choose the voice Import data from other programs or files and go forward;
Choose the voice Comma separated values and go forward;
Click on the button Shop by Departmentselect il file CSV from which to import the contacts and click on forward;
Select the folder Contacts (this computer only) and go forward;
Put the check mark next to the CSV file name and use the table that appears on the screen to specify which values ​​of the CSV file correspond to the data to be imported into Outlook (eg. First Name e Last Name correspond to Name e Surname under Name details);
Click your pulsating OK e end and wait for the import to finish.

Mozilla Thunderbird - if you use Mozilla Thunderbird, you can import contacts from iPhone using a VCF file. To do this, click on the button Address book located at the top left, go to the menu Tools> Import of the window that opens and put the check mark next to the item headings. Then click on the button forward, choose the item file vCard (.vcf), go again forward and select the VCF file from which to import contacts.
Mail (Mac) - to import iPhone contacts into Mail for Mac you can use a VCF file. All you have to do is open the app Contacts macOS, go to the menu File> Import (top left) and select the file with the iPhone contacts.
It's not that hard, see? For more information on this issue, I invite you to read my tutorial on how to open VCF files in which I showed you how to import VCF files into various email clients and Web Mail services, such as Gmail and Outlook.com.
How to Sync Contacts Between IPhone to PC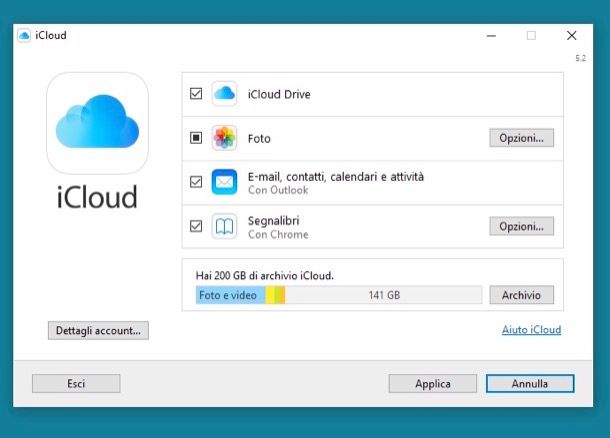 If you want export contacts from iPhone to PC and keep them constantly in sync with programs like Outlook (Windows) and Contacts/Mail (Mac) you need to sync iPhone address book with iCloud and enable data sync on your computer. Again, this is a real breeze.
First, you need to make sure that iPhone contacts sync with iCloud is turned on. Then go to the Settings on iOS, pigia sul you don't know, then on iCloud and check that the lever corresponding to the item Contacts is set to ON (i.e. colored green). On iOS 10.2.x and earlier, there is no need to select your name, just go to Settings> iCloud.
Now you need to make sure that iCloud sync is also active on your computer. If you have a Poppy, all you have to do is enter the System preferencewill select the icon of iCloud and verify that there is a check mark next to the item Contacts. If you use a Windows PC, you need to install the iCloud control panel on the computer, log in to it with your Apple ID data and activate the synchronization of Mail, contacts, calendars and tasks with Microsoft Outlook.
Then connect to the Apple website and click on the button Download to download the iCloud client for Windows on your PC, then open the file iCloudSetup.exe, put the check mark next to the item I accept the terms of the license agreement click her cousin Install and then Yes twice in a row e end to complete the software installation. A computer restart will be required after the operation is complete.
For more information on this procedure, I strongly invite you to read my guide on how to use iCloud in which I have shown you step by step how to set up iCloud on iPhone, Windows and macOS.