Are you no longer able to correctly display some dynamic elements on your favorite websites, such as pop-up menus? When you try to watch a video on YouTube, do you see a blank page and can't see anything? Don't panic, obviously someone has disabled the functions JavaScript in your browser settings.
JavaScript is a scripting language used in the Web for creating interactive dynamic effects. It is the basis of the operation of many sites and online services that we use daily, so deactivating it compromises the correct display of many pages and online content, such as videos, interactive menus and so on.
You ask me if you can easily remedy its deactivation, without calling the usual PC savvy friend? Of course, it takes two minutes and the problem is solved. Yes, I know, you don't only use Chrome, but also Firefox and Safari: rest assured, with the guide I'm about to offer you I'll explain step by step how to enable JavaScript on all major browsers for Windows, macOS and even on mobile devices. Let's get started right away!
Chrome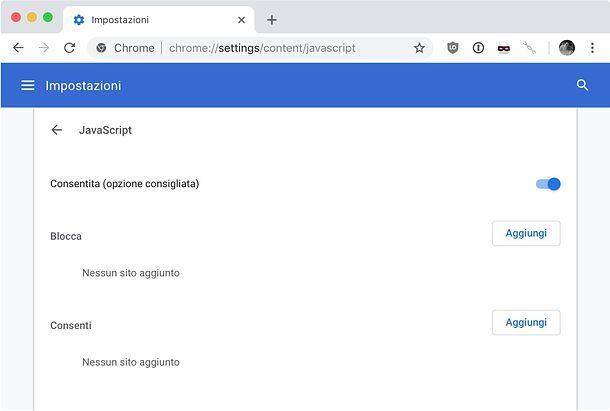 The browser was used Chrome and you want enable JavaScript in the latter, click on the ⋮ icon located at the top right and select the item Settings from the menu that appears. In the tab that opens, select the item Advanced which is at the bottom and click on the option content settings located in the box Privacy and security to access the settings relating to the web content to be shown in the browser.
In the screen that opens, go to JavaScriptsposta su ON the lever for the option Allowed, make sure that there are no sites of interest to you in the list of blocked sites (i.e. sites that are not allowed to run JavaScript, otherwise remove them) and close the Chrome settings tab to save the changes and reactivate the JavaScript functions.
On Smartphones and Tablets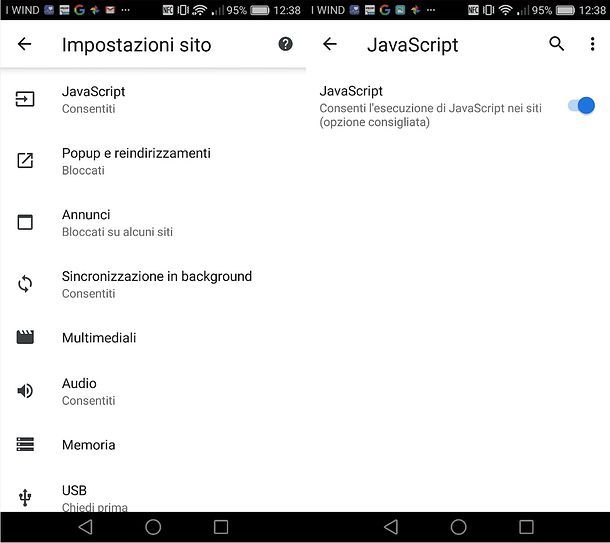 If you use Chrome on Android, you can activate JavaScript by starting the app, pressing the ⋮ button located at the top right and selecting the item Settings give the menu to compare.
On the page that opens, go to Site settings, Then JavaScript and move up ON the lever for the option JavaScript. At this point, go back, try to visit the sites that were not played correctly on your device before and the problems you encountered should be solved.
Chrome is also available as an app for iOS, however this version of the browser, at the time of writing, does not support the feature to enable or disable JavaScript.
Firefox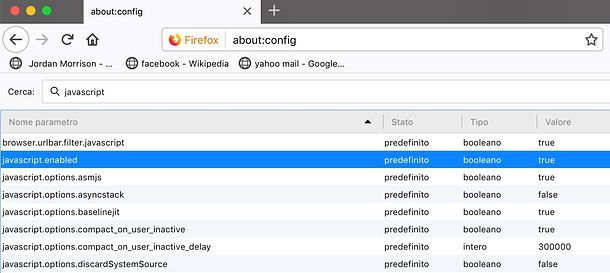 Now let's see how to enable JavaScript in Firefox. If you use this browser, the first thing you need to do is start it, type about: config in the address bar and give Submit: in this way you will access the menu with the advanced settings of the browser.
In the tab that opens, press the button I accept the risks, search for "javascript" in the top bar and double-click the key javascript.enabled, in order to change its value from false a true.
Mission accomplished! Now open a new Firefox tab, visit the sites that were giving you problems before and they should work correctly. There is no need to restart the browser either.
On Smartphones and Tablets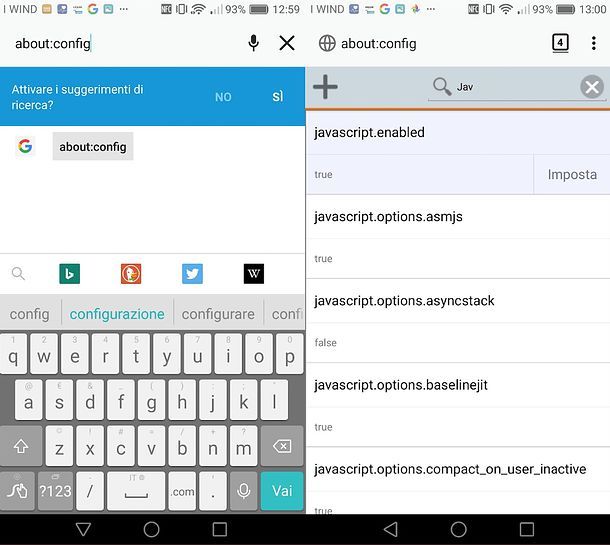 If you also use Firefox on your smartphone or Android tablet, you can activate JavaScript in the same way as for the desktop version of the browser.
Therefore, start the app, press on address bar which is at the top, type about: config in the latter and come on Submit, in order to access the menu with the advanced settings of Firefox.
In the screen that opens, use the Campo di Ricerca located at the top right to search for the term "javascript", then select the key javascript.enable e pulsing sul pulsating Tax, in order to change its value from false a true.
Once this is done, go back, visit the sites that were not displaying correctly before and you should find that these are now playing without any problems.
Firefox is also available on iPhone and iPad but, on these devices, it does not allow you to freely act on the JavaScript settings. On iOS you can turn JavaScript on and off only for Safari, as I'll explain below.
Safari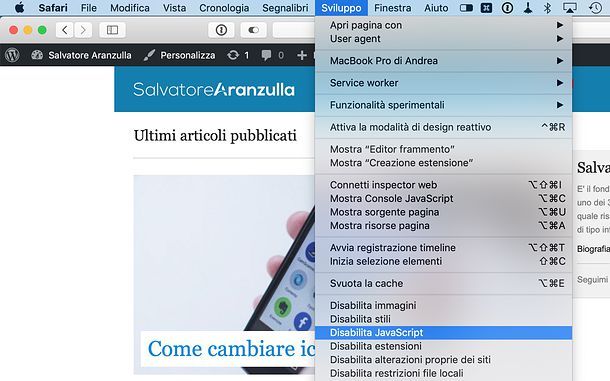 You have a Poppy and use Safari as your default browser? If so, you can enable JavaScript using the menu Development, which should be at the top of the macOS desktop (when Safari is in the foreground).
If you don't see the "Development" menu, activate it like this: go to the menu Safari> Preferences (top left), select the tab Advanced from the window that opens and put the check mark next to the item Show menu Sviluppo nella barra dei menu.
Now, close the Safari preferences window, go to the menu Development which appeared at the top and uncheck the option Disable JavaScript. So try to visit the sites that used to give you problems and you should notice that these now work well.
On Smartphones and Tablets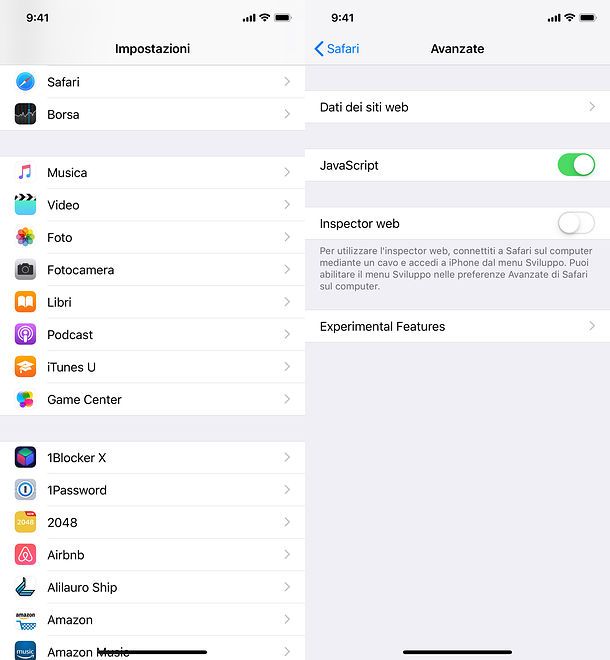 Even the mobile version of Safari (only available on iPhone e iPad) allows you to enable and disable JavaScript. To proceed, go to the menu Settings iOS, pressing ongear icon present on the home screen, select the item related to Safari i went his Advanced, at the bottom of the page that opens.
At this point, move up ON the function lever JavaScript And that's it. The JavaScript function is now enabled in Safari, and therefore, any web content that was previously problematic should work properly again.
Internet Explorer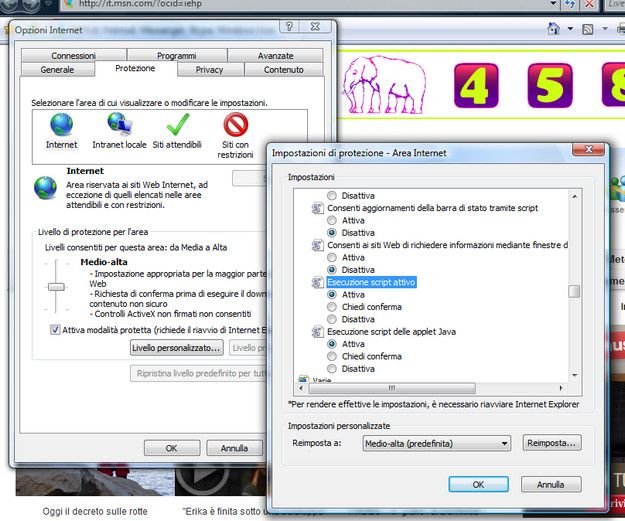 If you still use the old one Internet Explorer (bad! It is an obsolete browser) and you want to learn how to enable JavaScript in the latter, all you have to do is start the program, click on the icon ofgear located at the top right and select the item Internet options from the menu that appears. In the window that opens, go to the tab Safety (Or Protection) and click on your button Custom level to access advanced Internet browsing settings.
Then scroll through the list that appears to the item Active scripting, put the check mark next to the option Attiva located under the latter and click on the button OK twice in a row to save your settings and re-enable JavaScript on your Internet Explorer.
Edge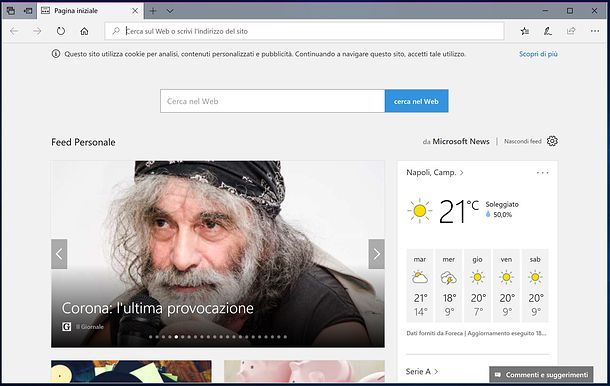 There is a PC equipped with Windows 10 and use the browser Edge, I'm sorry, but you can't turn JavaScript on or off. This function is enabled by default and cannot be changed by the user.
In older versions of the operating system, there were "gimmicks" that allowed JavaScript to be enabled or disabled via the Local Group Policy Editor or Registry Editor, but with the advent of the Windows 10 April Update , these no longer work.
If you are using an older version of Windows 10 (prior to the 2018 April Update), you can access the Local Group Policy Editor by pressing the key combination Win + R, giving the command gpedit.msc in the field Esegui ... and pressing the key Submit on your computer keyboard.
In the window that opens, browse the folders User Configuration> Administrative Templates> Windows Components> Microsoft Edge and set on Activated the key Allow scripts, such as JavaScript, to run (by double clicking on it and placing the check mark on "Enabled"). This procedure is not feasible on the Home and Starter versions of Windows 10.
How to Enable Java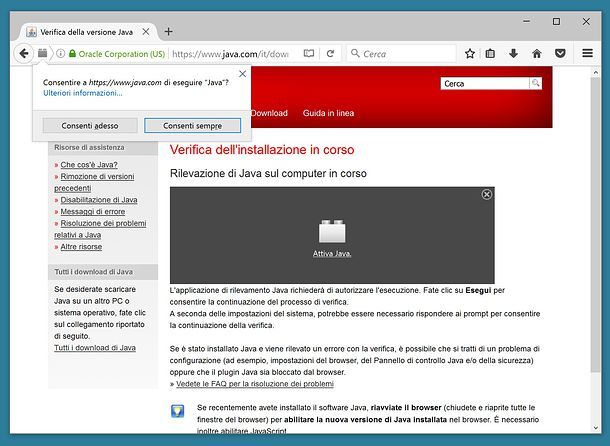 Many users confuse JavaScript, the scripting language used in the Web environment that I told you about in this tutorial, and Java, the technology behind many applications both online and offline.
If JavaScript is still widely used, Java, in the Web environment, is no longer widely used, also because it requires the use of external plugins that can pose a risk to privacy.
If you too have made a bit of a mess and need to activate Java in your browser (perhaps for running some web applications) and not JavaScript, read my tutorial on how to enable and test Java, in which I explained to you in detail how to do this.