At the office they've asked you to work on a lot of documents and there are things you can't do. Or at school you have been assigned an exercise to do on the computer and you are unable to fully perform what has been asked of you. Whatever the problem, you would like to learn more about how some programs work in order to work well on text documents.
If I have not misunderstood, you need to understand above all how to edit a document. Because it doesn't matter what kind of file you received: you can't work well with it if you don't know how to make changes, which is why you're looking for advice on programs, online services, and apps to use for that purpose. How do you say? Did I guess? You have come to the right place then!
With this tutorial I will show you how to edit a file with the services offered by the Internet, how to do it using some applications, both for computers and for smartphones and tablets, and some online services. Do you hope that everything is simple and that you will have no problems? Imagine: most of the time, it's a no-brainer and, in the end, you'll agree with me! Now sit back and read what I have to tell you about it.
How to Edit a PDF Document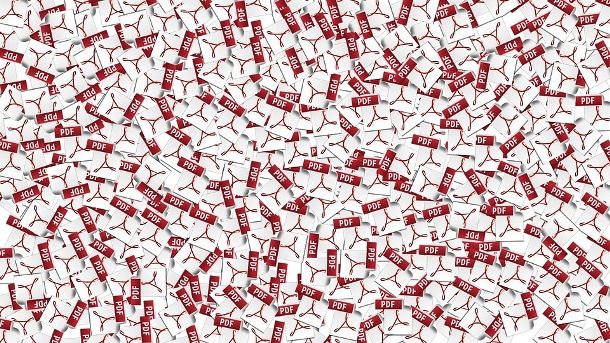 I'll start by explaining you in detail how to edit a PDF document: operation you can perform using programs for PC Windows o Poppy, app for smartphone e tablet and some online services. With the right procedures you can add text, images and more to your documents in a very simple way. I'll explain immediately how to do it.
On Computer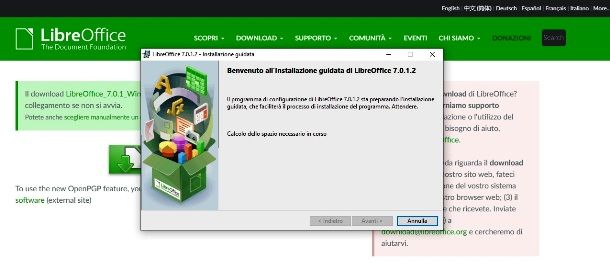 You can edit a PDF document from your computer in different ways. I, for example, advise you to use LibreOffice: Free and open source productivity suite available for Windows, MacOS e Linux, which is quite similar to Microsoft Office and allows you to create and edit text documents, spreadsheets, presentations and other types of documents.
Inside it integrates Draw, an application capable of creating printable documents of various kinds and modifying the content of PDF files (even pre-existing texts, as long as they are in an editable format), and a PDF printer that allows exporting to the format in question in very few clicks.
Downloading LibreOffice for Windows is super easy. First, connect to the program's official website and click on the button Scaricate la versione xxx. When the download is complete, start the file with extension . MSI got it, click the button forward twice in a row, then on the buttons Install e end: in this way you will have completed the setup.
If you own a PoppyInstead, you have to download two files: not only the installation file but also the package that is used to translate the suite into Italian. You need very little time: follow this link (it is specified that only macOs versions 10.10 and later), then click the button Translated User Interface; will start downloading a package .dmg.
At this point, all you have to do is open the package in question and drag the icon LibreOffice in the folder Applications; then right-click on that icon, and select the item apri for two consecutive times. This procedure avoids the restrictions of Apple related to non-certified third-party programs, and must be repeated only at the first start.
Now, close LibreOffice by pressing cmd + q on the keyboard or by clicking on the item Logout on the menu LibreOffice, top left. Once closed, open the language pack .dmg package: inside you can find the LibreOffice Language Pack; right click on it and select the item apri per due volte I followed.
Now, select the items Open and Install e /Applications/LibreOffice.app, finally Install: so you will have the interface of the suite translated into Italian and you will be able to use it much more easily. Pay attention: a notice regarding permissions may appear; if so, click on the item Yes, identify me, enter the Mac admin password and click OK twice in a row. Well: now the installation is finished.
Using LibreOffice is extremely intuitive. For edit PDF documents all you have to do is start the suite, click on the button Open file on the left and select the file you are interested in. The document will be opened with Draw, graphics software that will allow you to modify the contents as you wish.
With Draw you can select the area of ​​the document that interests you to make various changes: not only delete or add text but also insert shapes, links and much more. Find two on the left and top toolbar with a series of icons on which you will have to click to apply the change associated with them.
Finally, don't forget to save the new PDF document: click on the menu Fillet, top left, and then on the item Esporta eats…; at this point you can choose whether to save the file in PDF format by selecting the item Export directly to PDF, or whether to change something else (the page layout, for example), by selecting the item Export to PDF format.
Now you know how to edit a PDF document for free via PC: don't you find it as easy as I told you? But let's continue because I have solutions to offer you!
On Smartphones and Tablets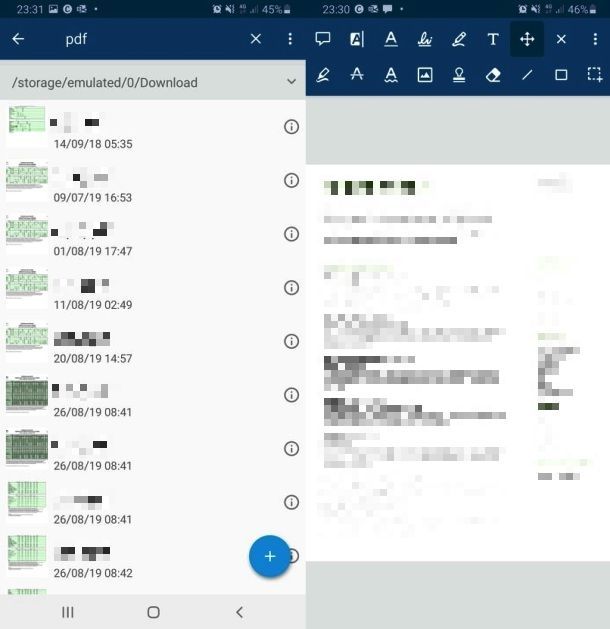 Edit a PDF on smartphones and tablets it is certainly more inconvenient than working from a PC or Mac, given the size of the displays and the touch control of the commands; with the right apps, however, you will see that you can do it without problems.
Among the many apps for smartphones and tablets, the ones I would like to suggest you for edit a PDF are Foxit PDF Reader e Xodo PDF Reader and Editor: two PDF file viewers with integrated editing tools, free but with, in the first case, some advanced functions unlockable for a fee.
Foxit PDF Reader Mobile is available for both Android and iOS / iPadOS. It allows you to view multiple PDFs at the same time and edit the contents in various ways. Once the file is open, the editing options are all in the bottom bar: press the icon you are interested in to add text, insert notes and much more.
You can also unlock useful additional features, such as creating PDFs from scratch, inserting audio, video and hyperlinks, signing with existing digital certificates etc; to do this, you will need to subscribe to the package Foxit PDF Reader Mobile (a 10,99 euro / year for Android and 11,49 euro / year for iOS / iPadOS) or the solution PhantomPDF (a 15,99 euro / month for Android and 16,99 euro / month per iOS/iPadOS).
Also Xodo PDF Reader and Editor is available for both Android and iOS / iPadOS. The operation is just as simple: after opening the PDF, tap on thecolored pencil icon, at the top right, and start editing the file with the tools offered by the app.
If you were just starting out with technology: to download an app on Android (from Play Store or an alternative store) or on iPhone / iPad (from the App Store), the procedure is very simple.
Open the store by tapping on the relevant icon on the Home screen or in the app menu (eg the ▶ ︎ symbol colored in the case of Play Store on Android or the "A" on a blue background in the case of the App Store on iPhone / iPad) , go to the section of search, type the name of theapp to download, select the relevant icon from the search results and tap the button Installa / Ottieni. On iPhones and iPads, you may be prompted to verify your identity using Face ID, touch ID o password dell'ID Apple.
In any case, I would like to point out that if you are reading this tutorial from a mobile device, you can directly access the download page of an app from the store of your device by visiting the links that I have provided you just now.
If the apps I told you about don't satisfy you, try taking a look at these others: you will undoubtedly find the one that suits your needs!
online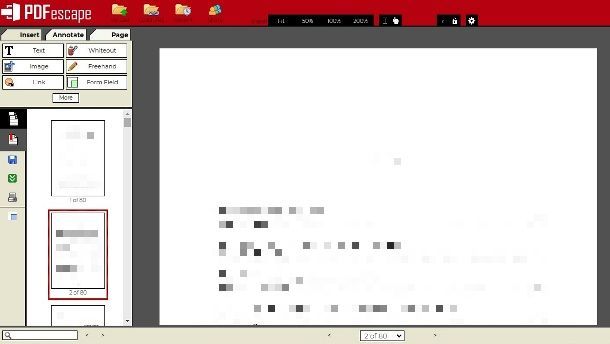 The services that allow you to edit PDF documents online they are numerous, but I would like to advise you immediately PDFescape.
The service in question is free but allows you to upload only files with a maximum size of 10 MB that do not exceed 100 pages. To remove any restrictions, you can subscribe to the Premium Plan da 2,99 euro / month or Piano Ultimate da 5,99 euro / month, depending on what you are looking for: with the more expensive plan, for example, you can also publish PDF forms.
That said, to use the service connected to its official website and click on the item Free Online to confirm your willingness to use the web version (a desktop version for Windows is also available). At this point, choose the file to edit: click on the item Upload PDF to PDFEscape and select the file you are interested in from your computer; you can also load it with a simple drag and drop (ie dragging it into the browser window with the mouse). Furthermore, if you need it, loading via URL is also provided, after clicking on the item Load PDF from Internet.
Once the file has been uploaded, you can edit it as you see fit using the tools in the menu located at the top left: click on Insertion to insert texts, images, forms, links etc; up Annotate, to insert annotations, highlight text and so on; or on Page, to work with pages, then to rotate the page in question, delete it and more.
After the changes, to download the final document, you just have to click on thegreen icon with arrows pointing down located in the left sidebar. Then? Was it not easy to edit the file?
How to Edit a Word Document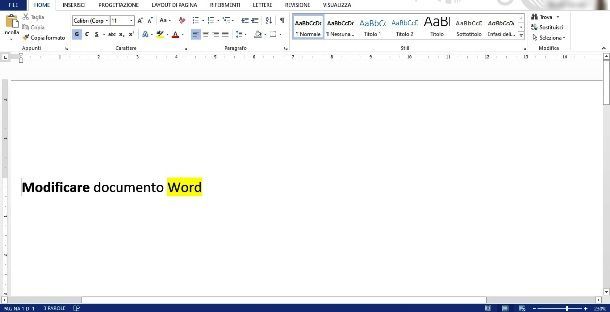 How do you say? Do not know how to edit a word document and you hope that the procedure is as easy as those I have explained so far for PDF documents? Don't worry: the solutions are many and suitable for all devices. Here's everything in detail.
On Computer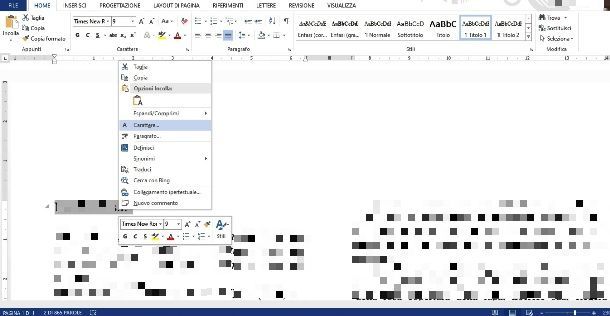 If you need to edit a Word document on your computer, I can only advise you to learn how to use the program well Microsoft Word included in the Office package (also downloadable individually). In case you do not have it or you cannot access it for any reason, know that even LibreOffice, which I told you a little while ago, allows you to edit text documents, with the software Writer integrated inside.
Using Word to edit a text file is not difficult at all: I have prepared a guide that will be very useful for you and that will show you in detail how Microsoft's text editor works.
The secret lies in knowing well the toolbars at the top, divided into various thematic tabs: each icon is associated with a function that allows you to edit the text, insert images and shapes, hyperlinks and so on. Follow my instructions in the guide that I linked and you will see that you will not have problems of any kind!
On Smartphones and Tablets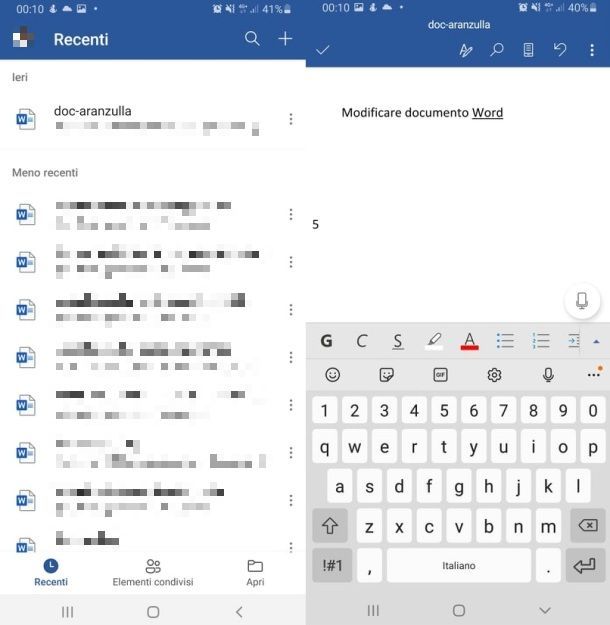 Yes, if you thought so, you were not wrong at all: also Word has its own mobile version and is available for both Android and iOS / iPadOS. You can download it for free but you must use a device of 10.1 ″ or less, otherwise you will need to subscribe to Microsoft 365, with prices starting at 7 euros / month.
In reality, the app is not very different from the PC program; indeed on tablet it is practically identical (with the toolbars at the top). On a smartphone, on the other hand, to change the content of a document, call up the toolbar by pressing theA icon with pen that you find at the top and then on drop down menu which appears below.
Be aware, however, that document editing is only possible if you have a Microsoft account with which to log in: creating it is very simple, and if you already have it you will simply have to log in.
If you do not have much space on your mobile device and you also need to work with Excel and PowerPoint documents, please note that there is also the Microsoft Office all-in-one app for Android and iOS / iPadOS that allows you to create, view and edit the files in question while taking up less space than single Word, PowerPoint, and Excel apps.
online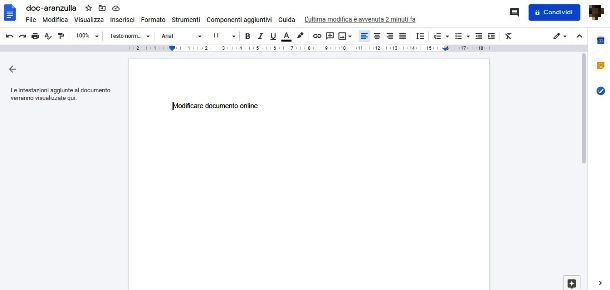 As for PDF documents, also for text documents there are valid alternatives that can be used online directly from the browser: in this regard, I would like to advise you without a doubt Word Online at Microsoft. The service is available at this address and is free, although you will need to have a Microsoft account to log in with.
Using Word Online is extremely simple, especially if you already know how to use Word, since its interface is practically identical to that of the desktop version of the program. Once you have opened the document, by clicking on the entry Load and open ... placed to the right of the voices Recent, Added at the top e Shared with me, you can start working on the document and make the changes you want using the formatting functions of the toolbar.
The document will be automatically saved online on OneDrive, but you can also download it locally using the appropriate function available in the menu Fillet, top left.
How do you say? You read that too Google Drive, Google's cloud storage service, offers the ability to create and edit Word files online? It's true: it integrates a complete suite for work that allows you to easily process text documents, presentations, spreadsheets, forms and more.
If you want to know more in detail how to edit a document on Google Drive, I recommend this in-depth analysis of the service that illustrates its main features. To access Drive, as you can guess, you will need to have a Google account which, as I explain in this guide, can be created in a few minutes.
How to Edit a Scanned Document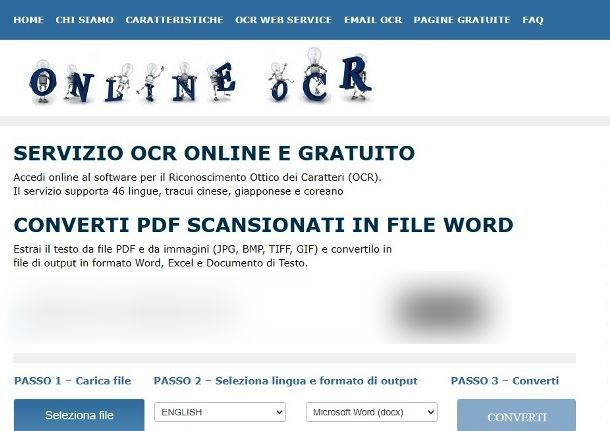 You may be interested in understanding how to edit a scanned document. The scans can also be saved as PDF or Word documents, so, in this case, to proceed with the changes, just follow the instructions I gave you for both cases.
If you intend to modify, instead, a scanned text in the form of a photo (not editable, therefore), know that you will have to resort to a programma OCR (Optical Character Recognition) to make characters editable: you will find what you need in this study. It is not a difficult operation, indeed, and the services and programs offered are numerous: in addition to those mentioned in the tutorial just linked, you can contact those listed in this other guide on the subject. Good job!