Do you need to make a PowerPoint presentation but don't have a copy of Office installed on your PC yet? I don't see where the problem is. you can download PowerPoint for free, or rather, you can download the Microsoft suite directly from the Internet and try it on your computer - either Windows and MacOS - for a maximum period of one month: afterwards, you decide whether to switch to the paid version or remove the software from your PC.
As for mobile devices with iOS e Android, the speech is completely different. In this case you can download PowerPoint for free in full version (as long as your device is not larger than 10.1 ″, otherwise you will have to take out a paid subscription to be able to use it) and use it without time limits. Exactly, with no time limits: it will remain free of charge forever and you can use it to create beautiful slides, full of animations and advanced graphic effects, without even turning on your PC. Interesting right?
And if you don't have a tablet at hand and you need PowerPoint for more than 30 days, you can opt for free alternative solutions that - believe me - have very little to envy to Microsoft Office. But now let's proceed in order. Let's ban the chatter and start seeing how to download PowerPoint for free. I assure you that it is a real breeze even for those who - a bit like you - are not particularly familiar with the world of computing, you have my word.
How to Download Free PowerPoint on PC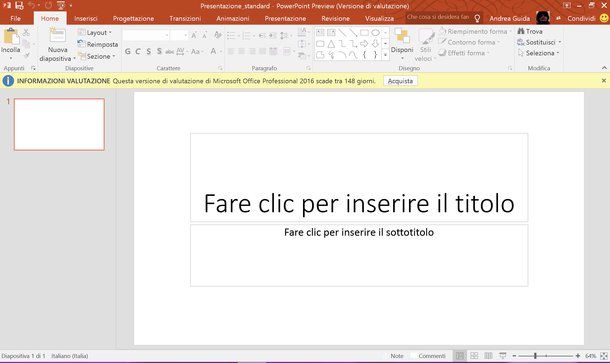 If you want to download free PowerPoint trial version for Windows or macOS, you need to activate the free trial of Office 365: a subscription service from Microsoft which, at a cost of 7,00 euros or 10,00 euros per month (depending on the plan subscribed), includes all the applications of the Office suite plus 1TB of cloud space on OneDrive, 60 minutes of monthly Skype conversations and access to the extra functions of the Office apps for smartphones and tablets (as well as access to them on devices larger than 10.1 ″). The 10 euro / month plan offers a trial period of 30 days. At the end of the trial period, you can then decide whether to pay to continue using the suite and, consequently, PowerPoint or not.
To download the Office trial, click here in order to connect immediately to the appropriate section of the Microsoft website and then click on the button Try free for 1 month. Then type the e-mail address of your Microsoft account and the associated password in the appropriate fields that are shown on the screen and click on the button Log in. If you don't have a Microsoft account, get one right away by checking out my guide on the subject.
At this point, click on your button forward and indicates a valid payment method between credit / debit card, direct debit or PayPal then entering the relevant data (do not worry, you will not be stolen money until the end of the free trial month). Next, click on the item to enter yours address e pigia sui pulsnti forward, Save e Subscribe to confirm the subscription to the plan and proceed to download the Office 365 installation package. If you are using a Mac, you can also download the PowerPoint only from the Mac App Store. PowerPoint is also available as a stand-alone application on the Windows 10 Microsoft Store, but in this case you have to buy it for 135 euros.
Afterwards, proceed with the installation of the suite and, on the first launch of PowerPoint, enter your Microsoft account details to activate the 30-day trial period. Afterwards, remember to disable the automatic renewal of the subscription from this web page before it expires otherwise, at the end of the trial period, you will be charged 10 euros for the subscription of the service.
How to Download PowerPoint for Free on Smartphones and Tablets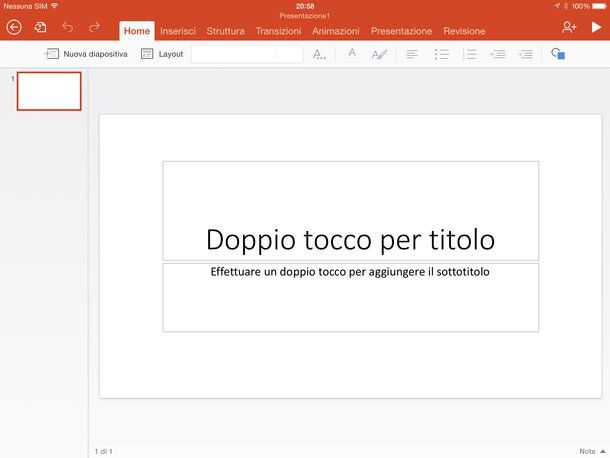 PowerPoint, as mentioned at the beginning of the guide, is also available for mobile devices. The app is independent (you do not have to download the entire suite to use it) and its basic version is free (on devices equal to or smaller than 10.1 ″, otherwise an Office 365 plan is required).
If you want to download PowerPoint for free on your iPhone or iPad or on your Android smartphone or tablet, you can easily find the app on - respectively - App Store and Play Store by typing powerpoint in the store search bar. To speed things up, you can press here directly from your iOS device or you can press here from your Android smartphone or tablet.
Regardless of the mobile platform in use on your smartphone or tablet, using the PowerPoint app is very simple, in fact it perfectly follows the user experience of the computer version. The only difference is that, of course, the available commands and all PowerPoint features are completely touch. On a smartphone, to call up the menus, press the button with i three dots or arrow located at the bottom right.
Alternative a PowerPoint for Free
Instead of downloading PowerPoint for free, you prefer to resort directly to the use of afree alternative Lifetime? If the answer is yes then I highly recommend that you try some interesting alternatives at no cost. There are both for computers and for mobile devices!
OpenOffice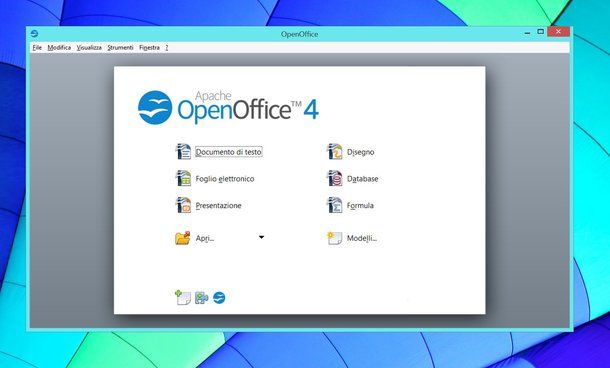 If you are looking for a PowerPoint alternative for your computer you can turn to OpenOffice. If - strangely - you have never heard of it, know that it is an open source productivity suite compatible with Windows, macOS and Linux, which allows you not only to create presentations, spreadsheets and text documents, but also to open and freely edit documents created with Microsoft Office.
It is extremely easy to use and is in Italian (including the spell checker). If you want to try it, I've explained in detail how to download and install it in my tutorial on how to download Open Office for free.
WPS Office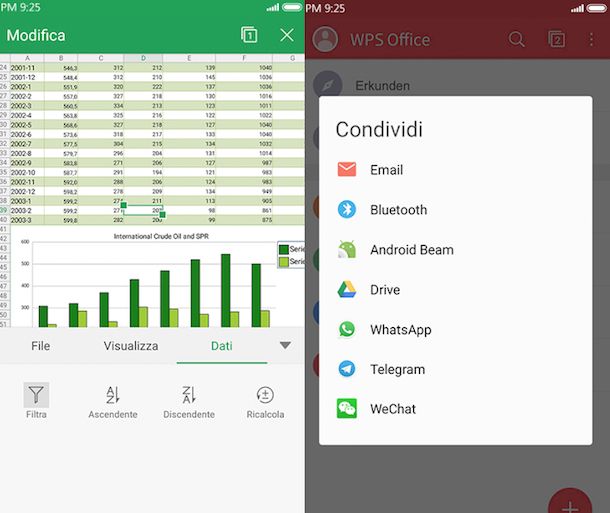 If you are looking for an alternative to PowerPoint for your smartphone or for your tablet you can download WPS Office. This is a truly reliable and well-made free suite that, of course, includes a solution not very dissimilar to PowerPoint.
To download WPS Office for iPhone or iPad click here directly from your iDevice, while if you need to download the version of the app for Android smartphones and tablets you can click here.