You have just formatted your computer and you have noticed that unfortunately you no longer have the installation CD of Office? Have you recently purchased a new PC and need the well-known Microsoft productivity suite? Regardless of what situation you are currently in, know that in both cases it is possible to deal with it. How? Well, simple: going to download Office. If you are actually interested in the matter, read the following lines and you will see that in no time you will understand how to do it. Before indicating all the various steps to be carried out, however, it seems necessary to make a clarification. Office is currently distributed in two different versions:
Office Home & Student - you buy it by paying for the license of the one-time program - with prices starting from 149 euros. It is compatible with Windows e MacOS but there is no free trial period.
Office 365 - It is available for both Windows that for MacOS and it is a subscription service - it has a price of 7,00 euros or 10,00 euros per month (depending on the plan subscribed) - which includes all the applications of the suite plus 1TB of space on OneDrive and 60 minutes of conversations Skype monthly. The 10 euro / month version can be tried for free for 30 days with no renewal obligation.
Considering that Office 365 offers a free trial period, after which it is possible to decide whether to subscribe to continue using the suite, I suggest you start downloading Office for free and then evaluate whether it is actually the case or not - based on your actual needs and requirements - to proceed with the purchase. Find out how to proceed below. Happy reading and happy downloading!
How to Download Office for Free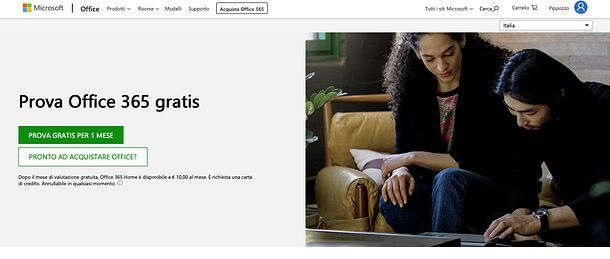 The first step you need to take for download Office on your computer, be it a Windows PC or a Mac, is to connect to the Office website and click on the button Try free for 1 month. At this point, log in to your Microsoft account (if you don't have one yet, follow my guide on the subject) and click on the button forward to confirm that you want to activate the 30-day free trial Office 365 Home (which after the trial costs 10 euros / month).
Once this is done, choose a valid payment method between credit or debit card, direct debit e PayPal, enter the relevant data (or, in the case of PayPal, log in to your account), click on the item Add profile address and fill out the form that is proposed to you with the data relating to your address.
At this point, click on the buttons forward e Save, verify that all the data you have entered are correct and, if so, click on the button Subscribe to confirm your subscription and proceed with the Office download.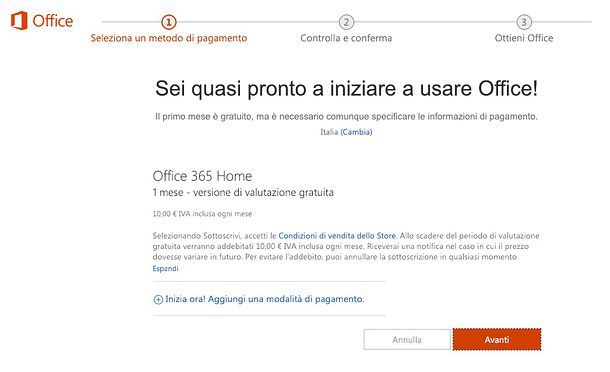 If you use a Poppy, you can also download Office 365 from the Mac App Store using this link. Alternatively, you can individually download Word, Excel, PowerPoint, Outlook, OneNote and OneDrive by visiting the links I just provided you by clicking on the button See in the Mac App Store, by your complaint Get (in the Mac App Store, which has opened in the meantime) and typing your Apple ID password (or using the touch ID, if your Mac supports Touch ID).
Once the Office download is complete, start the suite installation package and wait for all the components of the suite to be downloaded and installed automatically: it may take several minutes.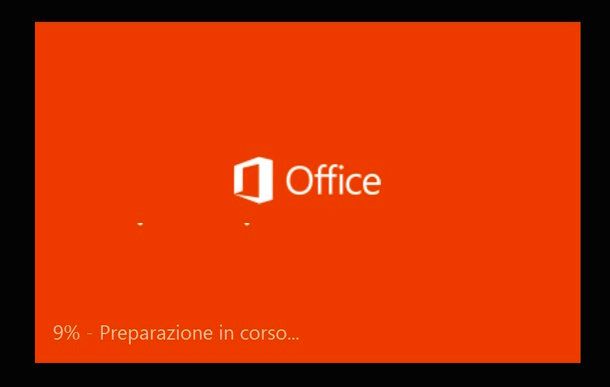 Once the Office installation is complete, you can start using Microsoft's productivity suite by starting it directly from the menu Start (on Windows) or from Launchpad or dalla cartella Applications (on macOS). When you start Office for the first time, remember to enter your Microsoft account data when prompted in order to activate the 30-day free trial period.
If you think you want to stop using the suite once the free trial period has elapsed, remember to deactivate the automatic renewal of the subscription before it expires otherwise you will be charged for the subscription of the service! You can do this by connecting to the appropriate Web page attached to the Office website via the link I have just indicated. If, on the other hand, you decide you want to continue using Office and therefore pay the subscription, do absolutely nothing, as already mentioned it will be renewed automatically at the end of the free trial period (at 10 euros / month).
How to Download Office on Smartphones and Tablets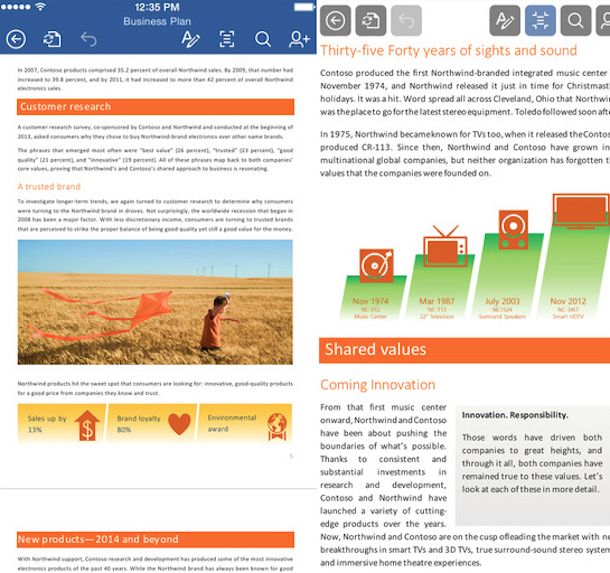 If you are using a smartphone or tablet based on Android or if you have a device iOS know that you can download Office and use Microsoft's productivity suite directly on the go. For both platforms, Microsoft has in fact made the Word, Excel, Power point, Outlook, OneNote e OneDrive, all downloadable for free and without time limits, as long as you have a device of a size equal to or less than 10.1 ?. For larger devices, an Office 365 subscription is required.
If you want to download Office on your smartphone or tablet Android, you can turn to the free applications of Word, Excel, PowerPoint, Outlook, OneNote and OneDrive or to the all-in-one Microsoft Office application, always free, which allows you to view and create Word, Excel and PowerPoint documents. To install them, launch the Play Store (the white bag icon with the "play" symbol in the center), search for one of the aforementioned names using the appropriate bar at the top and first press the icon of the application you want to download and then on the buttons Install e Accept.
If you want to download Microsoft Office on your iOS device instead, open theApp Store (the blue icon with the "A" in the center you see on the home screen) and search for Word, Excel, PowerPoint, Outlook, OneDrive, OneNote or the all-in-one Office app. Then press the button Ottieni / Installa and wait for the app to be downloaded first and then installed on your device. You may be prompted to verify your identity with Face ID, Touch ID, or by typing your Apple ID password to complete the operation.
Alternative a Office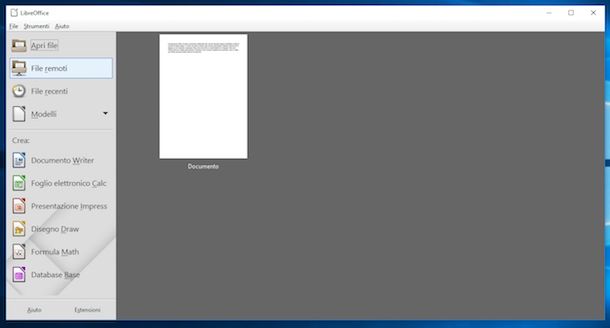 Maybe you were not aware of it but you should know that in addition to Office there are also totally free alternatives able to offer tools almost similar to those of the Microsoft productivity suite. Instead of downloading Office you can, for example, turn to LibreOffice, to OpenOffice or, in the case of smartphones and tablets, a WPS Office. Find more details below.
LibreOffice - It is available for Windows, macOS and Linux, it is completely in Italian (orotographic corrector included), it is very simple to use and, in order not to miss anything, it also allows you to edit PDF files. To download it, connect to the official website of the suite via the link I just fake, then click on the button Download now and then Download version xx. To learn more, read my tutorial on how to download LibreOffice.
OpenOffice - This is an office suite very similar to LibreOffice (as it is derived from its source code) and includes software for word processing, for processing spreadsheets, for creating presentations, for creating databases and for creating printable documents. OpenOffice is also available for all major operating systems. To download it, connect to the suite's official website using the link I just indicated, then click on the item download for free present on the green button in the center of the screen, click on the button Download full version (recommended) and wait for the program download to start. More details are available in my tutorial on how to download OpenOffice.
WPS Office - It's a really reliable and well done free suite for mobile devices. You can download it both on Android presses here and on iOS through the links I just indicated.