Photoshop is without a doubt the most popular and appreciated photo editing program in the world. The famous Adobe branded software is in fact particularly loved by both professionals and those who deal with graphics for mere pleasure. As is well known, Photoshop falls into the category of paid programs, which is why, in order to use it, it is necessary to pay a fee to Adobe. However, there is a solution, completely legal and recognized by the software house itself, thanks to which it is possible to download PHOTOSHOP freely in English.
No, don't worry, this is not a hoax. Downloading Photoshop for free in Italian is possible, and how! But let's clarify one point right away: when I talk about the possibility of downloading Photoshop for free in Italian I am referring to trial version of the program, which can be used without spending even a cent for 7 days, after which you have to decide whether to stop using the software (and possibly switch to a totally free alternative) or whether to sign up for a subscription Creative Cloud (which has a minimum price of 12,19 euro / month) and continue using the software.
Having made this necessary clarification, if you are really interested in finding out what you need to download Photoshop for free in Italian I suggest you get comfortable in front of your computer, take a few minutes of free time and devote yourself to reading this tutorial. You will see that in the end you will agree with me that downloading Photoshop for free in Italian was not a joke at all. Are you ready? Yes? Very well, then let's ban the chatter and proceed.
Download Free Photoshop in Italian on Your Computer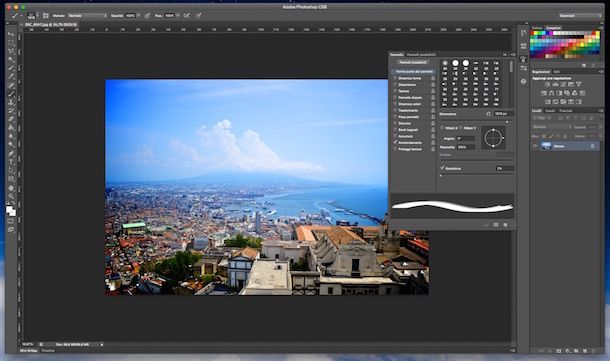 If you want to download free Photoshop in Italian as a trial version on PC Windows or on MacOS the first thing you need to do is create a free account on Adobe's cloud platform. To do this, click here so that we can connect to the official Adobe website through which you can download the program. Next, press on the voice Free trial version which is located at the top right.
On the page that will open at this point, indicate, using the three drop-down menus located in the center of the screen, your level of competence in using Photoshop, your occupation and the reason for which you want to download the software. Then click on the button Sign up for an Adobe ID and create a free account on the Adobe online platform by filling out the form that is proposed to you. Then indicate your name, your surname, your e-mail address, the password you intend to use for the Adobe ID you are about to create, your country of residence and your date of birth. Also remember to put a check mark next to the item I have read and accept the Terms of Use and the Privacy Policy, then click the button Registration.
Once the registration procedure is complete, the download of Creative Cloud, the software that allows you to download and manage all programs belonging to Adobe's Creative Cloud range (including Photoshop).
When the download is complete, if you have a PC with Windows installed, start the file CreativeCloudSet-Up.exepiggy back his Yes and wait for the program installation process to be completed automatically.
If, on the other hand, you have a Mac, instead of a file in .exe format you'll find yourself dealing with a file in .dmg format. Click on it twice consecutively, then double-click on the Creative Cloud icon attached to the window that opened on the desktop to start the program installation procedure.
Once Creative Cloud installation is complete, log in to the software using your Adobe ID information, click Continue, to accept the terms of use of Adobe services and the Photoshop trial, then wait for the latter to be downloaded and installed on your computer. Keep in mind that since it is a fairly "full-bodied" software, the operation could go on for quite a while (we are talking about about 800 MB of data to download).
After the download and installation are complete, Photoshop will start automatically and you can start using it freely for 7 days.
Now that you have downloaded Photoshop for free in Italian you can finally start having fun with the famous photo editing software. In this regard, I suggest you read my guide on how to use Photoshop to find out how to use this famous program in the best way.
Do not forget that despite having managed to download Photoshop for free in Italian, in order to continue using the program at the end of the trial month you will have to subscribe to a paid subscription by selecting one of the available plans. In that case, don't worry, you won't have to download Photoshop again. In fact, just click here to connect to the Adobe web page through which to select the type of subscription plan. Choose the plan that best suits your needs and then follow the appropriate subscription procedure.
Download Photoshop for Free in Italian on Smartphones and Tablets
Instead of downloading Photoshop for free in Italian on your computer, would you like to use the famous photo editing program on your smartphone or tablet? Yes? Well, know that you have various possibilities at your disposal.
Adobe Photoshop (iPadOS)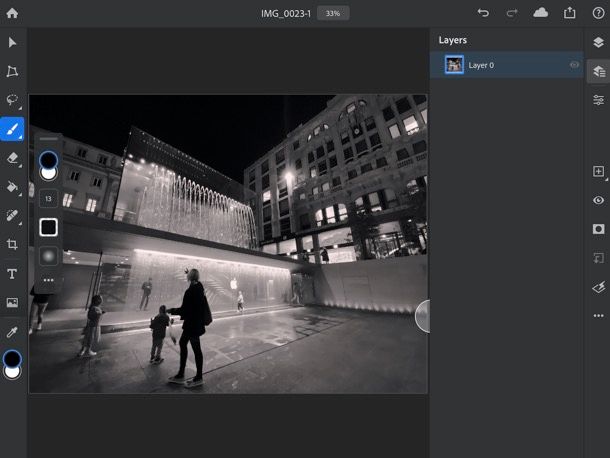 If you use a iPad, you will be pleased to know that Adobe has released a version of its popular photo editing software optimized for the Apple tablet, which includes almost all the features of the desktop counterpart.
Photoshop for iPad can be downloaded directly from the App Store. The download is free, however, after the first month of trial, to continue using it, you need to subscribe to a subscription of 10,99 euros / month.
Once you've downloaded Photoshop from the App Store, you need to log in with an account to use it Adobe, Apple, Google o Facebook: then press the button corresponding to the service you want to use and follow the instructions on the screen to access. Once this is done, click on the button Start 1 month free trial, to activate the free 30-day trial.
You will need to confirm the operation via Face ID, Touch ID or entering the Apple ID password. Subsequently, to deactivate the automatic renewal of the subscription, you will have to go to the menu Settings> iTunes Store and App Store> Apple ID: [your email address]> View Apple ID> Subscriptions> Photoshop on the iPad and you will have to press on the item Cancel subscription.
That said, the interface of Photoshop for iPad is extremely intuitive: at the bottom left, you find the options to create a new image (Create new) or open an existing one from the Gallery (Import and open). Once you have started creating the project, you will then find yourself in the presence of the "usual" Photoshop with, on the left, the buttons with the editing tools and, on the right, those for managing layers, layer masks, etc.
To export the photos (which are still automatically saved on the Adobe cloud, which makes 100GB of storage space available to each user), press the icon with the square and arrow collocata in alto a destra e scegli l'opzione Publish and export from the menu that opens. You will then be able to choose the output format and the app in which to save the file.
Photoshop Express (Android/iOS/iPadOS)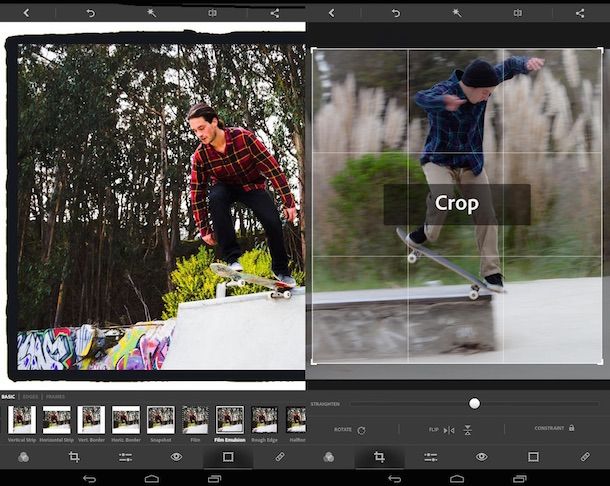 if you own a smartphone or tablet Android, a iPhone or iPad or a cell phone Windows Phone it's possible! Now I'll explain everything in detail.
If you want to use Photoshop directly from your mobile device without spending a penny to start take a look at Photoshop Express. Yes, it is a free application that offers in-app purchases and allows you to retouch photos. The application has very limited functions compared to the computer version of Photoshop but is still a valid tool for editing photos and images on the go.
You can download Photoshop Express for iPhone and iPad by pressing here directly from your device while to download the app for Android smartphones and tablets, just press here. If, on the other hand, you have a Windows Phone-based device, you can download the app by tapping here.
Photoshop Mix (Android/iOS/iPadOS)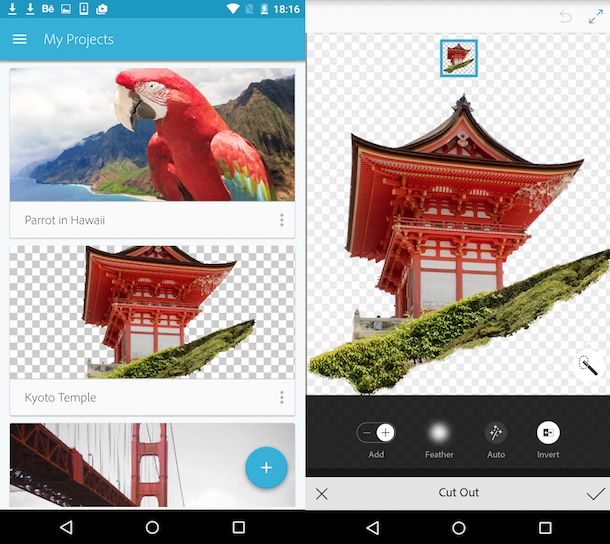 If, on the other hand, you have an Adobe ID, you can consider Photoshop Mix: it is a free application that includes many functions also present in the computer version of Photoshop. If you choose to use this application, however, keep in mind that in order to use it you will need to have an Internet connection that is always active.
You can download the app on your Android smartphone or tablet by tapping here or you can download it on iPhone and iPad by pressing here. As for Windows Phone, I'm sorry, at the moment the app is not available for devices based on the Microsoft mobile operating system.
Alternative a Photoshop
Now let's see some alternative to Photoshop, among the most valid that can be found currently.
GIMP (Windows / MacOS / Linux)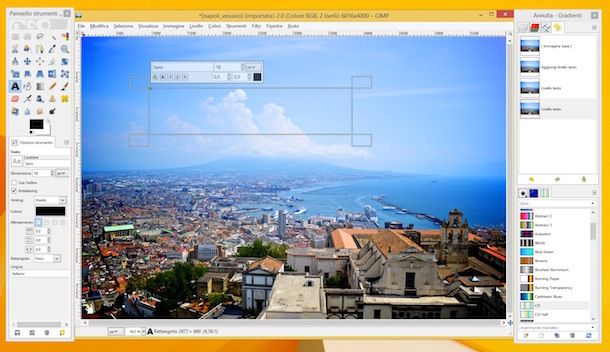 You proceeded to download Photoshop for free in Italian but the trial period is over and, instead of paying to continue using the software, would you like to understand if there is some free alternative at no cost? If that's the case I suggest you move on to GIMP. Give me a few more minutes of your precious free time and I will explain what it is and what you need to do to be able to use it.
To begin with, I want to specify what we are talking about. GIMP is a free and open source photo editing application available for Windows, macOS and Linux that does not offer all the advanced features of Photoshop but which can represent an excellent alternative at no cost to the famous Adobe program for those who have no needs professional type. The program is also very simple to use and is fully translated into Italian. Better than this?
To download GIMP to your computer, click here so that you can connect to the main web page of the software, then click on the item Download 2.x.x and then click on the orange button to start the procedure by which to download the software.
Once the download is complete, if you are using a PC with Windows installed, double-click on the file you just downloaded to start installing the software. In the window that opens, click first Yes and then OK, Install e end, to complete the installation process. If, on the other hand, you are using a Mac, open the package in .dmg containing it and extract the contents into the folder Applications say macOS.
Once the program installation procedure has also been completed, if you are using Windows, wait for GIMP to start while if you are using macOS, access the Launchpad, click on the program icon and press the button apri attached to the window you see appear on the screen.
At this point you will finally see the main screen of the program appear. GIMP's user interface is pretty simple to use and is very reminiscent of Photoshop's.
On the left side of the screen, you will find the toolbar with brushes, the color palette, the tools for selecting photos (lasso, rectangular selection, etc.) and other photo editing functions such as gradient, brightness / color increase, eraser. delete and so on. On the right side, instead, there are the panels for the management of the layers (through which to create, delete, apply blending styles and manage the layers at 360 degrees) and brushes (to change the shapes of the available brushes). In the central part of the program screen you will find, instead, the images to be modified with, at the top, the menus to apply filters and effects to them.
If you need more details about how GIMP works, take a look at my guide on how to use GIMP through which I have explained to you in detail how the software works.
Other Software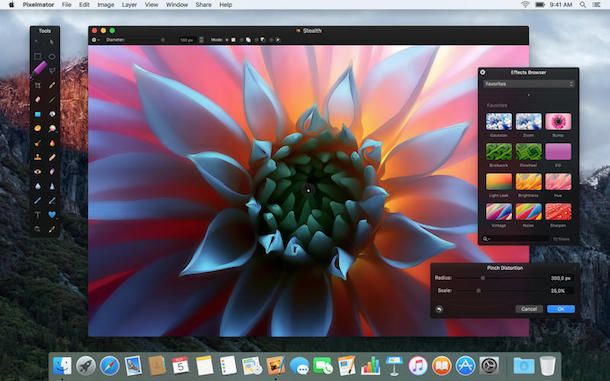 If, on the other hand, GIMP has not thrilled you and you are still looking for a free alternative to Photoshop, I suggest you consult my tutorial on programs to edit photos in which I have proceeded to point out to you all what in my humble opinion represent the best. software currently present on the square thanks to which to carry out the main photo editing operations.
You can also find more interesting solutions by consulting my guide on programs to improve photos. Of course, it won't be like downloading Photoshop for free in Italian but, even in this case, if you don't have professional needs, they certainly deserve to be taken into consideration.