You do not currently have the option to purchase a paid video game. You are therefore looking for solutions to play free titles, which may not require the installation of additional software (to avoid filling your PC with icons, services and programs that could prove useless). You've done some web searches, but to no avail. But then you came across this guide of mine.
Well done! Given this premise, you will be happy to know that, in the guide you are about to read, you will find various information on how to download free games for pc without programs, regardless of the operating system running on your computer. I'll tell you about some services already present on both Windows and macOS and all the other possibilities that can help you achieve your goal.
Courage: sit comfortably and dedicate a few minutes of your free time to read the tips you will find in the next paragraphs. I'm sure, by the end of reading, you will have found some free games to download to your computer. Are you ready? Very well! All I have to do is wish you a good read and, above all, a good time!
Index
Microsoft Store
Mac App Store
GOG
Archive.org
Other solutions
Microsoft Store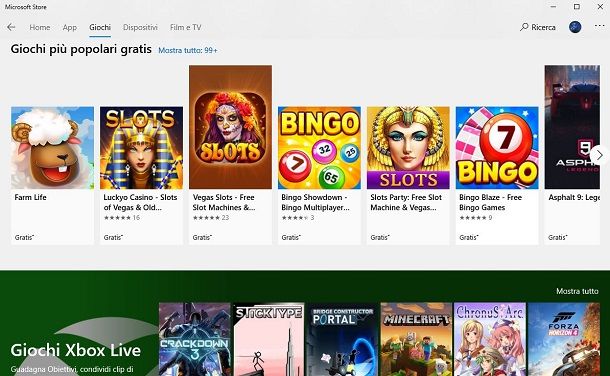 If you own a computer equipped with Windows 10, you can download many free games through the Microsoft Store. If you are not familiar with this Windows tool, you should know that it is a virtual store designed to download applications and games that do not require any installation procedure, as this happens automatically, as you are used to on smartphones and tablets.
To use the Microsoft Store, simply click on theicon with shopping bag that you find in taskbar, in the menu Start, or you have to type "microsoft store " in the search bar of Cortana. After launching the Windows store, select the tab Giochi and scroll the screen until you find the category Giochi più popolari free. At this point, click on the wording Show all to expand the view and consult the list of the many games available for free download.
The catalog consists of games of all types: card games, racing, adventure, puzzle, strategy, simulation and much more. Just to give you some examples, you can find the famous one Fallout Shelter, the classic games of Microsoft, as Sudoku, Lonely o Mahjong, or the famous racing game Asphalt.
When you have chosen the title you want to download, click on the button Get and wait for the download and installation to complete. When finished, tap on Play, but I will start giocare.
If you haven't yet added a Microsoft account to the store, when you press the button Get you will be prompted, through a specific screen, to log in to use the game on other devices as well. If this option is not of interest to you, click the button No thanks and wait for the game to download. If not, press the button Log in and enter your Microsoft account credentials. If you don't have one, I suggest you read my guide dedicated to this topic.
Mac App Store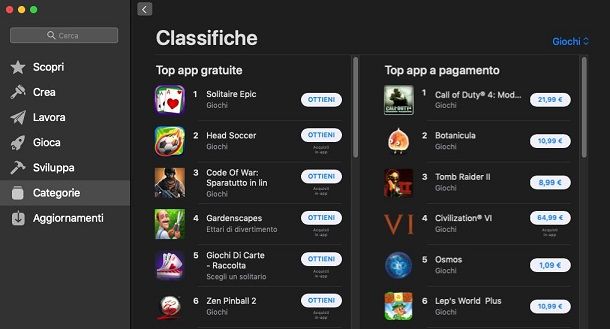 If you use a computer with MacOS, you have the Mac App Store, the virtual store of Macs to download and install applications and video games, both free and paid. To use this macOS service, just start the Mac App Store via its icon with a stylized "A" and, on the main screen, click on the items Categories > Giochi.
Once this is done, scroll down the screen and locate the section Top free and press on the wording Complete list. By doing so, you will be shown a list, on the left, containing hundreds of free video games to download. You just have to click the button Get alongside and confirm the procedure using the key Install.
You may be asked to verify your identity by entering your Apple ID password or Touch ID (if you have a MacBook Pro or Air equipped with this component). Easy, right? If you're asked to sign in with your Apple ID, please do so. If you don't have an ID of this type yet, create it following my tutorial dedicated to the topic.
GOG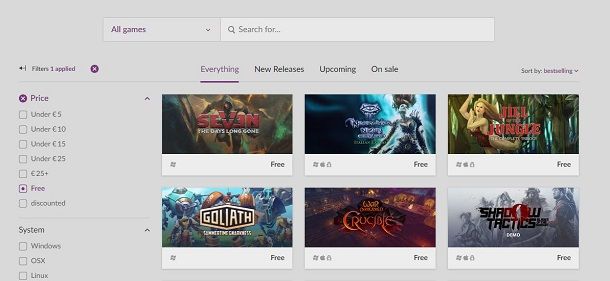 Another resource that allows you to download free games without using programs, valid on different operating systems, is the one offered by GOG. If you don't know it, GOG is a virtual shop that distributes free and paid video games without DRM, that is systems for the protection of copyright.
If you are interested in this platform, I recommend that you reach its official website and create a free account. After reaching the link I have provided, click on the items Sign in > Create Account, located at the top, and fill out the form on the screen that is shown to you. Then type a nickname of your imagination, yours e-mail password you want to use to access the service and then put the check mark in the boxes that follow, then pressing the button Sign up now.
Adesso, click on the button Store present in the menu bar, top left, and put a check mark in the box Free, which you find in the sidebar. By doing so, you will be shown a list of completely free video games that you can download to your computer: after identifying the one you prefer, click on it and press the button Add to cart.
At this point, press the button Check out now and, in the new section you were redirected to, click the button Pay for your order now. Since the cost of the product is nil, no payment method will be required and the video game will be immediately added to your GOG library.
To download the game, click the username that you find in the menu bar at the top and, in the box you see, select the item GAMES. Then choose the video game and press on the wording below Download offline backup game installers: by doing so, some files will be shown to download, useful for installing the video game. In case this is cross-platform, compatible installation files will be displayed based on the operating system used on the computer.
Just to inform you, GOG periodically gives away paid video games for a short amount of time. What I advise you to do is periodically visit the site and / or activate all the boxes proposed during the account registration phase, useful for receiving communications in the event of discounts or promotions of this type.
Archive.org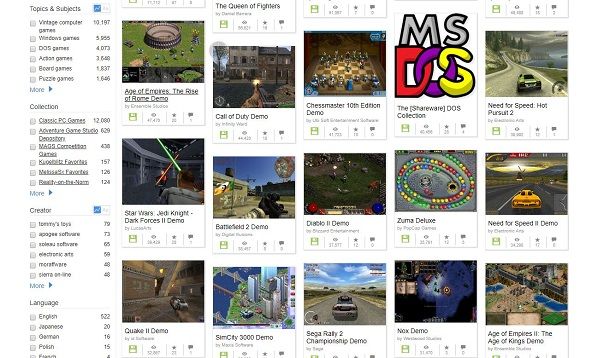 If you are nostalgic for video games for MS-DOS, titles for old versions of Windows or early trial versions of some old games, Archive.org is the web portal for you. Inside, in fact, there is a vast archive for different categories of digital material, such as video games.
If you are interested in this service, which is completely free, go to the link I gave you a moment ago and click onicon with a diskette that you find at the top, in the menu bar. In the screen you see, then select the items MS-DOS Games or Classic PC Games.
Once this is done, in the list that is shown to you, select a game you prefer and press on the wording Windows Executable, which you find in the box Download options, on the right: this will start downloading the files needed to run the game on your PC.
However, I warn you that some games are so old that you may have problems running on recent operating systems, such as Windows 10. Some, however, may not be available for download to be played directly in streaming, via browser.
Other Solutions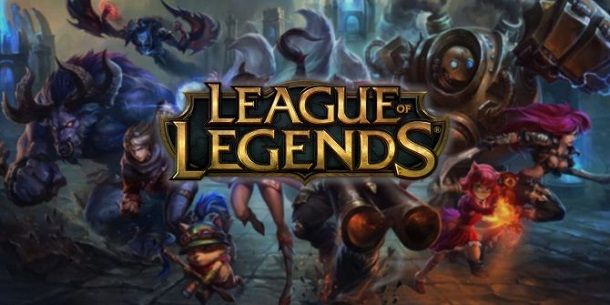 In addition to the solutions proposed above, there are also some video games that are available for free download directly from the respective manufacturers' websites. These video games, in general, belong to the multiplayer category and plan to be played completely free with a store inside them to perform micro transactions on virtual objects and services.
An example are i MOBA, as league of legends, downloadable for free without the need for additional software directly from the official website. If you want to know more about this video game and how to download it, I suggest you read my guide dedicated to this topic.
Another type of multiplayer video games are those Shooter, as Fortnite, also downloadable from the official website. Again, I recommend that you read my guide on how to download Fortnite.
Finally, considering the different types of free online video games, I want to point out the genre MMO. Video games of this type are often distributed for free with non-mandatory micro transactions. There are several, such as Aion or Tera, but what I recommend is to search the web using the terms mmo free to play. If so, you can check out my guide on the best MMORPGs.