Are you an avid player of Clash of Clans and you often use your smartphone or tablet to enjoy this popular strategy game. However, if you are here now and are reading this guide, it seems clear to me that you would like to find a way to enjoy this famous title, playing it from the comfort of your PC.
How do you say? This is exactly how things are and would you like to understand if I can help you? Well, of course you do, don't worry! With today's guide I will, in fact, explain to you How download Clash of Clans on PC and, consequently, how to play this famous video game, using the screen and keyboard of your multimedia station. Before you can misunderstand my words, however, it is good to clarify a fundamental point immediately. In fact, as things currently stand, Clash of Clans is a game officially available only and exclusively for Android and iOS mobile devices. Nevertheless, by using a special cross-platform program that emulates the Android operating system on a computer, you can download and then play Clash of Clans on Windows and macOS.
Having made this necessary premise, if it is therefore your intention to find out what needs to be done to succeed, I suggest you take a few minutes of free time and dedicate yourself to reading this guide. I am sure that, in the end, you will be able to tell yourself more than satisfied and that you will also be happy to explain it to all your friends who are eager to receive a similar tip. Let it bet? I wish you a good read and, above all, a good time!
Download and Install BlueStacks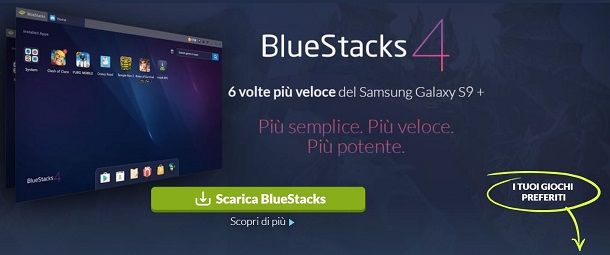 As I told you, Clash of Clans is not a game available for computer. To be able to use it on your computer you must therefore resort to the use of an Android emulator, such as for example BlueStacks. Haven't you ever heard of it? No problem, I'll "enlighten" you right away. It is a free program for Windows and macOS that allows you to run most of the apps and games available for Android directly on your computer.
BlueStacks is one of the most famous and appreciated Android emulators and is considered by most as a program particularly optimized for gaming. Also, as mentioned, it is free, although it features several advertisements that come in the form of recommendations for downloading applications and sponsored games. If you want to remove them you have to take out a subscription: the price is 4 $ / month or 40 $ / year.
That said, if your intent is to download Clash of Clans on PC, the first step is to download and install the emulator on your Windows computer or Mac in your possession.
To do this, first connect to the official web page of the emulator, then press the button first Download BlueStacks you see on the screen, and then on Download, then wait a few moments for the download of the executable file to be started and completed.
When the download is complete, go on Windows, open the obtained file (.exe) to start the program installation. Then click first Si in the user account control window and finally press on Install Ora and then Complete. The procedure has been greatly simplified with the latest update of the emulator and, at the end of the installation, BlueStacks will start automatically.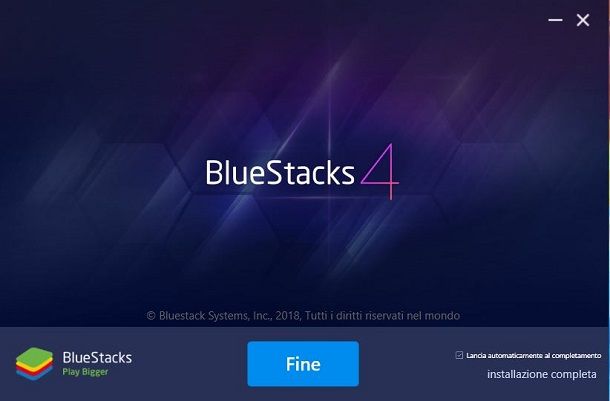 To install BlueStacks on MacOSinstead, get the file.dmg from the official website and start it, by double clicking. Now, click on the icon BlueStacks, to start its installer and, if prompted, click the button apri, to consent to its opening.
Then tap on the items Continuation and Install, enter the Mac admin password (i.e. the one you use to log in to it) and then click the button Install Assistant. Once this is done, in case you are prompted, click on the wording Apri the system preference.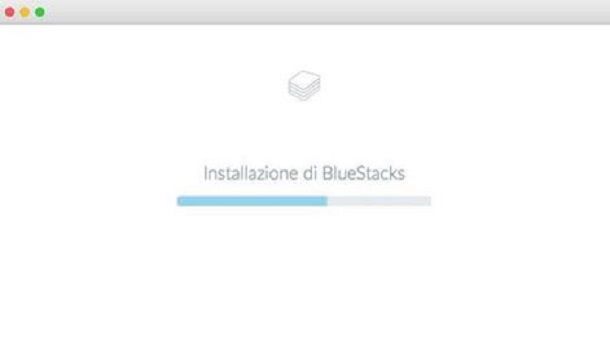 In this case you have to act through the settings panel of the Mac: first press on Allow e poi sull'icona del padlock which is located at the bottom left. Once this is done, finish installing BlueStacks your macOS, typing raw the password on the Mac and then pressing on Unlock.
Configure BlueStacks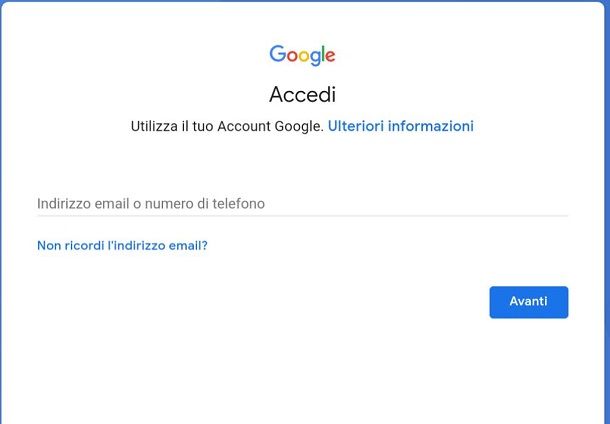 Once installation is complete, as mentioned, the software will start automatically. Once you see the main window of the program, be patient another minute, as you have to pair BlueStacks to your Google account, by logging in, so you can then download Clash of Clans via the Play Store. Keep in mind that the configuration procedures I'm about to show you are the same for both Windows and macOS.
When the program has started, press the button Start, in order to see on the screen the text fields where to type theemail address and password referring to your account. Once this is done, press the buttons forward e Accept to allow BlueStacks to access your account. After logging in, click Get started with BlueStacks, in order to finish configuring the emulator.
If, on the other hand, you do not have a Google account, before carrying out the steps I have just indicated, create one, following the instructions I gave you in my tutorial on how to create Google account.
Play Clash of Clans on PC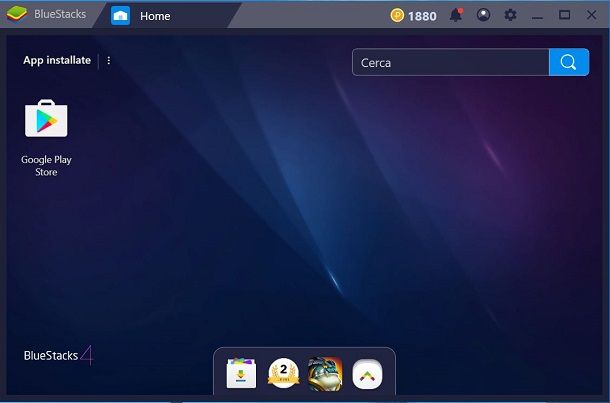 Once you have done all the steps above, you can finally proceed with the actual installation of Clash of Clans. First click the del icon Google Play Store attached to the main screen (Home).
Once the PlayStore of Android, select the tab Apps and games that you find at the top and scroll until you find the game in the main screen, that is the one where all the games and apps in the PlayStore are visible. From the moment it is a flagship game, it will definitely be visible in one of the featured sections.
In case you find it difficult to locate it, you can search for it manually. To do this, all you have to do is type clash of clans, in the search field at the top, and press Submit on the keyboard. Next, click on the game tab shown as the search result and click on the green button Install.
Once the download and installation of Clash of Clans (both occur automatically), press the button apri visible on the screen, and wait for the title to start similarly to what happens on smartphones and tablets. Within a few moments you will be able to view the game screen and you can immediately start enjoying the game, using your computer's monitor and keyboard. Beautiful, is not it?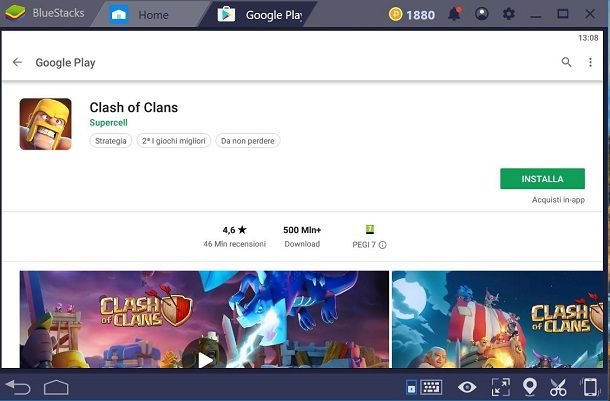 Please note that you will also be able to play from now on Clash of Clans on PC by simply double clicking on the game icon that has been added to the main screen of BlueStacks (Home). A bit like what happens on real Android devices, when you download and install a new application.
Note: To be able to play Clash of Clans on the computer it is essential that the latter is connected to the Internet and that the connection in use is actually active and functioning. Clash of Clans is, in fact, a game that, in order to work, requires an Internet connection: it is an essential prerogative both in the case in which the game is run on smartphones and tablets, and if it is run on a computer.
Alternative Solutions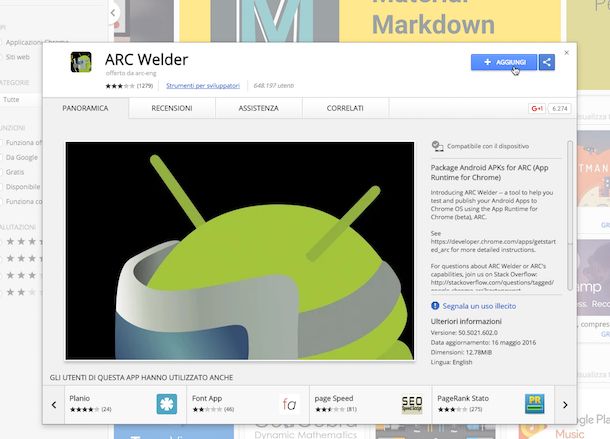 The use of BlueStacks you are not particularly excited, and are you therefore looking for some other emulator that allows you to install Clash of Clans on PC? In this case, take a look at my tutorial dedicated to Android emulators in which, in fact, I have proceeded to show you further interesting solutions, such as the use of the emulator memu, thanks to which it is possible to replicate the experience of using the Google mobile platform on a computer and, consequently, have fun with the famous strategy game in question directly from the PC.
If, on the other hand, you have no intention of using various and any emulators on your computer, instead of downloading Clash of Clans on PC you could try to turn to one or more of the various alternatives playable directly on Windows. If that interests you, you can read my guide on PC strategy games.
There are also a lot of interesting alternatives that can be used directly from the browser. To find out more, read my tutorial on online strategy games now, you will see that you will not regret it.