Would you like to create an application for Windows Phone 8 through which to promote your website but you don't have advanced knowledge in terms of programming? Don't despair. You too can create an app for Microsoft's operating system.
All you have to do is turn to a simplified solution that allows you to develop an application using a wizard, without typing a single line of code. It exists, and it is even free. If you want to know what it is and you want to learn how to develop apps for windows phone using it, read on.
Be vuoi scoprire how to develop apps for windows phone and you are not very familiar with programming languages, I recommend you take a look at Windows Phone App Studio. This is a free online service offered by Microsoft that allows you to create applications for Windows Phone 8 in an extremely simple way (without writing a single line of code) by acting directly from the browser. It has various pre-set templates from which to start to create your own app and a very convenient wizard to create a totally new application from scratch.
To use Windows Phone App Studio, linked to this page, click on the button Start building and log in to the service using your Microsoft account information (Outlook.com/Hotmail). Subsequently, agree to link your account to App Studio by clicking on Yes and confirm your registration to the service by clicking on Sign Up.
On the page that opens, click on the button Create app and choose whether to create an application starting from a preset template (by selecting one of the live tiles located under the heading create an app from a template or whether to create an "empty" app by clicking on the item create an empty app. At this point, you have to type the name of the application you want to create, a brief description of its functions and load its icon (in PNG format) by clicking on the button Logo located at the bottom left. Once the procedure is complete, click on Next to continue developing your project.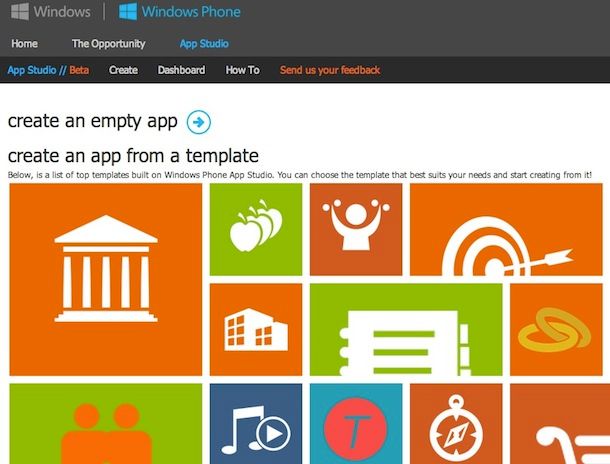 At this point, depending on the choice you made at the beginning (starting from a preset template or creating an empty application) you have to develop app for Windows Phone selecting the items to add in the application.
In the case of the predefined templates, you will already find several objects in the editor (Story, News, etc.) that you will need to customize by clicking on the respective icons. For example, for news pages you can choose the source address of the RSS feeds from which the app must draw the news to be displayed.
In the case of "empty" apps, you have to manually add sections, menus and objects by clicking on the button + located at the top right and selecting the item Add section (to add a section) or entry Add menu (to add a menu) from the menu that appears.
Later, you can edit all the sections and menus added to the application by selecting the items to insert in them: RSS for news from RSS feeds, HTML per elementi in HTML, Bing for Bing searches, and so on.
By going to the tab Configure App Style you can then select the colors and other aesthetic details of the application to make it more appealing from a graphic point of view.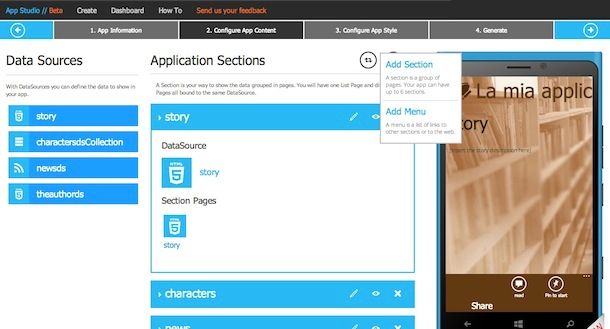 At the end of the creation of your app, go to the tab Generate of Windows Phone App Studio and click on the button Generate app to start creating your installation package. It will take a few minutes, however an email will be sent to you when the process is finished.
You will then have the possibility to download your application and its source code (for use in Visual Studio) on your PC. To install it on your Windows Phone, you will first need to download the platform SDK from this web page, install it on your computer, connect your phone to your PC and open Windows Phone Developer Registration to authorize your account.
To publish your app on the Windows Store, you will need to register a account dev Microsoft following the instructions on this page. The annual fee to be paid to have an account of this type is 37 euros.
If any of the steps are not clear to you, you can see in a practical way how Windows Phone App Studio works thanks to one of the many video tutorials available on YouTube. When you feel ready to go deeper into the topic, I suggest you take a look at the HTML.it guide that explains how to develop applications for Windows Phone in Visual Studio.