After several weeks of inactivity, have you decided to cancel your Yahoo account but are not sure how to proceed? Don't worry, I'm here to help you if you want. Below you will find all the necessary steps a delete Yahoo account definitively. This way you can deactivate your Yahoo!, Flickr and Yahoo! accounts. Mail and you can delete your data (or at least most of them) from the servers of the American company, which in recent months, among other things, has been the protagonist of numerous problems related to the security of its systems.
Fortunately, the procedure for deleting Yahoo accounts is very simple, it takes no more than a few seconds, but as you can easily guess, it has permanent effects. This means that before starting work, so before you permanently unsubscribe from the service, you must check that your account has no important information saved and / or that there are no files that you still need.
How do you say? Have you already checked and there is some data on your account that you still need? Don't despair! You can make a backup of all the content hosted on Yahoo Mail and Flickr by following the instructions I am about to give you: also in this case you will find everything below, so I would say to ban the chatter and take action immediately. You will see, it will take you a few seconds to permanently close your Yahoo account. The actual deletion of data from the company's servers occurs after about 3 months, but you don't have to do anything for this to happen, you just have to be patient and wait.
Preliminary Operation
Deleting a Yahoo account, as already mentioned, involves the removal of all data associated with it. This means that by deleting your account you will also lose any messages you have stored on Yahoo! Mail and the photos you uploaded to Flickr. If you want some advice, before going ahead, take a few minutes of free time and download all the data you still need to your PC.
Backup Photos from Flickr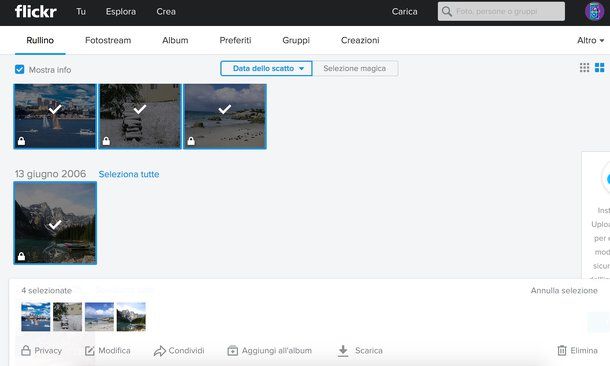 To download photos from your account Flickr, all you have to do is connect to the home page of the service, press on the item Log in located at the top right and log in to the service using the credentials of your Yahoo account.
Once logged in, go to the section Tu of Flickr (the link at the top left), then go to Roll and click on the thumbnails of all the images you want to download. If you want to speed up the selection of photos, click on the item Select all located next to the title of each album / group of photos.
Finally, click on the entry Download that appears below, wait for the zip archive with all your photos to be prepared and download it by clicking on the appropriate button (Download zip) which is displayed in the center of the screen.
Backup Messages from Yahoo! Mail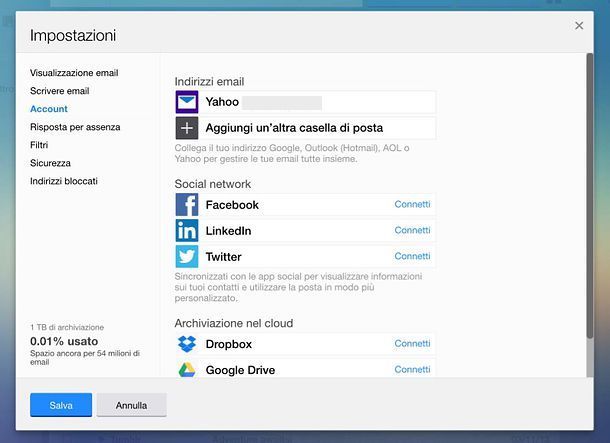 To download emails from Yahoo Mail you have to resort to "do it yourself" solutions, in the sense that Yahoo services do not yet exist that allow direct export of data from the e-mail inbox (as is the case for Gmail, for example) and therefore you need to configure a client external, like Outlook, Mozilla Thunderbird o Apple Mail, to download all data locally. The data to configure the Yahoo! Mail in email clients are as follows.
Incoming mail server (IMAP): imap.mail.yahoo.com, port 993, requires SSL
Outgoing mail server (SMTP): smtp.mail.yahoo.com, port 465 or 587, requires SSL, requires authentication.
Name: [your name]
Account Name or Username: your Yahoo email address.
Email address: your Yahoo email address.
Password: your Yahoo account password.
To set up a new e-mail account in your client, you must choose the appropriate item from the program menu. For example, in Outlook you have to click on the button Fillet which is located at the top left, after which you have to select the item Account settings from the menu Account settings e devi pigiare sul pulsating New present in the card Email.
It was used Thunderbirdinstead, you have to click on the button ≡ located at the top right, you have to go to the menu New message> Existing email account and you must fill in the form that is proposed to you with your Yahoo! Mail.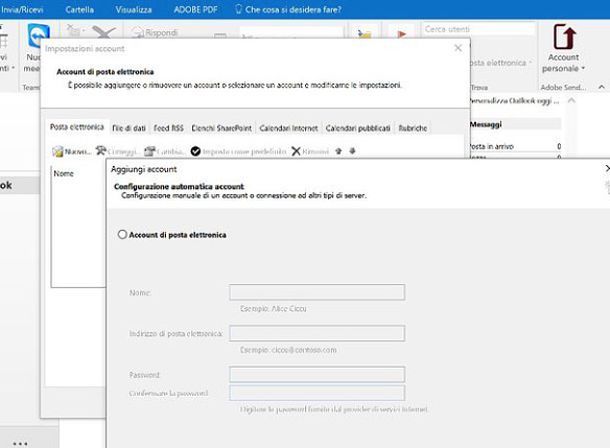 Alternatively, if you prefer, you can set up automatic forwarding of emails on Yahoo! Mail and transfer them to other Web Mail services, such as Gmail.
To turn on Yahoo! Mail to other mailboxes, you must connect to the destination mailbox and enter the Yahoo! IMAP parameters in it. For example, if you want to forward Yahoo! Mail on Gmail, you have to connect to your mailbox on Gmail, you have to click on thegear which is at the top right and you have to select the item Settings give the menu to compare.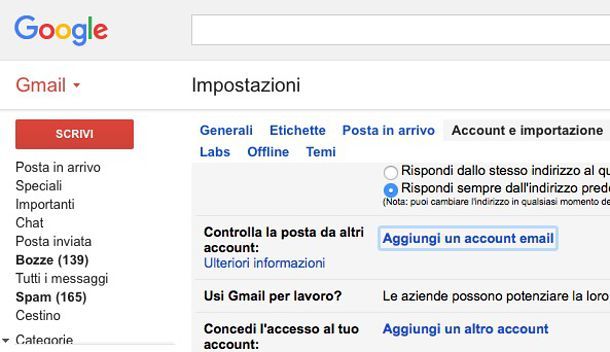 In the screen that opens, you must then move to the tab Account and import, you need to click on the link Add an email account located next to the item Check mail from other accounts and you have to fill in the forms that are proposed to you in order to enter the "coordinates" of the Yahoo! Mail (the ones I gave you earlier for traditional mail clients).
Backup Contacts from Yahoo! Mail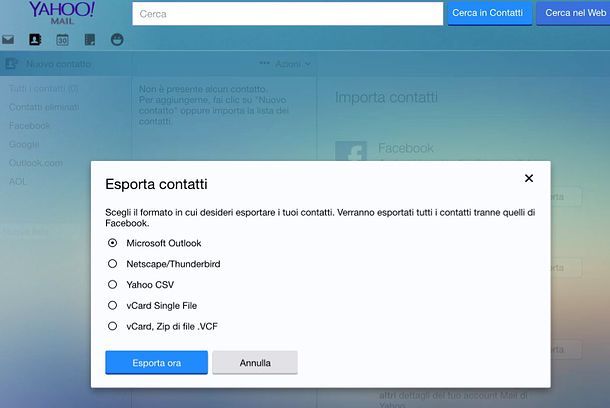 If you have gods contacts in the Yahoo Mail address book and you want to export them to other software or e-mail services, proceed as follows: connect to your mailbox on Yahoo! Mail, click on thelittle man located at the top left, presses the button Actions (in the left column) and select the item Export give the menu to compare.
So choose whether to export the contacts in Microsoft Outlook, Netscape/Thunderbird, Yahoo CSV, vCard Single File o vCard, Zip di file .VCF and click on the button Export now to complete the operation.
Later, you can import your contacts into programs like Outlook, Thunderbird and Apple Mail and / or into Web Mail services like Gmail. To know how, take a look at my tutorials on how to open VCF files, how to import Outlook contacts, how to import contacts to iPhone and how to sync Android phonebook.
Yahoo Account Deletion
Now let's move on to the actual procedure for delete Yahoo account. When you are ready to permanently close your account, click here and you will be automatically redirected to the page where you can submit the request for the cancellation of your account.
Then log in to your account (the one to be deleted), carefully read all the documentation that is proposed to you and, if you are still convinced to leave the service, type the password of your Yahoo account in the field If so, please confirm your identity by entering your password here.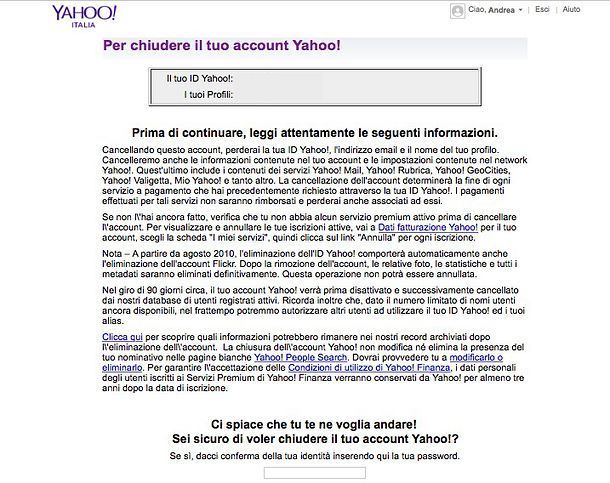 Therefore, copy the confirmation code in the field Enter the code which is at the bottom of the page and presses the button Close my account to complete the account deletion process.
It will take approximately 90 days for the account deletion to take effect and your data to be deleted from Yahoo's servers. For more information on the data that may remain on the company's servers even following the request to remove the account, see the Yahoo privacy policy.
The Best Alternatives to Yahoo!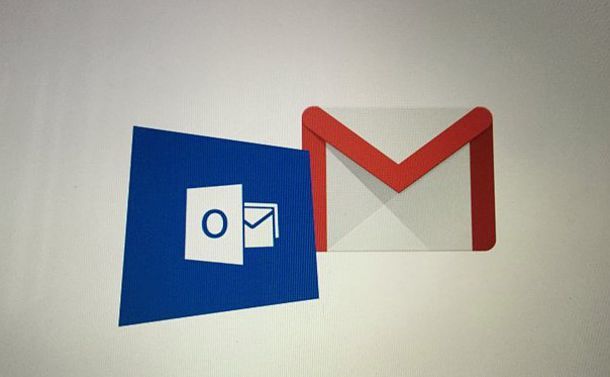 After deleting your Yahoo account, you may need valid alternatives to Yahoo! Mail, Flickr and all the other services offered by the American giant. So here are a series of services that could be right for you and that could help you manage emails, photos and contacts in an optimal way.
Alternative a Yahoo! Mail - luckily for alternatives to Yahoo! Mail there are galore. The most famous that come to my mind are Google's Gmail and Microsoft's Outlook.com, both of which are free, offer lots of space for emails and attachments and allow you to access your mailbox from any location: PC (via browser or email client ), smartphones, tablets and more. In addition to emails, of course, they also allow you to manage the address book with contacts and calendar appointments. If you want to know more, read my tutorials on how to create Gmail emails and how to create Outlook accounts.
Alternative a Flickr - among the best alternatives to Flickr, I absolutely recommend you to try Google Photos. This is an excellent service offered by Google that allows you to store photos and videos online totally free and without space limits (as long as the photos have a maximum resolution of 16MP and the videos a maximum resolution of 1080p). It is accessible directly from PC (you need to set up a special client to upload photos online) and from smartphone / tablet through an app for Android and iOS that automatically synchronizes photos and videos with your online roll.