You just imported a video in MOV format to your computer. Now would you like to convert it to MP4 to make it compatible with some software that doesn't seem to read it correctly, but you don't know how to do it? Don't worry, I'll help you. But first let me clarify a fundamental concept: MOV and MP4 are not two different video formats, they are two containers, within which audio and video streams of various kinds can be hosted. This means that, in theory, the content of a MOV file could be identical to that of an MP4 file making conversion from one format to another unnecessary.
When a MOV file complies with the technical standards of MP4 files, then hosts a video in MPEG-4 / H.264 format and an audio track in AAC format, it is possible to change the container of the file without changing its content, therefore without altering the streams audio and video present inside. This results in an almost instantaneous conversion of the movie and in a zeroing of the risk that there may be loss of quality following the passage from one format to another.
In some cases it is even possible convert MOV to MP4 changing the file extension ... but let's say that this is not a very correct practice from a technical point of view, as each container has a different structure and renaming the files could create a bit of "confusion" in the software that they will go read them. Now, however, let's not get lost in chat further and let's get straight to the point: let's see how to transform MOV videos to MP4 by fully converting their audio / video streams or simply changing their container.
Convertire MOV to MP4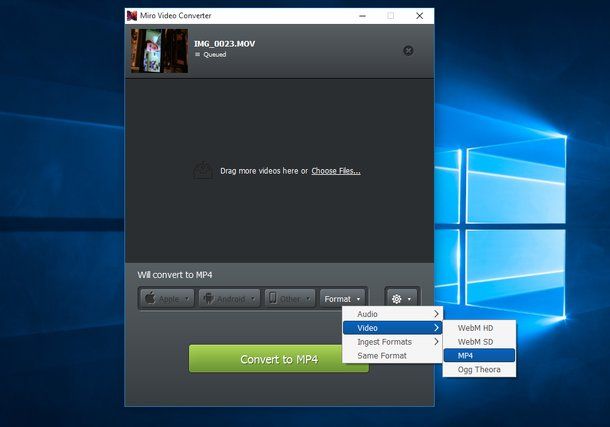 If you want to transform a MOV file to MP4 by converting the audio and video streams contained in it, try Miro Video Converter.
Miro Video Converter is a free and open source software compatible with all major PC operating systems: Windows, Mac OS X and Linux. To download it to your computer, connect to its official website and click on the green button Download Miro Video Converter located in the center of the page.
When the download is complete, open the file MiroConverterSetup.exe that you have just downloaded on your PC and complete the program installation process by clicking on Yes and then install e Finish . If you're using a Mac, open the package instead .dmg that contains the software, drag its icon to the folder Applications of OS X and that's it.
At this point, start Miro Video Converter, drag the MOV files to convert to MP4 in the program window and select the item Video > MP4 from the menu Format (bottom right). Then press the button Convert to MP4 and wait patiently for the conversion to be completed.
If you want, you can also create MP4 files optimized for iPhone, iPad, Android and other portable devices by selecting the appropriate items from the Miro Video Converter menu. The choice is yours, based on what your needs are.
The output videos are saved in a folder named Miro Video Converter located inside the folder Video in Windows or Mac OS X.
Convert MOV to MP4 by Changing the Container Format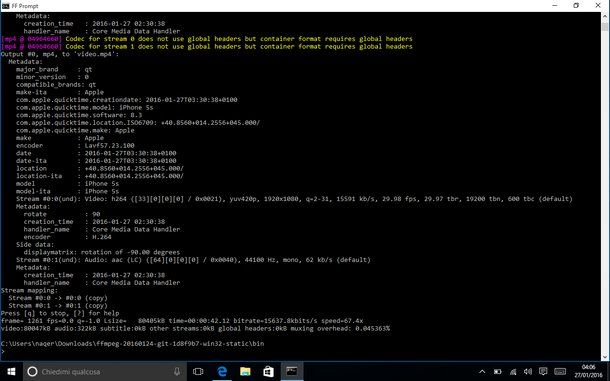 Do MOV files you intend to convert to MP4 include video streams in MPEG-4 / H.264 format and audio tracks in AAC1 format? In this case you can change their container without actually affecting the contents of the file.
To do this you need to download FFmpeg, a free and open source multimedia software that allows you to record, convert and transmit many formats of audio and video files. Unfortunately it is not very easy to use as it works from the command line, but with a little practice you should be able to "handle" it without too many problems.
If you use a Windows PC, download FFmpeg by connecting to this web page and clicking on the first link located under the item 32-bit Downloads or under the heading 64-bit Downloads (depending on the operating system installed on your computer). Then open the 7z archive you just downloaded on your PC (to open the archives in 7z format you can use 7-Zip) and start the executable ffmpeg-dd.exe.
If you are using a Mac, download FFmpeg by installing the Homebrew software on your computer and giving the command brew install ffmpeg from the Terminal. Alternatively, install MacPorts (a Homebrew-like software that allows you to easily configure software packages on your Mac) and download FFmpeg using the sudo port install ffmpeg command from the Terminal.
At this point, no matter what operating system you are using, transform your video container from MOV to MP4 using the following command.
ffmpeg -i [folder and name of the input file] -c copy [folder and name of the output file] .mp4
ex. ffmpeg -i /Users/andrea/Desktop/video.mov -c copy /Users/andrea/Desktop/video.mp4 to convert the video.mov file located in the / Users / andrea / Desktop / folder into the video.mp4 file also located in the / Users / andrea / Desktop / folder.
To make your work easier, you can type ffmpeg -ie then copy the input video into the Windows Command Prompt or Mac Terminal. This will automatically show its full path and name. The "conversion" should only take a few moments.
Convert MOV to MP4 by Renaming the File
In some cases, as mentioned at the beginning of the post, it is possible convert MOV to MP4 by simply changing the extension at the end of the file name. It's not very "elegant", but sometimes it works. If you don't know how to change file extension, check out the tutorial I wrote on the subject.
To find out the video and audio formats included in a MOV file, you can use a software such as Media Info. Attention, during the setup you may be offered some promotional content. Uncheck them all! ↩︎