Do you need to distribute some Word documents via the Internet but before doing so would you like to make them easier to consult even by those who do not have Office or other office suites installed on their computer? If the answer is "yes" let me suggest you convert the files to PDF. By doing this you can make your documents less susceptible to compatibility problems and distribute them knowing that they will be less easily editable than ordinary Word files. How do you say? The idea is great but you don't have a clue how to go about it Convert a Word file into PDF? Well, you don't have to worry… I can give you all the explanations you need.
To be able to convert a Word file to PDF all you have to do is resort to using specific programs for the computer or dedicated online services, the choice is up to you, based on your preferences and needs. In any case do not worry, strictly follow the "tips" I am about to give you and I assure you that you will be able to transform any DOC or DOCX file into PDF in a much faster way than you imagine.
So if you are really interested in finding out what you need to do to convert a Word file to PDF I suggest you take five minutes or so of free time, get comfortable and concentrate carefully on reading this guide. I am sure that in the end you will be able to tell yourself more than satisfied and that if necessary you will also be ready and willing to explain to friends, colleagues and relatives in need of a similar tip how to proceed. What do you say, we bet?
Programs to Convert a Word File to PDF
If you are interested in understanding what needs to be done in order to convert a Word file to PDF and if you are using a computer that has a copy of Microsoft Office you can do everything with the latter. You can eventually succeed "in the enterprise" by using LibreOffice, a software alternative at no cost that allows you to process documents in a similar way to the Office package.
Microsoft Office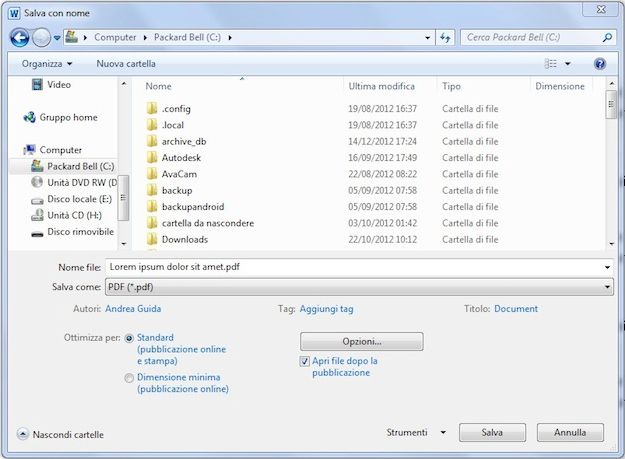 If in recent days you have read my guide on how to download Microsoft Office and now on your computer is installed a version of the famous Microsoft home office suite equal to or higher than the 2010, all you need to do to be able to convert a Word file to PDF is to use Word to open the document to be converted and save it as a new file by selecting the PDF format as the output format. How you do it? It's that simple.
After opening the DOC, DOCX or RTF file normally with Word, you have to click on the button Fillet located at the top left (or on the Office logo, it changes depending on the edition of the program in use) and select the item Save with name from the menu that appears. In newer versions of Word, after clicking on the button Fillet you have to select the item Save and send from the menu that opens and click on the button Create PDF / XPS document.
In the window that opens, choose the folder in which to save the document, select the item PDF give menu to tendin Save eat and click on the button Save to save the selected Word file as a PDF document.
If you need to get a very light document, because maybe you need to email it to a person who doesn't have a particularly fast connection, you can reduce the size of the final PDF to the bone by putting the check mark next to Minimum size before clicking Save.
Keep in mind that Microsoft Office 2007 also allows you to save Word files as PDFs but to do this you must first install the Microsoft Office 2007 Saving in PDF or Microsoft XPS format add-on, which you can obtain by connecting to the appropriate web page of the website of Microsoft accessible by clicking here.
LibreOffice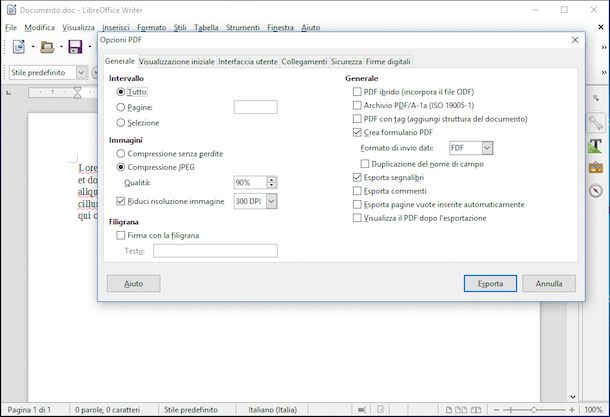 If you don't have a copy of Microsoft Office available, don't worry: you can convert a Word file to PDF also with LibreOffice, a free and open source productivity suite compatible with Windows, Mac OS X and Linux. It includes "standard" programs alternative to Word, Excel, PowerPoint, Access, Publisher and supports all Microsoft Office file formats.
To download LibreOffice to your computer, click here to connect to its official suite website and click the button Download version xx. Then proceed as indicated below.
If you are using a Windows PC, open the suite installation package (eg. LibreOffice_4.3.5_Win_x86.msi) and complete the setup by clicking on first forward twice in a row and then on Install, Yes e end.
If you use a Mac you must also download the language pack to translate LibreOffice into Italian (which in the Windows version is included in the standard installation package) by clicking on the button Translated user interface present on the program website. Installation is very simple: just open the LibreOffice dmg package and drag the app icon into the folder Applications of OS X. Regarding the language pack, you have to open the dmg file of the language pack, right click on the icon LibreOffice Language Pack contained in the latter and select the item apri from the menu that appears. To finish, you have to press the button Install I will select the voice LibreOffice.app from the window that opens.
At this point, start LibreOffice (on Mac you may need to right click on the suite icon and select the entry apri from the menu that appears) and open the DOC / DOCX file you want to transform into PDF by clicking on the item first Fillet located at the top left of the menu bar and then on apri.
Then, go to the menu Fillet di Writer, select the voice Export to PDF format click her cousin Export and then Save to complete the save of the document.
Web Services to Convert a Word File to PDF
If, on the other hand, you want to convert a Word file to PDF without having to resort to the use of specific computer programs, know that, as I told you, you can also succeed in your intent by using special online services. Personally I suggest you use the excellent DocsPal or SmallPDF. These are two Web services that allow you to transform documents in Word format into PDF files in a simple, fast and intuitive way. Try them and you will not regret it.
DocsPal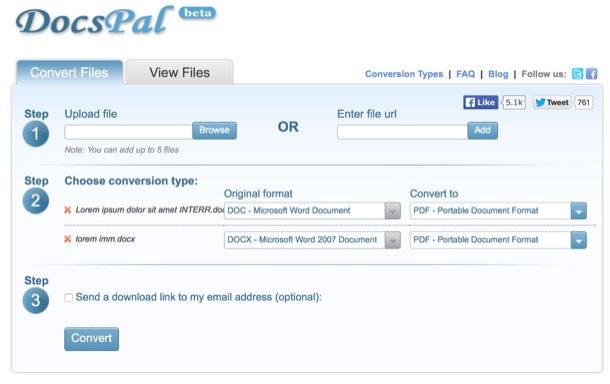 If you are interested in understanding what needs to be done in order to convert a Word file to PDF directly online you can take advantage of DocsPal. This totally free service works in all browsers without the need for external plugins and does not require any registration. It supports all major Office file formats and allows you to convert up to 5 documents at the same time (with a maximum total weight of 50MB).
To use DocsPal to convert a Word file to PDF click here in order to connect to its home page, then click on the button KATEGORIEN present nella sezione Step 1. Select the document in Word format you want to convert and then press the button Choose. In the event that your file is online (for example on Dropbox or on another cloud storage service) you can directly indicate the url in the field below the item Enter file url avoiding having to upload from your computer.
Now bring the mouse cursor into the section Step 2 and from the menu visible under the item Convert to select PDF – Portable Document Format.
In the Step 3 check the box next to the item Send a download link to my email address (optional) if you wish to receive a link to your converted file also directly in your e-mail box and then press the button Convert to start the conversion procedure.
Wait a few moments for the procedure by which to convert a Word file to PDF with DocsPal is started and completed, then click on the link with the name of your document under the heading Converted Files:. Immediately after clicking, the Word file converted to PDF will be downloaded directly to your computer.
If the PDF is not downloaded but opened in a new browser tab to download the files, click on the floppy disk icon or select the item Save with name from the menu that appears when you right-click anywhere in the document.
SmallPDF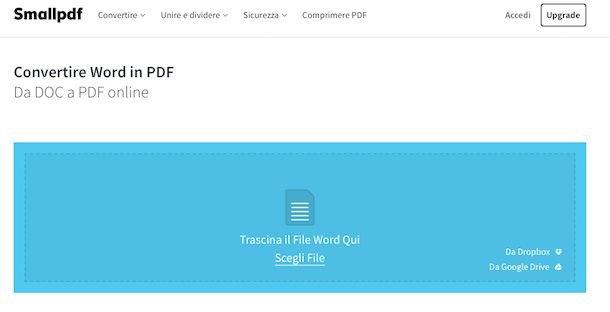 As I told you, another great solution to convert a Word file to PDF directly online is SmallPDF, a very simple resource to use and extremely quick to act. It should be noted that it can be used for free for 14 days, upon registration, after which it costs 10 euros / month or 90 euros / year.
If you want to understand what needs to be done in order to convert a Word file to PDF with SmallPDF click here to connect to the main page of the service and then drag the file on which you want to act in the box with written inside Drag Word File Here in order to upload it. If you prefer manual upload you can click on the blue button Choose File and select the Word document on your computer or upload it from your Dropbox or Google Drive account by clicking on its icons.
Wait a few moments for the conversion procedure to be started and completed, then press the blue button Download file to download the Word document converted to PDF on your computer. Alternatively, you can press the buttons depicting the Dropbox or Google Drive icons to transfer the converted document directly to your supported cloud storage service accounts. Easier than that?