After days of intense work, this evening you have decided to abandon yourself to absolute relaxation. The program for the next few hours is: bed, computer on and a good movie to watch in streaming while you nibble on something good. What to say? You really had a fantastic idea, I can only envy you!
Before you totally dive into your night out, though, let me recommend some online services that I think you'll love a lot. Bravo, you guessed it! I'm talking about Internet sites that allow you to look free online movies without registration and - equally important - without installing additional programs on the PC. All you have to do is visit them, choose one of the many works available and enjoy the show.
Assuming you have an average fast ADSL connection, you can enjoy movies of any genre, country and era without interruptions and at a more than good quality. Some contents are even available in Full HD resolution but - beware - in those cases you will need a faster connection to play them without interruptions (let's say at least 7 Mega). Good fun!
Paramount Channel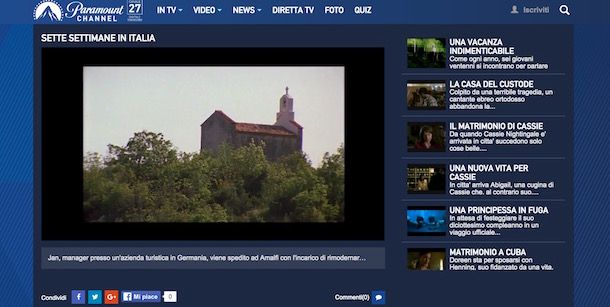 Paramount Channel is a digital terrestrial and satellite channel that broadcasts movies and TV series. On its official website, you can watch the broadcaster's live stream by simply clicking on the button Live which is at the top, and you can find some great movies to watch in on-demand mode: all for free and without the need to create an account. Viewing of contents is available on all browsers with Flash Player support.
To access the on-demand films (selection that is updated from week to week), just click on the button Video present at the top left and choose the item Watch our movies in streaming from the menu that opens. All contents can also be played on smartphones and tablets through the appropriate application for Android and iOS.
PopCorn TV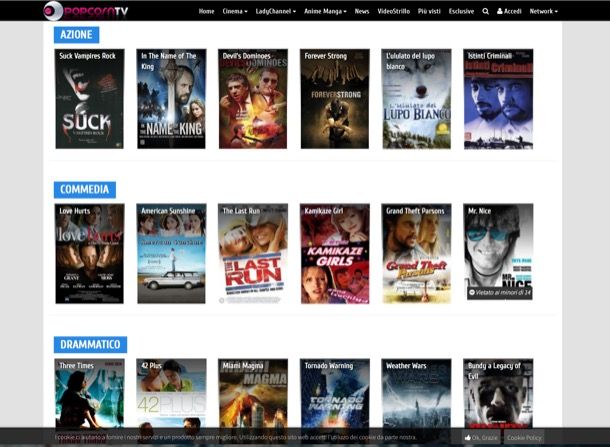 Another online service that I highly recommend you try is PopCorn TV, which offers a wide range of not exactly famous but certainly interesting American films (almost all recent). Among these there are many horror, a fair number of comedies and a great selection of movies dramatic of action.
To start playing a movie, select one of the available movie genres in the menu Cinema PopCorn TV (at the top of the screen) and click on the poster of the film you want to watch. You can use any of the most popular browsers: Chrome, Internet Explorer, Edge, Firefox or Safari, you don't need Flash Player or other plugins.
PopCorn TV is also freely accessible from smartphones and tablets, just open the browser (eg Safari on iPhone / iPad or Chrome on Android) and connect to the site, just like on a computer. More comfortable than that?
YouTube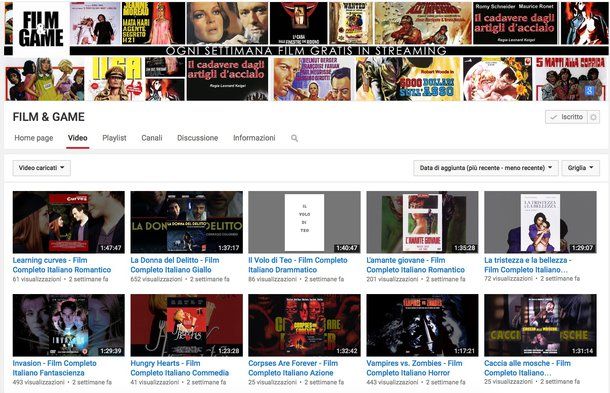 Perhaps not everyone knows, but full movies are also available on YouTube, in Italian, legally distributed. Of course, these are not blockbusters that have just come out of cinemas, but films, more or less recent, which belong to the class of classics or films - so to speak - of the second tier.
The most interesting thing about YouTube is that it allows you to watch free online movies without registration on any type of device: computers, smartphones, Smart TV tablets, video game consoles and dongles, such as Chromecast.
But what are the channels that offer free movies in a legal way? Fortunately, there are several. Now I'll point out a couple of the most interesting ones.
Movie On - a channel belonging to the YAM112003 network. It contains over a hundred Italian and international films belonging to the most disparate film genres: action, horror, comedy, etc. There are also titles in the original language with Italian subtitles.
Film & Clips - is a YouTube channel created by the film distribution house Minerva Pictures. It hosts many Italian films, from westerns to comedies, from the 60s and 70s, but there is no shortage of more recent films and American films either. It is definitely worth following, also because it is updated often.
KoreanFilm - a great YouTube channel for Asian cinema fans. It houses 110 Korean classic films, produced from the 30s onwards, all legally available for free. Some works, thanks to the collaboration with the AsianWorld.it site, have subtitles in Italian.
RaiPlay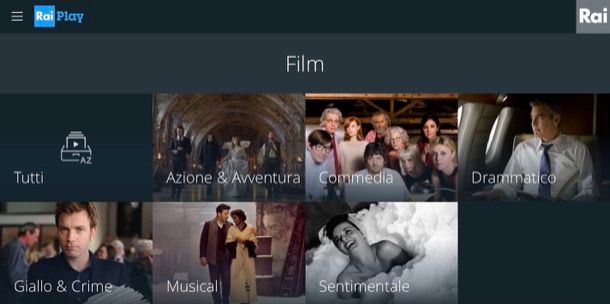 Now I want to tell you about the site RaiPlay, the Rai portal which, as is well known, allows you to watch all the state TV channels in streaming and some of its main programs in on-demand mode. What not everyone knows is that it hosts a cinema section where it is possible to see some of the best Italian and international films broadcast by the Rai networks over the last few weeks (divided by genre or to be browsed based on their title) .
Furthermore, on the Rai Cinema website it is possible to find some films made specifically for the Web by Italian directors. All accessible also from portable devices, via browser or by downloading the Rai.tv app for Android, iOS and Windows Phone.
To view some of the content available on RaiPlay (for example live streaming) you need Flash Player. To access on-demand content from smartphones and tablets, however, the creation of a free account is required via email address, Facebook or Twitter.
Archive.org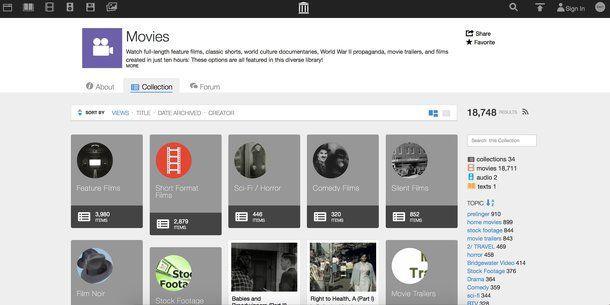 If you are interested in vintage films and have a good knowledge of English you will certainly find the Archive.org site interesting as well, which in its section Movies it hosts dozens of films no longer covered by copyright that can be watched in streaming and even downloaded at no cost.
As can be easily understood, these are mainly dated works in the original language. There are many interesting ones, one above all "The night of the living dead" but unfortunately the contents in Italian are languishing.
To browse the films hosted by Archive.org all you have to do is connect to the home page of the site, or rather to its film section, and click on one of the many categories available, for example Sci-Fi/Horror, Comedy films etc. The works are automatically shown based on the number of views by the public. To change this criterion, click on one of the items contained in the gray bar at the top: Title to sort the films by their title (alphabetical order), Date archived to sort them by publication date, and so on.
At the bottom of the right sidebar there is also the menu Language through which it is possible to browse the contents of Archive.org by language.
Broadcast TV Shows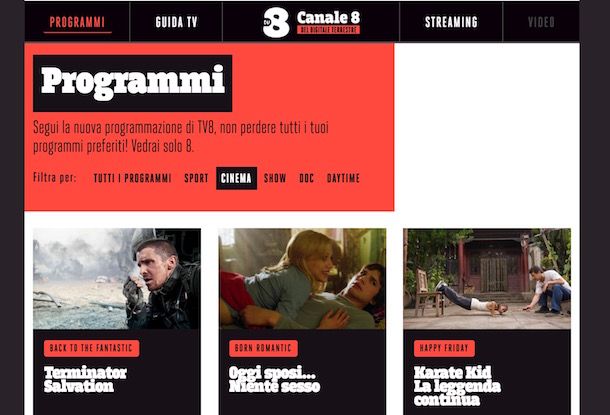 If you are not interested in watching movies on demand, you can also consider the websites of some Italian broadcasters that allow you to watch all their broadcasts, including movies, in live streaming. Here are some examples "on the fly".
TV8 - is one of Sky's free-to-air channels. It broadcasts on digital terrestrial and has a fairly varied schedule, consisting of films, American reality shows, sporting events and shows made in Italy. It can only be viewed from the web with any browser with Flash Player support.
Cielo TV - another free-to-air Sky broadcaster on digital terrestrial. It airs several interesting films and American reality shows. It can only be watched from a browser and requires Flash Player.
Mediaset - the official website of Mediaset. It allows you to watch all the free stations of the group in live streaming (but only after registration) and some programs in on-demand mode (however, we are only talking about fiction and television shows, not movies).
For the complete list of broadcasters that can be watched live stream, check out my tutorial on how to watch TV in streaming.
Other Video Streaming Services (with Recording)
In conclusion, I want to point out other streaming services, really very valid, which require registration to work. Some are 100% free, while others are paid after an initial free trial period: here they are in detail.
VVVVID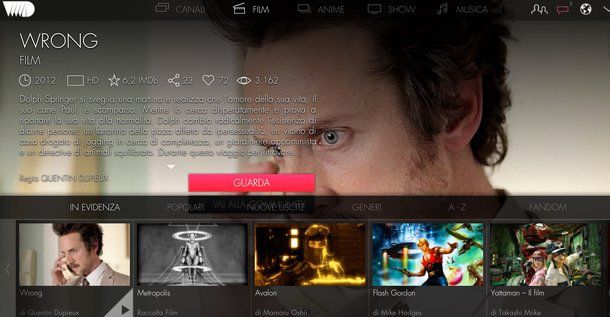 VVVVID is an interactive online TV that allows you to watch Japanese movies, TV series and anime live on any browser. The works are all quite recent and in multi-language format (therefore dubbed in Italian or in the original language with subtitles).
To register for VVVVID using your Facebook account, connect to the home page of the service and click on the button Registrati with Facebook. Then confirm the connection of the service to your social account and that's it. If you are not registered with Facebook, you can register on the site using your email: just fill out the form on the home page and click on the button Subscribe.
Once registered, click on the button Videos located at the top to browse all the films available on the platform: you can consult them based on the generally of membership or their degree of popularity, while to start the reproduction just click first on their thumbnail and then on the button Guarda.
Do you have a tablet? Very well. There is also the VVVVID application for iPad / iPhone and Android that allows you to access the entire catalog of the service from a tablet completely free of charge. Also in this case, for authentication just use your Facebook account or the email address used during registration from the PC.
Infinity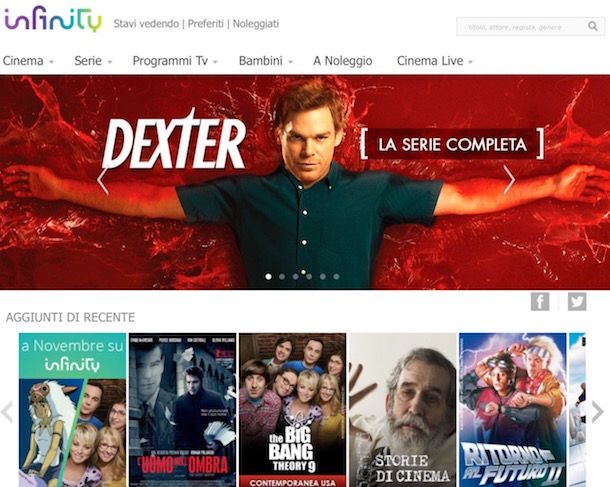 Infinity is the Mediaset video on-demand platform that allows you to access a vast catalog of films, TV series, cartoons and shows from various devices: computer (directly via browser), smartphone, tablet, video game console, Smart TV , multimedia decoders and more. It is free for the first month and then costs € 7,99 / month (often discounted at € 5,99 / month for a few months). The contents are in multi-language format and some of them are also available in UltraHD format.
To create your account on Infinity, connected to the main page of the service, click on the button try free and fill out the form that is proposed to you. Also worth noting is the presence of a function that allows you to download content locally, even on a PC, and watch it offline (within a deadline of a few days). More info can be found in my tutorial on how Infinity works.
NOW TV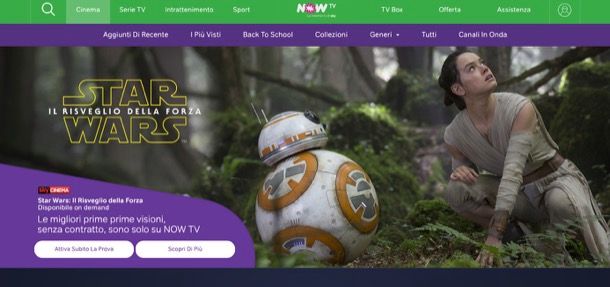 NOW TV is a video on-demand platform that allows access to Sky Italia contents without subscribing to satellite pay TV (via PC, portable devices, Smart TV, video game console or a special set-top box). It is made up of various tickets, i.e. various thematic packages, which have fixed monthly costs: the package Cinema costs 9,99 euros / month, as well as the one with the TV series and that Entertainment with the Sky Italia TV shows.
Il Work-outs, which includes football (7 out of 10 matches for each round of Serie A, Champions League, Europa League, Premier League, Bundesliga), NBA, Formula 1, MotoGP and other sports, can be subscribed on a monthly basis (29,99 euros), weekly (14,99 euros) or daily (6,99 euros). Very interesting promotions are also planned for new customers, who can subscribe to the Cinema, Entertainment and TV Series plans for 14 days at no cost. For more information see my post on how NOW TV works.
Amazon Prime Video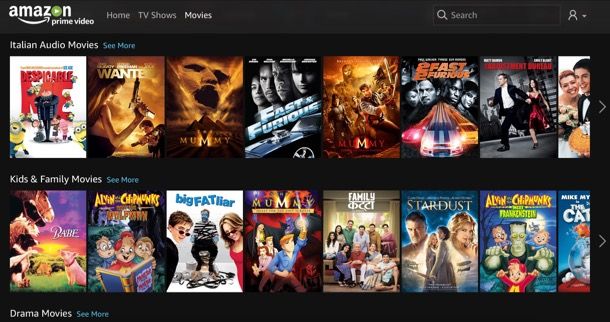 Amazon also entered the video streaming market and did so with Prime Video: a service that debuted in Italy in December 2016 and already has a lot of interesting films and TV series active. Its catalog is not yet as rich as that of rivals of the caliber of Netflix and Infinity, but it is growing steadily.
The service is accessible from a wide range of devices: PCs, smartphones, tablets and Smart TVs and also allows you to download content offline (only on portable devices). The resolution of movies and series can go up to 4k. It does not have a monthly fee as it is included in the Amazon Prime subscription, which currently costs 36 euros per year or 4,99 euros per month. If you want to know more, check out my article on how Amazon Prime Video works.
Netflix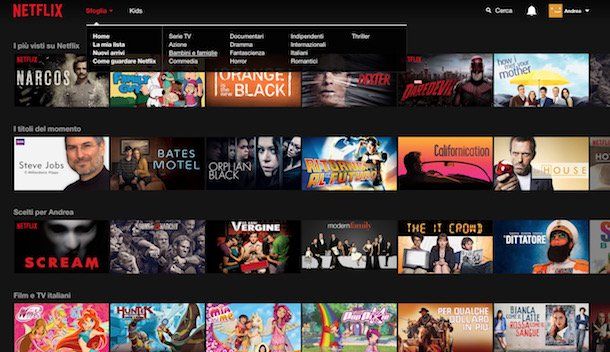 When it comes to VOD services, it is impossible not to mention Netflix, the most famous video streaming platform in the world. The service allows you to choose between various subscription plans: one from 7,99 euros / month that allows you to watch content in SD resolution from only one device at a time; one from 11,99 euros / month that allows you to watch HD videos and make 2 simultaneous accesses to the service and one from 15,99 euros / month that allows you to watch UltraHD content and supports 4 simultaneous accesses. Depending on the period, an initial free trial of varying duration, typically 14-30 days, may be granted.
In the Netflix catalog there are films of all genres, ages and origins, TV series, documentaries and cartoons, all of the highest quality and in multi-language format. To subscribe to the service, connected to its home page, press the button Provalo prays and fill out the form that is proposed to you.
The service is accessible from computers (supported by all major web browsers and does not require Flash Player or Silverlight to work), smartphones, tablets, Smart TVs, video game consoles, multimedia decoders and other devices. For more information on how it works, see my guide on how to watch Netflix.