Are you looking for an easy and immediate way to share your passions and knowledge with others? Do you love writing and do you think it will one day become your job? There is no doubt, you need to start a blog and start writing about everything that interests you. How do you say? You are not yet very experienced in the world of computing and the Web and you don't have the faintest idea of how to create a blog? Well, don't worry, you can count on my help this time too. In fact, I can provide you with all the explanations you need to succeed "in the enterprise".
On the Internet there are many possibilities to open a blog, some of which are very easy to use and do not require any technical knowledge from the user. In order to create a blog it is therefore not essential to be a perfect connoisseur of the IT world. Everyone, in fact, can create their own online space in no time without any particular difficulty, you have my word.
So, if you are really interested in finding out how to proceed in order to create a blog, I suggest you take a few minutes of free time and concentrate on reading this tutorial. You just have to choose which, among the solutions I am about to propose, you think may be the most suitable for your needs, subscribe to it and start posting your content. Having said that, let's ban the chatter and immediately start getting busy. I do not assure you that at the end of this guide you will become a blog-star but you will certainly have much clearer ideas on the matter, trust me!
WordPress

One of the most complete and famous platforms for create a blog è WordPress. It is a very robust free and open source CMS (content management system) that can be installed on any Web space and enriched with customized features thanks to the use of plug-ins developed by third parties.
You have two ways to start a blog with WordPress: the one offered by the WordPress.com site, which allows you to create free "prepackaged" sites on a space offered at no cost (with some limitations, such as the inability to install plug-ins or insert advertising in the blog), or that " manual ", which consists of purchasing a web space and installing WordPress on it.
If you have no special needs and just want to open a personal blog, the first solution is perfect for starting. On the other hand, all you have to do is connect to the WordPress.com website by clicking here, pressing the button Create website placed in the center of the Web page that is shown to you, indicate the type of blog you intend to create, choose the appearance of the home page and a theme to assign to the entire site and indicate the address you want to assign to your blog. The address will be [name of the blog] .wordpress.com.
Then click on the button Select free plan and fill out the form that is proposed to you by typing your email address, username and password you intend to use to access the service. Finally, click on the button Create blog e poi quello Continue to immediately access your newly created blog. As soon as you have a minute of time, don't forget to confirm your email address that you have chosen to associate with the service by clicking on the link in the email that the WordPress team has sent you.
At this point you should find yourself in front of the dashboard of your blog on WordPress. To start writing a post immediately click on the button Start an article located in the center of the screen. To explore all the other features and to make further changes to your blog, use the commands attached to the sidebar located on the left instead.
In case you have a little higher aspirations, you must instead proceed with the purchase of a web space and manually install WordPress on it. Then connect to the WordPress.org website by clicking here and pressing the button Download WordPress 4.x to download WordPress to your computer. When the download is complete, you must extract the contents of the archive you just downloaded (eg. wordpress-4.1-it_IT.zip) in any folder and edit the file wp-config-sample.php with Block notes (or any other text editor) following the instructions given in the file itself.
After this step, you need to upload with a FTP program (if you haven't already downloaded one on your computer you can consult my guide on FTP programs to fix it immediately) the WordPress files on your web space and connect to the page [your blog address] /wp-admin/install.php to complete the process of creating your blog. You can find more details on this in my guides on how to create a blog with WordPress and how to manage a WordPress blog.
Blogger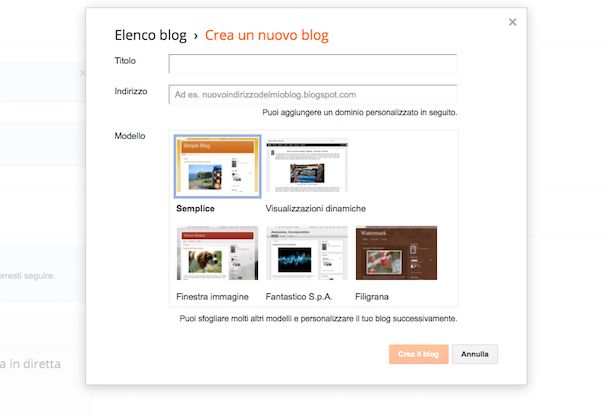 Another great free blogging platform is Blogger Google that despite offering free space allows everyone to earn money with their site by inserting AdSense ads on it.
If you want to try it, connect to the main page of the service by clicking here, log in to your Google account (if you don't have one yet you can find out how to create it by reading my guide on how to create a Google account) then choose whether to create the your blog using a Googe + profile or a Blogger profile by clicking on the appropriate buttons that are shown on the screen.
If you already have a Google account, you can create your blog on Blogger by simply clicking on the button New Blog and filling out the form that appears by typing the title of the blog, the address to be assigned and choosing the graphic theme to use.
Once you have completed the initial site setup, you can immediately start writing posts by clicking on the button with the icon pencil. To change settings, themes, and other details, you need to click the i button instead two sheets placed next to the blog name on the main Blogger page.
Keep in mind that you have a very flexible system at your disposal to customize the appearance and contents of your "corner of the Web". Unlike WordPress.com, Blogger also supports programmatic theme customization and adding banner ads to blogs. However, the site address remains "complicated", ie something like nome-che-hai-scelto.blogspot.it. For more information, you can read my guide on how to create a blog with Blogspot, I am sure it will be very useful.
Tumblr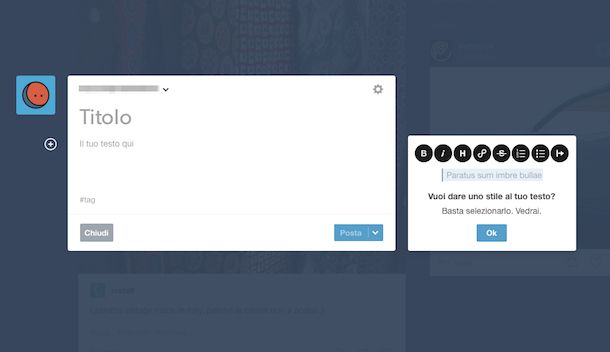 If you do not have very big aspirations as a blogger and you are satisfied with a small online space, as simple as it is essential, in which to share your thoughts with readers, you can contact Tumblr. Haven't you ever heard of it? I'll clarify your ideas immediately: it is a platform for the creation of tumblelog, i.e. blogs in which articles are generally published more concise than those present in blogs but richer in multimedia elements, such as photos, videos, etc.
To be able to register for free on Tumblr and, consequently, create a blog in tumblelog sauce, all you have to do is click here to connect to the main page of the service, click on the button Start, fill out the form in the center of the screen with email, username and password you intend to use and click on the button to register.
Then enter your age in the field How old are you?, metti il ​​segno di spunta accanto alla voce I have read, understood and accepted the Tumblr Terms of Service and click forward to continue the guided process of creating your small blog. Also put a check mark in the box next to the item I'm not a robot then presses the button Done!. Then, you will have to choose topics of interest through the appropriate screen that is proposed to you (sociality is another fundamental aspect of this platform!) And then you will have to click on the button Next located at the top right.
Once you have completed the whole procedure by which to create a blog on Tumblr, you will find yourself in front of the dashboard of the service. To write a post immediately click on the icon pencil which is located at the top right, indicates the type of content you intend to publish on your tumblelog and wait for the editor to be visible on the screen.
For more details on how to best use the service, I suggest you take a look at my guide on how to create a blog on Tumblr and the one on how to customize Tumblr. In the tutorials that I have just indicated to you, I have in fact shown you in an extremely detailed way how to start this new adventure on the right foot and how to proceed in order to make your blog more beautiful. You will see that with a good dose of commitment, visitors will not be long in coming!
Medium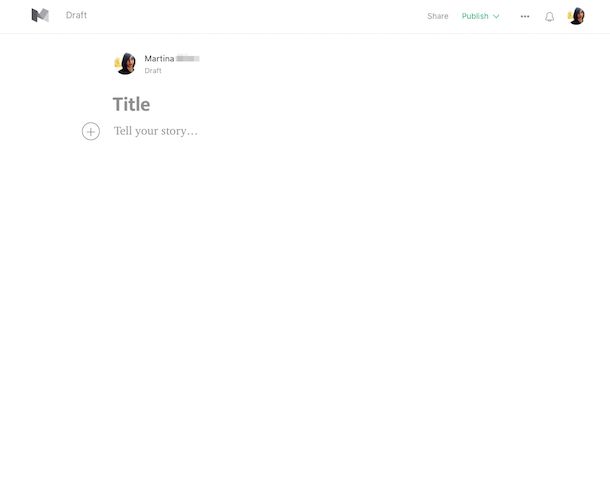 Would you like to be able to create a blog that enhances content and gives less importance to form? If the answer is yes and if you are willing to try a blogging solution that differs from all those already mentioned then I strongly recommend that you resort to the use of Medium. In a nutshell, it is a hybrid service between the social network and the blogging platform. It was born from an idea of ​​the creators of Twitter and stands out for its absolute immediacy.
If you want to create a blog with Medium, the first thing you need to do is to click here to connect to the home page of the service. Then click the button Sign in/ Sign up which is at the top right and choose whether to authenticate with your Twitter, Facebook or Google account.
Then click on the button Create Account and select those that are the topics of your interest from the web page that is shown to you then click on the button Continue to last step which is located at the top right. Then give one look at the users who use the service attached to the screen that is proposed to you and, if you think it appropriate, start following the ones you think are most interesting by clicking on the button Follow placed next to each name then click on the button Finish present at the top.
At this point I would say that we are, you can finally start writing your first post! To do this, click on your avatar located at the top right and then press on the item New story attached to the menu that is shown to you after which you will be shown the service editor.
As I already mentioned, the only thing that matters about Medium is the articles. Consequently, there are no plugins or graphic themes to set, advertising banners cannot be inserted and there are no particular configurations to do. You write and participate in the life of the community on the platform.
All sites, or rather all user pages, have the same graphic style, with large photos and very elegant fonts. Each article can be commented, through reply posts, or shared through a system that closely resembles that of social networks. For more information, you can consult the articles on the subject on the specific Medium web page which you can access by clicking here.