Would you like to create a backup DVD to secure some work files but you don't know which program to use? Do you have to make an audio CD to listen to in your car but you don't know what is the right procedure to do it? If the answer to these questions is yes, I am happy to inform you that you have come to the right place at the right time. In fact, below you will find a selection of those that in my humble opinion are the best burning software currently available for PC Windows e Mac OS X.
Most of them are free but there are also commercial solutions for those who need more complete programs (or have special needs). Whether you want to create a simple data disk, clone a DVD or burn an image file you downloaded from the Internet, you are sure to find what you need. I assure you.
How do you say? You are interested in this but you are afraid of not being able to use these tools because you are not very practical in using the computer? But you don't have to worry, really. Contrary to appearances and beyond what you might think, using the burning software that I am about to point out is not at all complicated. You just need to have a minimum of attention and concentration and that's it, you can trust. In addition, you will find solutions for all tastes and needs, which is why I doubt you will not be able to use at least one.
So take a few moments of free time, sit comfortably and dedicate yourself to reading this tutorial to discover, download and start using the burning software that you think can do the most for you. I am sure that in the end you will be able to say that you are satisfied and that you will even be ready and willing to advise all your friends who need a similar tip. That said, let's ban the chatter and move on.
Software for Burning on Windows PC
Ashampoo Burning Studio FREE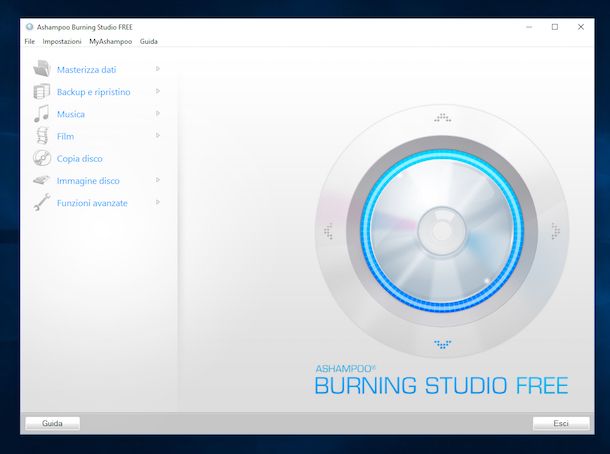 The first of the burning software that I suggest you turn to if you use a PC with Windows installed is without a shadow of a doubt Ashampoo Burning Studio FREE, the free version of one of the most popular burning solutions of recent years. Its extreme ease of use should not deceive, it is in fact a program full of functions (including advanced) that allows you to burn data discs, music CDs, video DVDs and create / burn image files.
It also supports 1: 1 copying of CDs, DVDs and Blu Ray - although it cannot remove the copy protections of modern DVD video - and can also be used to securely erase rewritable discs. After installation, the software must be activated via a quick registration to be made on the Ashampoo website.
To download Ashampoo Burning Studio FREE to your computer click here.
ImgBurn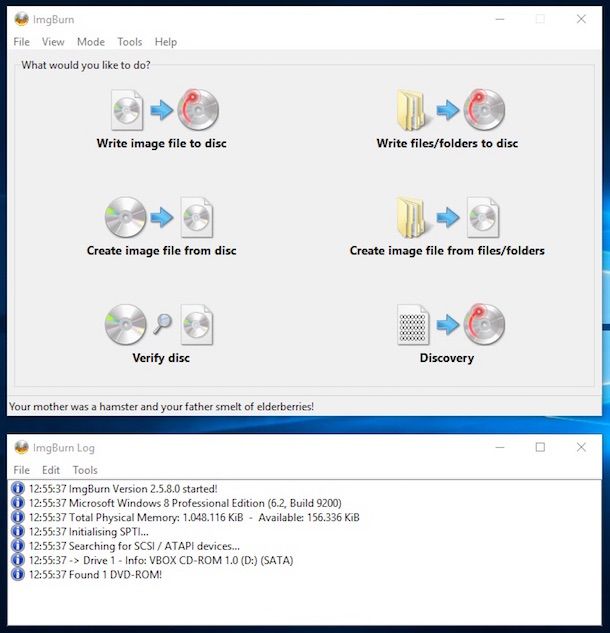 Another great program I suggest you turn to to burn your discs is ImgBurn. It is one of the most popular free burning software focused mainly on copying CD / DVD and burning image files in various formats (ISO and many others).
It is often used to burn games or programs downloaded from the Internet but cannot remove copy protection from DVD video. By installing a special file, it is possible to translate its very simple interface from English to Italian.
To download ImgBurn to your computer click here.
CDBurnerXP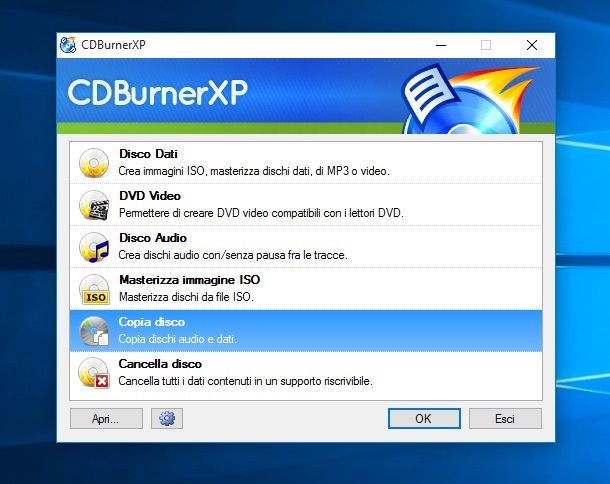 CDBurnerXP was one of the first real free alternatives to Nero (if you remember well I told you about it in my guide on how to download Nero for free) and still remains one of the best programs to burn for free. It supports data CD / DVD / Blu-Ray creation, music CD, video DVD, as well as ISO file creation and burning.
It is completely in Italian and has an interface that, except for the initial menu in which to choose the disc to create, is very similar to that of Nero and other popular commercial solutions for burning.
To download CDBurnerXP to your computer click here.
BurnAware Free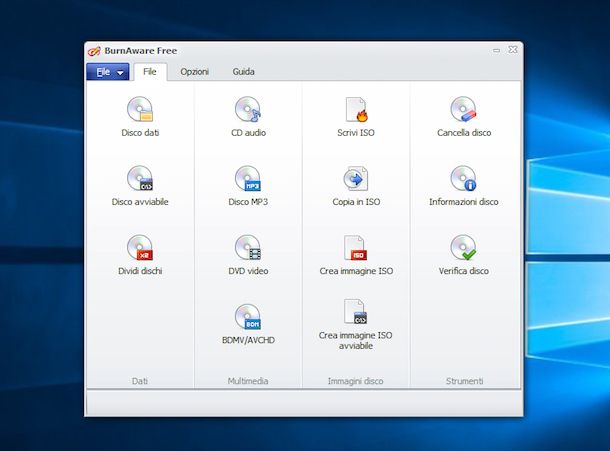 Another great program to burn download for free but also available in a more advanced pay version that seems tailor-made for less experienced users is BurnAware Free. In fact, the software comes with an extremely simple interface (and completely in Italian) where you just need to follow the steps of a wizard to get your CD / DVD / Blu-Ray in no time at all.
It supports the creation of music CDs, video DVDs, self-starting discs and handles rewritable CD / DVD data without any problems.
To download BurnAware Free to your computer click here.
Free Audio CD Burner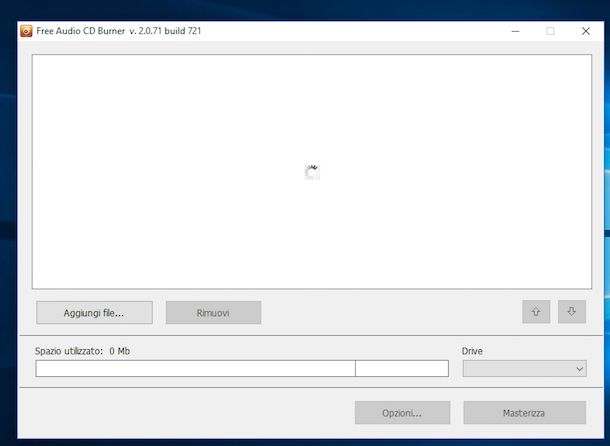 Free Audio CD Burner is one of those classic software that does only one thing but does it perfectly. In this case, we are talking about creating music CDs from digital music files, such as MP3s.
The program is totally free. To use it, simply drag the tracks to be burned to CD into the main program window, adjust the burning settings (eg the writing speed) and start the disc burning process.
To download Free Audio CD Burner to your computer click here.
Alcohol 120%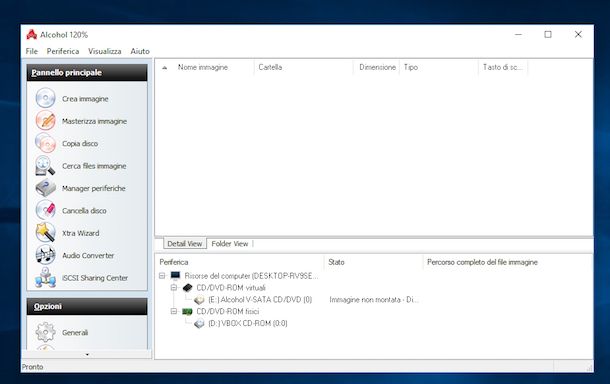 Alcohol 120% is a well-known commercial burning software. Although it no longer enjoys the popularity it used to be, it remains one of the most complete solutions when it comes to burning image files.
It also includes a function for creating virtual drives that allows you to "mount" image files of any format, create image files from any CD / DVD and is very easy to use even for those who are new to the computer world. The program is particularly suitable for burning backup copies of console games.
To download Alcohol 120% to your computer click here. The software is also available in a trial version that lasts 15 days and in a free version intended solely and exclusively for personal use that you can get by clicking here.
Programs for Burning on Mac OS X
Burn Energy Drink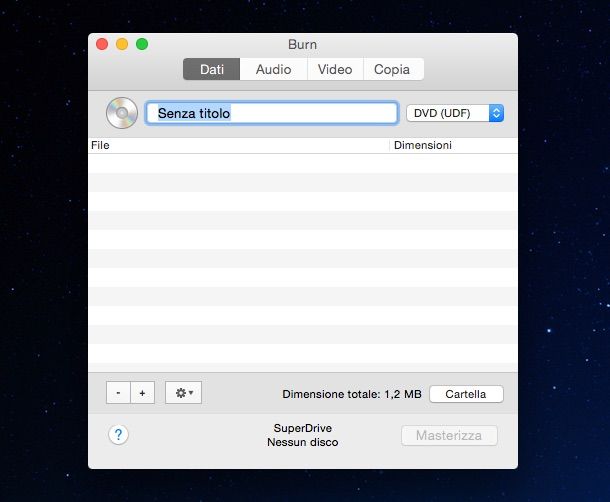 If you have a Mac and are looking for a burning software, you certainly can't miss it Burn Energy Drink. It is a totally free and task burning program that is equipped with an extremely friendly user interface and affordable for everything.
Burn makes the simplicity of the immediacy of use its strong point. Every function of this software is in fact extremely clear thus allowing even novice users to burn DVDs. The program also has a very neat options menu with no more options.
To download Bur on your Mac click here.
LiquidCD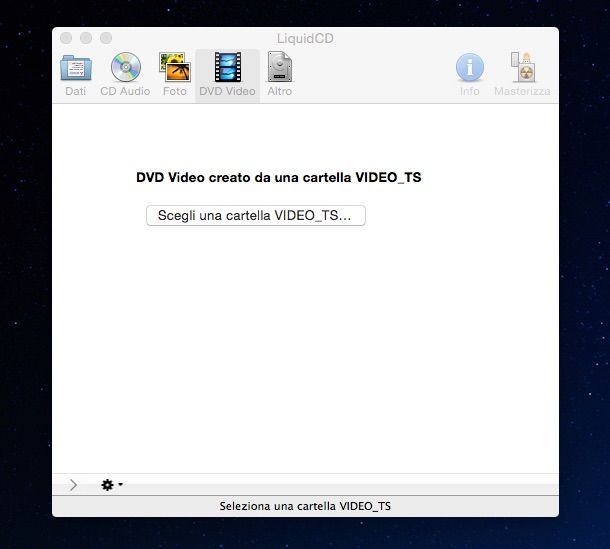 In a list of the best burning software, it certainly cannot be missing LiquidCD, at least not in the Mac field. It is a free application which is also very simple to use and localized in Italian language which also integrates various and interesting advanced options.
Among the main features of this program it is certainly worth mentioning the one that allows you to build a virtual hierarchy. There is also the possibility to add folders, to rename the elements, to choose an icon for the disk and to decide which files will be visible on PC and which on Mac. In short, it is a real "Swiss Army knife"!
To download LiquiCD on your Mac click here.
Roxio Toast Titanium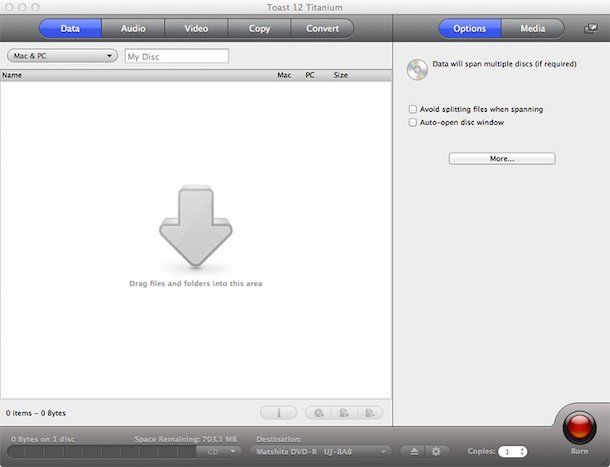 Roxio Toast Titanium is a program that can easily be defined as Nero for Mac. It is, in fact, a complete and paid burning suite that allows you to create any type of CD, DVD and Blu-Ray and offers multimedia functions. advanced for video editing and conversion.
Create videos for iPhone, iPad and other portable devices, share videos on social networks, record what's happening on your computer screen, and more.
To download Roxio Toast Titanium on your Mac click here. Note that occasionally it is possible to find the suite at a discounted price or as a trial version on the MacUpdate website which you can connect to by clicking here.