Since you bought your first ebook reader, have you become a much more active reader than before? Are you constantly looking for books to "devour" in moments of relaxation? Then let me give you some "tips" on the right sites to visit.
What am I talking about? But of course all those sites they offer books to download for free. It is difficult even to imagine how many splendid works there are around the Net: from the great classics of literature, which are no longer covered by copyright and therefore can be downloaded freely, to the works of emerging authors who decide to distribute their works through the Internet.
If I were you I would not miss an opportunity of this kind! Take advantage of these huge digital libraries and find out how to download your favorite books from them. It doesn't matter what kind of ebook reader you have available: these books can be downloaded in many different formats (eg ePub, PDF, MOBI etc.) and therefore can be read on any type of reader. If desired, they can also be read on smartphones, tablets and computers: just download the right applications and you're done.
LiberLiber

If you are looking for books to download for free from the Internet, start by taking a look at Liber Liber. It is a website managed by a non-profit organization that makes available to the public over 3.500 books in digital format to download for free on your PC. These are not works contained in the current ranking of best-sellers, but classics no longer covered by copyright or books whose authors have consented to free distribution via the Web.
To download an ebook from Liber Liber, connected to the main page of the site and click on the button enters. On the page that opens, place the mouse cursor over the menu Books (located at the top right) and choose whether to browse the ebooks based on authors and works (i.e. in alphabetical order) or according totopic treaty. Alternatively, click on the icon magnifying glass located at the top right and searches for a work based on its title or author.
To download an ebook, click on the author's name, scroll the page that opens and choose the work of your interest. Then choose the file format in which you intend to download and click on the appropriate button to complete the operation. You can download the ebooks in ePub (per ebook reader); PDF; ODT; HTML (optimized for web browser) or TXT.
Project Gutenberg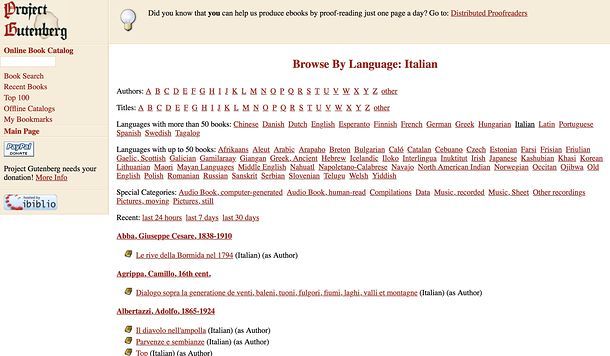 It is impossible to talk about books that can be downloaded for free from the Internet without mentioning Project Gutenberg, a site born thanks to the intuition of the computer scientist Michael Hart who in 1971 decided to start a massive digitization of literary works from all over the world.
Project Gutenber hosts thousands of works in many different languages, including Italian. These are mostly great classics no longer protected by copyright, but there are also ebooks still protected by copyright whose authors have consented to free publication via the Internet.
To download a book in Italian from Project Gutenberg, select its title, choose a file format from those available (eg. EPUB o Kindle) and wait for the download to start. Some books are also available in HTML format for online reading and can be downloaded directly to cloud storage services, such as dropbox, OneDrive e Google Drive.
If you don't want to browse the books based on their author, but based on the topics covered, connect to Project Gutenberg using this link and select one of the available themes. If you want to consult the list of works in all languages, click here.
Feedbooks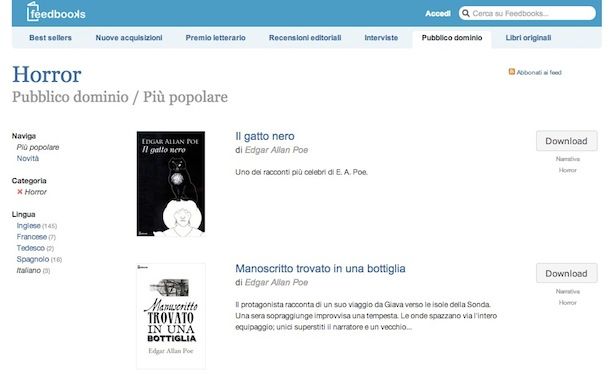 Another great site that delivers books to download for free is FeedBooks, on which you can find dozens of works in the public domain in Italian (but not only). To browse the library of works available on FeedBooks, connect to its main page and use the left sidebar to select the kind of ebook you want to take.
Are available novels, books of poetry, stories horror, western, Biography and much more. Also, by clicking on the links The most popular books e New acquisitions you can view the list of the most downloaded ebooks by users and the most recently added books on FeedBooks.
To download an ebook, click on its title, then choose the file format in which to download from those available: ePub (optimized for ebook readers), Kindle (only for ebook readers of the Amazon Kindle family) or PDF (ideal for PC and tablet).
ManyBooks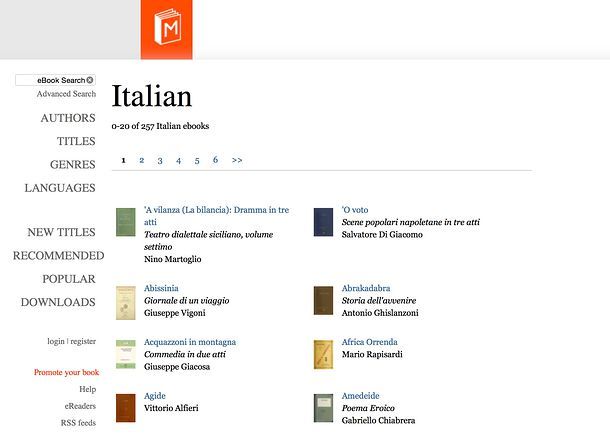 ManyBooks also allows you to find dozens of books to download for free in all the main languages ​​of the world (including Italian). It includes many classic works that are no longer copyrighted and books by independent writers who have decided to offer their works to the public.
To download an ebook from ManyBooks, connect to its home page and browse all the works on the site: you can use the arrows at the top and bottom of the page to quickly scroll through all the books available in the selected language (e.g. Italian), search for authors in alphabetical order (by clicking on Authors in the left sidebar) or carry out a direct search using the appropriate search search bar.
Once you have identified the book to download, click on its title and use the drop-down menu located in the right sidebar to choose the file format in which to download: ePub, PDF, Mobi, RTF, TXT, etc. Then click on the button Download and select the link in the center of the page that opens to start the download.
Free Ebook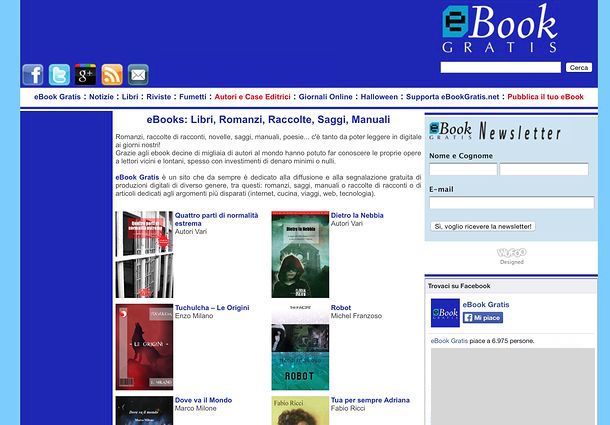 The Free Ebook website differs from those I have just pointed out to you by the fact that it does not offer classic works, but rather allows you to download stories and books by emerging authors who have decided to promote their works online. The site is Italian, as are the works it hosts.
Inside you can find a wide range of different genres: from horror to adventure through science fiction. Unfortunately, ebooks are not divided by genre and therefore you have to browse them all to find the ones you want to download. To start a download, just click on the cover of a book first and then on the button download for free present on the page that if you press.
If you are a fan of horror books, bookmark La Tela Nera as well. This is a site that collects the horror and thriller works of the authors who have decided to publish their works on Free Ebook.
Ebook Store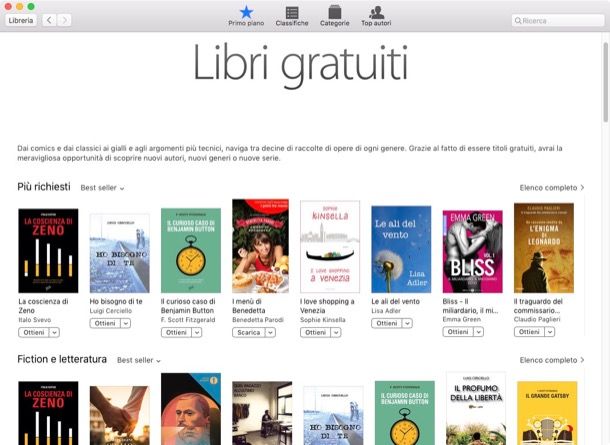 Perhaps not everyone knows this, but on the main e-book stores it is also possible to find downloadable ebooks at no cost. Obviously these are not best-sellers or recently released books, but between some great classics of the past and some works signed by emerging authors there is really a lot to read!
Amazon - The Amazon Kindle Store hosts a large selection of books for free download. Furthermore, subscribers to the Amazon Prime service can take advantage of an "extra" catalog, consisting of the most recent titles, to download and read for free: more info here. Ebooks are compatible with all Kindle models and with the Kindle application for computers, smartphones and tablets. To learn more, see the guide on how to download books on Kindle that I published some time ago.
iBooks - Apple's ebook store has a section entirely dedicated to free books. You can access it through the iBooks app for iPad, iPhone and Mac OS X.
Google Play Store - the Google Play Store also has a section entirely dedicated to free books. The works downloaded through this channel can be enjoyed from all Android terminals and from any computer, by accessing the Web version of Google Play Books.
BookRepublic - is a well-known ebook store that allows you to download free books in ePub and PDF format. To take advantage of this possibility, click on the "Register to get a 2 euro discount immediately!" present on the site and subscribe to it. The downloaded books are compatible with most ebook reading software and with all major ebook reader models.
Mondadori Store - the official Mondadori store. The books downloaded from the latter can be read on the ebook readers of the Kobo family and on tablets and smartphones of various brands by installing the official Kobo app.
IBS - IBS also hosts a section entirely dedicated to free books. The ebooks available in the latter can be read on the readers of the Tolino family and on the official IBS app for tablets and smartphones.
To conclude, I would like to invite you to read my tutorial on how to open ePub files in which I recommended some software to read ePub format ebooks (but not only) on PC, smartphone and tablet.
Please note: if you prefer to read your books on an ebook reader, know that not all devices of this type support the ePub format. If you use a Kindle, for example, you can only read ePub files after converting them to AZW or MOBI using software like Caliber. Furthermore, it should be noted that the books downloaded from stores such as Kindle, Mondadori etc. they are protected by DRM and therefore can only be read on "authorized" devices (eg Kindles for books downloaded from Amazon or Kobos for books downloaded from Mondadori Store).